Iran's Revolutionary Guard warned of a "dangerous Future" for the United Arab Emirates (UAE) over a U.S.- brokered agreement that sees the UAE open up diplomatic relations with Israel. Well let me make this point, if this deal upsets Iran, then it must be a good thing. Because Iran is the antithesis of all that is good. They have more state sponsored terrorism than just about any country in the world. Other countries guilty of this activity are North Korea, Sudan, Syria and the state that probably has the most state sponsored terrorism, even more than Iran, is Pakistan.
According to a lengthy joint statement between the US, UAE and Israel, posted on the website of the US Embassy in Israel and tweeted by Trump, the agreement* calls for the "full normalization of relations" between the two Middle Eastern countries. It also calls for Israel to "suspend" plans to annex the West Bank — which Israeli Prime Minister Benjamin Netanyahu has characterized as only a "temporary postponement."
The first peace treaty between Israel and an Arab nation since 1994 will have a profound, perdurable implications for both countries — and for the U.S. It will mark the legacies of its two architects: Israeli Prime Minister Benjamin Netanyahu and Abu Dhabi's Crown Prince Mohammed bin Zayed. While President Trump is given a lot of credit for the deal, the prince and the prime minister needed no American prompting. Israel has for years been improving relations with the Gulf Arab states, and it was only a matter of time before one of them took the lead in formalizing the process.
And the UAE was always the odds-on favorite to be the first, not least because MBZ, as the prince is popularly known, has aggressively pursued a policy of expanding Emirati influence, often by marrying his ambitions to American interests.
Between MBZ and Netanyahu, it is the prince who's taking the greater gamble with normalization. Although the Palestinian cause no longer animates Gulf affairs as it once did, Israel remains highly unpopular among ordinary Arabs.
His spin doctors will try to portray MBZ as a savior of the Palestinians by suggesting he used the lure of normalization to prevent Netanyahu from going through with a planned annexation of large swathes of the West Bank. But this is not an easy sell.
MBZ's enemies in the region — whether they be Yemeni, Qatari or Iranian — will accuse him of colluding with the Palestinians' oppressors. The UAE will receive some blame for any Palestinian hereafter killed, hurt or humiliated by Israeli soldiers and settlers. Islamist terrorists may seek to make an example of him, just as they did the first Arab leader to make a deal with Israel: Anwar Sadat.
But MBZ can ride out spasms of public opprobrium. Unlike Trump, he doesn't need to win any elections. And the security structures of the UAE will undoubtedly be strengthened to ensure his safety. He has obviously calculated that the rewards of normalization far outweigh any risk on his part.
Some of these are obvious. The agreement allows the two countries to openly trade in goods and services, especially of the military and intelligence kind, which MBZ needs for his ambition to turn the Emirati armed forces into a Little Sparta. Israel and the UAE, already united in their perception of the Iranian threat, can now openly join forces against the common enemy.
The other advantages of normalization for MBZ are more subtle. It will, for instance, buy him a great deal of goodwill in Washington, where his clout is already considerable. What's more, the goodwill will be bipartisan, insulating him from a potential Trump defeat on Nov. 3. Contrast that with the fortunes of his good friend, Crown Prince Mohammed bin Salman of Saudi Arabia, which are bound to Trump.
For Netanyahu, the risks of normalization are much lower. Yes, an about-face on the annexation plan will enrage a large section of his political base, and especially the would-be settlers. That may explain his equivocation on the topic. But an exchange of embassies with the UAE would be a diplomatic triumph even his most vociferous critics cannot deny.
Netanyahu has now demonstrated that Israel can make peace with an Arab state without committing Israel to peace with the Palestinians or even a two-state solution. Now that the UAE has broken that taboo, he can hold out for similar deals with other Muslim countries.
In the meantime, Israeli businesses can look forward to making deals in Dubai and Abu Dhabi, which could serve as gateways to the wider Arab world. Direct flights between the two countries — unthinkable five years ago — may now be only weeks away.
That leaves the Palestinians, for whom Israeli-Emirati normalization spells only further isolation, especially if it inspires other Arab states to seek similar agreements. The Palestinian Authority can respond only with symbolic, and ultimately self-defeating, gestures, such as the decision to recall its ambassador to the UAE. Those able to clutch at straws might hope that the UAE will wield more influence on Israel when the two countries have stronger diplomatic and economic ties. But that is a very thin reed.
For the U.S., there is almost no risk at all: Two allies collaborating openly can only serve American interests. Even if this matters little to Trump, future American leaders will appreciate the agreement he announced. The agreement, to be known as the Abraham Accord, also gives Trump a foreign policy accomplishment as he seeks re-election on Nov. 3. Trump said the agreement unites "two of America's closest and most capable partners in the region" and represents "a significant step towards building a more peaceful, secure and prosperous Middle East." "This historic diplomatic breakthrough will advance peace in the Middle East region and is a testament to the bold diplomacy and vision of the three leaders and the courage of the United Arab Emirates and Israel to chart a new path that will unlock the great potential in the region," the statement read. "All three countries face many common challenges and will mutually benefit from today's historic achievement."
Updates:
Israel and the Gulf state of Bahrain have reached a landmark deal to fully normalize their relations, US President Donald Trump has announced."The second Arab country to make peace with Israel in 30 days," he tweeted.For decades, most Arab states have boycotted Israel, insisting they would only establish ties after the Palestinian dispute was settled. Bahrain is only the fourth Arab country in the Middle East – after the UAE, Egypt and Jordan – to recognize Israel since its founding in 1948. The UAE and Bahrain – both Saudi allies – have shared with Israel worries over Iran, leading to unofficial contacts.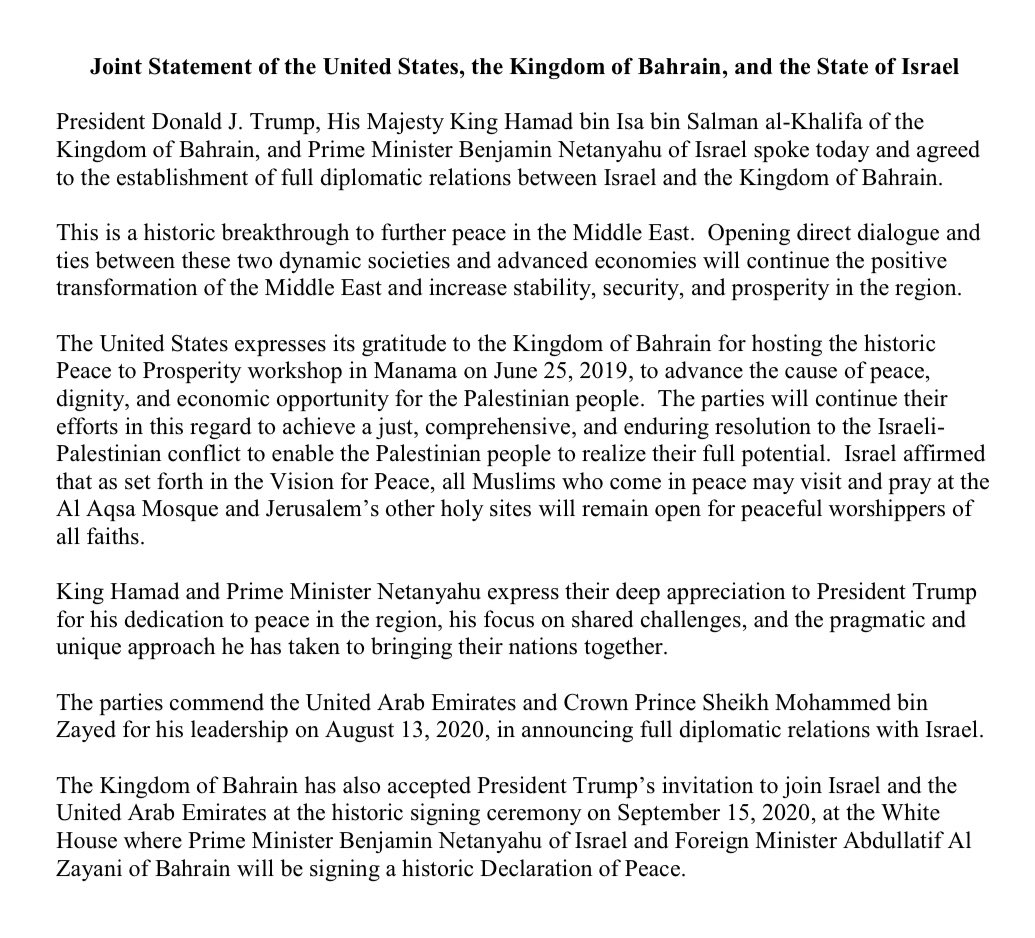 Israel's Prime Minister Benjamin Netanyahu said he was "excited" that "another peace agreement" had been reached with another Arab country on Friday."This is a new era of peace. Peace for peace. Economy for economy. We have invested in peace for many years and now peace will invest in us," he said.
Resources:
cnn.com, "Read the full statement by the US, Israel and UAE on normalizing Israel-UAE relations," By Seán Federico-O'Murchú; theprint.in, "This is what Israel, UAE and US get from the diplomatic breakthrough in Middle East," By Bobby Ghosh; bbc.com, "Trump announces 'peace deal' between Bahrain and Israel," By Barbara Plett-Usger;
Addendum:
"This historic diplomatic breakthrough will advance peace in the Middle East region and is a testament to the bold diplomacy and vision of the three leaders and the courage of the United Arab Emirates and Israel to chart a new path that will unlock the great potential in the region. All three countries face many common challenges and will mutually benefit from today's historic achievement.Delegations from Israel and the United Arab Emirates will meet in the coming weeks to sign bilateral agreements regarding investment, tourism, direct flights, security, telecommunications, technology, energy, healthcare, culture, the environment, the establishment of reciprocal embassies, and other areas of mutual benefit. Opening direct ties between two of the Middle East's most dynamic societies and advanced economies will transform the region by spurring economic growth, enhancing technological innovation, and forging closer people-to-people relations.As a result of this diplomatic breakthrough and at the request of President Trump with the support of the United Arab Emirates, Israel will suspend declaring sovereignty over areas outlined in the President's Vision for Peace and focus its efforts now on expanding ties with other countries in the Arab and Muslim world. The United States, Israel and the United Arab Emirates are confident that additional diplomatic breakthroughs with other nations are possible, and will work together to achieve this goal.The United Arab Emirates and Israel will immediately expand and accelerate cooperation regarding the treatment of and the development of a vaccine for the coronavirus. Working together, these efforts will help save Muslim, Jewish, and Christian lives throughout the region.This normalization of relations and peaceful diplomacy will bring together two of America's most reliable and capable regional partners. Israel and the United Arab Emirates will join with the United States to launch a Strategic Agenda for the Middle East to expand diplomatic, trade, and security cooperation. Along with the United States, Israel and the United Arab Emirates share a similar outlook regarding the threats and opportunities in the region, as well as a shared commitment to promoting stability through diplomatic engagement, increased economic integration, and closer security coordination. Today's agreement will lead to better lives for the peoples of the United Arab Emirates, Israel, and the region.The United States and Israel recall with gratitude the appearance of the United Arab Emirates at the White House reception held on January 28, 2020, at which President Trump presented his Vision for Peace, and express their appreciation for United Arab Emirates' related supportive statements. The parties will continue their efforts in this regard to achieve a just, comprehensive and enduring resolution to the Israeli-Palestinian conflict. As set forth in the Vision for Peace, all Muslims who come in peace may visit and pray at the Al Aqsa Mosque, and Jerusalem's other holy sites should remain open for peaceful worshippers of all faiths.Prime Minister Netanyahu and Crown Prince Sheikh Mohammed bin Zayed Al Nahyan express their deep appreciation to President Trump for his dedication to peace in the region and to the pragmatic and unique approach he has taken to achieve it."