I have written several postings related to Various topics including the military, Voting, the economy, religion and etc in America. A list of links have been provided at bottom of this article for your convenience. This article will, however address additional issues in these topics.
Table of Contents
– Gretchen Whitmer kidnapping plot
-Why did the Coroner change the primary cause of death for George Floyd?
-What is going on with Governor Cuomo?
– Did Iraq have weapons of mass destruction?
– Is the Dignity of Work Being Targeted In the US?
-Defunding the Police?
-Where Do Criminals Get Their Guns?
– Is America Fighting Back?
This is my third installment of Musings. I use this type of postings to discuss a multitude of topics that don't require a full article on. I do this also because there are so many topics that I can not even hope to keep up on the them otherwise. A few may be a little dated, but they still warrant a discussion, because they help to highlight the the extreme behavior patterns that radical group and individuals take to further their agenda.
Gretchen Whitmer kidnapping plot
The first topic I want to cover is the matter of the supposed kidnapping plot against Gretchen Whitmer the governor of Michigan. On October 8, 2020, the U.S. Federal Bureau of Investigation (FBI) announced the arrests of 13 men suspected of orchestrating a domestic terror plot to kidnap Gretchen Whitmer, the Governor of Michigan, and otherwise using violence to overthrow the state government. Half of the suspects were tied to a paramilitary militia group that called themselves the Wolverine Watchmen. Six of the suspects were charged in federal court, while the other seven were charged with state crimes. A week later, a fourteenth suspect was arrested and charged in state court.
Prior concerns about militia and far-right groups
Preceding the 2020 United States elections, law enforcement officials, members of Congress, and groups tracking extremism in the country have warned about the increasing threat potential from militia and far-right groups. The Anti-Defamation League identified Michigan as a state where the modern militia movement found its roots and where a number of militia groups remain active. However, Jon Lewis, a research fellow at the Program on Extremism at George Washington University, said the Wolverine Watchmen group, which the suspects were members of, "flew under the radar", adding, "This is simply not a big group that we'd ever heard of."
The alleged plot to kidnap Governor Gretchen Whitmer developed from June through September. Within the week preceding the Wolverine Watchmen arrests, there were at least three other state and federal arrest operations linked to the Boogaloo movement, of which the Wolverine Watchmen group's ideology adhered to.
COVID-19 pandemic and mitigation measures in Michigan
Whitmer, the main target of the plot, had seen her political profile elevated over the preceding months due to her early response to the outbreak of COVID-19 in Michigan, in which she enacted strict mitigation measures such as a lockdown of the state, which she was widely praised for. However, she became a target of criticism from far-right groups, and her measures triggered protests in April and May. President Donald Trump offered his support for the protests, derisively calling Whitmer "that woman from Michigan" and tweeting on April 17: "LIBERATE MICHIGAN!" Two weeks later, on April 30, armed protesters stormed the Michigan State Capitol.
Ultimately, on October 2, 2020, the Michigan Supreme Court made two rulings in response to the measures: a 4–3 ruling that declared a 1945 law allowing Whitmer to enact the measures was unconstitutional, and a unanimous ruling that declared a 1976 act did not give Whitmer the power to enact the measures without legislative approval. This put uncertainty over enforcement of the measures and forced the Michigan Department of Health and Human Services – and later, the Michigan Occupational Safety and Health Administration – to circumvent it by ordering similar measures, even after the alleged plot was made public.
Suspects
The suspects were tied to a paramilitary militia group that called themselves the Wolverine Watchmen. The group was co-founded by suspects Pete Musico and Joseph Morrison; the latter is considered the group's "commander". An NBC News investigation into the suspects' social media profiles found links between their ideologies and those of the broader boogaloo movement. The Wolverine Watchmen group had been recruiting members on Facebook from November 2019 until June 2020, when Facebook began purging all boogaloo-related material.
The suspects named in the federal indictment, charged with conspiracy to commit kidnapping, were Adam Fox, Ty Garbin, Barry Croft, Kaleb Franks, Daniel Harris, and Brandon Caserta. Five of the men were Michigan residents, while the sixth, Croft, was from Delaware. Adam Fox and Barry Croft were accused of being the ringleaders of the plot. The suspects charged with state crimes, including providing material support for terrorist acts, firearm crimes, and gang membership, were Wolverine Watchmen founders Musico and Morrison, along with Shawn Fix, Eric Molitor, Michael Null, William Null, and Paul Bellar. At least four of the 13 suspects had attended prior rallies at the Michigan State Capitol. On October 15, a fourteenth suspect, Brian Higgins of Wisconsin, was charged at the state level with material support of an act of terrorism. Garbin pleaded guilty on January 27, 2021 and agreed to testify against his five alleged co-conspirators.
Biographical sketches and motives
Timeline of events
Initial investigations
The Federal Bureau of Investigation (FBI) reported that they became aware of group chats on social media in early 2020 threatening to conduct the violent overthrow of state governments and law enforcement. During the initial investigation of social media chats, the FBI said that they encountered Barry Croft and Adam Fox. In March 2020, local officers from an unidentified police department in Michigan reported to the FBI that the militia was seeking addresses of officers. The FBI then interviewed a militia member, who agreed to become a confidential source after they raised concerns that there were plans to kill police officers. On May 8, the FBI obtained a federal search warrant to review Croft's Facebook account. Agents found messages "plotting potential acts of violence", including a May 3 post referencing a male individual who "may be first" and was wanted "in custody"; the FBI claims this individual was South Carolina Governor Henry McMaster.
The FBI subsequently began infiltrating the group online and in person with informants in June, according to a criminal complaint. Starting at that point, the FBI began compiling photographs, video footage, telephone calls, and encrypted messages made by the suspects and storing them as evidence on a USB flash drive. The content, said to consist of "hundreds of hours of undercover audio recordings and more than 13,000 pages of encrypted text messages", was released by the U.S. District Court for the Western District of Michigan on October 16. On March 30, Pete Musico, a co-founder of the Wolverine Watchmen, allegedly made a comment about placing Whitmer under citizen's arrest and numerous other statements on tape that prosecutors later said had indicated "a violent intent".
Intentions by the group to obtain Whitmer's address reportedly went as far back as April 19, according to court records. On April 30, all members of the group attended an armed protest at the Michigan State Capitol, which prosecutors said was the beginning of opportunities to conduct surveillance. The plot was reportedly hatched in an official capacity on June 6, among a group of about a dozen individuals meeting in Dublin, Ohio, a suburb located northwest of Columbus. A confidential source at the meeting reported that the group primarily sought to establish a new, self-reliant society that adhered to the U.S. Bill of Rights. Participants reportedly discussed peaceful and violent actions of achieving this goal, with talks shifting to how state governments were allegedly violating the U.S. Constitution, how "tyrants" should be killed, and that those present should return home to recruit neighbors.
Recruitment
After the Ohio meeting, Fox allegedly contacted the militia – already being investigated by the FBI – seeking assistance for the plot. On June 14, the militia held a field training exercise. That day, Fox contacted one confidential source in a recorded phone call, detailing the Ohio meeting, and he requested "200 men" to attack the State Capitol in order to take Whitmer and others as hostages and to hold a "trial" for the governor, accusing her of treason. During the call, Fox reportedly said to the source that the operation had to occur prior to the 2020 United States presidential election.
During a Second Amendment event at the State Capitol on June 18, Fox was recorded by a confidential source attempting to recruit militia group leaders to unite in an effort to attack the State Capitol. Two days later on June 20, Fox invited individuals, including one confidential source, to where he was employed in Grand Rapids. According to the source, Fox collected cellphones to prevent recordings and led participants through a trapdoor from the main floor, though the source wore a concealed recording device unknown to those gathered. Audio from the meeting provided to the FBI contained discussions of an assault on the Capitol, how to counterattack first responders, and the use of Molotov cocktails to destroy law enforcement vehicles. It was concluded that the group would meet on the first weekend of July, where they would discuss plans and perform training exercises.
In a June 25 Facebook video captured by the FBI, Fox held a livestream criticizing the justice system, the Government of Michigan and the state's order closing gyms, calling Whitmer a "tyrant bitch" and stating to viewers, "I don't know, boys, we gotta do something. You guys link with me on our other location system, give me some ideas of what we can do".
Training and planning
Initial assault plan
The FBI alleges that training first occurred on June 28 in Munith, Michigan at a militia member's property, with Fox, his girlfriend, Ty Garbin, Kaleb Franks, Caserta, and a confidential source participating in the exercises. Participants were reportedly told to leave if they felt uncomfortable with attacking the government and participating in kidnapping. According to Musico's defense attorney, Fox started making comments about storming the State Capitol during this training session, but there was no agreement from the other members, and Musico expressed concern about the plan's tactical viability, saying, "It's a fishbowl." Court documents released on November 13 alleged that in addition to storming the State Capitol, there were plans of executing hostages and televising them over the course of a week, or locking people inside the building, while the Legislature was in session, and setting it on fire with the intention of leaving no survivors.
According to Musico's attorney, from that day to October 1, there was no activity from the Wolverine Watchmen due to a fight between Fox and Musico and Musico's eventual departure from the group. However, the FBI's confidential source for the investigation said that participants met for weapons exercises in Cambria, Wisconsin, between July 10 and 12, with Croft, Garbin, and a militia member attempting to make an improvised explosive device (IED) on July 11, though the device was defective. Franks also brought a rifle equipped with a silencer, firing it at the time.
At a second meeting in Ohio held on July 18, audio collected by a confidential source revealed discussions of attacking a Michigan State Police station, though Garbin rejected plans of an assault on the Capitol building, instead suggesting to attack Whitmer's family vacation home on Birch Lake in Elk Rapids. In a July 14 call recorded by a source, Fox said he researched the governor's office, concluding that Whitmer would not be present there and was heard saying, "In all honesty right now … I just wanna make the world glow, dude. I'm not even fuckin' kidding. I just wanna make it all glow dude. I don't fuckin' care anymore, I'm just so sick of it. That's what it's gonna take for us to take it back, we're just gonna have to everything's gonna have to be annihilated, man. We're gonna topple it all, dude. It's what great frickin' conquerors, man, we're just gonna conquer every fuckin' thing man." In a July 26 call with a confidential source, Fox said "Maybe we should just make a bunch of cupcakes and send them out", with the source interpreting this as Fox seeking to initiate a "widespread bombing campaign", according to the FBI.
Whitmer vacation home plans
Fox invited participants to his Grand Rapids location on July 27, where a confidential source provided recordings of discussions that shifted to kidnapping Whitmer when she was arriving at, or leaving, either her personal vacation home or the Michigan Governor's Summer Residence on Mackinac Island. According to the FBI, in sourced audio, Fox could be heard saying, "Snatch and grab, man. Grab the fuckin' Governor. Just grab the bitch. Because at that point, we do that, dude — it's over." Fox was also heard in the recording suggesting that the group hire a realtor to find Whitmer's exact residence, collecting information on the surrounding area and recruiting individuals skilled with information technology and demolitions.
Participants met in Munith a second time for training on August 9, and afterwards, they communicated via group calls and chats monitored by a confidential source. In these communications, Fox suggested researching the governor's residence in Lansing and destroying Whitmer's boat. Harris said in a chat, "Have one person go to her house. Knock on the door and when she answers it just cap her … at this point. Fuck it. … I mean … fuck, catch her walking into the building and act like a passers-by and fixing [sic] dome her then yourself." During further chats on August 18, participants concentrated on finding the Whitmer family's vacation home and planned on how to escape the area by boat.
Surveillance begins
On August 23, participants met at Harris' home in Lake Orion, where a secret recording was captured of the group discussing surveillance of the vacation home and Franks shared that he spent nearly $4,000 on night vision goggles and a helmet. A source captured audio of an August 29 surveillance operation, where Fox drove by the Whitmer family's vacation home, took photographs, and discussed response times of police in the area, with Fox allegedly heard saying, "We ain't gonna let 'em burn our fuckin' state down. I don't give a fuck if there's only 20 or 30 of us, dude, we'll go out there and use deadly force." The next day on August 30, the FBI said screen captures of the group chat showed Garbin suggesting the demolition of a bridge near the vacation home to slow and distract police.
Due to recommendation of the Michigan State Police and the Michigan Department of Technology, Management and Budget, the construction of a $1.1 million barrier and electric fence at the Michigan Governor's Mansion in Lansing was announced on September 4 after weeks of construction, with spokeswoman Tiffany Brown saying "perimeter security and other safety upgrades" were being performed. Regarding the security upgrades, The Detroit News wrote "Whitmer, a Democrat who was first elected in 2018, has been the subject of menacing messages at Capitol demonstrations against her past COVID-19 stay-at-home orders", with the newspaper also citing other threats against Whitmer.
While driving in three vehicles–with an undercover FBI agent and confidential source present–from a group camp in Luther towards the vacation home on September 12 and early September 13, Croft allegedly suggested that the group attempt to kidnap Whitmer that night, though the idea was dismissed. According to the FBI, Croft and Fox, who were in the first vehicle, planned on detonating a bomb on a bridge of U.S. Route 31 in Elk Rapids, photographing the underside of the bridge, and deciding where to place explosives. The group in the first vehicle then drove to a boat launch across the lake from the vacation home, waiting for a second vehicle to conduct surveillance on the location. The third vehicle, which was also occupied by an undercover agent, was tasked with monitoring for any followers or suspicious activity in the area. On the way back to Garbin's property, the group discussed abandoning the kidnapping plan and instead destroying the vacation home entirely.
Plans finalize
At a discussion recorded at Garbin's property on September 13, Fox said the plan would strictly be a kidnapping. When a plan to destroy the bridge leading to the lake in order to slow down responding security and police officers were raised, an undercover agent told Fox that the explosives necessary for destroying the bridge would cost about $4,000. The group decided that a final training exercise would be conducted later in October, though Fox pushed for an earlier date the following day. Fox ordered the explosives from the undercover agent that same day. Also on that day, Croft and Harris detonated an IED containing shrapnel near human silhouette targets to test its effectiveness. On October 2, Fox told a confidential source that he purchased an 800,000-volt taser to be used for the kidnapping. That same month, he reportedly contacted Musico, who advocated for a nonviolent approach. Fox, Garbin, Harris, and Franks planned to meet with an undercover FBI agent to purchase explosives on October 7, though Caserta did not attend due to work obligations, while Croft returned to Delaware prior to the meeting.
Arrests
All of the members involved were arrested on the night of October 7, and charges were filed against them the next day. Search warrants and arrests were executed all across Michigan. The arrests were reportedly part of a planned effort between federal and state authorities, launched after evidence was discovered indicating the suspects wanted to kidnap Whitmer before the 2020 election. At least seven FBI field offices, along with the operational divisions at the J. Edgar Hoover Building in Washington, D.C., were reportedly involved in coordinating the arrests. A week later, a fourteenth suspect was arrested and charged in state court. Several weapons and other items were seized, including at least 1,916 rounds of pistol, rifle, and shotgun ammunition; hundreds of firearms; extended magazines; various silencers; speedloaders; and bomb-making equipment.
Legal proceedings
Federal
Six people (Adam Fox, Ty Garbin, Barry Croft, Kaleb Franks, Daniel Harris, and Brandon Caserta) were charged in the United States District Court for the Western District of Michigan for conspiring to commit kidnapping. The federal charges carry an automatic sentence of life imprisonment if convictions are obtained. A federal judge said the federal government had probable cause in the cases against five of the defendants and declared they could move forward to trial, while also denying bond to four of them.
During a court hearing on October 13, an FBI agent testified that the conspirators had considered leaving Whitmer in a boat in the middle of Lake Michigan and disabling its motor. He also testified that the group had discussed, during early stages of the planning, kidnapping Virginia Governor Ralph Northam, who had also imposed strict lockdown orders in response to the COVID-19 pandemic. This prompted the FBI to notify members of Northam's security staff about the potential threat.
On October 26, federal prosecutors announced the FBI had found "explosive device components" and ghost guns and are considering adding federal terrorism charges after they are analyzed by experts. On October 28, an unsealed search warrant revealed that some of the defendants had discussed South Carolina Governor Henry McMaster as another possible target during the early stages of planning in March. The warrant also revealed that, in late June, Croft had posted on Facebook a hit-list of politicians that he said he wanted to hang. The list included the names of McMaster, President Trump, former Presidents Barack Obama and Bill Clinton, former U.S. State Secretary Hillary Clinton, New York Representative Alexandria Ocasio-Cortez, other Democratic and Republican elected officials, liberals, Muslims, and "all anti-Americans".
On October 30, Franks's attorney requested a judge to reconsider her decision to keep him imprisoned, saying he is diabetic and fears contracting COVID-19 in jail.
On December 16, all six federal defendants were indicted by a grand jury.
On January 1, 2021, Croft, who remains jailed in a Philadelphia federal prison, asked to be released while he awaited his court hearings, due to the constant delays in a prisoner transfer and the subsequently slow progress of the case against him. Federal prosecutors argued against releasing him, describing Croft as a "violent extremist" and saying such a decision would be "unreasonable".
On January 15, 2021, a judge ordered all six defendants to stand trial on March 23. The trial date was later postponed to October 12. Croft, Fox, Harris, Franks, and Caserta pleaded not guilty to the charges.
On January 27, 2021, Garbin pleaded guilty to conspiring to commit kidnapping. His sentencing is scheduled for July 8. As part of a plea bargain, he agreed to testify against his co-defendants in exchange for no additional charges being filed against him by prosecutors.
On April 28, 2021, federal prosecutors charged Fox, Croft, and Harris with conspiracy to use weapons of mass destruction, in relation to the explosives that Fox ordered from the undercover agent on September 13, 2020.
State
Michigan Attorney General Dana Nessel charged seven other men (Pete Musico, Joseph Morrison, Shawn Fix, Eric Molitor, Michael Null, William Null, and Paul Bellar) with state crimes, including providing material support for terrorist acts, firearm crimes, and gang membership. Two of the defendants were each set a bond of $10 million, with preliminary examinations scheduled for October 21. Musico's bond was later reduced to $100,000 after his attorney convinced the judge his role in the plot was overstated.
On October 20, Bellar was charged with state crimes and was extradited from his home state of South Carolina for a formal trial.
On November 10, Fix was released on a $250,000 bond. Three days later, bond was reduced for Morrison, Musico, and Bellar. Bellar was released on a $75,000 bond on November 13.
On October 15, Brian Higgins from Wisconsin was charged by Nessel with material support of an act of terrorism, which carries a 20-year sentence. On October 19, Higgins was released on bail, with one of the imposed restrictions being that he not try to make contact with the other 13 defendants. On November 18, his attorney announced his client's plans to challenge his extradition from Wisconsin to Michigan. The basis of the challenge was that the extradition paperwork was signed by Whitmer, the target of the alleged plot, thus creating a conflict of interest. On December 15, a judge in Columbia County, Wisconsin ruled there was enough probable cause for the transfer to occur. His extradition was delayed after his attorney filed an appeal on the ruling.
On December 4, twin brothers Michael and William Null were released on bond.
On December 18, a Jackson County judge denied a bond reduction request for Morrison, saying he could still pose a threat to the public.
On January 14, 2021, Molitor was released on bond.
On March 29, 2021, Morrison, Musico, and Bellar were bound over for trial after a three-day-long preliminary hearing. At the same hearing, threat of terrorism charges were dismissed against Morrison and Musico; Bellar did not face that charge.
On April 14, 2021, a judge lifted Michael and William Null's curfew and house arrest restrictions, but they were still required to wear GPS tethers.
On June 7, 2021, Musico called for his case to be dismissed, arguing entrapment by federal authorities and the confidential informant and claiming he would not have associated himself with Fox without police interference. He also claimed the informant led the training sessions for the Wolverine Watchmen; an FBI agent said in March that he instructed the informant to take on a leadership role during those sessions to prevent suspects from getting injured and thus requiring a law enforcement response while the Wolverine Watchmen were armed. Similar motions calling the case's dismissal on the grounds of entrapment are also expected from Morrison and Bellar.
Reactions
Whitmer's response
Whitmer spoke out during a livestream held after the thwarted plot was revealed by the FBI. She thanked the law enforcement agencies involved in the investigation, called the plotters "sick and depraved men", and cast blame on President Trump for refusing to explicitly condemn far-right groups and for his handling of the COVID-19 pandemic. Whitmer later urged in a tweet that the suspects be called domestic terrorists and not members of any militia organization. In an October 11 interview with Face the Nation, she said security threats against her still existed and that extremists like the Wolverine Watchmen are "finding comfort and support in the rhetoric coming out of Republican leadership from the White House to our state House." Whitmer wrote about the plot in an opinion piece in The Atlantic on October 27, where she continued to blame Trump's rhetoric for causing divisiveness in the country.
Other political responses
Michigan Attorney General Dana Nessel called the plot "one of the largest cases in recent history" and labeled the case as "rather unprecedented" in nature. State Senator Mike Shirkey, Michigan House Speaker Lee Chatfield, and Ohio Governor Mike DeWine also condemned the plot. Chatfield later criticized Whitmer for not warning state lawmakers in advance about the plotters' original intent to storm the Michigan State Capitol building. Delaware Governor John Carney, who pardoned one of the suspects in 2019, called the federal charges "disturbing" and said, "This is also another warning sign about the growing threat of violence and radicalization in our politics." Virginia Governor Ralph Northam, who had also been discussed by the alleged plotters as a potential target, declined to comment about the details of the plot but said he and his family felt safe with the protection of the Virginia State Police.
President Trump's responses
In an October 8 interview, President Trump criticized Whitmer for her rebuke of him in response to the kidnapping plot, saying he condemned all forms of "extreme violence" and calling for her to reopen her state. During that interview, Trump falsely claimed that Michigan's schools and churches were closed under Whitmer's orders. In response to Trump's remarks, Whitmer said it "tells you everything you need to know" about the difference between him and Democratic presidential candidate Joe Biden. Biden also reacted to Trump's remarks on October 16, saying the "failure to condemn these folks is stunning."
Trump continued to attack Whitmer for her COVID-19 mitigation measures at a rally in Muskegon on October 17, which was matched with chants of "Lock her up!", to which he replied, "Lock 'em all up." Trump's daughter-in-law Lara, a campaign surrogate, later insisted he was merely "having fun" at the rally. In a subsequent interview with NBC's Meet the Press, Whitmer called Trump's rhetoric "incredibly disturbing" and said it is "inspiring and incentivizing and inciting this kind of domestic terrorism". She also countered Trump's claims at the rally that she should relax the statewide COVID-19 restrictions, saying Michigan hasn't had a stay-at-home order since spring. At an October 27 rally in Lansing, Trump downplayed the alleged plot and continued the verbal attacks on Whitmer, which were also met with chants of "Lock her up!".
Law enforcement responses
Since the kidnapping plot at one point involved an intended attack on police, state law enforcement agencies were put on high alert in response.
Statements by Barry County Sheriff
Dar Leaf, the elected sheriff of Barry County, Michigan, appeared to defend two of the suspects in an October 8 interview, saying that "a lot of people are angry with the governor, and they want her arrested. So are they trying to arrest or was it a kidnap attempt? Because you can still in Michigan if it's a felony, make a felony arrest." Citing the state's citizen's arrest statute, he continued, "It doesn't say if you are an elected office that you're exempt from that arrest. I have to look at it from that angle and I'm hoping that's more what it is, in fact, these guys are innocent till proven guilty so I'm not even sure if they had any part of it."
The interview went viral on the internet, along with the revelation that Leaf had shared the stage with one of the suspects at a May 18 anti-lockdown protest. Attorney General Nessel condemned the remarks as "dangerous", while a number of other Michigan sheriffs expressed their outrage as well. Law experts disagreed with the notion that the Wolverine Watchmen were simply planning to conduct a legal citizen's arrest on Whitmer, saying it was far-fetched. Leaf later clarified his comments, claiming he simply wanted a fair trial for the accused and did not agree with their alleged actions, which he called "horrible". His earlier comments and his ties with one of the suspects during the anti-lockdown protest have spurred calls for him to resign. On October 13, Leaf acknowledged the criticism but said he will not resign.
Michigan State Capitol security concerns
Democrats in the Michigan Legislature renewed calls for a ban on guns in the State Capitol building in response to news of the plot, following an unsuccessful September proposal drafted in response to armed anti-lockdown protesters storming the building in April.
On December 14, the day that Michigan's electors to the Electoral College were set to meet at the capital, authorities closed the Michigan State Capitol to the public and shuttered state legislators' offices in the wake of the alleged plot, following "credible threats of violence". The building was left open only to those needed for the Electoral College. Earlier that day, State Representative Gary Eisen claimed there would be a "Hail Mary" effort regarding a plan to prevent electors from casting a vote. When asked if he can assure the public that it will be a safe day in Lansing, and that nobody would get hurt, Eisen replied, "No. I don't know. Because what we're doing today is uncharted." Shortly after the interview, Chatfield and Speaker-Elect Jason Wentworth released a statement disavowing any threat of violence or intimidation and announcing Eisen would be removed from his committee assignments for the rest of the term.
On January 11, 2021, Michigan banned the open carry of firearms on the State Capitol, citing the alleged plot and the storming of the United States Capitol. The ban was supported by both Democratic and Republican state lawmakers. On January 15, 2021, the Michigan National Guard was requested, and heavy fencing was put up around the State Capitol, in preparation for an armed protest two days later, on January 17.
Other responses
A spokesperson for Facebook, which had been used by the suspects in plotting Whitmer's kidnapping, said the company would be cooperating with the FBI's investigation.
A scheduled October 13 campaign stop by Eric Trump at a Lyon Township gun store was moved to a banquet center in Novi after it was discovered one of the suspects had worked there for three weeks before being fired.
The Wolverine Watchmen group was reportedly an offshoot of the Michigan Militia. The day after the suspects were arrested, the Michigan Militia issued a statement disavowing the group. Other Michigan-based militia groups also distanced themselves from the plotters' actions and intentions. The Michigan Home Guard, a militia that one of the suspects had once been a member of before being kicked out earlier this year, released a statement condemning the Wolverine Watchmen's actions.
Conspiracy theories about the alleged plot emerged on social media, falsely claiming the Wolverine Watchmen were anarchists affiliated with the antifa and Black Lives Matter movements. Some social media posts promoting the theories were flagged by Facebook as part of its anti-misinformation campaign, while PolitiFact rated the posts as "Mostly False".
Men accused in plot to kidnap Michigan Gov. Whitmer claim FBI set them up
The men accused of plotting to kidnap Michigan Gov. Gretchen Whitmer last September claim they were set up by the FBI because of their conservative political views.
There were at least 12 FBI informants involved in the investigation to thwart the alleged scheme by a militia group known as the "Wolverine Watchmen" — but the agents actually took an active part in it right from its inception, according to court filings, evidence and dozens of interviews reviewed by BuzzFeed News — and now some members of the group are accusing the feds of entrapment.
One informant from Wisconsin allegedly helped organize meetings where the first inklings of the plot surfaced, even paying for hotel rooms and food to entice people to attend, Buzzfeed News reported.
Another undercover agent allegedly advised the group on how to blow up a bridge to aid their getaway — and promised to supply them with explosives.
An FBI informant, who is an Iraq War veteran, eventually rose to become second in command of the group, the report said.
According to BuzzFeed News, lawyers for the men allege that the informants and the undercover agents gained the confidence of the defendants, stirred their anger at Whitmer and encouraged them to conspire in the plot, even going as far as steering the conversation away from other subjects to how to carry out the kidnapping.
The Iraq vet, they said, even taught them military tactics to use in the operation.
The defendants charged in the plot also claim the talk of kidnapping Whitmer because she instituted strict coronavirus guidelines was just that — talk.
While they acknowledge attending training sessions with combat-style rifles and communicating with each other about their frustrations with Whitmer, they say there was no conspiracy to do harm to the governor.
The men allege the government set out to sabotage their militia movement that is based on the sanctity of the Second Amendment and their belief the government by violating the Constitution is no longer legitimate.
They also claim that the recordings and text messages collected by government prosecutors as evidence are violations of their First Amendment right to free speech.
But the federal prosecutors say they have amassed thousands of social media postings, more than 400,000 text messages, hundreds of hours of audio and visual recordings that show the men were purposely moving toward the objective of kidnapping Whitmer.
While the men say they were targeted due to their conservative views, at least one of the defendants allegedly harbored a general dislike of politicians, left and right.
Barry Croft, 44, allegedly wrote on Facebook that he wanted to "hang" then-President Donald Trump, as well as former Democratic commanders-in-chief Barack Obama and Bill Clinton, according to court filings.
In all, 14 people have been charged by federal and state prosecutors in the plot, and their cases are working their way through court systems.
The defendants face an assortment of charges from conspiracy to commit kidnapping to domestic terrorism to weapons of mass destruction charges.
The mass destruction charges involve wanting to blow up a bridge near Whitmer's home using explosives.
The FBI's Whitmer Kidnapping Case Looks Like A Potemkin Terror Plot
Over the past few weeks, there has been a slew of reporting on the alleged plot to kidnap Michigan Gov. Gretchen Whitmer, specifically, the fact that the FBI seems to have played a far more considerable role in it than had previously been reported. BuzzFeed News produced an exposé on the case detailing how the FBI used 12 informants and undercover FBI agents to infiltrate the Wolverine Watchmen militia group, which prosecutors allege planned to kidnap Whitmer in the run-up to the 2020 national elections.
The problem with the case is that it appears the FBI, through informants and undercover agents, hatched the kidnapping plot, served in the key leadership positions of the militia group, trained the militia members in military tactics, actively recruited participants, and funded much of the militia's activities. Then, when various members of the Watchman militia became uncomfortable with the kidnapping plot, with several quitting, the FBI's primary informant pushed the plot along, eventually becoming the militia group's leader.
The Primary Informant's Story Doesn't Add Up
The primary informant, known only as Dan, has been identified in court documents as a former U.S. Army Iraq War veteran. Dan reportedly volunteered to the FBI after stumbling across the Wolverine Watchman group on Facebook.
Dan, whom court documents say earned a college degree in criminal justice after his stint in the Army, stated he had previously worked as an executive protection agent and a National Rifle Association firearms instructor, and was a current employee of the U.S. Postal Service (the exact nature of his duties at USPS is not publicly released).
He testified in court that he had been searching for Second Amendment-related Facebook posts to find tactical training opportunities to retain the perishable combat skills he acquired during his tour of duty in Iraq. After viewing the Watchman's page, he applied for acceptance to their private Facebook group and was admitted after answering a series of vetting questions.
At the time Dan applied for membership with the Watchman militia, in March 2020, the Watchman militia had only a single member with military experience: Joe Morrison, a reserve U.S. Marines mechanic serving part-time with a reserve logistics support group (according to court documents, a second military veteran, Daniel Harris, was recruited into the group five months later, in July 2020). Morrison had no combat arms training beyond boot camp and zero combat experience.
It is puzzling exactly what kind of "tactical training opportunities" Dan, an Iraq War combat veteran, hoped to gain from a ragtag group of largely untrained and inexperienced civilian militia. According to Dan's testimony, he participated in extensive, months-long, house-to-house warfare in Sadr City during his 14-month rotation in Iraq. The question of why someone with Dan's combat experience would seek to join the Watchman militia to receive training went unasked and unexamined during depositions and court hearings.
This 'Plot' and These 'Conspirators' Are a Joke
Federal and state prosecutors in this case have indicted 14 defendants from across the country; not just from Michigan, but from states as far as away as Virginia, Delaware, and South Carolina. Some of the defendants are less than sympathetic characters and have made inflammatory statements in text messages, social media posts, and in front of wired FBI informants who dutifully recorded their every word. Prosecutors repeatedly claimed the defendants are dangerous threats to the public, but they have presented no actual evidence of this beyond the defendants' inflammatory speech.
The prosecutors' main claim that the defendants had demonstrated their ability and intent to use explosives in the plot was derived from their laughable attempts to ignite uncompressed black powder during a group training event sponsored by one of the FBI informants—which in itself proved how unskilled and incapable the defendants were in the handling or use of explosives. In fact, the group's only actual planning with regard to explosives was done by an undercover FBI agent who posed as an explosives expert and black market broker for military-type explosives.
Reading through the court documents, text messages, and transcripts for this case is like listening to the David Allen Coe country song about pickup trucks, single-wide trailers, prison, and being drunk and down and out—in the rain. To the nation's elite class, the defendants in this case are a collection of flyover America's pile of broken toys: the surplus population who were left behind in globalization's destruction of working-class America.
With the help of a strong supply of snitches, the FBI rounded up some unemployed, homeless, mostly alone, and angry loudmouths to build a fantasy football-style display of domestic terrorism fear-porn. The only thing more depressing than realizing middle America is now just a bunch of NPCs in the latest version of "Call of Duty: Rogue National Security State" is that there are likely more of these manufactured cases coming to an America near you.
How Powerlessness Affects a People
In a republic like America, there is a designed tension between the citizen and the state. The citizen, as the individual, is protective of his natural rights, privacy, and liberty, while the state, as the establishment, is ostensibly concerned with the prosperity, safety, and security of the republic as a whole.
Our Constitution was designed to balance the friction between Alexander Hamilton's "The vigor of government is essential to the security of liberty" and John O' Sullivan's "The best government is that which governs least." When that balance is disrupted, there is political conflict.
The elite and powerful can express their political concerns with big-money donations to politicians and pithy outrage from their blue-check Twitter accounts. The little people, the working-class flotsam and jetsam of America, have to just suck it down. They can vent their frustrations on social media, but no one is listening to them—except for people like Dan and the army of informants employed by the government.
The powerless often cope with their powerlessness through what can only be called LARPing, or live-action role-playing. This and ill-advised braggadocio is a way to feel like they have some control over their lives.
One LARP Faction Against Another
A majority of the defendants in this case were clearly LARPing as revolutionary-style patriots. This was evident when, as the FBI informants and agents pushed the plot along to more dangerous ends, many of the group's members got cold feet and quit, with some go so far as to move out of state.
In a better America, the FBI would recognize this and dispatch an agent or two to deliver a wake-up call to these LARPers. After all, is the FBI's purpose in inserting themselves into these types of organizations to avert political violence, or is it to manufacture cases that lead to political headlines and promotions for those agents involved?
Obviously, in America now, it is the latter—and that is the crux of the problem. Essentially, the FBI and its collection of law enforcement partners in the Joint Terrorism Task Forces are also LARPing, as counterterrorism heroes.
For the FBI Joint Terrorism Task Forces and their army of informants, there is money to be made in counterterrorism inflation. According to the Department of Justice Inspector General, the FBI spends more than $42 million per year on paid informants. Some informants have earned upwards of $4.9 million for their work. In this case, informant Dan earned nearly $55,000 for six months of work, in addition to his U.S. Postal Service salary.
Counterterrorism is hard work. Finding an actual domestic terrorist in a country with very few incidents of domestic terrorism is an even harder task. It appears it is much easier, more profitable, and a much better career move for all involved to create a Potemkin terror plot and then swoop in to play the part of counterterror hero.
The trouble is, while they are wasting valuable time and resources creating shocking headlines, federal agents are ignoring the real threats to Americans, while meddling in and ruining the lives of the most powerless in our society.
Undercover FBI informants played key role in plot to kidnap Michigan governor, suspects claim, as they accuse govt of entrapment
Several of the men accused of planning to kidnap Michigan Governor Gretchen Whitmer say they were entrapped by the FBI, with government documents suggesting that at least 12 undercover informants played major roles in the scheme.
A lengthy investigation by BuzzFeed News – published on Tuesday and based on court filings, text and audio transcripts, and more than two dozen interviews with sources close to the case – claimed that the 12 informants and undercover agents "played a far larger role" in the kidnapping plot than was previously known.
"Working in secret, they did more than just passively observe and report on the actions of the suspects. Instead, they had a hand in nearly every aspect of the alleged plot, starting with its inception," the outlet reported, noting that the scope of their involvement "raises questions as to whether there would have even been a conspiracy without them."
So far, one of the 14 suspects in the case has formally accused the government of entrapment, saying the FBI actively drove the plot forward and helped to assemble its key planners, while lawyers for two others say they plan to raise similar claims in the future.
All but one of the 14 defendants – six of whom were slapped with federal counts, while eight others were charged under Michigan's terrorism laws – have pleaded not guilty, insisting there was no serious plan to kidnap Whitmer. One defense attorney deemed the plot "big talk" between "crackpots" and "military wannabes."
In the FBI's original criminal complaint issued on October 6, 2020, the bureau acknowledged that it "relied on information provided by Confidential Human Sources (CHS) and Undercover Employees (UCE) over several months," saying that, while all the informants were not present with the plotters at all times, "at least one … was usually present during the group meetings."
The bureau mentioned only four undercover sources, however, including two actual agents, in its initial complaint – far fewer than the 12 ultimately revealed in later filings. The FBI also did not disclose the full extent of their involvement in the plot, though did note that some informants were paid for their work.
One of them, named as 'CHS-2' in the complaint, was paid at least $14,800, which the FBI says included "reporting and expenses," while a source labeled 'CHS-1' was paid $8,600. It did not specify a reason for that payment.
Though not included in the initial affidavit, it was later revealed that another informant, identified only as 'Dan' in government documents, was paid around $6,000 for "reimbursement for expenses" and another $24,000 for his "services" as a source. The bureau also purchased him a new car, deeming it a "witness protection expense."
An Iraq War veteran, 'Dan' would become so deeply involved with the group of alleged kidnappers that he eventually rose to be its "second-in-command," according to BuzzFeed. For around six months, he collected hundreds of hours of recordings of the group using a wire, encouraging suspects to collaborate with one another and "prodding" the ringleader to "advance his plan." At times, he even paid to transport group members to meetings, as did another Wisconsin-based informant.
Last week, an attorney for one defendant filed a motion citing texts from an FBI agent to 'Dan,' saying they showed the bureau directed him to recruit specific people into the kidnapping conspiracy. The lawyer is now requesting all messages exchanged between the two, suggesting they could bolster an entrapment defense.
The group also arranged plans to purchase bomb-making materials from an undercover agent, as the FBI affidavit notes that four suspects planned to "meet with a UCE on October 7, 2020, to make payment on explosives and exchange tactical gear." They were arrested before that meeting could happen, and the full extent of the agent's involvement in the plot remains unclear.
While the US Department of Justice declined BuzzFeed's requests for comment, the Michigan attorney general's office downplayed the defendants' claims, saying they were "not indisputable facts," and that officials would "counter and correct these issues in court."
FBI informants had bigger role in Whitmer kidnap plot than thought: report
Members of an anti-government group accused of hatching a plan to kidnap Michigan Gov. Gretchen Whitmer claim they were set up by more than a dozen FBI agents who had infiltrated the organization and played a key role in the plot, according to a new report.
Fourteen members tied to the paramilitary militia group Wolverine Watchmen were arrested in connection to the 2020 scheme to kidnap the Democratic governor after she refused to loosen coronavirus restrictions in the state. The plan was brainstormed at a militant-group training camp in August. Within a few short weeks, the defendants began surveilling Whitmer's vacation house and "drew a map" that "noted approximate distances from the home to police first responders," according to an indictment.
The group also allegedly planned to attack infrastructure near Whitmer's house, including blowing up a bridge to slow the response from law enforcement officers.
The case has been heralded as a high-profile example of how the FBI's infiltration of the innermost circle of extremist groups can thwart domestic terrorism. But others believe it's an example of gross government overreach that could backfire.
Prosecutors recently revealed that there were a dozen confidential informants working on the case. The evidence they helped gather provided a glimpse into American extremism and how some self-proclaimed militia groups collaborate with one another, including pooling resources and building on violent ideas.
WHAT TO MAKE OF THE PLOT TO KIDNAP GRETCHEN WHITMER
But a closer look into the foiled kidnapping by BuzzFeed revealed that some of the informants the government used appeared to play a far greater role in the plot than had been previously reported. In fact, the informants had a hand in nearly every aspect of the twisted machination, including its inception.
New information on the extent of the FBI's involvement has raised questions as to whether there would have even been a conspiracy to take down the Democratic governor without their help.
One Wisconsin-based government informant, for example, helped organize a series of cross-country meetings with extremists. Those meetings allegedly laid the groundwork for the multi-part plot. That same informant also paid for hotel rooms and food as an incentive to get people to come, Buzzfeed reported.
FBI INFORMANT TESTIFIES AGAINST MEN ACCUSED OF WHITMER KIDNAPPING PLOT
Another informant, an Iraq War veteran, was so deeply involved in the militant group that he rose in the ranks to become the second in command. He also encouraged members to work with other suspects and even offered to foot the bill to get people to and from meetings. He is also accused of urging the alleged mastermind of the kidnapping plot to carry it out before laying the trap for him to be arrested.
All but one of the 14 original defendants have pleaded not guilty and deny they were ever involved in the scheme. They contend that they were targeted by the government because of their political views. They also claim the government orchestrated a campaign against them to undermine the Patriot movement, a far-right ideology that pledges allegiance to the Second Amendment and believes the government violated the U.S. Constitution and is therefore illegitimate. They also argue that the government is guilty of criminal conspiracy and possible entrapment.
Prosecutors disagree.
They have gathered thousands of social media posts, 400,000 text messages, and have 1,300 hours of audio and video recordings that they claim show the suspects not only expressed anti-government views but also took steps to carry out the plan.
The defendants argue the recordings and text messages are constitutionally protected speech. They also claim talk of the kidnapping never rose beyond the level of fantasy and that they never intended to hurt anyone.
The investigation comes after it was revealed that Richard Trask, a special agent at the center of the case, was arrested and charged Monday in relation to a domestic violence incident.
Trask, 39, from Kalamazoo, Michigan, is accused of smashing his wife's head against a nightstand after an argument stemming from a swingers' party they attended, according to court records. Trask has been released on bond.
Conclusion
It is evident that there is more than meets the eye with the plot to kidnap Whitmer. In my way of thinking there is a clear case of entrapment involved. So this begs to question, why was this necessary? I believe it was an attempt at deflecting all the negative press against Whitmer in regards to her having infected individuals being sent back to the Nursing Homes in Michigan. If this is the case, it was unnecessary. The press had it under control. They have been covering for their other northern state democratic governors who were also responsible for mass deaths of their elderly.
Why did the Coroner change the primary cause of death for George Floyd?
Bombshell Claim: Medical Examiners Bullied Over Floyd's Cause of Death Minneapolis police officer's defense alleges that medical witnesses were subjected to coercion and retaliation.
Ccounsel for Tou Thao, one of the former Minneapolis police officers charged in the death of George Floyd, filed an explosive motion for sanctions against the prosecution that alleges, among other things, that the testimony of Hennepin County Medical Examiner Andrew Baker in the trial of Derek Chauvin "was directly and indirectly coerced by the State and its agents" and that the former chief medical examiner for the State of Maryland, who testified for the Chauvin defense that Floyd's death was due to cardiac arrhythmia, has been subjected to threats against his medical license.
The motion avers, in part, the following:
On May 26, 2020, Dr. Baker, the Hennepin County Medical Examiner, conducted an autopsy of Mr. Floyd. On that same date, Dr. Baker advised "prosecuting attorneys" that "[t]he autopsy revealed no physical evidence suggesting that Mr. Floyd died of asphyxiation. Mr. Floyd did not exhibit signs of petechiae, damage to his airways or thyroid, brain bleeding, bone injuries, or internal bruising."
In woke America, due process of law and the right to defend oneself in a court of law must not stand in the way of achieving social justice.
On May 29, 2020, the criminal complaint against Derek Chauvin stated that the full report of the medical examiner was pending, but that the preliminary findings "revealed no physical findings that support a diagnosis of traumatic asphyxia or strangulation."
Prior to June 1, 2020, Dr. Roger Mitchell, former medical examiner for Washington, D.C., called Dr. Baker to discuss these preliminary findings. Citing an "Exhibit 1" (not accessible on the court's website), paragraphs 5 and 6 of the motion state the following:
5. Dr. Mitchell spoke with Dr. Baker before Dr. Baker finalized his findings on June 1, 2020. Id. During the conversation between Dr. Mitchell and Dr. Baker, the following transpired:

a. Dr. Mitchell "called Baker and said first of all Baker should fire his public information officer." Id.

b. "Then Mitchell asked [Baker] what happened, because Mitchell didn't think it sounded like Baker's words". Id.

c. "Baker said that he didn't think the neck compression played a part … " Id.

6. Over the weekend, Dr. Mitchell thought about Dr. Baker more. Id. After the phone conversation between Dr. Mitchell and Dr. Baker, Dr. Mitchell decided he was going to release an op-ed critical of Dr. Baker's findings in the Washington Post. Id. Dr. Mitchell first called Dr. Baker to let him know. Id. The following transpired:

a. Dr. Mitchell called Dr. "Baker first to let him know that he was going to be critical of Baker's findings". Id. "In this conversation, Mitchell said, you don't want to be the medical examiner who tells everyone they didn't see what they saw. You don't want to be the smartest person in the room and be wrong. Said (sic) there was a way to articulate the cause and manner of death that ensures you are telling the truth about what you are observing and via all of the investigation. Mitchell said neck compression has to be in the diagnosis." Id. (Emphasis in original.)
According to the motion, following these conversations, Dr. Baker issued a press release in which the "final autopsy findings included neck compression," which was "contrary to Dr. Baker's conclusion before speaking with Dr. Mitchell twice."
The motion later addresses the purported actions of Dr. Mitchell in regard to Dr. David Fowler, former chief medical examiner of the State of Maryland, who testified for the defense in the Chauvin trial "that in his opinion the death [of Mr. Floyd] was undetermined."
In fact, Dr. Fowler testified that Mr. Floyd died while being restrained by the police of a sudden onset cardiac arrhythmia due to his heart disease, which included high blood pressure and narrowing of the arteries. He added that the presence of fentanyl and methamphetamine in Floyd's system were contributing factors as was "possible" carbon monoxide poisoning from auto exhaust.
As set forth in the motion, eight days after Dr. Fowler's testimony, Dr. Mitchell "wrote an open letter" to Maryland's attorney general, the director of the Maryland Department of Health, the United States attorney general, and the director of the Centers for Disease Control and Prevention, calling for an "immediate investigation into the practices of the physician [Dr. Fowler] as well as the practice of the Maryland State Office of the Chief Medical Examiner (OCME) while under his leadership." The letter also stated that Dr. Fowler's opinion testimony was "baseless, revealed obvious bias, and raised malpractice concerns" and "is outside the standard practice and conventions for investigating and certification of in-custody deaths":
Our disagreement with Dr. Fowler is not a matter of opinion. Our disagreement with Dr. Fowler is a matter of ethics. The disingenuous testimony of Dr. David Fowler exposes the frailty of the current Medical Examiner/Coroner System and illustrates the lack of existing oversight and uniformity of practice. If forensic pathologists can offer such baseless opinions without penalty, then the entire criminal justice system is at risk.
The letter calls for, among other things, "Investigation into the medical license of [Dr. Fowler] for possible ethical violations associated with death in custody diagnosis."
The letter, which was publicly circulated, has a "click to sign" feature. As reported by the Baltimore Sun, the letter was "signed by 431 doctors from around the country."
The motion seeks disclosure of evidence purportedly in the possession of the prosecution to "determine whether Dr. Mitchell was a state-actor/agent when he threatened Dr. Baker and/or Dr. Fowler." How that discovery will play out and whether sanctions will be imposed against the prosecution remain to be seen.
And it also is an open question as to whether the defense can prove the claim that Dr. Mitchell committed the "crime of coercion" by threatening to "unlawfully injure Dr. Baker's trade unless Dr. Baker changed his autopsy findings."
But, in the meantime, Dr. Mitchell's open letter regarding Dr. Fowler's purported "ethical violations," which demands an "investigation into" Dr. Fowler's medical license, seemingly supports one of the motion's most damning allegations, to wit:
Dr. Mitchell has set the stage that he will threaten the trade and professional reputation of any physician who suggests that Mr. Floyd's death could be labeled as "undetermined."… Dr. Mitchell has essentially stated that any medical expert who wants to testify that Mr. Floyd's death could be undetermined should, and will, face penalties by him. Dr. Mitchell's accusations and spurring of legal fallacies creates a chilling effect for Mr. Thao and violates his due process rights in that it has become extraordinarily difficult to find medical experts who are willing to state that Mr. Floyd's death was undetermined in fear of their professional reputation and licensure.
Given Dr. Mitchell's open letter, this averment is a masterpiece of lawyerly understatement. And, placed in the context of the threatened mob violence that has permeated and polluted the prosecution of these former Minneapolis police officers, it doesn't begin to state the enormity of the problem facing the defense.
In that regard, consider the threat sent to Barry Brodd, the retired police officer and use-of-force expert who testified during the Chauvin trial that the defendant's actions had been reasonable and met the standards of accepted police protocols.
Within a matter of days following his testimony, Brodd's former home in California was vandalized. According to the New York Post, three women, Rowan Dalbey, 20, Kristen Aumoithe, 34, and Amber Lucas, 35, have been arrested and charged with felony vandalism of that residence.
Lucas is reportedly a self-professed Black Lives Matter activist who attended protests in the aftermath of George Floyd's death and is also, according to her social media, a lifestyle and wine influencer, as well as a commissioner for the Commission on the Status of Women in Sonoma County.
Police allege that the women struck the property in the early morning hours of April 17, days after Brodd testified in the Chauvin case. The trio allegedly smeared pig's blood on the front door and garage of the residence and tossed a pig's head onto the front porch.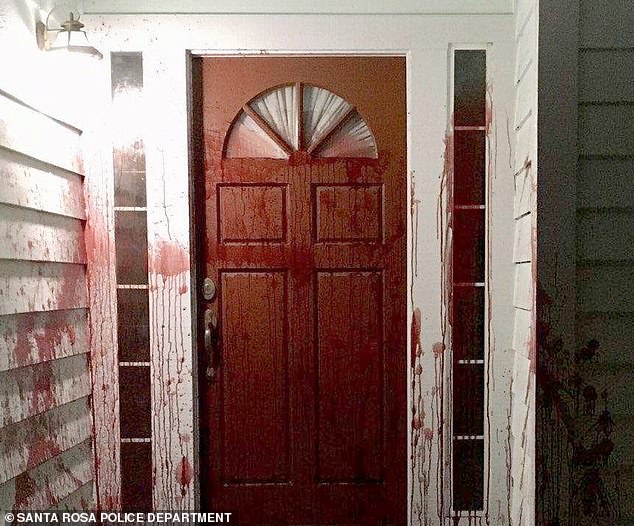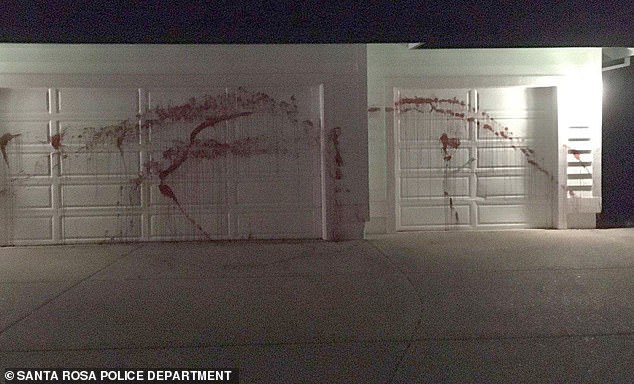 "It appears the suspects in this vandalism were targeting Mr. Brodd for his testimony," said a police spokesman. "Mr. Brodd has not lived at the residence for a number of years and is no longer a resident of California."
And so it goes. Apparently it's not enough to force Thao and the other police defendants to stand trial in a venue where they have no hope of having their fate decided by a fair and impartial jury uninfluenced by the threat of mob violence. Now they also must contend with the efforts of those who, by their retaliation against the Chauvin defense witnesses, have given examples of what may happen to anyone contemplating testifying on behalf of Thao and his co-defendants.
So it is that, in woke America, due process of law and the right to defend oneself in a court of law must not stand in the way of achieving social justice.
Nothing must be left to chance.
Heart disease, fentanyl contributed to George Floyd's death but were not main cause, medical examiner says
George Floyd's heart disease and use of fentanyl were contributing factors to his death, but they were not the direct cause, the medical examiner who performed his autopsy testified on Friday in the trial of former police officer Derek Chauvin.Hennepin County Chief Medical Examiner Dr. Andrew Baker ruled Floyd's death last May a homicide and identified the cause as "cardiopulmonary arrest" that occurred during "law enforcement subdual, restraint, and neck compression" — all findings he stood by in court on Friday.Asked about the autopsy and Floyd's death certificate, Baker described the "top line of the cause of death" as "what you think is the most important thing that precipitated the death."
George Floyd's preexisting conditions and drug use had no impact on his death, doctor says"Other things that you think played a role in the death but were not direct causes get relegated to what's known as the 'other significant conditions' part of the death certificate," he said. "For example, you know, Mr. Floyd's use of fentanyl did not cause the subdual or neck restraint. His heart disease did not cause the subdual or the neck restraint."
Floyd had hypertensive heart disease, Baker said, "meaning his heart weighed more than it should." This meant Floyd's heart needed more oxygen than a normal heart and was "limited in its ability" to provide more oxygen when there was a demand for it.
In the midst of an altercation and being held to the ground, adrenaline would pour into the body, Baker said, making the heart beat faster.Enter your email to subscribe to the CNN Five Things Newsletter.close dialog
We've got the day's biggest headlines summarized for your busy schedule.Sign Me UpBy subscribing you agree to ourprivacy policy."In my opinion, the law enforcement subdual, restraint and the neck compression was just more than Mr. Floyd could take by virtue of those heart conditions," he said.Chauvin's defense attorney, Eric Nelson, has argued that Floyd died as a result of drugs and preexisting health conditions. And under cross examination, Baker said he believed those factors played a role."So in your opinion," Nelson asked, "both the heart disease as well as the history of hypertension and the drugs that were in his system played a role in Mr. Floyd's death?""In my opinion, yes," Baker said.But Baker reiterated he stood by the cause of death he wrote on Floyd's death certificate and his finding Floyd's death was a homicide, which to a medical examiner means his death was caused by another person and does not necessarily indicate guilt."Yes, I would still classify it as homicide today," he said.Baker's testimony came on the 10th day of Chauvin's trial, as the prosecution nears the end of its case. Friday was the culmination of a week filled with expert testimony by not only medical experts, but also policing experts who testified Chauvin violated policy and used excessive force on Floyd.Chauvin has pleaded not guilty to second-degree unintentional murder, third-degree murder and second-degree manslaughter charges.Related: Follow live updates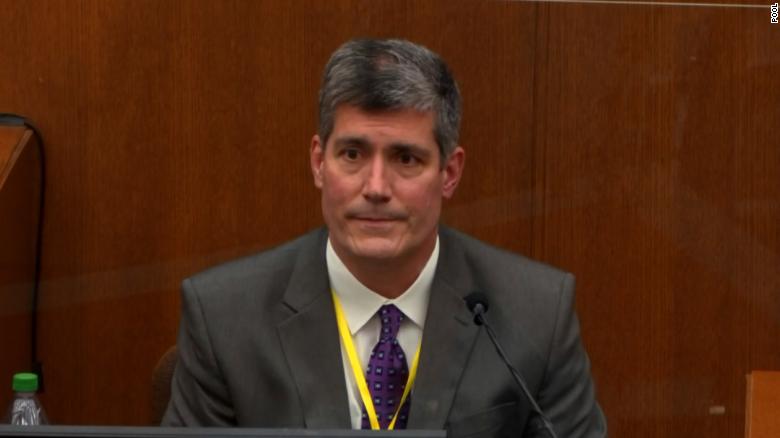 Dr. Andrew Baker, the Hennepin County Chief Medical Exmainer who performed the autopsy of George Floyd, took the stand to testify Friday.
Asphyxia, low oxygen was 'primary mechanism' in Floyd's death, expert says
The Hennepin County Medical Examiner's official autopsy made no mention of asphyxiation as a cause of death, which has been a key pillar of prosecutors' case. In contrast, an independent autopsy commissioned by Floyd's family said he died of "asphyxiation from sustained pressure" when his neck and back were compressed by officers, cutting off the blood flow to his brain.Baker did not watch any videos of Floyd's death prior to performing the autopsy, though he said he was aware of at least one viral video.
Prosecutors are playing it smart in Derek Chauvin's trial"But I intentionally chose not to look at that until I had examined Mr. Floyd," he said. "I did not want to bias my exam by going in with preconceived notions that might lead me down one pathway or another."Baker said he "conveyed" to county prosecutors soon after the autopsy the "lack of anatomical findings" that would support the conclusion Floyd died of asphyxiation. After seeing the video, Baker said, in his opinion, the placement of Chauvin's knee would not cut off Floyd's airway.Baker was preceded by forensic pathologist Dr. Lindsey Thomas, who has worked as a medical examiner herself, including in the Hennepin County Medical Examiner's Office, and who was part of Baker's training.Thomas explained the technical wording of the medical examiner's finding in the cause of death, saying, "What it means to me is that the activities of the law enforcement officers resulted in Mr. Floyd's death. And that specifically those activities were the subdual, the restraint and the neck compression."The medical analysis is important to the prosecution's case that Chauvin was a substantial cause of Floyd's death when he put his body weight on Floyd's neck and back for over nine minutes — causing death by "positional asphyxia."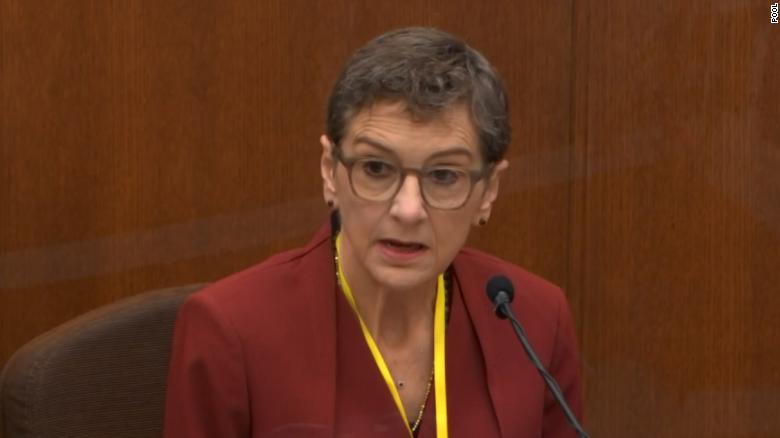 Dr. Lindsey Thomas, a forensic pathologist, testified Friday that George Floyd was "unable to get enough oxygen in" to support his body's functions.Thomas — who has reviewed various records, including the medical examiner's autopsy — agreed with Baker's finding in the cause of death, adding she believed the "primary mechanism of death is asphyxia or low oxygen."Because of the restraint and his position, she said, Floyd was "unable to get enough oxygen in" to support his body's functions."There's no evidence," she said, "to suggest he would have died that night except for the interactions with law enforcement."Thomas' testimony aligned with a pulmonary critical care doctor who testified on Thursday that Floyd died from a "low level of oxygen" when Chauvin pinned him to the street with his knee, restricting Floyd's ability to breathe.Floyd's preexisting health conditions and drug use were not relevant to his death, Dr. Martin Tobin said."A healthy person subjected to what Mr. Floyd was subjected to would have died," he said.
Doctor rejects drug overdose
Thomas said she would not have used the word "asphyxia" in Floyd's death certificate, saying it does not offer much additional information and requires more explanation. While a death by hanging is a type of asphyxial death, she explained, she wouldn't say "asphyxia due to hanging" — she'd just say "hanging."Additionally, Thomas said her review of the case, including the toxicology reports, allowed her to rule out other causes of death, including a drug overdose.Floyd's death was not "sudden" like it would be with a methamphetamine overdose, she said. And it was not slow like one would see with fentanyl, where "the death is slow, it's peaceful, they fall asleep."During her testimony, Thomas underscored the importance of the video evidence in reaching her conclusions, saying she would usually simply review a medical examiner's case file that would tell her about the cause and manner of death.
George Floyd's family describes heart-wrenching experience in the courtroom during Derek Chauvin's trial, attorney says"But in this case, the autopsy itself didn't tell me the cause and manner of death," Thomas said. "And it really required getting all of this other additional information, specifically the video evidence of the terminal events, to conclude the cause of death and the manner of death."Thomas and the jury reviewed photos of Floyd's injuries, including those she described as "superficial injuries" to his face, shoulders and wrists that support what she saw in the videos of his death: that Floyd was trying to push his body into a position where he could breathe.Among the photos were pictures of Floyd's face, with scrapes over his left eyebrow and on his left cheek, according to a report from one of the reporters inside the courtroom. Other photos showed a large abrasion on Floyd's left shoulder that was evidence, Thomas said, of Floyd trying to push himself up.Jurors appeared "relatively well-engaged" during Thomas's testimony, according to reports from two courtroom pool reporters. When she said she believed asphyxia or low oxygen was the "primary mechanism" of Floyd's death, "nearly all jurors were seen writing this down."One pool reporter observed all jurors looking through the photos. Some were seen "flipping ahead looking at all the images."
Juror questioned about outside influences
One of the jurors was questioned Friday morning by Judge Peter Cahill about "some concerns expressed" over outside influences, per the reports from two reporters inside the courtroom.Before testimony began, the woman juror told the judge she had "turned on a television and briefly saw coverage" and "saw an image of the courtroom with a woman with dark hair." Her volume was off, the woman said, and she quickly turned off the TV, the reports said.The judge also asked the woman if she'd had contact with any family members about the case. The woman said a relative texted her but she said she did not respond, the reports said."Any book deal in the works?" Judge Cahill asked."The woman became slightly flustered or surprised," one report said.
The jury has been selected for Derek Chauvin's trial. Here's what we know about them"No, I don't know how this case is going to go," she said, reiterating she hasn't talked to anyone about the trial.Judge Cahill asked if attorneys wanted to make any motions after the woman left the courtroom. Defense attorney Eric Nelson declined. Prosecutor Steve Schleicher said he would like the record to note the woman's demeanor. Judge Cahill noted the woman seemed "surprised."Jurors are released each day with instruction to avoid media coverage and to report to the court any efforts to contact them. This is to keep jurors free from outside influence that could impact deliberations and the outcome of the case.
Doctor who performed George Floyd autopsy stands by homicide conclusion
MINNEAPOLIS, April 9 (Reuters) – The medical examiner who performed the autopsy on George Floyd after last May's deadly arrest explained how he concluded the death was a homicide at the hands of police in testimony on Friday at former Minneapolis policeman Derek Chauvin's murder trial.
As jurors studied graphic autopsy photographs, Dr. Andrew Baker, Hennepin County's chief medical examiner, said he stood by the cause of death he determined last year as protests in Floyd's name against police brutality spread around the world.
Baker is one of the most important witnesses as prosecutors from the Minnesota attorney general's office wrap up their case against Chauvin, a white man captured on video kneeling on the neck of Floyd, a 46-year-old handcuffed Black man, for nine minutes.
Chauvin's main defense to the murder and manslaughter charges has been to cast doubt on Baker's finding, with his lawyers suggesting Floyd may instead have been killed by a simultaneous drug overdose.Report ad
Baker ruled last year that Floyd's death was a homicide caused by "cardiopulmonary arrest complicating law enforcement subdual, restraint and neck compression." In short, he found that Floyd's heart stopped beating and his lungs stopped working because Chauvin, 45, and other officers compressed him against the road in a way that starved his body of oxygen.
Other medical experts called by prosecutors have spent the past two days pointing to the unusually large amount of video of the death, from multiple angles, saying it shores up Baker's finding, and contradicts the defense theory of an overdose.
Baker said he noted in his report that Floyd suffered from heart disease, and fentanyl and methamphetamine were found in his blood because those factors may have played a role in the death. Even so, he emphasized, they "were not direct causes."
"Mr. Floyd's use of fentanyl did not cause the subdual or the neck restraint, his heart disease did not cause the subdual or the neck restraint," Baker told the jury, using medical jargon to refer to the way police pressed Floyd face down against the street.Report ad
Envelopes containing the autopsy pictures were handed to everyone in the room, including reporters and spectators.
For the first time since the trial began in March, a person took the single seat reserved for Chauvin's friends and family. She paused before opening the envelope and looking at the photographs, and declined to speak to reporters who approached her during a recess.
One of Floyd's relatives has occupied the seat saved for his family almost every day since the testimony began on March 26, and on Friday it was Rodney Floyd, who held up the photos of his brother's body before his face to study them.
Under cross examination by Chauvin's lead lawyer, Eric Nelson, Baker discussed in general how the type of heart disease found in Floyd or his use of fentanyl, an opioid painkiller, can sometimes be deadly.Report ad
But he said neither directly caused Floyd's death, which he said he still believed was the holds and compression by the police officers arresting Floyd on suspicion of his using a fake $20 bill to buy cigarettes.
1/7
An image of George Floyd's arrest is displayed on a screen on the ninth day of the trial of former Minneapolis police officer Derek Chauvin for second-degree murder, third-degree murder and second-degree manslaughter in the death of George Floyd in Minneapolis, Minnesota, U.S. April 8, 2021 in this courtroom sketch. REUTERS/Jane RosenbergRead More
"My opinion remains unchanged: it's what I put on the death certificate last June," he said. "That was my top line then. It would stay my top line now."
'LAYING BY THE POOL IN FLORIDA'
Dr. Lindsey Thomas, an assistant medical examiner in the Hennepin County medical examiner's office until she took semi-retirement in 2017, said the sheer volume of videos of Floyd's arrest helped support Baker's findings, and had a value beyond what can be learned from a physical autopsy.
"There's never been a case I was involved in that had videos over such a long time frame and from so many different perspectives," Thomas testified, saying the videos made it clear physical signs associated with opioid overdose were not present in Floyd's death.
She said the videos did not show signs of a fentanyl overdose "where someone becomes very sleepy and then just sort of gradually, calmly, peacefully stops breathing." Nor did they show a sudden death, as from a heart attack.
"There's no evidence to suggest he would have died that night except for the interactions with law enforcement," she said.
Nelson, Chauvin's lawyer, got Thomas to agree that being prone was not in itself sufficient to kill someone, noting that massage therapists often have clients lie face down.
"I could be laying by the pool in Florida on my stomach in the prone position – not inherently dangerous?" Nelson asked.
"Right," Thomas replied.
Nelson also asked her about hypothetical scenarios, with Floyd being found dead in different circumstances in which police were not involved.
Questioned later by Blackwell, the prosecutor, Thomas told the jury that hypothetical scenarios were not helpful to a pathologist trying to determine a cause of death.
"George Floyd was not laying by the pool on his stomach in Florida, was he?" Blackwell asked her.
Thomas agreed.
George Floyd's Autopsy and the Structural Gaslighting of America
The weaponization of medical language emboldened white supremacy with the authority of the white coat. How will we stop it from happening again?
The world was gaslighted by misreporting about George Floyd's initial autopsy report. As concerned physicians, we write to deconstruct the misinformation and condemn the ways this weaponization of medical language reinforced white supremacy at the torment of Black Americans.
Gaslighting is a method of psychological manipulation employed to make a victim question their own sanity, particularly in scenarios where they are mistreated. The term comes from a 1938 play and, later, a popular film, wherein a predatory husband abuses his wife in a plot to have her committed to a mental institution. He dims the gas lights in their home; then, when she comments on the darkness, knowingly rejects her observation and uses it as evidence that she's gone insane. It's a torturous tactic employed to destroy a person's trust in their own perception of reality. It's a devastating distraction from oppression. It's insidious. And it happened in 2020 when millions of people who had seen nine agonizing minutes of murder were told by an autopsy report that they hadn't.
In America, widespread anti-Black violence is often paired with structural gaslighting. Racism, after all, thrives when blame for its outcomes are misattributed. When Black families are refused loans in criminally discriminatory housing schemes, their credit is blamed. When youth of color are disproportionately stopped and frisked, they are told the process is random and for their safety.
And when Black people are killed by police, their character and even their anatomy are turned into justification for their killer's exoneration. It's a well-honed tactic. One analysis of the national database of state-level death certificate data found that fewer than half of law-enforcement-related deaths were reported. In addition to this undercounting, police actions were further minimized by the use of diagnostic codes that incorrectly labeled the cause of death as "accidental" or "undetermined" rather than police-related. For centuries, our systems have relied on this psychological torture—a host of mental gymnastics—to deny the truth of what Black people have always known. The cause of death is racism.
On May 29, 2020, the country was told that the autopsy of George Floyd "revealed no physical findings that support a diagnosis of traumatic asphyxiation" and that "potential intoxicants" and preexisting cardiovascular disease "likely contributed to his death." This requires clarification. These phrases, often quoted in media reports, did not come from a physician but were taken from the criminal charge complaint against Chauvin, which utilized politicized interpretations of medical information. As doctors, we wish to highlight for the public that this framing of the circumstances surrounding Floyd's death was, at best, a misinterpretation and, at worst, a deliberate obfuscation.
A time line of events illustrates how a series of omissions and commissions regarding Floyd's initial autopsy results deceptively fractured the truth. On May 28, a statement released by the Hennepin County Medical Examiner's office reported ongoing investigations and acknowledgement from the forensic pathologist that an "autopsy … must be interpreted in the context of the pertinent investigative information." As per standardized medical examination, Floyd's underlying health conditions and toxicology screen were documented during the autopsy. These are ordinary findings that do not suggest causation of death. The May 29 criminal complaint against Chauvin and ensuing headlines falsely overstated the role of Floyd's coronary artery disease and hypertension, which increase the risk of stroke and heart attack over years, not minutes. Asphyxia—suffocation—does not always demonstrate physical signs, as other physician groups have noted.
Without this important medical context, however, the public was left to reconcile manipulated medical language with the evidence they had personally witnessed. Ultimately the charging document overstated and misrepresented the role of chronic medical conditions, inappropriately alluded to intoxicants, and failed to acknowledge the stark reality that but for the defendant's knee on George Floyd's neck, he would not be dead today.
By Monday, June 1, in the context of widespread political pressure, the public received two reports: the preliminary autopsy report by private doctors commissioned by Floyd's family and—shortly thereafter—a summary of the preliminary autopsy from the Hennepin County Medical Examiner's Office. Both reports stated that the cause of Floyd's death was homicide: death at the hands of another.
By inaccurately portraying the medical findings from the autopsy of George Floyd, the city of Minneapolis and media emboldened white supremacy, all under the cloak of authoritative scientific rhetoric. They took standard components of a preliminary autopsy report to cast doubt, to sow uncertainty—to gaslight America into thinking we didn't see what we know we saw. In doing so, they perpetuated stereotypes about disease, risky behavior and intoxication in Black bodies to discredit a victim of murder. This state of affairs is not an outlier—it is part of a patterned and tactical distortion of facts wherein autopsy reports are manipulated to bury police violence and uphold white supremacy. As Ida B. Wells said, "Those who commit the murders write the reports." A similar conflict of interest between police departments and medical examiners offices continues today.
As physicians, we will not be complicit in the ongoing manipulation of medical expertise to erase government-sanctioned violence. Although we are relieved that two independent examinations invalidated the preliminary findings in the charging document and the headlines that deceitfully undermined police officer Derek Chauvin's culpability in Floyd's murder, our initial incense is not replaced by celebration.
For three days, Black Americans sat—and still sit—with the all too familiar pangs of being told that the truth is not true. Of fearing that the law would believe a physician's report over the reality they saw with their own eyes and have lived with their own lives. It's a miscarriage of justice that deepens the cut; not only can Black people be killed with impunity; a physician's autopsy report can be twisted to replace the truth.
Medical science has long been used for the consolidation of power rather than for delivering justice and help for the oppressed. We see how Black mothers are blamed for their own mortality in childbirth and how starkly high rates of COVID death in Black communities are preposterously misattributed to differences in hormone receptors or clotting factors, all the while letting racism off the hook.
We wish to remind fellow physicians that medical science has never been objective. It has never existed in a vacuum; there have and will always be social, political and legal ramifications of our work. Our assessments may be employed in criminal justice cases; our toxicology screens may have profound effects on the livelihood of patients; our diagnoses may perpetuate sexist and racist stereotypes. Our lack of ill intent cannot be our alibi: we must be accountable for not just our work but also how it is used, lest our medicine become the very weapon that harms. Medicine requires inclusion of the social context of disease to uphold its sacred oath of doing no harm. If we focus only on molecular pathways and neglect to articulate the role of structural inequities—of racism—in our country, our reports on the causes of death and injury in our patients will erase the roles of their oppressors.
We also write to remind our physician colleagues that the medical field is a place ripe for gaslighting. Bolstered by the perceived strength and legitimacy of a white coat and a stethoscope, our diagnoses and conclusions—about physical or psychological "abnormalities," about causes of illness and death—have the power to eclipse reality, as we've seen in the case of George Floyd. Often we stand by while other agents co-opt our frameworks, obscure our research and weaponize our language in the service of oppression.
The declarations, the truths, the realities of Black people in America are too often disregarded. Across the nation, Black people are suffocating under the weight of anti-Black hatred. They cannot breathe. And even as they gasp for air, structural gaslighting operates to deny the truths of the causes of their suffocation.
We write as physicians to denounce this psychological manipulation. We write to apologize for the discrimination our patients of color have received in the hospital under our watch, we write in gratitude for the tireless labor of Black activists, and we write to condemn how medicine has been weaponized in the service of white supremacy. We write to validate what Black people already know—have always known— that racism is a most pressing public health crisis. We pledge to fight this crisis as if our own breath depended on it.
Conclusion
We may never know what was going through the mind of the medical examiner that initially stated that neck compression was not a cause of death. We all saw the video, and we all know what the causative agent was. First we all know that George Floyd was not a good guy. Did he deserve to die this way? That can only be determined by his maker. We know that he was a heavy drug user, and routinely took Fentanyl. Chronic drug users have a much higher tolerance to drugs than do your average Joe Citizen. So saying that the levels in his system were lethal is a guess at best. What we do know is that he was not given the benefit of the doubt. With advanced respiratory support provided by EMS, he might possibly have survived his Fentanyl dosing. He might have also fallen asleep and woke up a day later, non the worse for wear. I have personal experience with an individual who overdosed on a strong anti-anxiety med and just went into a comatose state, only to wake up 2 days later. We simply don't know.
I would also like to use this fictional account as an example of the cause of death. Say we have a person, who was given poison, stabbed in the stomach and shot in the head. What would be the cause of death? Of course the gunshot wound, right? Oh by the way there were three different people involved. So the person who shot the victim, should be accused of 1st degree murder, and the other two for attempted murder, right? It can be argued that he would have died from the other two means as well. But we will never know, because the gunshot w was immediately lethal. The same reasoning can be used with George Floyd. He might have died of a Fentanyl overdose. We just will never know, because he died of neck compression and asphyxiation. Was the corner trying to get Derek Chauvin off the murder charges? Again we may never know. Chauvin was convicted of murder and rightly so. I have a theory about the whole situation, that I will publish at a later date.
What is going on with Governor Cuomo?
This will be a short article, because I will write an in depth article after the dust settles some. Very few people can deny that Andrew Cuomo, is certainly an interesting character. The question is would he have become a governor if it had not been for his father? I tend to doubt it. He is an opportunist at best. He has been born into power and thinks that the stink surrounding his life will simply not stick to him. I believe that he is responsible for the deaths of thousands of elderly nursing home residents, due to their being exposed to covid. I think he should be impeached and charged with criminal charges. These are more serious charges than these supposed sexual harassment charges. While I believe he is a misogynistic pig, I don't think he his guilty of actual sexual mischief. I know that wealthy people or people in positions of power are more likely to be targets of false charges. Also people tend to pile on. When one accusation is made by an individual, more people tend to make additional accusations. Whether it be to make money or gain notoriety, there are many reasons that drive people's actions. I think everybody is entitled to a fair trial. As a society we are too quick to convict people without due process. I have been accused of sexual harassment on two occasions, and have been found innocent both times. I was very lucky. These cases can go either way. In many cases it comes down to he said she said. I had right on my side, they were both totally unfounded. They were made by one individual who was trying to get her job back after having been fired, and the second individual who wanted a promotion and transfer that she was not eligible for. There is an religious saying "If any one of you is without sin, let him be the first to throw a stone at her". Give him a fair trial, than if the charges and accusations prove true, than remove him from office. President Trump was impeached twice. Both times were unfounded.
Just a little background information from the DailyWire.com.
The Fall Of Andrew Cuomo: How An Empire Built On Fear Came Crashing Down
New York Governor Andrew Cuomo, recently viewed as a deity and de facto King of New York by scores on the Left, now faces the looming threat of impeachment and growing calls for resignation as disturbing details of his sexual harassment against female employees continue to come to light.
Last spring, the legacy media treated Governor Cuomo's daily COVID-19 briefings like utterances from the Oracle of Delphi. He regularly bantered and engaged in comedy routines with his younger brother, CNN host Chris Cuomo. The recently divorced "Love Guv," as Chris called him, relished the adulation of hardcore fans who dubbed themselves "Cuomosexuals." The Governor wrote a book, won an International Emmy, and cemented himself as the most beloved elected Democrat in the nation.
Fast forward 12 months. Cuomo finds himself at the vortex of multiple scandals, ranging from the lurid to the deadly. President Joe Biden, who once hailed Cuomo as "the gold standard" of governors and saluted "the example you've set for all Americans during this pandemic," has called on Cuomo to resign. Opposition within New York's congressional delegation spans the ideological spectrum, and should he refuse to resign, at least 83 of the state's 150 Assembly members say they favor initiating impeachment proceedings.
How did Andrew Cuomo fall so far, so fast? A look at his record — including his history of governing by fear and intimidation — shows that any clear-eyed pundit should have seen this train wreck coming long ago.
Bullying His Way to the Top
Cuomo burnished his political credentials after President Bill Clinton appointed him assistant secretary of the Department of Housing and Urban Development in 1993. When an FBI investigation ousted Secretary Henry Cisneros, Cuomo threw some sharp elbows to assure Clinton tapped him to lead HUD from 1997 until the end of his second term. HUD launched an investigation against the Clintons' reported first choice, Seattle Mayor Norm Rice, shortly after the 1996 election. During the probe, Clinton named Cuomo as HUD secretary. Rice was later cleared of any wrongdoing.
At HUD, Cuomo busied himself with public relations. "Sure, I'm doing PR. The PR is the most important thing I do," he told The Washington Post. But questions arose about whose image he was enhancing. "In 2000, Cuomo's HUD administration issued 302 press releases in 331 working days. Most of these releases contained headlines touting Cuomo, not the president," according to Tad DeHaven of the Cato Institute. As he geared up for a political career in the Empire State, he visited New York six times more than any other state.
When his decision to fire career HUD officials and hire a well-paid cadre of "public outreach" activists known as "Community Builders" came under fire, HUD employees said Cuomo bullied them into silence. The Inspector General's report said that HUD leadership "told employees not to talk to us," gave them pre-approved answers, and threatened them so badly they "feared reprisals." The Wall Street Journal reported that "[S]enior officials under Mr. Cuomo … took the unusual step of asking the Inspector General's office for the names of HUD employees who spoke with auditors." Robert Paquin said he was demoted after he talked to investigators.
His bullying extended to policy, where he pressured lenders Fannie Mae and Freddie Mac to extend home loans to the poor while reducing the required deposit. "Clearly, he decided to make a name for himself by trying to push the envelope," said Arnold Kling, formerly of Freddie Mac. Many believe this paved the way for the subprime mortgage crisis and contributed to the 2008 Great Recession.
Cuomo retained high political ambitions, but he lost the 2002 Democratic primary for governor to Carl McCall. But he rebounded, becoming the state's Attorney General in 2006. Four years later, he defeated Republican Carl Paladino to become New York's 56th governor, and the second surnamed Cuomo.
He governed as a traditional liberal. He raised taxes and increased spending. He celebrated signing the Reproductive Health Act, which allows taxpayer-funded abortion throughout all nine months of pregnancy and removed protections for babies born alive during botched abortions. He enacted restrictive gun control measures via the New York Secure Ammunition and Firearms Enforcement (NY SAFE) Act of 2013 and called NRA members "bad guys." In 2014, he tried to push conservatives out of the state of New York. Those he deemed "extreme conservatives, who are right-to-life, pro-assault-weapon, anti-gay [marriage] … have no place in the state of New York, because that's not who New Yorkers are."
When New York became the epicenter of COVID-19, he seized the spotlight with daily televised updates. The media, desperate to create an alternative to President Donald Trump's contentious daily briefings, anointed Cuomo as the anti-Trump. U.S. News and World Report dubbed him "America's Governor." Former Republican-strategist-turned-MSNBC-host Nicolle Wallace told her audience that Cuomo is "everything Trump isn't: honest, direct, brave." Watergate reporter Carl Bernstein said Cuomo provided "real leadership of the kind the president of the United States should have provided." MSNBC's Joy Reid tweeted that Cuomo's "press conferences are just putting Donald Trump to shame." The Washington Post's house "conservative," Jennifer Rubin, summed up the view of the intelligentsia: "Watching Andrew Cuomo is inspiring, uplifting, fascinating. He weaves details and humor and math and common sense all together. He is magnificent. Let's just listen to him."
By April, 56% of Democrats said they wanted Cuomo to replace Biden as the Democratic Party's 2020 presidential candidate. Fashion designers sold cashmere "Cuomo for President" sweatshirts for $285 apiece.
Some of the praise bordered on the erotic. Vogue magazine featured two love letters to Cuomo: Chelsea Handler's "Dear Andrew Cuomo, I want to be your First Lady" and Molly Jong-Fast's "Why We Are Crushing on Andrew Cuomo Right Now." The left-wing feminist website Jezebel declared, "Help, I Think I'm In Love With Andrew Cuomo???"
Other rewards proved more tangible: Cuomo has received $5.12 million in royalties from his book, Leadership Lessons From the COVID-19 Pandemic. He won an International Emmy last November "in recognition of his leadership during the Covid-19 pandemic and his masterful use of TV to inform and calm people around the world." The pandemic "was a tremendous personal benefit," he said.
But problems were brewing that set the stage for his fall.
Bullying His Way to the Bottom
Behind the scenes, Andrew Cuomo continued his old ways. "The problem with Cuomo is no one has ever liked him," former Democratic lieutenant governor Richard Ravitch told the New York Times. "He's not a nice person and he doesn't have any real friends." The Times described his three terms in office as "a decade-long reign of ruthlessness and governance by brute force." He solicited more than $2 million in campaign donations from political appointees, their families, or businesses, and demanded absolute loyalty.
But he could also prove loyal to donors. "[D]uring Cuomo's 2018 re-election bid, his campaign asked the Greater New York Hospital Association for a donation to the state Democratic Party," reported the Buffalo News. The hospital lobby provided $1 million, twice the amount of their largest donation at that time, and Cuomo promptly gave them one of their key aims: He raised the amount the state pays hospitals that treat Medicaid patients.
Cuomo and the GNYHA developed a cozy relationship. When New York City became the epicenter of the novel coronavirus global pandemic, GNYHA came to Cuomo for relief. They wanted permission to transfer COVID-positive patients to other facilities, including nursing homes, and they wanted to limit their liability for the treatment they accorded patients. On March 25, 2020, Cuomo complied. To free up hospital beds, he ordered, "No resident shall be denied re-admission or admission to the [nursing home] solely based on a confirmed or suspected diagnosis of COVID-19."
Cuomo had two advantages: First, the media reported little negative news about the "Love Guv." Only 0.5% of evening broadcast news stories about Cuomo mentioned nursing home deaths, according to a study from the Media Research Center. Second, his administration cooked the books. "Basically, we froze" the count when the death toll began rising, Cuomo's secretary Melissa DeRosa confessed to state legislators. "We weren't sure if what we were going to give to the [Trump administration] Department of Justice … was going to be used against us, [and] we weren't sure if there was going to be an investigation."
The state reported 6,600 nursing home deaths from the coronavirus last August. The Associated Press estimated the real number at 11,000; The New York Times estimates the nursing home death toll now stands at 15,000. The dam burst in February, when Democratic state assembly member Ronald Kim said Cuomo called "to threaten my career if I did not cover up for" him on the nursing home lie. Instead, Kim went public.
At the same time, a host of women came forward to say Andrew Cuomo had sexually harassed them. A total of 11 women would accuse the governor of everything from asking leading questions about having sex with an older man, to groping multiple women's buttocks over their clothes, to fondling a woman's breast under her clothes. On August 3, New York Attorney General Letitia James released a 165-page report, not including three appendices, citing 70,000 pieces of evidence. Yet Cuomo remained defiant. "I do it with everyone," Cuomo said in his defense — a fact he and his detractors can agree on.
Today, Cuomo's approval ratings crossed the partisan divide again: New Yorkers stand united against him. A Marist poll taken after the bombshell AG report found that 59% of New York voters think Governor Cuomo should resign, including 52% of Democrats and 77% of Republicans. Just under half (48%) of all respondents said he should be impeached. A mere 18% of Democrats think Cuomo deserves to be reelected to a coveted (and historic) fourth term in 2022.
Andrew Cuomo has spent a lifetime choosing bullying over persuasion, hostility over comity, and self-preservation over accountability. He's kicked the ground out from under himself and finds himself in political freefall. If Cuomo is held accountable for any of the scandals in which he has mired himself, his biography will prove the dictum that "a man reaps what he sows."
Did Iraq have weapons of mass destruction?
The second article will be a discussion on Iraq and WMD (weapons of mass destruction). The theory is that no actual weapons of WMD were ever found because in fact the US helped to supply them with WMD. If they were found this would be embarrassing for the US. So as part of this discussion, I will try to find information to either prove or disprove this premise.
"The Iraq war began sixteen years ago tomorrow. There is a myth about the war that I have been meaning to set straight for years. After no WMDs were found, the left claimed 'Bush lied. People died.' This accusation itself is a lie. It's time to put it to rest." — Former Bush administration press secretary Ari Fleischer, in a Twitter thread, March 19, 2019
Sixteen years after the Iraq War started, the White House press spokesman at the time sought to rebut a claim he called a "liberal myth" — that George W. Bush lied about Iraq's alleged weapons of mass destruction to launch the invasion. (Never mind that the current Republican president also has made this claim, saying in 2016: "They lied. They said there were weapons of mass destruction; there were none.")
In more than 20 tweets, Fleischer laid out the case that the intelligence community failed — and Saddam Hussein for unknown reasons lied about having illicit weapons. He quoted at length from findings made in 2005 by the Robb-Silberman Commission that was set up to investigate the intelligence failures.
A careful reading of Fleischer's Twitter thread shows he's only talking about Bush and himself; he conveniently leaves out other administration officials, especially Vice President Dick Cheney — who stretched the available intelligence in his public remarks and frequently hinted there was more he could not say.
"My tweets were about me and Bush," Fleischer acknowledged to The Fact Checker.
Moreover, he leaves out the fact that there was a second report — by the Senate Intelligence Committee in 2008 — that examined whether the public statements by U.S. government officials were substantiated by the intelligence.
In particular, the committee looked at five major policy speeches by Bush, Cheney and Secretary of State Colin Powell. The Robb-Silberman report specifically was not allowed to look at that issue, noting, "We were not authorized to investigate how policymakers used the intelligence assessments they received from the Intelligence Community."
The Senate report was adopted on a bipartisan vote of 10-5.
Fleischer argues the findings of the Senate Intelligence Committee report are undercut by this line in Robb-Silverman: "Finally, it was a failure to communicate effectively with policymakers; the Intelligence Community didn't adequately explain just how little good intelligence it had — or how much its assessments were driven by assumptions and inferences rather than concrete evidence."
Fleischer said: "I can state with certainty no one expressed doubts to me. I was told Saddam had chemical and biological stockpiles. I was told he did not have nuclear, but he was working on it. There were no doubts, hesitations or nuances raised. If there had been, it would have been reflected in what I said."
He also supplied excerpts from Bush's 2010 memoir, in which the president reflects that even countries opposed to the war, such as Germany, agreed that Iraq had WMDs. "The conclusion that Saddam had WMD was nearly a universal consensus. My predecessor believed it. Republicans and Democrats on Capitol Hill believed it. Intelligence agencies in Germany, France, Great Britain, Russia, China, and Egypt believed it," Bush wrote in "Decision Points."
It's worth recalling that the Bush administration appeared determined to attack Iraq for any number of reasons beyond suspicions of WMDs; officials simply seized on WMDs because they concluded that that represented the strongest case for an invasion.
"For bureaucratic reasons we settled on one issue, weapons of mass destruction, because it was the one reason everyone could agree on," then-Deputy Defense Secretary Paul Wolfowitz told Vanity Fair in 2003.
Fleischer's deputy at the time, Scott McClellan, put it this way in his own memoir, "What Happened": "In the fall of 2002, Bush and his White House were engaging in a carefully orchestrated campaign to shape and manipulate sources of public approval to our advantage. . . . Our lack of candor and honesty in making the case for war would later provoke a partisan response from our opponents that, in its own way, further distorted and obscured a more nuanced reality." (He added "the media would serve as complicit enablers.")
So in the interest of providing the historical record, what was the U.S. intelligence community's record on Iraqi WMDs, and did the Bush administration hype the evidence?
The facts
The short answer is that both played a role. There were serious problems in the intelligence, some of which were relegated to dissenting footnotes. But the Bush administration also chose to highlight aspects of the intelligence that helped make the administration's case, while playing down others.
The clearest example of stretching the intelligence concerned Saddam Hussein's links to al-Qaeda and by extension the 9/11 attacks, which were thin and nonexistent — but which the Bush administration suggested were deeply suspicious.
Cheney especially banged the drum of a possible link, long after the intelligence was discredited. The Washington Post reported in 2003:
"In making the case for war against Iraq, Vice President Cheney has continued to suggest that an Iraqi intelligence agent met with a Sept. 11, 2001, hijacker five months before the attacks, even as the story was falling apart under scrutiny by the FBI, CIA and the foreign government that first made the allegation."
The Senate Intelligence Committee report was unsparing in its criticism of this aspect of the White House's case for war. The 170-page report said such Iraq/al-Qaeda statements were "not substantiated by the intelligence," adding that multiple CIA reports dismissed the claim that Iraq and al-Qaeda were cooperating partners — and that there was no intelligence information that supported administration statements that Iraq would provide weapons of mass destruction to al-Qaeda.
The committee further said there was no confirmation of a meeting between Mohamed Atta, a key 9/11 hijacker, and an Iraqi intelligence officer.
Note, however, that Fleischer kept his Twitter thread confined to intelligence findings that Hussein had weapons of mass destruction. In this case, the Senate report found that remarks by administration officials generally reflected the intelligence, but failed to convey "substantial disagreements that existed in the intelligence community." In general, officials strongly suggested that WMD production was ongoing, reflecting "a higher degree of certainty than the intelligence judgments themselves."
Here are the findings in the Senate report on key weapons:
1. Nuclear weapons. Before the October 2002 National Intelligence Estimate, some intelligence agencies assessed that the Iraqi government was reconstituting a nuclear weapons program, while others disagreed. The NIE reflected a majority view that it was being reconstituted, but there were sharp dissents by the State Department's Bureau of Intelligence and Research and the Department of Energy (which is the main source of nuclear weapons expertise in the U.S. government).
In particular, administration officials leaked to the New York Times that Iraq had obtained large quantities of aluminum tubes for use in the uranium enrichment project — though the Energy Department experts were convinced that the tubes were poorly suited for such uses and instead were intended for artillery rockets.
Also, before the war, CIA Director George Tenet warned the White House not to use sketchy intelligence about Iraqi purchases of uranium in Africa. But the White House inserted it into a presidential speech anyway, much to its later embarrassment.
After the invasion, officials discovered Iraq had basically ended its nuclear weapon program in 1991.
Conclusion: "Statements by the president, vice president, secretary of state and the national security advisor regarding a possible Iraqi nuclear weapons program were generally substantiated by the intelligence community, but did not convey the substantial disagreements that existed in the intelligence community."
2. Biological weapons. The intelligence community consistently stated between the late 1990s and 2003 that Iraq retained biological warfare agents and the capability to produce more. However, there were intelligence gaps in Iraq's biological weapons programs, made explicit in the October 2002 NIE, which policymakers did not discuss.
After the war, officials discovered that Iraq had not conducted biological weapons production research since 1996. Iraq could have reestablished an elementary program within weeks, but no indications were found that Iraq intended to do so.
Conclusion: "Statements in the major speeches analyzed, as well as additional statements, regarding Iraq's possession of biological agents, weapons, production capability and use of mobile biological laboratories were substantiated by intelligence information."
3. Chemical weapons. The October NIE said that Iraq retained between 100 and 500 metric tons of chemical weapons. The intelligence community assessed that Hussein wanted to have chemical weapons capability and that Iraq was seeking to hide its capability in its dual-use chemical industry. However, intelligence assessments clearly stated that analysts could not confirm that production was ongoing.
After the war, officials could find no caches of chemical weapons munitions and only a handful of pre-1991 chemical munitions. There was no credible evidence that Iraq resumed its chemical weapons program after 1991.
Conclusion: "Statements in the major speeches analyzed, as well as additional statements, regarding Iraq's possession of chemical weapons were substantiated by intelligence information. Statements by the president and vice president prior to the October 2002 NIE . . . did not [reflect] the intelligence community's uncertainties as to whether such production was ongoing."
The minority views of the Senate report include many statements by Democrats that echoed the certainty of the Bush administration. For instance: "All U.S. intelligence experts agree that Iraq is seeking nuclear weapons," then-Sen. John Kerry, D-Mass., said on Oct. 9, 2002. "There is little question that Saddam Hussein wants to develop nuclear weapons."
But Kerry was wrong: Not all intelligence agencies agreed with that claim.
One problem is that few members of Congress actually read the classified 2002 NIE. Instead, they relied on the sanitized version distributed to the public, which was scrubbed of dissenting opinions. (It was later learned that the public white paper had been drafted long before the NIE had been requested by Congress, even though the white paper was publicly presented as a distillation of the NIE. So that should count as another manipulation of public opinion.)
One of the few lawmakers who did read the classified report, Sen. Bob Graham, D-Fla., voted against the congressional resolution to authorize an attack on Iraq. He later wrote that the classified version "contained vigorous dissents on key parts of the information, especially by the departments of State and Energy. Particular skepticism was raised about aluminum tubes that were offered as evidence Iraq was reconstituting its nuclear program. As to Hussein's will to use whatever weapons he might have, the estimate indicated he would not do so unless he was first attacked."
Graham said that the gap between the 96-page document that was secret and the 25-page version made public made him "question whether the White House was telling the truth — or even had an interest in knowing the truth."
The bottom line
The intelligence community's assessments on Iraq's WMD stockpiles and programs turned out to be woefully wrong, largely because analysts believed that Iraq had kept on a path of building its programs rather than largely abandoning them after the 1991 Persian Gulf war. Thus the stockpiles theoretically got larger as time went on.
But at the same time, the Senate report shows Bush administration officials often hyped the intelligence that supported their policy goals — while ignoring or playing down dissents or caveats from within the intelligence community. The intelligence was used for political purposes, to build public support for a war that might have been launched no matter what intelligence analysts had said about the prospect of finding WMDs in Iraq.
(We do not know whether Bush read the dissents in the NIE. His memoir just says the NIE was based on "much of the same intelligence the CIA had been showing to me for the past eighteen months." Then-national security adviser Condoleezza Rice wrote in her memoir that "NSC Principals, all experienced people, read the NIE from cover to cover." The National Security Council is chaired by the president, and regular attendees include the vice president, secretary of state, defense secretary, treasury secretary and national security adviser.)
Fleischer says it is "a lie" that Bush lied. Regular readers know we generally do not use the word "lie." Fleischer is offering his opinion — one that conveniently ignores the Senate report that looked at this issue. His own deputy at the time certainly said the White House spun the intelligence for political purposes, while Fleischer still argues the White House was misled by the intelligence community.
Is there a fine line between hyping the evidence and lying about it? It's too fuzzy for the Pinocchio Test, as it also falls in the realm of opinion. But we will let our readers offer their own opinion.
If I am going to get to the bottom of this discussion, I think it is important to give a little background information on the subject.
Iraq actively researched and later employed weapons of mass destruction (WMD) from 1962 to 1991, when it destroyed its chemical weapons stockpile and halted its biological and nuclear weapon programs as required by the United Nations Security Council. The fifth President of Iraq, Saddam Hussein, was internationally condemned for his use of chemical weapons during the 1980s campaign against Iranian and Kurdish civilians during and after the Iran–Iraq War. In the 1980s, Saddam pursued an extensive biological weapons program and a nuclear weapons program, though no nuclear bomb was built. After the Persian Gulf War (1990–1991), the United Nations (with the Government of Iraq) located and destroyed large quantities of Iraqi chemical weapons and related equipment and materials; Iraq ceased its chemical, biological and nuclear programs.
In the early 2000s, the administrations of George W. Bush and Tony Blair asserted that Saddam Hussein's weapons programs were still actively building weapons, and that large stockpiles of WMDs were hidden in Iraq. Inspections by the UN to resolve the status of unresolved disarmament questions restarted between November 2002 and March 2003, under United Nations Security Council Resolution 1441, which demanded Hussein give "immediate, unconditional and active cooperation" with UN and IAEA inspections, shortly before his country was attacked. The United States asserted that Hussein's frequent lack of cooperation was a breach of Resolution 1441, but failed to convince the United Nations Security Council to pass a new resolution authorizing the use of force due to lack of evidence. Despite this, Bush asserted peaceful measures could not disarm Iraq of the weapons he alleged it to have and launched a second Gulf War instead. A year later, the United States Senate officially released the Senate Report of Pre-war Intelligence on Iraq which concluded that many of the Bush Administration's pre-war statements about Iraqi WMD were misleading and not supported by the underlying intelligence. United States–led inspections later found that Iraq had earlier ceased active WMD production and stockpiling; the war was called by many, including 2008 Republican presidential nominee John McCain, a "mistake".
Iraq signed the Geneva Protocol in 1931, the Nuclear Non-Proliferation Treaty in 1969, and the Biological Weapons Convention in 1972, but did not ratify it until June 11, 1991. Iraq ratified the Chemical Weapons Convention in January 2009, with its entry into force for Iraq coming a month later on February 12.
Program development 1960s–1980s[edit]
Iraq
Nuclear program start date
1959
First nuclear weapon test
None
First fusion weapon test
None
Last nuclear test
None
Largest yield test
None
Total tests
None
Peak stockpile
None
Current stockpile
None; programme was infiltrated, abandoned, destroyed by Israel in 1981 and Iran in 1989. Officially program ended in 1990.
Maximum missile range
Al-Hussein (400 km)
NPT signatory
Yes
Baghdad Nuclear Research Facility – 10 March 1991. The Tuwaitha Nuclear Research Center, Baghdad, Post-strike.
1959 – August 17 USSR and Iraq signed an agreement for the USSR to build a nuclear power plant and established a nuclear program as part of their mutual understanding.
1968 – a Soviet supplied IRT-2000 research reactor together with a number of other facilities that could be used for radioisotope production was built close to Baghdad.
1975 – Saddam Hussein arrived in Moscow and asked about building an advanced model of an atomic power station. Moscow would approve only if the station was regulated by the International Atomic Energy Agency, but Iraq refused. However, an agreement of co-operation was signed on April 15, which superseded the one of 1959.
After 6 months Paris agreed to sell 72 kg of 93% uranium and built a nuclear power plant without IAEA control at a price of $3 billion.
In the early 1970s, Saddam Hussein ordered the creation of a clandestine nuclear weapons program. Iraq's weapons of mass destruction programs were assisted by a wide variety of firms and governments in the 1970s and 1980s. As part of Project 922, Iraq built chemical weapons facilities such as laboratories, bunkers, an administrative building, and first production buildings in the early 1980s under the cover of a pesticide plant. German firms sent 1,027 tons of precursors of mustard gas, sarin, tabun, and tear gasses in all. This work allowed Iraq to produce 150 tons of mustard agent and 60 tons of Tabun in 1983 and 1984 respectively, continuing throughout the decade. Five other German firms supplied equipment to manufacture botulin toxin and mycotoxin for germ warfare. In 1988, German engineers presented centrifuge data that helped Iraq expand its nuclear weapons program. Laboratory equipment and other information was provided, involving many German engineers. All told, 52% of Iraq's international chemical weapon equipment was of German origin. The State Establishment for Pesticide Production (SEPP) ordered culture media and incubators from Germany's Water Engineering Trading.
Western help with Iraq's WMD program
United States
The United States supported Iraq during the Iran–Iraq war with over $500 million worth of dual-use equipment that were approved by the Commerce department. Among them were advanced computers, some of which were used in Iraq's nuclear program. The non-profit American Type Culture Collection and the Centers for Disease Control sold or sent biological samples of anthrax, West Nile virus and botulism to Iraq up until 1989, which Iraq claimed it needed for medical research. A number of these materials were used for Iraq's biological weapons research program, while others were used for vaccine development. For example, the Iraqi military settled on the American Type Culture Collection strain 14578 as the exclusive anthrax strain for use as a biological weapon, according to Charles Duelfer.
The United States government invited a delegation of Iraqi weapons scientists to an August 1989 "detonation conference" in Portland, Oregon. The U.S. Department of Defense and the U.S. Department of Energy conference featured experts that explained to the Iraqis and other attendees how to generate shock waves in any needed configuration. The conference included lectures on HMX, a powerful explosive generally preferred for nuclear detonation, and on flyer plates, which are devices for generating the specific type of shock waves necessary for nuclear bomb ignition. Both HMX and flyer plates were in fact later found at Iraqi nuclear research sites by United Nations weapons inspectors.
Britain
In the late 1980s, the British government secretly gave the arms company Matrix Churchill permission to supply parts for Saddam Hussein's weapons program, while British Industry supplied Gerald Bull as he developed the Iraqi supergun. In March 1990, a case of nuclear triggers bound for Iraq was seized at Heathrow Airport. The Scott Report uncovered much of the secrecy that had surrounded the Arms-to-Iraq affair when it became known. The British government also financed a chlorine factory that was intended to be used for manufacturing mustard gas.
Iraq's nuclear weapons program suffered a serious setback in 1981 when the Osiraq reactor, which would have been capable of breeding weapons-usable nuclear material, was bombed by Israel before it could be commissioned. David Albright and Mark Hibbs, writing for the Bulletin of the Atomic Scientists, disagree with this view, however. There were far too many technological challenges unsolved, they say.
Iran–Iraq War
In 1980, the U.S. Defense Intelligence Agency filed a report stating that Iraq had been actively acquiring chemical weapons capacities for several years, which later proved to be accurate. In November 1980, two months into the Iran–Iraq War, the first reported use of chemical weapons took place when Tehran radio reported a poison gas attack on Susangerd by Iraqi forces. The United Nations reported many similar attacks occurred the following year, leading Iran to develop and deploy a mustard gas capability. By 1984, Iraq was using poison gas with great effectiveness against Iranian "human wave" attacks. Chemical weapons were used extensively against Iran during the Iran–Iraq War. On January 14, 1991, the Defense Intelligence Agency said an Iraqi agent described, in medically accurate terms, military smallpox casualties he said he saw in 1985 or 1986. Two weeks later, the Armed Forces Medical Intelligence Center reported that eight of 69 Iraqi prisoners of war whose blood was tested showed an immunity to smallpox, which had not occurred naturally in Iraq since 1971; the same prisoners had also been inoculated for anthrax. The assumption being that Iraq used both smallpox and anthrax during this war.
The Washington Post reported that in 1984 the CIA secretly started providing intelligence to the Iraqi army during the Iran-Iraq War. This included information to target chemical weapons strikes. The same year it was confirmed beyond doubt by European doctors and UN expert missions that Iraq was employing chemical weapons against the Iranians. Most of these occurred during the Iran–Iraq War, but chemical weapons were used at least once against the Shia popular uprising in southern Iraq in 1991. Chemical weapons were used extensively, with post-war Iranian estimates stating that more than 100,000 Iranians were affected by Saddam Hussein's chemical weapons during the eight-year war with Iraq. Iran today is the world's second-most afflicted country by weapons of mass destruction, only after Japan. The official estimate does not include the civilian population contaminated in bordering towns or the children and relatives of veterans, many of whom have developed blood, lung and skin complications, according to the Organization for Veterans. Nerve gas agents killed about 20,000 Iranian soldiers immediately, according to official reports. Of the 90,000 survivors, some 5,000 seek medical treatment regularly and about 1,000 are still hospitalized with severe, chronic conditions. Many others were hit by mustard gas. Despite the removal of Saddam Hussein and his administration by American forces, there is deep resentment and anger in Iran that it was Western nations that helped Iraq develop and direct its chemical weapons arsenal in the first place and that the world did nothing to punish Iraq for its use of chemical weapons throughout the war. For example, the United States and the UK blocked condemnation of Iraq's known chemical weapons attacks at the UN Security Council. No resolution was passed during the war that specifically criticized Iraq's use of chemical weapons, despite the wishes of the majority to condemn this use. On March 21, 1986 the United Nation Security Council recognized that "chemical weapons on many occasions have been used by Iraqi forces against Iranian forces"; this statement was opposed by the United States, the sole country to vote against it in the Security Council (the UK abstained).
On March 23, 1988, western media sources reported from Halabja in Iraqi Kurdistan, that several days before Iraq had launched a large-scale chemical assault on the town. Later estimates were that 7,000 people had been killed and 20,000 wounded. The Halabja poison gas attack caused an international outcry against the Iraqis. Later that year the U.S. Senate proposed the Prevention of Genocide Act of 1988, cutting off all U.S. assistance to Iraq and stopping U.S. imports of Iraqi oil. The Reagan administration opposed the bill, calling it premature, and eventually prevented it from taking effect, partly due to a mistaken DIA assessment which blamed Iran for the attack. At the time of the attack the town was held by Iranian troops and Iraqi Kurdish guerrillas allied with Tehran. The Iraqis blamed the Halabja attack on Iranian forces. This was still the position of Saddam Hussein in his December 2003 captivity. On August 21, 2006, the trial of Saddam Hussein and six codefendants, including Hassan al-Majid ("Chemical Ali"), opened on charges of genocide against the Kurds. While this trial does not cover the Halabja attack, it does cover attacks on other villages during the Iraqi "Anfal" operation alleged to have included bombing with chemical weapons.
Chemical weapon attacks
Location
Weapon Used
Date
Casualties
Haij Umran
Mustard
August 1983
fewer than 100 Iranian/Kurdish
Panjwin
Mustard
October–November 1983
3,001 Iranian/Kurdish
Majnoon Island
Mustard
February–March 1984
2,500 Iranians
al-Basrah
Tabun
March 1984
50–100 Iranians
Hawizah Marsh
Mustard & Tabun
March 1985
3,000 Iranians
al-Faw
Mustard & Tabun
February 1986
8,000 to 10,000 Iranians
Um ar-Rasas
Mustard
December 1986
1,000s Iranians
al-Basrah
Mustard & Tabun
April 1987
5,000 Iranians
Sumar/Mehran
Mustard & nerve agent
October 1987
3,000 Iranians
Halabjah
Mustard & nerve agent
March 1988
7,000s Kurdish/Iranian
al-Faw
Mustard & nerve agent
April 1988
1,000s Iranians
Fish Lake
Mustard & nerve agent
May 1988
100s or 1,000s Iranians
Majnoon Islands
Mustard & nerve agent
June 1988
100s or 1,000s Iranians
South-central border
Mustard & nerve agent
July 1988
100s or 1,000s Iranians
an-Najaf –
Karbala area
Nerve agent & CS
March 1991
Unknown
1991 Gulf War
On August 2, 1990, Iraq invaded Kuwait and was widely condemned internationally.
An international coalition of nations, led by the United States, liberated Kuwait in 1991.
In the terms of the UN ceasefire set out in Security Council Resolution 686, and in Resolution 687, Iraq was forbidden from developing, possessing or using chemical, biological and nuclear weapons by resolution 686. Also proscribed by the treaty were missiles with a range of more than 150 kilometres. The UN Special Commission on Iraq (UNSCOM) was created to carry out weapons inspections in Iraq, and the International Atomic Energy Agency (IAEA) was to verify the destruction of Iraq's nuclear program.
UN inspections
UNSCOM inspections 1991–1998
The United Nations Special Commission on Iraq (UNSCOM) was set up after the 1990 invasion of Kuwait to inspect Iraqi weapons facilities. It was headed first by Rolf Ekéus and later by Richard Butler. During several visits to Iraq by UNSCOM, weapons inspectors interviewed British-educated Iraqi biologist Rihab Rashid Taha. According to a 1999 report from the U.S. Defense Intelligence Agency, the normally mild-mannered Taha exploded into violent rages whenever UNSCOM questioned her about al-Hakam, shouting, screaming and, on one occasion, smashing a chair, while insisting that al-Hakam was a chicken-feed plant. "There were a few things that were peculiar about this animal-feed production plant", Charles Duelfer, UNSCOM's deputy executive chairman, later told reporters, "beginning with the extensive air defenses surrounding it." The facility was destroyed by UNSCOM in 1996.
In 1995, UNSCOM's principal weapons inspector, Dr. Rod Barton from Australia, showed Taha documents obtained by UNSCOM that showed the Iraqi government had just purchased 10 tons of growth medium from a British company called Oxoid. Growth media is a mixture of sugars, proteins and minerals that provides nutrients for microorganisms to grow. It can be used in hospitals and microbiology/molecular biology research laboratories. In hospitals, swabs from patients are placed in dishes containing growth medium for diagnostic purposes. Iraq's hospital consumption of growth medium was just 200 kg a year; yet in 1988, Iraq imported 39 tons of it. Shown this evidence by UNSCOM, Taha admitted to the inspectors that she had grown 19,000 litres of botulinum toxin; 8,000 litres of anthrax; 2,000 litres of aflatoxins, which can cause liver failure; Clostridium perfringens, a bacterium that can cause gas gangrene; and ricin. She also admitted conducting research into cholera, salmonella, foot and mouth disease, and camel pox, a disease that uses the same growth techniques as smallpox, but which is safer for researchers to work with. It was because of the discovery of Taha's work with camel pox that the U.S. and British intelligence services feared Saddam Hussein may have been planning to weaponize the smallpox virus. Iraq had a smallpox outbreak in 1971 and the Weapons Intelligence, Nonproliferation and Arms Control Center (WINPAC) believed the Iraqi government retained contaminated material.
The inspectors feared that Taha's team had experimented on human beings. During one inspection, they discovered two primate-sized inhalation chambers, one measuring 5 cubic meters, though there was no evidence the Iraqis had used large primates in their experiments. According to former weapons inspector Scott Ritter in his 1999 book Endgame: Solving the Iraq Crisis, UNSCOM learned that, between July 1 and August 15, 1995, 50 prisoners from the Abu Ghraib prison were transferred to a military post in al-Haditha, in the northwest of Iraq. Iraqi opposition groups say that scientists sprayed the prisoners with anthrax, though no evidence was produced to support these allegations. During one experiment, the inspectors were told, 12 prisoners were tied to posts while shells loaded with anthrax were blown up nearby. Ritter's team demanded to see documents from Abu Ghraib prison showing a prisoner count. Ritter writes that they discovered the records for July and August 1995 were missing. Asked to explain the missing documents, the Iraqi government charged that Ritter was working for the CIA and refused UNSCOM access to certain sites like Baath Party headquarters. Although Ekéus has said that he resisted attempts at such espionage, many allegations have since been made against the agency commission under Butler, charges which Butler has denied.
In April 1991 Iraq provided its first of what would be several declarations of its chemical weapons programs. Subsequent declarations submitted by Iraq in June 1992, March 1995, June 1996 came only after pressure from UNSCOM. In February 1998, UNSCOM unanimously determined that after seven years of attempts to establish the extent of Iraq's chemical weapons programs, that Iraq had still not given the Commission sufficient information for them to conclude that Iraq had undertaken all the disarmament steps required by the UNSC resolutions concerning chemical weapons.
In August 1991 Iraq had declared to the UNSCOM biological inspection team that it did indeed have a biological weapons program but that it was for defensive purposes. Iraq then provided its first biological weapons declaration shortly after. After UNSCOM determined such declarations to be incomplete, more pressure was placed on Iraq to declare fully and completely. A second disclosure of the biological weapons came in March 1995. After UNSCOM's investigations and the discovery of ireffutable evidence, Iraq was forced to admit for the first time the existence of an offensive biological weapons program. But Iraq still denied weaponization. Further UNSCOM pressure resulted in a third prohibited biological weapons disclosure from Iraq in August 1995. Only after General Hussein Kamel al-Majid, Minister of Industry and Minerals and former Director of Iraq's Military Industrialization Corporation, with responsibility for all of Iraq's weapons programs, fled Iraq for Jordan, Iraq was forced to reveal that its biological warfare program was much more extensive than was previously admitted and that the program included weaponization. At this time, Iraq admitted that it had achieved the ability to produce longer-range missiles than had previously been admitted to. At this point, Iraq provides UNSCOM and IAEA with more documentation that turns out Hussein Kamel al-Majid had hidden on a chicken farm. These documents gave further revelation to Iraq's development of VX gas and its attempts to develop a nuclear weapon. More declarations would follow in June 1996 and September 1997. However, in April and July 1998, the biological weapons team and UNSCOM Executive Chairman assessed that Iraq's declarations were as yet "unverifiable" and "incomplete and inadequate", seven years after the first declarations were given in 1991.
In August 1998, Ritter resigned his position as UN weapons inspector and sharply criticized the Clinton administration and the UN Security Council for not being vigorous enough about insisting that Iraq's weapons of mass destruction be destroyed. Ritter also accused UN Secretary General Kofi Annan of assisting Iraqi efforts at impeding UNSCOM's work. "Iraq is not disarming", Ritter said on August 27, 1998, and in a second statement, "Iraq retains the capability to launch a chemical strike." In 1998 the UNSCOM weapons inspectors left Iraq. There is considerable debate about whether they were "withdrawn", "expelled" from the country by Iraqi officials (as alleged by George W. Bush in his "axis of evil" speech), or they chose to leave because they felt their hands were tied sufficiently to see the mission as hopeless. According to Butler himself in his book Saddam Defiant, it was U.S. Ambassador Peter Burleigh, acting on instructions from Washington, who suggested Butler pull his team from Iraq in order to protect them from the forthcoming U.S. and British airstrikes which eventually took place from December 16–19, 1998.
Between inspections: 1998–2003
In August 1998, absent effective monitoring, Scott Ritter remarked that Iraq could "reconstitute chemical biological weapons, long-range ballistic missiles to deliver these weapons, and even certain aspects of their nuclear weaponization program."
In June 1999, Ritter responded to an interviewer, saying: "When you ask the question, 'Does Iraq possess militarily viable biological or chemical weapons?' the answer is no! It is a resounding NO. Can Iraq produce today chemical weapons on a meaningful scale? No! Can Iraq produce biological weapons on a meaningful scale? No! Ballistic missiles? No! It is 'no' across the board. So from a qualitative standpoint, Iraq has been disarmed. Ritter later accused some UNSCOM personnel of spying, and he strongly criticized the Bill Clinton administration for misusing the commission's resources to eavesdrop on the Iraqi military. According to Ritter: "Iraq today (1999) possesses no meaningful weapons of mass destruction capability."
In June 2000, Ritter penned a piece for Arms Control Today entitled The Case for Iraq's Qualitative Disarmament. 2001 saw the theatrical release of his documentary on the UNSCOM weapons inspections in Iraq, In Shifting Sands: The Truth About Unscom and the Disarming of Iraq. The film was funded by an Iraqi-American businessman who, unknown to Ritter, had received Oil-for-Food coupons from the Iraqi administration.
In 2002, Scott Ritter stated that, by 1998, 90–95% of Iraq's nuclear, biological and chemical capabilities, and long-range ballistic missiles capable of delivering such weapons, had been verified as destroyed. Technical 100% verification was not possible, said Ritter, not because Iraq still had any hidden weapons, but because Iraq' had preemptively destroyed some stockpiles and claimed they had never existed. Many people were surprised by Ritter's turnaround in his view of Iraq during a period when no inspections were made.
During the 2002–2003 build-up to war, Ritter criticized the Bush administration and maintained that it had provided no credible evidence that Iraq had reconstituted a significant WMD capability. In an interview with Time in September 2002 Ritter said there were attempts to use UNSCOM for spying on Iraq. According to the New York Times and Washington Post media of Jan. 8, 1999, "In March [1998], in a last-ditch attempt to uncover Saddam Hussein's covert weapons and intelligence networks, the United States used the United Nations inspection team to send an American spy into Baghdad to install a highly sophisticated electronic eavesdropping system."
UNSCOM encountered various difficulties and a lack of cooperation from the Iraqi government. In 1998, UNSCOM was withdrawn at the request of the United States before Operation Desert Fox. Despite this, UNSCOM's own estimate was that 90–95% of Iraqi WMDs had been successfully destroyed before its 1998 withdrawal. After that, for four years (from 1998 to 2002) Iraq remained without any outside weapons inspectors. During this time speculations arose that Iraq had actively resumed its WMD programs. In particular, various figures in the George W. Bush administration, as well as Congress, went so far as to express concern about nuclear weapons.
There is a dispute about whether Iraq still had WMD programs after 1998 and whether its cooperation with the United Nations Monitoring, Verification and Inspection Commission (UNMOVIC) was complete. Chief weapons inspector Hans Blix said in January 2003 that "access has been provided to all sites we have wanted to inspect" and Iraq had "cooperated rather well" in that regard, although "Iraq appears not to have come to a genuine acceptance of the disarmament." On March 7, in an address to the Security Council, Hans Blix stated: "Against this background, the question is now asked whether Iraq has cooperated "immediately, unconditionally and actively" with UNMOVIC, as is required under paragraph 9 of resolution 1441 (2002)… while the numerous initiatives, which are now taken by the Iraqi side with a view to resolving some long-standing open disarmament issues, can be seen as "active", or even "proactive", these initiatives 3–4 months into the new resolution cannot be said to constitute "immediate" cooperation. Nor do they necessarily cover all areas of relevance." Some U.S. officials understood this contradictory statement as a declaration of noncompliance.
There were no weapon inspections in Iraq for nearly four years after the UN departed from Iraq in 1998, and Iraq asserted that they would never be invited back. In addition, Saddam had issued a "secret order" that Iraq did not have to abide by any UN Resolution since in his view "the United States had broken international law".
In 2001, Saddam stated: "we are not at all seeking to build up weapons or look for the most harmful weapons . . . however, we will never hesitate to possess the weapons to defend Iraq and the Arab nation". The International Institute for Strategic Studies (IISS) in Britain published in September 2002 a review of Iraq's military capability, and concluded that Iraq could assemble nuclear weapons within months if fissile material from foreign sources were obtained. However, IISS also concluded that without such foreign sources, it would take years at a bare minimum.
Dr. Mahdi Obeidi, who created Saddam's nuclear centrifuge program that had successfully enriched uranium to weapons grade before the 1991 Gulf War, stated in an op-ed in The New York Times that although Iraqi scientists possessed the knowledge to restart the nuclear program, by 2002 the idea had become "a vague dream from another era."
2003 Iraq War
February 5, 2003 – United States Secretary of State Colin Powell holding a model vial of anthrax while giving the presentation to the United Nations Security Council.
Possession of WMDs was cited by the United States as the primary motivation instigating the Iraq War.
Prelude
In late 2002 Saddam Hussein, in a letter to Hans Blix, invited UN weapons inspectors back into the country. Subsequently, United Nations Security Council Resolution 1441 was issued, authorizing new inspections in Iraq. The United States claimed that Iraq's latest weapons declaration left materials and munitions unaccounted for; the Iraqis claimed that all such material had been destroyed, something which had been stated years earlier by Iraq's highest-ranking defector, Hussein Kamel al-Majid. According to reports from the previous UN inspection agency, UNSCOM, Iraq produced 600 metric tons of chemical agents, including mustard gas, VX and sarin; nearly 25,000 rockets and 15,000 artillery shells, with chemical agents, are still unaccounted for.
In January 2003, United Nations weapons inspectors reported that they had found no indication that Iraq possessed nuclear weapons or an active program. Some former UNSCOM inspectors disagree about whether the United States could know for certain whether or not Iraq had renewed production of weapons of mass destruction. Robert Gallucci said, "If Iraq had [uranium or plutonium], a fair assessment would be they could fabricate a nuclear weapon, and there is no reason for us to assume we would find out if they had." Similarly, former inspector Jonathan Tucker said, "Nobody really knows what Iraq has. You really can not tell from a satellite image what is going on inside a factory." However, Hans Blix said in late January 2003 that Iraq had "not genuinely accepted UN resolutions demanding that it disarm." He claimed there were some materials which had not been accounted for. Since sites had been found which evidenced the destruction of chemical weaponry, UNSCOM was actively working with Iraq on methods to ascertain for certain whether the amounts destroyed matched up with the amounts that Iraq had produced. In the next quarterly report, after the war, the total amount of proscribed items destroyed by UNMOVIC in Iraq can be gathered. Those include:
50 deployed Al-Samoud 2 missiles
Various equipment, including vehicles, engines and warheads, related to the AS2 missiles
2 large propellant casting chambers
14 155 mm shells filled with mustard gas, the mustard gas totaling approximately 49 litres and still at high purity
Approximately 500 ml of thiodiglycol
Some 122 mm chemical warheads
Some chemical equipment
224.6 kg of expired growth media
Iraq's history with chemical, biological and nuclear weapons is a long and winding path that eventually ended in an American invasion of the country.
Related Iraq Timelines
Timeline: The CIA Leak Case July 2, 2007Timeline: Saddam's Violent Road to Trial Dec. 29, 2006
In between Saddam Hussein's rise and fall from power, Iraq developed and used so-called weapons of mass destruction (WMD). It also reluctantly submitted to international inspections and destroyed its stockpiles and means of WMD production.
In the end, though, the government's opaque and obstinate nature made it difficult for outsiders to tell exactly what Iraq was doing, if anything, in the realm of WMD.
Saddam Becomes President ::: July 16, 1979
Saddam Hussein becomes president of Iraq after pushing his cousin Ahmad Hasan al-Bakr to resign.
Iran-Iraq War Begins ::: Sept. 22, 1980
Iraq invades Iran, beginning a war that ends in stalemate eight years later.
Israel Attacks ::: June 7, 1981
Israeli warplanes make a surprise attack on the French-built Osirak nuclear reactor near Baghdad. Israeli Prime Minister Menachem Begin says that his country had to act before Iraq could successfully build a nuclear weapon to use against the Jewish state. Saddam Hussein's Iraqi government says the reactor was not part of a plan to build nuclear weapons.
Chemical Attacks on Iran ::: 1983
Media reports describe Iraqi use of chemical weapons against Iranian forces. Mustard gas is the first weapon used. In 1984 reports say Iraq uses the nerve agent Tabun.
Gassing the Kurds ::: March 1988
Iraq uses chemical weapons against its own population during an attack on the rebellious Kurdish city of Halabja.
Invading Kuwait ::: Aug. 2, 1990
Iraq invades Kuwait, easily overwhelming its tiny neighbor.
Resolution 687 Bans Iraq WMD ::: April 3, 1991
Shortly after Iraq is ejected from Kuwait by an international military coalition, the United Nations Security Council passes its first resolution addressing Weapons of Mass Destruction (WMD) in Iraq. Resolution 687 states that Iraq must destroy its presumed stockpile of WMD, and the means to produce them. It also limits the country's ballistic missile capability. The U.N. Special Commission (UNSCOM) is established to oversee the inspection, destruction and monitoring of chemical and biological weapons. The International Atomic Energy Agency is asked to document and destroy Iraqi efforts to develop nuclear weapons. Iraq accepts the resolution three days later, agreeing to disclose the extent of its WMD program to inspectors.
Unilateral Destruction ::: Summer 1991
Iraq unilaterally destroys WMD equipment and documentation in an effort at concealment of pre-war work.
Resolution 715 Demands Compliance ::: Oct. 11, 1991
Responding to Iraq's consistent efforts to interrupt or block inspection teams, the U.N. Security Council passes Resolution 715. The resolution says Iraq must "accept unconditionally the inspectors and all other personnel designated by the Special Commission".
'Defensive' Biological Weapons ::: May 1992
Iraq officially admits to having had a "defensive" biological weapons program. Weeks later, UNSCOM begins the destruction of Iraq's chemical weapons program. Progress is halted in July when Iraq refuses an inspection team access to the Ministry of Agriculture.
Denial and Acceptance ::: 1993
Inspections are again held up when Iraq attempts to deny UNSCOM and the IAEA the use of their own aircraft in Iraq. In late 1993 Iraq accepts resolution 715.
Nuclear, Chemical Weapons Programs Destroyed ::: 1994
UNSCOM completes the destruction of Iraq's known chemical weapons and production equipment. IAEA teams largely complete their mandate to neutralize Iraq's nuclear program, including the destruction of facilities Iraq had not even declared to inspectors.
Defection and Revelation ::: Aug. 8, 1995
Hussein Kamel, the former director of Iraq's Military Industrialization Corporation, responsible for all WMD programs, defects to Jordan. As a result, Iraq admits to a far more developed biological weapons programs than it had previously disclosed. Saddam Hussein's government also hands over documents related to its nuclear weapons program and admits to the attempted recovery of highly-enriched uranium.
Al-Hakam Destroyed ::: May 1996
Iraq's main facility for the production of biological weapons, Al-Hakam, is destroyed through explosive demolition supervised by UNSCOM inspectors.
The Fight Against Proliferation ::: 1997
The Additional Protocol is added to the global Nuclear Non-Proliferation Treaty (NPT), giving IAEA inspectors more authority to investigate programs in member states. The protocol is in response to the realization that Iraq — a NPT signatory — had been able to move swiftly and covertly toward the construction of a nuclear weapon in the late 1980s under the treaty's previous safeguards. Inspections in the 1990s revealed that Iraq was much closer to building a nuclear weapon in the 1980s than had been suspected by IAEA officials.
Resolution 1115 ::: June 1997
In another effort to end Iraq's interference with inspection teams, the U.N. Security Council passes Resolution 1115. The resolution again calls for Iraq to comply with all previous resolutions regarding WMD. By the end of 1997, a diplomatic stalemate forces UNSCOM to withdraw most of its staff from Iraq.
Memorandum of Understanding ::: Feb. 20-23, 1998
U.N. Secretary-General Kofi Annan visits Iraq in an effort secure inspections of what Iraq terms "presidential sites." The U.N. and Iraq agree to support the terms of the newly drafted "Memorandum of Understanding." The Memorandum secures UNSCOM access to eight previously off-limits presidential sites.
Operation Desert Fox ::: 1998
Cooperation ends between Iraq and inspectors when the country demands the lifting of the U.N. oil embargo. UNSCOM and the IAEA pull their staffs out of Iraq in anticipation of a US-led air raid on Iraqi military targets. The four-day military offensive known as Operation Desert Fox begins on December 16, 1998. According to a U.S. military Web site, the mission of Desert Fox was "to strike military and security targets in Iraq that contribute to Iraq's ability to produce, store, maintain and deliver weapons of mass destruction." The operation is considered a success, largely finishing off what was left of Iraq' s WMD infrastructure.
From UNSCOM to UNMOVIC ::: Dec. 17, 1999
The U.N. Security Council passes Resolution 1284, replacing UNSCOM with the United Nations Monitoring, Verification and Inspection Commission (UNMOVIC). Hans Blix of Sweden is named to head the organization. UNMOVIC's staff are employees of the United Nations. UNSCOM's staff had been experts on loan from U.N.-member countries, calling into question the motives of individual team members.
World Trade Center Attacks ::: Sept. 11, 2001
Terrorists attack New York City and Washington, D.C., with passenger jets, radically altering America's view of national security issues.
'Axis of Evil' ::: Jan. 29, 2002
President Bush accuses Iraq of being part of an international "axis if evil" during his State of the Union address. Bush tells Congress:
"Iraq continues to flaunt its hostility toward America and to support terror. The Iraqi regime has plotted to develop anthrax and nerve gas and nuclear weapons for over a decade … This is a regime that has something to hide from the civilized world."
'A Grave and Gathering Danger' ::: Sept. 12, 2002
President Bush accuses Iraq of failing to live up to its obligations to the U.N. during an address to the General Assembly. Bush tells the U.N.:
"We know that Saddam Hussein pursued weapons of mass murder even when inspectors were in his country. Are we to assume that he stopped when they left? The history, the logic, and the facts lead to one conclusion: Saddam Hussein's regime is a grave and gathering danger."
'Material Breach' ::: Nov. 8, 2002
U.N. Security Council Resolution 1441 says Iraq "remains in material breach of its obligations" under various U.N. resolutions and gives the country "a final opportunity to comply with its disarmament" commitments.
The U.N. Moves Back In ::: Nov. 27, 2002
UNMOVIC and IAEA inspections begin again in Iraq, almost four years after the departure of inspectors prior to Operation Desert Fox.
Recycled Material ::: Dec. 7, 2002
Iraq delivers a 12,000-page WMD report to the U.N. in response to Resolution 1441. U.N. chief inspector Hans Blix says the information provided by Iraq is largely recycled material.
No 'Smoking Guns' ::: Jan. 9, 2003
UNMOVIC's Hans Blix and the IAEA's Director General Mohamed ElBaradei report their findings to the U.N. Security Council. Blix says inspectors have not found any "smoking guns" in Iraq. ElBaradei reports that aluminum tubes suspected by the U.S. to be components for uranium enrichment are more likely to be parts for rockets, as the Iraqis claim. John Negroponte, U.S. Ambassador to the U.N., says:
"There is still no evidence that Iraq has fundamentally changed its approach from one of deceit to a genuine attempt to be forthcoming in meeting the council's demand that it disarm."
Sixteen Words ::: Jan. 28, 2003
In his State of the Union address, President Bush continues to view Iraq is a WMD threat. He makes a statement that implies Iraq is trying to develop nuclear weapons. Bush says:
"The British government has learned that Saddam Hussein recently sought significant quantities of uranium from Africa."
It comes to light later that the president based his statement on discredited intelligence.
Powell's U.N. Appearance ::: Feb. 5, 2003
U.S. Secretary of State Colin Powell goes in person to the U.N. to make the case against Iraq. Citing evidence obtained by American intelligence, he tells the U.N. that Iraq has failed "to come clean and disarm." Powell adds:
"My colleagues, every statement I make today is backed up by sources, solid sources. These are not assertions. What we're giving you are facts and conclusions based on solid intelligence."
The Burden is on Iraq ::: Feb. 14, 2003
The IAEA's ElBaradei and chief weapons inspector Blix report to the U.N. Security Council on Iraqi cooperation in the search for WMD. They say they have not discovered any biological, chemical or nuclear weapons activities. Proscribed missile programs are discovered and disabled. Blix does express frustration with Iraq's failure to account for its vast stores of chemical and biological agents it was known to have at one point. Blix says:
"This is perhaps the most important problem we are facing. Although I can understand that it may not be easy for Iraq in all cases to provide the evidence needed, it is not the task of the inspectors to find it."
U.S. vs. U.N. ::: March 6-7, 2003
The night before Blix and ElBaradei are to report on inspection efforts in Iraq, President Bush gives a news conference in which he again says Iraq is hiding something. Bush says:
"These are not the actions of a regime that is disarming. These are the actions of a regime engaged in a willful charade. These are the actions of a regime that systematically and deliberately is defying the world."
Blix tells the U.N. the next day:
"Intelligence authorities have claimed that weapons of mass destruction are moved around Iraq by trucks, in particular that there are mobile production units for biological weapons … [But] no evidence of proscribed activities have so far been found."
Appearing with Blix, ElBaradei tells the U.N. that the IAEA has concluded that documents appearing to show Iraq shopping for uranium in Niger are, in fact, forgeries.
Invading Iraq ::: March 20, 2003
The U.S. military and other members of an American-led coalition invade Iraq. Baghdad falls on April 9. President Bush declares an end to major combat operations on May 1. Shortly afterward, the Pentagon announces formation of the Iraq Survey Group (ISG) to search for WMD.
A Different Niger Story ::: July 6, 2003
Former diplomat Joseph C. Wilson questions the Bush Administration's use of intelligence about Iraqi WMD programs with an opinion piece in the New York Times titled "What I Didn't Find in Africa." Wilson says he was sent to Africa by the CIA to investigate claims that Iraq had tried to buy uranium ore in Niger. He reports that he didn't find any evidence of Iraq attempting to procure uranium in Niger, contradicting regular statements from the White House that Saddam Hussein was after the radioactive material there.
Tenet Takes the Blame ::: July 11, 2003
Director George Tenet says that the CIA should not have allowed the president to say in his State of the Union address that Iraq was trying to procure uranium in Africa. Deputy National Security Adviser Steve Hadley also accepts responsibility for failing to stop the president from using the information. Tenet says:
"These 16 words should never have been included in the text written for the President."
Novak Unmasks a CIA Agent ::: July 14, 2003
Robert Novak, in his syndicated commentary, reveals that Joseph Wilson's wife, Valerie Plame, is a CIA operative. Novak attributes the information to "two senior administration officials."
No Weapons Found ::: Oct. 2, 2003
After three months of looking, Iraq Survey Group (ISG) inspector David Kay tells Congress in an interim report that his American team of weapons inspectors has yet to find any evidence of WMD. Kay says:
"We have not yet found stocks of weapons, but we are not yet at the point where we can say definitively either that such weapon stocks do not exist, or that they existed before the war."
Kay Resigns ::: Jan. 23, 2004
David Kay resigns as head of the ISG. CIA Director George Tenet names Charles Duelfer to replace Kay, whose team failed to find evidence of active WMD production or stockpiles. Kay tells NPR:
"My summary view, based on what I've seen, is that we are very unlikely to find large stockpiles of weapons. I don't think they exist."
Bush Responds to Kay ::: Feb. 3, 2004
With David Kay saying that he didn't believe WMD existed in Iraq, President Bush reiterates his belief that Saddam Hussein was dangerous. Bush says:
"We know from years of intelligence, not only our own intelligence services, but other intelligence-gathering organizations, that he had weapons. After all, he used them."
Hutton Inquiry ::: Feb. 4, 2004
The Hutton Inquiry into allegations from the BBC that the British government had hyped WMD intelligence reports before the war with Iraq finds no basis for the allegations. Tony Blair says:
"The allegation that I or anyone else lied to this House or deliberately misled the country by falsifying intelligence on weapons of mass destruction is itself the real lie."
Senate Intelligence Report ::: July 9, 2004
The Report of the Select Committee on Intelligence on the U.S. Intelligence Community's Prewar Intelligence Assessments on Iraq is released. It faults America's ability to gauge Iraq's capabilities before the war. Sen. Pat Roberts (R-KS) says:
"Before the war, the U.S. intelligence community told the president, as well as the Congress, that Saddam Hussein had stockpiles of chemical and biological weapons, and if left unchecked, would probably have a nuclear weapon during this decade. Well, today we know these assessments were wrong. They were also unreasonable and largely unsupported by the available intelligence."
Britain's Butler Report ::: July 14, 2004
Britain releases the Butler Report, which concludes that Iraq did not have significant, if any, stocks of chemical or biological weapons ready for deployment. Blair responds to the report:
"On any basis, he [Saddam Hussein] retained complete strategic intent on weapons of mass destruction, and significant capability. The only reason he ever let the inspectors back into Iraq was that he had 180,000 U.S. and British troops on his doorstep. He had no intention of ever cooperating fully with the inspectors."
No Weapons Found ::: Sept. 30 – Oct. 6, 2004
The ISG releases its final report and chief inspector Charles Duelfer testifies before congress about his team's findings. After 16 months of investigation, Duelfer concludes that Saddam Hussein had no chemical weapons, no biological weapons and no capacity to make nuclear weapons. This effectively ends the hunt for WMD. Bush responds to the report:
"The Duelfer report showed that Saddam was systematically gaming the system, using the UN oil-for-food program to try to influence countries and companies in an effort to undermine sanctions. He was doing so with the intent of restarting his weapons program once the world looked away."
The Hunt is Over ::: Jan. 12, 2005
White House spokesman Scott McClellan tells reporters that the "physical search" for WMD, having found no weapons, is over.
Robb-Silberman Report ::: March 31, 2005
The Commission on the Intelligence Capabilities of the United States Regarding Weapons of Mass Destruction delivers its report to the president. Commonly known as the Robb-Silberman report — in reference to the commission's co-chairmen — the document describes the failure to find WMD in Iraq as one of the "most public — and most damaging — intelligence failures in recent American history." The report, which was commissioned by President Bush, asks what went wrong and concludes that wide-ranging reform of the intelligence bureaucracy is needed to guard against global WMD threats.
In an attempt to counter the allegations that some WMD arsenals (or capability) were indeed hidden from inspectors, Scott Ritter would argue later;
There's no doubt Iraq hasn't fully complied with its disarmament obligations as set forth by the Security Council in its resolution. But on the other hand, since 1998 Iraq has been fundamentally disarmed: 90–95% of Iraq's weapons of mass destruction capacity has been verifiably eliminated … We have to remember that this missing 5–10% doesn't necessarily constitute a threat … It constitutes bits and pieces of a weapons program which in its totality doesn't amount to much, but which is still prohibited … We can't give Iraq a clean bill of health, therefore we can't close the book on their weapons of mass destruction. But simultaneously, we can't reasonably talk about Iraqi non-compliance as representing a de-facto retention of a prohibited capacity worthy of war.
Ritter also argued that the WMDs Saddam had in his possession all those years ago, if retained, would have long since turned to harmless substances. He stated that Iraqi Sarin and tabun have a shelf life of approximately five years, VX lasts a bit longer (but not much longer), and finally he said botulinum toxin and liquid anthrax last about three years.
Iraq Survey Group
On May 30, 2003, The U.S. Department of Defense briefed the media that it was ready to formally begin the work of the Iraq Survey Group (ISG), a fact-finding mission from the coalition of the Iraq occupation into the WMD programs developed by Iraq, taking over from the British-American 75th Exploitation Task Force.
Various nuclear facilities, including the Baghdad Nuclear Research Facility and Tuwaitha Nuclear Research Center, were found looted in the month following the invasion. (Gellman, May 3, 2003) On June 20, 2003, the International Atomic Energy Agency reported that tons of uranium, as well as other radioactive materials such as thorium, had been recovered and that the vast majority had remained on site. There were several reports of radiation sickness in the area. It has been suggested that the documents and suspected weapons sites were looted and burned in Iraq by looters in the final days of the war.
On September 30, 2004, the U.S. Iraq Survey Group issued its Final Report. Among its key findings were
"Saddam Husayn so dominated the Iraqi Regime that its strategic intent was his alone. He wanted to end sanctions while preserving the capability to reconstitute his weapons of mass destruction (WMD) when sanctions were lifted."
"Saddam wanted to recreate Iraq's WMD capability—which was essentially destroyed in 1991—after sanctions were removed and Iraq's economy stabilized, but probably with a different mix of capabilities to that which previously existed. Saddam aspired to develop a nuclear capability—in an incremental fashion, irrespective of international pressure and the resulting economic risks—but he intended to focus on ballistic missile and tactical chemical warfare (CW) capabilities;"
"Iran was the pre-eminent motivator of [Iraq's WMD] policy. All senior level Iraqi officials considered Iran to be Iraq's principal enemy in the region. The wish to balance Israel and acquire status and influence in the Arab world were also considerations, but secondary."
"The former Regime had no formal written strategy or plan for the revival of WMD after sanctions. Neither was there an identifiable group of WMD policy makers or planners separate from Saddam. Instead, his lieutenants understood WMD revival was his goal from their long association with Saddam and his infrequent, but firm, verbal comments and directions to them."
"Saddam did not consider the United States a natural adversary, as he did Iran and Israel, and he hoped that Iraq might again enjoy improved relations with the United States, according to Tariq 'Aziz and the presidential secretary."
Evidence of the maturity and significance of the pre-1991 Iraqi Nuclear Program but found that Iraq's ability to reconstitute a nuclear weapons program progressively decayed after that date;
Concealment of the nuclear program in its entirety, as with Iraq's BW program. Aggressive UN inspections after Desert Storm forced Saddam to admit the existence of the program and destroy or surrender components of the program;
After Desert Storm, Iraq concealed key elements of its program and preserved what it could of the professional capabilities of its nuclear scientific community;
"Saddam's primary goal from 1991 to 2003 was to have UN sanctions lifted, while maintaining the security of the Regime. He sought to balance the need to cooperate with UN inspections—to gain support for lifting sanctions—with his intention to preserve Iraq's intellectual capital for WMD with a minimum of foreign intrusiveness and loss of face. Indeed, this remained the goal to the end of the Regime, as the starting of any WMD program, conspicuous or otherwise, risked undoing the progress achieved in eroding sanctions and jeopardizing a political end to the embargo and international monitoring;"
A limited number of post-1995 activities would have aided the reconstitution of the nuclear weapons program once sanctions were lifted.
The report found that "The ISG has not found evidence that Saddam possessed WMD stocks in 2003, but [there is] the possibility that some weapons existed in Iraq, although not of a militarily significant capability." It also concluded that there was a possible intent to restart all banned weapons programs as soon as multilateral sanctions against it had been dropped, with Hussein pursuing WMD proliferation in the future: "There is an extensive, yet fragmentary and circumstantial, body of evidence suggesting that Saddam pursued a strategy to maintain a capability to return to WMD after sanctions were lifted…"No senior Iraqi official interviewed by the ISG believed that Saddam had forsaken WMD forever.
On October 6, 2004, the head of the Iraq Survey Group (ISG), Charles Duelfer, announced to the U.S. Senate Armed Services Committee that the group found no evidence that Iraq under Saddam Hussein had produced and stockpiled any weapons of mass destruction since 1991, when UN sanctions were imposed.
After he began cooperating with U.S. forces in Baghdad in 2003, Dr. Mahdi Obeidi, who ran Saddam's nuclear centrifuge program until 1997, handed over blueprints for a nuclear centrifuge along with some actual centrifuge components, stored at his home – buried in the front yard – awaiting orders from Baghdad to proceed. He said, "I had to maintain the program to the bitter end." In his book The Bomb in My Garden: The Secrets of Saddam's Nuclear Mastermind, the Iraqi nuclear engineer explains that his nuclear stash was the key that could have unlocked and restarted Saddam's bombmaking program. However, it would require a massive investment and a re-creation of thousands of centrifuges in order to reconstitute a full centrifugal enrichment program.
Post-war discoveries and incidents
Since the 2003 invasion of Iraq, several reported finds of chemical weapons were announced, including half a dozen incidents during the invasion itself.
In April 2003, US Marines stumbled across a number of buildings which emitted unusual levels of radiation. Upon close inspection the troops uncovered "many, many drums" containing low-grade uranium, also known as yellowcake. According to an expert familiar with UN nuclear inspections, US troops had arrived at the Tuwaitha Nuclear Research Center and the material under investigation had been documented, stored in sealed containers and subject to supervision by the International Atomic Energy Agency since 1991. The material was transported out of Iraq in July 2008 and sold to Canadian uranium producer Cameco Corp., in a transaction described as worth "tens of millions of dollars."
A post-war case occurred on January 9, 2004, when Icelandic munitions experts and Danish military engineers discovered 36 120-mm mortar rounds containing liquid buried in Southern Iraq. While initial tests suggested that the rounds contained a blister agent, subsequent analysis by American and Danish experts showed that no chemical agent was present.
On May 2, 2004, a shell containing mustard gas was found in the middle of a street west of Baghdad. The Iraq Survey Group investigation reported that it had been previously "stored improperly", and thus the gas was "ineffective" as a useful chemical agent. Officials from the Defense Department commented that they were not certain if use was to be made of the device as a bomb.
On May 16, 2004, a 152 mm artillery shell was used as an improvised bomb. The shell exploded and two U.S. soldiers were treated for minor exposure to a nerve agent (nausea and dilated pupils). On May 18 it was reported by U.S. Department of Defense intelligence officials that tests showed the two-chambered shell contained the chemical agent sarin, the shell being "likely" to have contained three to four liters of the substance (in the form of its two unmixed precursor chemicals prior to the aforementioned explosion that had not effectively mixed them). Former U.S. weapons inspector David Kay told the Associated Press that "he doubted the shell or the nerve agent came from a hidden stockpile, although he didn't rule out that possibility." Kay also considered it possible that the shell was "an old relic overlooked when Saddam said he had destroyed such weapons in the mid-1990s." It is likely that the insurgents who planted the bomb did not know it contained sarin, according to Brig. Gen. Mark Kimmitt, and another U.S. official confirmed that the shell did not have the markings of a chemical agent. The Iraq Survey Group later concluded that the shell "probably originated with a batch that was stored in a Al Muthanna CW complex basement during the late 1980s for the purpose of leakage testing."
In a July 2, 2004, article published by The Associated Press and Fox News, it was reported that sarin gas warheads dating back to the last Iran–Iraq War were found in South Central Iraq by Polish Allies. The Polish troops secured munitions on June 23, 2004, but it turned out that the warheads did not in fact contain sarin gas but "were all empty and tested negative for any type of chemicals"—and it transpired that the Poles had bought the shells for $5,000 each.
In 2004, hundreds of chemical warheads were recovered from the desert close to the Iran–Iraq border. According to the Washington Post, the munitions "had been buried near the Iranian border, and then long forgotten, by Iraqi troops during their eight-year war with Iran". Officials did not consider the discovery as evidence of an ongoing weapons program that was believed to be in existence before the invasion began.
The Iraqi government informed the United Nations in 2014 that insurgents affiliated with the Islamic State terror group had seized control of the Muthana State Establishment, including a chemical weapons depot northwest of Baghdad. The facility was partially destroyed and placed under the supervision of UNSCOM following the 1991 Gulf War. It housed some 2,500 sarin-filled rockets at the time of their departure in 1999. The U.N. said that the munitions were of "poor quality" and "would largely be degraded after years of storage under the conditions existing there."
2005: Operation Avarice
In 2005, the CIA collaborated with the Army Intelligence Corps in contacting an unnamed Iraqi individual who had knowledge and possession of remnant chemical weapon stockpiles and munitions in Iraq dating to its abandoned weapons program. Foreign materials exploitation specialists from the 203rd Military Intelligence Battalion as well as chemical specialists and ordnance disposal units were assigned the task of aiding the destruction of recovered weapons; ultimately, at least 400 Borak rockets were acquired and destroyed.
It is unknown how the individual acquired their stockpile. Many of the weapons were badly degraded and were empty or held nonlethal liquid, but some of the weapons analyzed indicated a concentration of nerve agents far higher than military intelligence had initially expected given their age, with the highest "agent purity of up to 25 percent for recovered unitary sarin weapons". At least once the undisclosed seller attempted to sell weapons with fake chemical components. In addition, he once "called the intel guys to tell them he was going to turn them over to the insurgents unless they picked them up."
2006: House Armed Services Committee Hearing
On June 21, 2006, the United States House Permanent Select Committee on Intelligence released key points from a classified report provided to them by the National Ground Intelligence Center on the recovery of chemical weapons in Iraq. The declassified summary stated that "Since 2003, coalition forces have recovered approximately 500 weapons munitions which contain degraded mustard or sarin nerve agent", that chemical munitions "are assessed to still exist" and that they "could be sold on the black market". All weapons were thought to be manufactured in the 1980s and date to Iraq's war with Iran. The report prompted US Senator Rick Santorum to hold a press conference in which he declared "We have found weapons of mass destruction in Iraq."
During a House Armed Services Committee meeting convened to discuss the topic, the center's commander, Army Colonel John Chiu, elaborated that the munitions are "badly corroded in most cases [and] some were deliberately dismantled, if you will, to prevent them from being used." Nonetheless, in response to a question from committee member Curt Weldon, Col. Chui agreed that the munitions met the technical definition of weapons of mass destruction. "These are chemical weapons as defined under the Chemical Weapons Convention and yes, sir, they do constitute weapons of mass destruction." Weapons expert David Kay, who also appeared before the committee, disagreed with the assessment, contending that any chemical weapon produced by Iraq in the 1980s would not remain a viable weapon of mass destruction today. Kay said the chemical agent, though hazardous, is "less toxic than most things Americans have under their kitchen sink at this point". Speaking on National Public Radio's Talk of the Nation, weapons expert Charles Duelfer agreed: "We said in the [ISG] report that such chemical munitions would probably still be found. But the ones which have been found are left over from the Iran-Iraq war. They are almost 20 years old, and they are in a decayed fashion. It is very interesting that there are so many that were unaccounted for, but they do not constitute a weapon of mass destruction, although they could be a local hazard. In September of the same year, the report of the Select Committee on Intelligence on Postwar Findings stated that such discoveries were consistent with the ISG assessment that "Iraq and Coalition Forces will continue to discover small numbers of degraded chemical weapons, which the former Regime mislaid or improperly destroyed prior to 1991. The ISG believes the bulk of these weapons were likely abandoned, forgotten and lost during the Iran-Iraq war because tens of thousands of CW munitions were forward deployed along the frequently and rapidly shifting battle front."
New York Times investigative report
In October 2014, the New York Times reported that the total number of munitions discovered since 2003 had climbed to 4,990, and that U.S. servicemen had been exposed and injured during the disposal and destruction process. US soldiers reporting exposure to mustard gas and sarin allege they were required to keep their exposure secret, sometimes declined admission to hospital and evacuation home despite the request of their commanders. "We were absolutely told not to talk about it" by a colonel, a former sergeant said. "All [munitions] had been manufactured before 1991, participants said. Filthy, rusty or corroded, a large fraction of them could not be readily identified as chemical weapons at all. Some were empty, though many of them still contained potent mustard agent or residual sarin. Most could not have been used as designed, and when they ruptured dispersed the chemical agents over a limited area."
According to the investigative report, "many chemical weapons incidents clustered around the ruins of the Muthanna State Establishment, the center of Iraqi chemical agent production in the 1980s." The facility had fallen under the supervision of United Nations weapons inspectors after the first Gulf War and was known to house approximately 2,500 corroded chemical munitions, but the vast building complex was left unmanned once hostilities commenced in 2003 and was subject to looting. Participants in the discoveries postulated another reason to conceal their exposure, as some of the chemical shells "appeared to have been designed in the United States, manufactured in Europe and filled in chemical agent production lines built in Iraq by Western companies."
2009 Declaration
Iraq became a member state of the Chemical Weapons Convention in 2009, declaring "two bunkers with filled and unfilled chemical weapons munitions, some precursors, as well as five former chemical weapons production facilities" according to OPCW Director General Rogelio Pfirter. No plans were announced at that time for the destruction of the material, although it was noted that the bunkers were damaged in the 2003 war and even inspection of the site must be carefully planned.
The declaration contained no surprises, OPCW spokesman Michael Luhan indicated. The production facilities were "put out of commission" by airstrikes during the 1991 conflict, while United Nations personnel afterward secured the chemical munitions in the bunkers. Luhan stated at the time: "These are legacy weapons, remnants." He declined to discuss how many weapons were stored in the bunkers or what materials they contained. The weapons were not believed to be in a usable state.
The destruction of these remnants was completed in 2018.
At the end of the Gulf War, Saddam Hussein and his elite military units were still in power and in possession of huge stockpiles of deadly weapons. In April 1991, the U.N. Security Council created UNSCOM, a special commission to find and dismantle this arsenal. The U.N. imposed economic sanctions on Iraq that would be enforced until the country eliminated all nuclear, biological, and chemical weapons capability.
Two agencies were charged with the task. UNSCOM would uncover and destroy Iraq's biological- and chemical-weapons and ballistic-missile programs; the International Atomic Energy Agency (IAEA) was charged with uncovering and dismantling Iraq's clandestine nuclear program.
From 1991 to 1998 UNSCOM and IAEA carried out numerous inspections in Iraq, but with varying degrees of success.
For the first few years, Iraqi officials failed to disclose much of their special weapons programs to the inspectors. In 1995, Saddam Hussein's son-in-law Kamel Hussein defected. He had been in charge of the bioweapons program and revealed to UNSCOM that there was a vast arsenal of weapons they had failed to uncover, including biological weapons, and described how the Iraqis were hiding them. This was a breakthrough for the inspection teams, and they continued their work until 1998, when Iraq blocked further access and expelled UNSCOM.
What follows is a summary of what IAEA and UNSCOM had found in Iraq, up until 1998.
IRAQ'S NUCLEAR WEAPONS PROGRAM
Between 1991 and 1998 the IAEA conducted more than 1500 inspections. IAEA released a report in 1997, with updates in 1998 and 1999, which it believes offers a technically coherent picture of Iraq's nuclear program.
In summary, the IAEA report says that following the August 1990 invasion of Kuwait, Iraq launched a "crash program" to develop a nuclear weapon quickly by extracting weapons grade material from safe-guarded research reactor fuel. This project, if it had continued uninterrupted by the war, might have succeeded in producing a deliverable weapon by the end of 1992.
The IAEA inspections revealed seven nuclear-related sites in Iraq. The IAEA reports that all sensitive nuclear materials were removed, and that facilities and equipment were dismantled or destroyed. Activities uncovered and destroyed included:
an industrial scale complex for Electromagnetic Isotope Separation (EMIS), a process for producing enriched uranium. The complex was designed for the installation of 90 separators; before the Gulf War, eight were functional. If all separators had been installed, the plant could have produced 15 kg of highly enriched uranium per year, possibly enough for one nuclear weapon.
a large scale manufacturing and testing facility–the Al Furat Project–designed for the production of centrifuges, used in another method of uranium enrichment.
facilities and equipment for the production of weapons components.
computer simulations of nuclear weapons detonations
storage of large quantities of HMX high explosive used in nuclear weapons.
According to former U.N. inspector David Kay, Iraq spent over $10 billion during the 1980s in an attempt to enrich uranium and build a nuclear weapon. However, the Agency concludes that as of December, 1998, "There were no indications to suggest that Iraq was successful in its attempt to produce nuclear weapons," or "that there remains in Iraq any physical capability for the production of amounts of weapons-usable nuclear material of any practical significance." However, the IAEA did find that "Iraq was at, or close to, the threshold of success in such areas as the production of [highly enriched uranium] … and the fabrication of the explosive package for a nuclear weapon." Despite the fact that the facilities and nuclear material had been destroyed or removed, as early as 1996 the IAEA concluded that "the know-how and expertise acquired by Iraqi scientists and engineers could provide an adequate base for reconstituting a nuclear-weapons-oriented program."
Nuclear physicist and Iraqi defector Khidhir Hamza agrees. He told FRONTLINE that Iraq did not relinquish certain critical components of the nuclear program to the inspectors, and that it retains the expertise necessary to build a nuclear weapon. He believes that Iraq may have one completed within the next couple of years.
Note: IAEA was allowed back into Iraq in January 2000 and again in January 2001. But its inspectors were blocked from full access inspections.
IRAQ'S BIOLOGICAL WEAPONS (BW) PROGRAM
Between 1991 and 1998, UN inspectors conducted more than 70 inspections into Iraq's biological warfare activities. In its 1999 final report to the U.N. Security Council, UNSCOM noted that Iraq's biological warfare program was "among the most secretive of its programs of weapons of mass destruction." It said that Iraq "took active steps" to conceal the program, including "inadequate disclosures, unilateral destruction, and concealment activities." Therefore, the Commission concluded, "it has not been possible to verify" Iraq's statements about the extent and nature of its biological weapons program.
A 58 page annex to the final report describes what the Commission was able to learn about the BW program, despite Iraq's concealment activities, and documents discrepancies between what Iraq claimed to have developed, or destroyed, and the physical evidence. Some of the findings include:
Extensive BW program: Iraq had an extensive BW program from 1973 until at least 1991. In mid-1995, Iraq admitted that it had weaponized BW agents, but claimed that the entire BW program had been in "obliterated" in 1991 and that all BW weapons had been destroyed and all bulk BW agents had been deactivated. The Commission found, however, that the evidence produced in support of this claim was not credible, and that Iraq "retained suitable growth media, BW facilities, production equipment, teams of expert personnel, and the essential technical knowledge" after 1991.
Bulk production: In July, 1995, Iraq acknowledged that between 1988 and 1991, it had produced two BW agents in bulk: botulinum toxin and Bacillus anthracis spores (anthrax). Iraq reported 19,180 liters of botulinum toxin (10-20 fold concentrated) and 8445 liters of Bacillus anthracis spores (10 fold concentrated).UNSCOM found, however, that "bulk warfare agent production appears to be considerably understated," given the resources available to Iraq's BW program, including growth media and fermenter capacity. The Commission said that the production rate of Botulinum toxin could be as much as double the stated amount, and 3 times greater than that stated for Bacillus anthracis spores.Iraq claimed that it unilaterally destroyed more than 7500 liters of the Botulinum toxin and 3412 liters of Bacillus anthracis spores in 1991; UNSCOM noted that there was not evidence to support quantities claimed to be destroyed. The report concludes "the Commission has no confidence that all bulk agents have been destroyed… and that a BW capability does not exist in Iraq."Iraq also claims to have produced lesser quantities of clostridium perfringens spores, ricin, and wheat cover smut.
BW Warheads: Iraq claimed to have produced 25 Al-Hussein missile warheads and filled them with BW agents. The Commission found that there was no credible evidence to show that only 25 missiles were produced and filled. Iraq declared that the 25 missiles were unilaterally destroyed; the Commission found enough physical evidence to account for the declared quantities of BW warheads, but the location of the remnants were inconsistent with Iraq's story.
BW bombs: Iraq declared that 200 R-400 aerial bombs were manufactured for BW purposes, but acknowledged that the numbers of bombs filled with particular agents (100 with botulinum toxin, 50 with bacillus anthracis spores, and 7 with aflatoxin) were "guesses." UNSCOM did find evidence of the destruction of some BW bombs at the site declared by Iraq, but found that the remnants account for less than one third of the bombs Iraq claims to have destroyed. In addition, UNSCOM found evidence of R-400A bombs carrying BW at an airfield where no BW weapons were declared.
Aircraft drop tanks: Iraq claimed that it produced 4 aircraft drop tanks to disseminate BW agents, and was developing a pilotless aircraft that could carry the tanks, holding either BW or chemical weapons, and release the toxins at a preset time. UNSCOM found that there was no evidence corroborate that only 4 were produced, and noted that interviews indicated that 12 were planned. Remnants of only three destroyed tanks were recovered. UNSCOM also rejected the evidence offered by Iraq–a letter thanking the project workers–that the pilotless aircraft project was shut down.
Aerosol Generators: Iraq developed aerosol generators for the dispersal of BW agents by modifying helicopter-borne commercial chemical insecticide disseminators. Although Iraq claimed the devices were ineffective, UNSCOM received documentation that they were successfully field tested. Interview evidence suggests that there were 12 devices produced; none were destroyed by UNSCOM.
Remaining Bacterial Growth Media: UNSCOM determined that there remained substantial bacterial growth media imported into Iraq which remains unaccounted for: 460 kg. of casien; 80 kg. of thioglocollate broth; 520 kg. of yeast extract; and 1100 kg of peptone. The report says that "the amounts that are 'missing' are significant, and would be sufficient to produce quantities of agent comparable to that already declared by Iraq."
IRAQ'S CHEMICAL WEAPONS (CW) PROGRAM
UNSCOM was more successful in its pursuit of Iraq's CW program largely because Iraq was more cooperative with its disclosures. The final report notes that a "significant number" of chemical weapons, their components, and related equipment were destroyed under UNSCOM supervision between 1991 and 1997. In addition, the report found:
Extensive CW program: Iraq acknowledged that it carried out a large scale CW program between 1982 and 1990. It claims that more than 50% of its chemical weapons stocks were consumed during the 1980s, and that the majority of its production facilities were destroyed by aerial bombing during the Gulf War.
Bulk CW agents: Iraq said that it produced 3,859 tons of CW agents during the entire implementation of its CW program, and that 3,315 tons of these agents were weaponized. Agents produced in large quantities included mustard, tabun, and sarin. According to Iraq, 80% of the weaponized CW agents were consumed between 1982 and 1988. In addition, they claim to have unilaterally discarded 130 tons of non-weaponized CW agents during the 1980s. UNSCOM found that these numbers could not be verified. After the Gulf War, Iraq claimed that it had 412.5 tons of CW agents remaining. Four hundred eleven tons were destroyed under UNSCOM supervision; 1.5 tons of the CW agent VX remain unaccounted for.
Special Munitions: Iraq claimed that between 1982 and 1988, 100,000 munitions filled with CW agents were consumed or disposed of. UNSCOM found that this number could not be verified.After the Gulf war, Iraq declared that there remained over 56,000 special munitions which could carry either CW or BW agents (22,000 filled, 34,000 unfilled). These munitions are all accounted for. They were either destroyed or converted for conventional weapons purposes. Iraq claimed that there were 42,000 special munitions destroyed in the Gulf War. UNSCOM was unable to verify that number, and found that the destruction of 2,000 unfilled munitions remains uncertain, and 550 filled munitions remain unaccounted for.Iraq claimed that it unilaterally destroyed 29,000 special munitions; UNSCOM found that of these, 100 filled munitions remain unaccounted for.
Why are we even bothering to keep looking for those weapons of mass destruction in Iraq? At this point, what difference does it make whether we find them or not? Trying to find them serves two ostensible purposes: One is to prevent them from being used, and the other is to settle the argument about whether they exist. But neither purpose really applies any longer.
As we are belatedly noticing, other nations are closer to having a usable nuclear weapon than Iraq. The claim was that nuclear and other weapons were especially dangerous in the hands of a malevolent madman like Saddam Hussein. Now Saddam is gone. Iraq is not quite yet the gentle, loving democracy promised by Bush administration propaganda. But its government, or lack of one, is hardly the rogue nuclear power we must fear the most.
As for settling the argument about WMD as a justification for the war, that argument is already settled. It's obvious that the Bush administration had no good evidence to back up its dire warnings. And even if months of desperate searching ultimately turn up a thing or two, this will hardly vindicate the administration's claim to have known it all along. The administration itself in effect now agrees that actually finding the weapons doesn't matter. It asserts that the war can be justified on humanitarian grounds alone, and that Saddam may have destroyed those weapons on his way out the door. (Exactly what we wanted him to do, by the way, now repositioned as a dirty trick.) These are not the sorts of things you say if you know those weapons exist. And if it doesn't matter that they don't seem to exist, it cannot logically matter if they do.
The general citizenry doesn't seem to care whether those weapons are discovered or not. Americans tell pollsters they do not mind that WMD haven't materialized and are not even withholding judgment while the search goes on. Some now believe the war was justified on other grounds. Some believe the weapons exist despite the lack of evidence. Some actually believe that WMD have been discovered. And some even believe that the Bush administration outright lied about WMD, but they don't care.
According to a Harris poll out Wednesday, a majority of Americans still think the Bush administration was telling the truth before the war when it said it had hard evidence of WMD. A Knight Ridder poll released last weekend reports that a third of the populace believes that the weapons have been discovered. A Fox News poll last week found that almost half of Americans feel that the administration was "intentionally misleading" about Iraq's weapons, but more than two-thirds think the war was justified anyway. A Gallup Poll released Wednesday concludes that almost 9 out of 10 Americans still think Saddam had or was close to having WMD.
By now, WMD have taken on a mythic role in which fact doesn't play much of a part. The phrase itself—"weapons of mass destruction"—is more like an incantation than a description of anything in particular. The term is a new one to almost everybody, and the concern it officially embodies was on almost no one's radar screen until recently. Unofficially, "weapons of mass destruction" are to George W. Bush what fairies were to Peter Pan. He wants us to say, "We DO believe in weapons of mass destruction. We DO believe. We DO." If we all believe hard enough, they will be there. And it's working.
The most striking thing about polls like these isn't how many people believe or disbelieve some unproven factual assertion or prediction, but how few give the only correct answer, which is "don't know." In the Fox News poll, vast majorities expressed certitude one way or the other about the existence of WMD in Iraq, the likelihood of peace in the Middle East, and so on. Those who voted "not sure" (an even more tempting cop-out than the pollsters' usual "don't know") rarely broke 20 percent and usually hovered around 10. Four-fifths or more were sure about everything.
As someone who manufactures opinions for a living, it is my job to be sure. And my standards for the ingredients of an opinion are necessarily low. There may be a few ancient pundits such as George Will who still follow the traditional guild practices: days in the library making notes on 3-by-5 cards, half a dozen lunches at the club with key sources, an hour spent alone in silence with a martini and one's thoughts—and only then does a perfectly modulated opinion take its lovely shape. Most of us have no time for that anymore. It's a quick surf around the Net, a flip of the coin, and out pops an opinion, ready-to-go except perhaps for a bit of extra last-minute coarsening.
Still, even the most modern major generalist among the professional commentariat likes to have a little something in the way of knowledge as he or she scatters opinions like bird seed. The general public, or at least the part of it that deals with pollsters, is not so cowardly. Most people, it seems, will happily state a belief on a question of fact that nobody knows the answer to, and then just as happily do a double back flip from that shaky platform into a pool of opinions about which they are "sure."
Pollsters themselves, and the media who report their findings deadpan, are partly responsible for this. Every news report about a poll result reinforces the impression that opinion untethered to reality is valid or even patriotic (and to be "not sure" is shameful). The modern pundit culture is also partly to blame, I suppose, with its emphasis on televised argumentation. Viewers do not always grasp the difference between low standards and no standards at all.
Are there weapons of mass destruction in Iraq? Sure there are—in every sense that matters, reality not being one of them.
Report: Hundreds of WMDs Found in Iraq
WASHINGTON – The United States has found 500 chemical weapons in Iraq since 2003, and more weapons of mass destruction are likely to be uncovered, two Republican lawmakers said Wednesday.
"We have found weapons of mass destruction in Iraq, chemical weapons," Sen. Rick Santorum, R-Pa., said in a quickly called press conference late Wednesday afternoon.
Reading from a declassified portion of a report by the National Ground Intelligence Center, a Defense Department intelligence unit, Santorum said: "Since 2003, coalition forces have recovered approximately 500 weapons munitions which contain degraded mustard or sarin nerve agent. Despite many efforts to locate and destroy Iraq's pre-Gulf War chemical munitions, filled and unfilled pre-Gulf War chemical munitions are assessed to still exist."
He added that the report warns about the hazards that the chemical weapons could still pose to coalition troops in Iraq.
"The purity of the agents inside the munitions depends on many factors, including the manufacturing process, potential additives and environmental storage conditions. While agents degrade over time, chemical warfare agents remain hazardous and potentially lethal," Santorum read from the document.
"This says weapons have been discovered, more weapons exist and they state that Iraq was not a WMD-free zone, that there are continuing threats from the materials that are or may still be in Iraq," said Rep. Pete Hoekstra, R-Mich., chairman of the House Intelligence Committee.
The weapons are thought to be manufactured before 1991 so they would not be proof of an ongoing WMD program in the 1990s. But they do show that Saddam Hussein was lying when he said all weapons had been destroyed, and it shows that years of on-again, off-again weapons inspections did not uncover these munitions.
Hoekstra said the report, completed in April but only declassified now, shows that "there is still a lot about Iraq that we don't fully understand."
Asked why the Bush administration, if it had known about the information since April or earlier, didn't advertise it, Hoekstra conjectured that the president has been forward-looking and concentrating on the development of a secure government in Iraq.
Offering the official administration response to FOX News, a senior Defense Department official pointed out that the chemical weapons were not in useable conditions.
"This does not reflect a capacity that was built up after 1991," the official said, adding the munitions "are not the WMDs this country and the rest of the world believed Iraq had, and not the WMDs for which this country went to war."
The official said the findings did raise questions about the years of weapons inspections that had not resulted in locating the fairly sizeable stash of chemical weapons. And he noted that it may say something about Hussein's intent and desire. The report does suggest that some of the weapons were likely put on the black market and may have been used outside Iraq.
He also said that the Defense Department statement shortly after the March 2003 invasion saying that "we had all known weapons facilities secured," has proven itself to be untrue.
"It turned out the whole country was an ammo dump," he said, adding that on more than one occasion, a conventional weapons site has been uncovered and chemical weapons have been discovered mixed within them.
Hoekstra and Santorum lamented that Americans were given the impression after a 16-month search conducted by the Iraq Survey Group that the evidence of continuing research and development of weapons of mass destruction was insignificant. But the National Ground Intelligence Center took up where the ISG left off when it completed its report in November 2004, and in the process of collecting intelligence for the purpose of force protection for soldiers and sailors still on the ground in Iraq, has shown that the weapons inspections were incomplete, they and others have said.
"We know it was there, in place, it just wasn't operative when inspectors got there after the war, but we know what the inspectors found from talking with the scientists in Iraq that it could have been cranked up immediately, and that's what Saddam had planned to do if the sanctions against Iraq had halted and they were certainly headed in that direction," said Fred Barnes, editor of The Weekly Standard and a FOX News contributor.
"It is significant. Perhaps, the administration just, they think they weathered the debate over WMD being found there immediately and don't want to return to it again because things are otherwise going better for them, and then, I think, there's mindless resistance to releasing any classified documents from Iraq," Barnes said.
The release of the declassified materials comes as the Senate debates Democratic proposals to create a timetable for U.S. troops to withdraw from Iraq. The debate has had the effect of creating disunity among Democrats, a majority of whom shrunk Wednesday from an amendment proposed by Sen. John Kerry of Massachusetts to have troops to be completely withdrawn from Iraq by the middle of next year.
At the same time, congressional Republicans have stayed highly united, rallying around a White House that has seen successes in the last couple weeks, first with the death of terror leader Abu Musab al-Zarqawi, then the completion of the formation of Iraq's Cabinet and then the announcement Tuesday that another key Al Qaeda in Iraq leader, "religious emir" Mansour Suleiman Mansour Khalifi al-Mashhadani, or Sheik Mansour, was also killed in a U.S. airstrike.
Santorum pointed out that during Wednesday's debate, several Senate Democrats said that no weapons of mass destruction had been found in Iraq, a claim, he said, that the declassified document proves is untrue.
"This is an incredibly — in my mind — significant finding. The idea that, as my colleagues have repeatedly said in this debate on the other side of the aisle, that there are no weapons of mass destruction, is in fact false," he said.
As a result of this new information, under the aegis of his chairmanship, Hoekstra said he is going to ask for more reporting by the various intelligence agencies about weapons of mass destruction.
"We are working on the declassification of the report. We are going to do a thorough search of what additional reports exist in the intelligence community. And we are going to put additional pressure on the Department of Defense and the folks in Iraq to more fully pursue a complete investigation of what existed in Iraq before the war," Hoekstra said.
How Did Iraq Get Its WMD? – We Sold Them To Saddam
The US and Britain sold Saddam Hussein the technology and materials Iraq needed to develop nuclear, chemical and biological weapons of mass destruction. Reports by the US Senate's committee on banking, housing and urban affairs — which oversees American exports policy — reveal that the US, under the successive administrations of Ronald Reagan and George Bush Snr, sold materials including anthrax, VX nerve gas, West Nile fever germs and botulism to Iraq right up until March 1992, as well as germs similar to tuberculosis and pneumonia. Other bacteria sold included brucella melitensis, which damages major organs, and clostridium perfringens, which causes gas gangrene.
Classified US Defence Department documents also seen by the Sunday Herald show that Britain sold Iraq the drug pralidoxine, an antidote to nerve gas, in March 1992, after the end of the Gulf war. Pralidoxine can be reverse engineered to create nerve gas.
The Senate committee's rep orts on 'US Chemical and Biological Warfare-Related Dual-Use Exports to Iraq', undertaken in 1992 in the wake of the Gulf war, give the date and destination of all US exports. The reports show, for example, that on May 2, 1986, two batches of bacillus anthracis — the micro-organism that causes anthrax — were shipped to the Iraqi Ministry of Higher Education, along with two batches of the bacterium clostridium botulinum, the agent that causes deadly botulism poisoning.
One batch each of salmonella and E coli were shipped to the Iraqi State Company for Drug Industries on August 31, 1987. Other shipments went from the US to the Iraq Atomic Energy Commission on July 11, 1988; the Department of Biology at the University of Basrah in November 1989; the Department of Microbiology at Baghdad University in June 1985; the Ministry of Health in April 1985 and Officers' City, a military complex in Baghdad, in March and April 1986.
The shipments to Iraq went on even after Saddam Hussein ordered the gassing of the Kurdish town of Halabja, in which at least 5000 men, women and children died. The atrocity, which shocked the world, took place in March 1988, but a month later the components and materials of weapons of mass destruction were continuing to arrive in Baghdad from the US.
The Senate report also makes clear that: 'The United States provided the government of Iraq with 'dual use' licensed materials which assisted in the development of Iraqi chemical, biological and missile-system programmes.'
This assistance, according to the report, included 'chemical warfare-agent precursors, chemical warfare-agent production facility plans and technical drawings, chemical warfare filling equipment, biological warfare-related materials, missile fabrication equipment and missile system guidance equipment'.
Donald Riegle, then chairman of the committee, said: 'UN inspectors had identified many United States manufactured items that had been exported from the United States to Iraq under licences issued by the Department of Commerce, and [established] that these items were used to further Iraq's chemical and nuclear weapons development and its missile delivery system development programmes.'
Riegle added that, between January 1985 and August 1990, the 'executive branch of our government approved 771 different export licences for sale of dual-use technology to Iraq. I think that is a devastating record'.
It is thought the information contained in the Senate committee reports is likely to make up much of the 'evidence of proof' that Bush and Blair will reveal in the coming days to justify the US and Britain going to war with Iraq. It is unlikely, however, that the two leaders will admit it was the Western powers that armed Saddam with these weapons of mass destruction.
However, Bush and Blair will also have to prove that Saddam still has chemical, biological and nuclear capabilities. This looks like a difficult case to clinch in view of the fact that Scott Ritter, the UN's former chief weapons inspector in Iraq, says the United Nations destroyed most of Iraq's wea pons of mass destruction and doubts that Saddam could have rebuilt his stocks by now.
According to Ritter, between 90% and 95% of Iraq's weapons of mass destruction were des troyed by the UN. He believes the remainder were probably used or destroyed during 'the ravages of the Gulf War'.
Ritter has described himself as a 'card-carrying Republican' who voted for George W Bush. Nevertheless, he has called the president a 'liar' over his claims that Saddam Hussein is a threat to America.
Ritter has also alleged that the manufacture of chemical and biological weapons emits certain gases, which would have been detected by satellite. 'We have seen none of this,' he insists. 'If Iraq was producing weapons today, we would have definitive proof.'
He also dismisses claims that Iraq may have a nuclear weapons capacity or be on the verge of attaining one, saying that gamma-particle atomic radiation from the radioactive materials in the warheads would also have been detected by western surveillance.
The UN's former co-ordinator in Iraq and former UN under-secretary general, Count Hans von Sponeck, has also told the Sunday Herald that he believes the West is lying about Iraq's weapons programme.
Von Sponeck visited the Al-Dora and Faluja factories near Baghdad in 1999 after they were 'comprehensively trashed' on the orders of UN inspectors, on the grounds that they were suspected of being chemical weapons plants. He returned to the site late in July this year, with a German TV crew, and said both plants were still wrecked.
'We filmed the evidence of the dishonesty of the claims that they were producing chemical and biological weapons,' von Sponeck has told the Sunday Herald. 'They are indeed in the same destroyed state which we witnessed in 1999. There was no trace of any resumed activity at all.'
Conclusion
So now that the subject is clear as mud, which is exactly how our government wants it to be. Our leaders just seem to love conspiracy theories, because they usually mean that those investigating the subject immediately get discredited. I think I have found that there was evidence for the US selling Hossein biological WMDs prior the first Gulf War. I think we realized our mistake and were happy when we had the invasion of Kuwait as a reason to clean up our mess. However when Bush part deux came into power Hossein no longer had the access to them, because he was a persona no gratis. That did not matter we just fabricated evidence and invaded Iraq again. After all he was a bad guy and he deserved to have his ass kicked.
Is the Dignity of Work Being Targeted In the US?
Workplace bullying is a severe and pervasive phenomenon in the US involving a violation of the basic human right to dignity. Bullying tactics include false accusations, exclusion, withholding necessary resources, sabotage, verbal abuse, put-downs, and unreasonable demands — resulting in a host of stress-related symptoms including anxiety, depression, PTSD, and suicide ideation.Simply put, workplace bullying ruins lives and kills people. A study published in the American Journal of Public Health in September 2015 revealed that bullied targets are "twice as likely to have suicidal thoughts than those who were never bullied" — and it can happen to any of us. We abandon hope over time when bullies ruin our image. Abandonment by coworkers who don't want to become the next target can lead to loneliness and despair. This response from abuse that won't let up is part of the natural human stress response. Luckily, stopping it can lead to recovery and healing of the brain.

Here's who workplace bullying impacts:
Anywhere from 30-90% of US workers as either targets or bystanders. Targets suffer mental, emotional, and physical health harm. There's also a ripple effect on witnesses and families. But here's what's worse: targets of workplace bullying are often women, Black workers, Latinx workers, workers over 40, and workers with disabilities. When discrimination law moved from a focus on impact to intent in the 1980s, the law became much less effective in dismantling the social hierarchies at work that keep white men in the vast majority of power positions in the US workforce, according to University of Chicago researchers in a 2017 study. Right now, we simply don't have adequate protections from bias that manifests itself in abuse of power that prevents women, Black workers, Latinx workers, workers over 40, workers in the LBGTQ community, and workers with disabilities from getting ahead. This bill would give more protections to all workers, especially those who suffer from legal discrimination (the kind they can't prove).
Organizations. Workplace bullying costs employers billions of dollars annually in lower productivity and morale, increased absenteeism and turnover, training costs, and higher employee benefits costs. To avoid liability, higher-ups most often ignore complaints or retaliate, including pushing targets out of their jobs. Yet managers who get rid of bullies benefit financially. One study shows that "companies who focus on effective internal functioning and communication enjoy a 57 percent higher total return, are more than 4.5 times more likely to have highly engaged employees, and are 20 percent more likely to report reduced turnover when compared to competitors who demonstrate ineffective communication practices" (Civility Partners LLC, 2009).
Society. When employers ignore employee well-being internally and push targets out, they externalize health care and basic needs costs onto taxpayers. Abused targets who leave unhealthy work environments are frequently uninsured. When they get sick, they turn to ERs for care, where delivering primary care is not cost efficient. By the time they get there, their health has already deteriorated to a point where treatment expenses are far greater than earlier intervention would have been. This bill would incentivize employers to address employee well-being internally and not make it a public problem.
It's not a target problem. Research shows there's ZERO evidence to support targets brought on the abuse through weakness. In fact, evidence shows the opposite. Targets are often high performing, highly ethical employees whose competence poses a threat to their low performing, low ethical bosses. The bully's motivation is to keep the upper hand — an ego-driven control move that's about abuse of power. Bullied are often deceptive managers who trick others into thinking the target is the problem, setting the stage for mobbing.
Prevention is both less expensive and more effective than remediation. Stanford professor Jeffrey Pfeffer says US employers causing workplace stress may be responsible for "120,000 excess deaths per year," which would make workplaces "the fifth leading cause of death," and account for about "$180 billion in additional healthcare costs." About "half of the deaths and 1/3 of the excess costs could be prevented," meaning they resulted from not tending to well-being.We have environmental regulations to limit environmental risks, but we don't mention the human impact of abuse. We don't leave environmental pollution to the discretion of CEOs. So why do we leave employee health up to CEOs — when CEOs too often lead in ways that serve neither the employees nor the public nor themselves when you include the hidden costs of turnover and absenteeism?
How the DAWA will solve the problem
The DAWA will protect the inherent human right to dignity at work by prohibiting all forms of bullying in the US workplace. It provides a comprehensive definition of workplace bullying, assuring all workers are protected against infringement against their inherent dignity, and incentive for employers to prevent, detect, remedy, and eliminate workplace bullying before targets suffer irreparable harm. It assures all targets access to a legal remedy to make targets as whole as possible.
DAWA is rooted in these principles:
Workplace abuse isn't covered by existing law. Harassment isn't illegal unless targets are members of a protected class (sex, race, age, etc.) under the Title VII of the Civil Rights Act and can prove the abuse is from their protected class membership. Employers know there's a loophole in the law for not addressing bullying. The bill will fill that gap in the law.
Other potential avenues for relief for targets of workplace bullying are ineffective. Intentional Infliction of Emotional Distress claims require targets to prove the bully's intent and to show severe emotional distress, setting too high of a bar for relief. Workers comp laws often fail to address workplace bullying and psychological harm, and when they do, they provide inadequate relief. DAWA will provide targets a clear avenue to be made whole and to continue their careers.
Employers often don't enforce their own policies and retaliate against those who report bullying. The target leaving or getting fired is generally what stops the bullying. Because employers aren't required to follow their own policies, a law requiring employers to create anti-bullying policies and training doesn't protect targets. Tennessee passed a bill incentivizing workplace bullying policies, and California passed a training-only bill. Neither have proven effective. DAWA does not give employers immunity simply for having a policy. Instead, DAWA creates an incentive for employers to actually prevent, detect, remedy, and eliminate workplace bullying.
Employers need incentive to change. We know over the history of workplace harassment that the business case is not enough to convince employers to adequately address workplace bullying. Instead, the penalties for failing to do so much be enough to provide incentive. An effective bill must require employers to adopt all necessary steps to eliminate workplace bullying — steps well-established in bullying literature. Failure to do so must expose employers to meaningful penalties. Established defenses have not been effective in preventing, detecting, remedying, and eliminating workplace bullying. An effective anti-bullying bill must avoid adopting immunity defenses.
We can't prove intent. We've learned from US and international jurisprudence that it's often impossible for targets to prove the bully's intent, but the bullying still has negative impacts. Intent (general or specific) must not be one of the required elements for a claim of workplace bullying. Bullying scholars and legal practitioners both understand the difficulty of proving intent. As a result, intent is generally not included in the research definition of bullying and should not be included in the law. DAWA does not require targets of bullying to prove their bully's intent.
Psychological and physical harm is only one aspect of damage. We've learned through US harassment jurisprudence that targets should not have to suffer psychological or physical harm before they have a cognizable claim. As the EEOC has recently reiterated, we want to stop harassing behaviors as soon as possible. An effective bill must establish a standard of harm that mirrors the EEO laws that the hostile environment or the bullying itself is enough of a harm to have a cognizable claim. Just as the EEOC and the judicial system have recognized that a hostile environment caused by harassment based on a protected status is harmful to workers, DAWA recognizes the hostile environment created by bullying is also a harm that should have a legal remedy.
Legal action must be affordable to everyone. The majority of US workers are unable to afford access to the pay-to-play legal system. An effective anti-bullying bill must account for this lack of access and provide access to remedies via a governmental agency. A governmental agency with enforcement and oversight of an anti-bullying bill will be able to not only provide access to targets, but also provide regulations, enforcement guidance, and model policies for employers. Conflict resolution via a governmental agency will be more expeditious than litigation, prevent tying up already overburdened courts with additional litigation, and provide paths for mutually agreeable resolutions that will allow employers and employees to continue a productive working relationship. DAWA would assure targets several paths to remedies including access to a state agency with enforcement power and private litigation should they choose that route.
We as workers have an inherent human right to dignity. This bill will provide much-needed incentive for employers to prevent, detect, remedy, and eliminate workplace bullying before targets suffer irreparable harm, organizations decline, and society pays the price.

Targets deserve to be made whole after abuse.
Work is about a lot more than a paycheck—it's about who we are, it's about social connection, it's about fulfillment, engagement, having a sense of contributing and giving back and having the opportunity to learn and grow.
---
Photo courtesy of Unsplash/Jeriden Villegas
Our job and the careers we choose form a major part of our identity. One of the first questions people ask when they meet someone is what they do for a living. Whether we've devoted years to training for a particular career, have learned our skills on the job or are lucky enough to work in a field that's also a passion, a job does become a part of who we are.
Undoubtedly, the global pandemic changed many facets of daily life, including the future of work. While unemployment hit an all-time high of about 15 percent in April 2020, employers now face a new threat: labor shortages.
The U.S. Chamber of Commerce notes that there are about half as many available workers as there are job openings across the country. This ratio continues to fall relative to the 20-year average of 2.8 available workers per job opening.RELATEDHow to Recruit and Integrate Veterans Into Your Business
Labor shortages have serious implications. More than 90 percent of state and local chambers of commerce say that worker shortages are holding their economies back. Additionally, economists report that 90 percent of employers in their respective industries are struggling to find qualified workers for open jobs. So why are some Americans reluctant to return to work?
Reasons for the Labor Shortage
Some business leaders and politicians are concerned that the temporary boost to unemployment benefits due to the pandemic have incentivized Americans to stay home. Gov. Mark Gordon of Wyoming, for example, ended federal unemployment benefits on June 19, saying that they made it tempting for workers to not seek work.
"Wyoming needs workers, our businesses are raring to go," Gordon said. "People want to work, and work is available. Incentivizing people not to work is just plain un-American."
Others argue that workers may not be participating in the labor force because they are afraid of contracting COVID-19. Some would-be employees were also homeschooling their children this year and now must secure reliable childcare. Ongoing demographic changes, such as an aging labor force, in part account for worker shortages. Nonetheless, workers are responding positively to companies that treat their employees fairly and compensate hard work.
While many states are eliminating enhanced pandemic unemployment payments in an attempt to nudge people back into the workforce, the Wall Street Journal reported that U.S. lawmakers are considering federal funding for businesses to offer hiring bonuses for workers, as well as expanded tax credits.
Work Is More Than a Paycheck
There is undeniably dignity and value in work. In my early days at the St. John's Home for Boys, I recall having to put my skills of persuasion to use and find each of the boys a summer job.
Not only would working keep the boys occupied and out of trouble at night, they would also earn and save money, wake up with a sense of purpose and explore potential career paths.RELATEDDemocratizing Talent: Why It Matters and How to Do It
One of the boys in particular, Norman, was hired at the Empire Hardware Store in the local community. Norman was amazed when he met a man, who shared a similar background to himself, selling drill bits and tools to the hardware store. He was inspired that someone like himself could own and successfully operate their own business.
Suddenly, the future had opened itself to Norman, and he began to contemplate possibilities for his own life that he could not have imagined prior to his entry in the labor force. Before the end of the summer, Norman had earned a raise and a promotion.
Having witnessed firsthand how valuable Norman and the other working boys' experiences were, I have encouraged my own children to take on service jobs, understanding that work is about value creation and offers unforgettable lessons for life. Many of us still remember our first jobs fondly years later.
In addition to obtaining a new skill at work, we learn to collaborate with others, find mentors and resolve conflict tactfully. Working teaches accountability and enables self-sufficiency.
In this regard, work itself, as well as the relationships we build in our jobs, provides a sense of worth, accomplishment and pride, and let's not forget, it's social too. I continue to recognize the value of work and, for this reason, seek to create opportunities for all employable individuals to work.
The Dignity of Work and Smile Farms
People who have disabilities have traditionally had very limited employment options. Indeed, pre-pandemic, the employment-to-population ratio for people with disabilities living in community settings was 38.9 percent in 2019, according to the Annual Report on People with Disabilities in America: 2020, compiled by the University of New Hampshire's Institute on Disability. To put that in context, the ratio for people without disabilities is more than double, at 78.6 percent.
"Job numbers for people with disabilities were low before the pandemic, and certainly numbers have dropped dramatically," said Donna Meltzer, CEO of the National Association of Councils on Developmental Disabilities. She noted that the employment rate for people with intellectual disabilities is even lower.
We were determined to bridge that opportunity gap, and we founded Smile Farms, a nonprofit that teaches skills and hires people with developmental disabilities to grow flowers and produce, in turn giving them the opportunity to flourish. Being a valued member of a team and receiving a weekly paycheck are so important for personal satisfaction and self-esteem.
Job creation is still a focal point for Smile Farms, but now we're tapping into the educational and vocational programs offered by our partners, too. This helps the farmers develop more skills, which in turn will lead to a wider range of fulfilling work opportunities.
Work is about a lot more than a paycheck—it's about who we are, it's about social connection, it's about fulfillment, engagement, having a sense of contributing and giving back and having the opportunity to learn and grow.
Let's remember to give everyone the opportunity to enjoy fulfilling work and to be treated fairly and with respect.
Diversity, Equity and Inclusion have failed. How about Belonging, Dignity and Justice instead?
• Existing DEI initiatives only expose discriminatory attitudes, but do nothing to mitigate their effects on those who suffer from them.
• Such programmes are still rooted in white dominant culture.
• Belonging, Dignity and Justice are alternative values that centre the voices and experiences of marginalized people.
Over the past three decades, corporations, non-profits, foundations and universities have relied on the Diversity, Equity and Inclusion (DEI) industrial complex to create a workplace that is diverse in terms of race, ethnicity and gender. On its face, DEI attempts to address the most pressing longstanding issues in a workplace. Many believed by institutionalizing procedures that promote inclusion and equity, they could ensure fairness and equal opportunity, and avoid discrimination in the workplace.
Though well-intentioned, DEI has not delivered. This is not by happenstance, but rather by design. The DEI industrial complex came into existence as a preemptive defense to avoid litigation by members of protected classes, particularly under Title VII of the Civil Rights Act of 1964. For decades, the vast majority of Fortune 500 companies have implemented DEI trainings, or other initiatives for their employees. The fact remains that these efforts have had minimal impact on the reduction of bias and have not yielded much in the way of qualitative behaviour change or other desired changes in the workplace.
Are diversity initiatives just theatre?
Employers concerned about litigation tend to be more concerned with the optics of their DEI programmes than taking consequential actions to bring about change. Indeed, superficial DEI trainings and experiences have often proven to create more harm and trauma for the very group they are aimed to protect. For instance, a very popular DEI approach focuses on "implicit bias trainings" that aim to expose the subconsciously held attitudes of anti-Blackness and racism in a workplace, but offers little to overcome or mitigate the practical effects of these attitudes on those suffering from discriminatory attitudes and practices in the workplace.
Institutions have begun to rely on short-term training programmes to bring long-lasting effects. But DEI training may provide a convenient opportunity for employees participating in it to not take personal responsibility for their actions and instead look at the problem as a systemic issue beyond their control; some may also feel they have been targeted as perpetrators of discrimination, and disengage or diminish their support for DEI. The difficult work of changing beliefs and behaviours in an organization cannot be achieved with a series of trainings or hiring more "diverse" candidates.
Illusion of inclusion
If we take a closer look at Diversity, Equity and Inclusion as concepts, we see that the framing implicitly suggests there is a default standard or status quo that "others" can be incorporated: white heteronormative dominant culture. In other words, to be diverse is to be different than the white dominant culture. Pursuing equity is about having access to and being equal to this culture. Finally, to seek inclusion is to desire entrance to a workplace that uses white heteronormative values as the standard. This focus on the status quo, while purporting inclusion, is not only an illusion but an insidious tool for assimilation.
Needless to say, this current DEI approach is woefully insufficient in addressing the individual and institutional challenges in workplaces. To structurally address racism, ableism, sexism, dehumanization and anti-Blackness, we must equip people with the proper tools to dismantle, disrupt and demand more within organizations. To get to this healthy work environment, we need a completely different approach.
Belonging, Dignity and Justice
Decolonize Design offers organizations exactly this, one inspired by humanity's most precious and universal values: Belonging, Dignity and Justice (BDJ).
We define these terms as:
Belonging is one's physical, emotional and psychological safety; the indescribable feeling of being welcome.
Dignity is one of the most universal concepts to describe the sacred nature of each individual's personhood.
Justice is the repairing and restoring of individuals.
The BDJ process is an inherently relational one. It begins with an experiential learning session intended to inspire metanoia (an inner conversion), build trust, grow collective consciousness and create tension to move teams to action. Rather than a checklist or a series of transactional and performative changes, BDJ creates a climate and culture that allows everyone to reach their full potential and thrive.
Embed not perform
Like any strategic imperative, BDJ is a mission-critical way of doing business and building teams. However, unlike most strategic imperatives, the goals result in radically new ways of working with teams and serving audiences. The journey of BDJ begins with an organization taking stock of the status quo and ways in which the organization formally and informally participates in creating a climate of assimilation, anti-Blackness and dehumanization.
The key to BDJ is centring those people who are most on the margins, shifting the way we understand expertise. We must embrace the paradigm shift that occurs during the unlearning of dominant normative values.
Ripple effect
"The decisions we make today should result in a sustainable world seven generations into the future." – Iroquois philosophy
With leadership and commitment, this approach delivers results. We've leveraged this framework over the past few years in a variety of industries across sectors, from retail to manufacturing companies to household brands and music companies. Businesses that embrace these values are more sustainable and innovative, thanks to the culture BDJ creates. This cascading impact flows from relationships with employees to how companies connect with partners and suppliers to consumer loyalty to community impact.
Across our client partners, we've seen results and shifts in:
Internal operations Embedding BDJ has increased recruitment and retention of systemically marginalized peoples within companies. Staff within companies undergoing BDJ report dramatic increases in psychological safety, which translated to increased productivity and unique climate for innovation. Valuing lived experience, acknowledging past harms, addressing coded language and repairing those most impacted by systems of oppression allows companies to earn the trust of their workforce.
External relations Incorporating BDJ into your brand identity increases customer loyalty and connection as well as offering a competitive advantage. By creating a BDJ-centred environment, companies attract new partnerships and customer segments. Even more, the cities and communities that these companies do business in benefit from companies taking a stand against dehumanization and injustice as it impacts employees and public policy.
While results are significant as it relates to ROI and profits, we resist the impulse to evaluate the impact in these terms. Measuring value for being humane not only maintains the status quo, it runs the risk of becoming vanity metrics. Companies who work with us must be ready to create the right climate and culture; this means a desire to embed BDJ into your institutional identity, a willingness to lead your industry and the courage to take a stand. Ultimately, this work requires the leadership of visionary CEOs who are not only concerned with impact today, but of their legacy for generations to come.
Inside the hellish workday of an Amazon warehouse employee
It took just three days of working full time at an Amazon "fulfillment center" outside of Louisville, Kentucky, for Emily Guendelsberger's body to break down.
She'd been warned by her supervisors that it would be physically demanding. She'd be on her feet for 12-hour shifts, walking a total of 15 to 20 miles through a 25-acre warehouse — as long as seven New York blocks — looking for merchandise to fulfill online orders.
One Amazon training video included a testimonial from an employee who claimed she'd lost 20 pounds from all the walking, "posing it as a benefit," says Guendelsberger.
She expected to be tired as an "Amazonian" — the official name for full-time employees — particularly as she'd joined the company in November 2015, just before the Christmas season. But this was a whole other level of pain.
"It feels like I've been hit by a garbage truck," she writes of the experience in her new book, "On the Clock: What Low-Wage Work Did to Me and How It Drives America Insane" (Little, Brown), out Tuesday.
The book documents her experiences over two years, between 2015 and 2017, taking on service-industry jobs not just at Amazon, but also Convergys, a customer service call center in Hickory, North Carolina, and a McDonald's franchise in downtown San Francisco.
Her goal wasn't just to report on what she saw, but to "get an idea of what the modern experience of low-wage work feels like."
Guendelsberger, 35, only decided to join the blue-collar workforce after losing her job as a senior staff writer at the (now defunct) Philadelphia City Paper. It was part necessity — she needed an income — and part curiosity.
Other than a few service jobs in her teens and early 20s, she'd never held employment that didn't involve sitting at a desk. What Guendelsberger learned, she writes, is that she's "embarrassingly unprepared for what 'normal' means outside the white-collar world, and I've grossly misjudged what $10.50 an hour is worth to a lot of people."
Her biggest surprise, she tells The Post, is not just how much abuse her co-workers were willing to endure, but how they remained optimistic and grateful despite often staggeringly brutal conditions.
When Guendelsberger hit her pain threshold at Amazon and ran out of the Advil she'd been popping like candy, she sought out one of the company-supplied medicine vending machines "stocked with single-dose foil packets of pills."
With the swipe of her ID badge, the pain could go away for at least a little while. But when the vending machine didn't recognize her badge, a female co-worker (Guendelsberger never learned her name) offered to help.
"Let me guess, it's your first week," the woman said, with pity in her Kentucky drawl.
After helping Guendelsberger get pills and warning her about building a tolerance — the co-worker claimed she needed at least four pain meds just to get through the day — she assured Guendelsberger, "It gets easier. It really does."
But Guendelsberger found no evidence that this was the case.
The work in factories and minimum-wage facilities hasn't exactly got harder in recent decades, Guendelsberger says. It's that the jobs have become unreasonably more stressful, mostly due to advanced monitoring technology that meticulously tracks every second of every day for many employees.
The reason, weirdly enough, is that their productivity is being compared to robots.
Because of automation, human workers increasingly have to compete with computers and algorithms, Guendelsberger writes. But robots are still lacking when it comes to fine motor control and empathy. So many industries want a workforce that can "think, talk, feel and pick stuff up like humans — but with as few needs outside of work as robots."
These so-called "cyborg jobs" demand that low-wage laborers "crush those unuseful human parts of themselves down to atomic size." And this type of employment is becoming increasingly common, with Oxford University estimating in 2013 that cyborg jobs could account for 47 percent of the US workforce.
At Convergys, Guendelsberger was "lectured about how using the bathroom too often is the same thing as stealing from the company." Every bathroom visit was clocked from the moment she left her cubicle, and a daily report of her bathroom time was sent to a supervisor for approval.
Amazon workers carry around a scan gun, similar to what you might see at a grocery-store checkout, with an LCD screen listing tasks and a timer counting down exactly how many seconds remain to complete each one, according to the book.
"It also tracks your location by GPS — and you take it everywhere with you, even the bathroom," writes Guendelsberger. "Failure to stay ahead of the countdown was grounds for termination."
At fast-food franchises like McDonald's, employees are often pushed to work at such dizzying speeds — "like a Benny Hill video on fast forward"— that injuries are inevitable, Guendelsberger explains.
Brittney Berry, who worked at a McDonald's location in Chicago, told Guendelsberger that while trying to keep up with the pace, she slipped on a wet floor and severely burned her forearm on a grill to the point of nerve damage. "The managers told me to put mustard on it," Berry told Guendelsberger.
(The Post reached out to Amazon, Convergys and McDonald's for comment on Guendelsberger's claims but did not hear back from the last two of press time. An Amazon spokesperson responded: "For someone who only worked at Amazon for approximately 11 days, Emily Guendelsberger's statements are not an accurate portrayal of working in our buildings. We are proud of our safe workplaces and her allegations are demeaning to our passionate employees, whose pride and commitment are what make the Amazon customer experience great.")
Data on the emotional state of modern workers is, at best, confusing.
On the one hand, engagement seems to be up. According to a Gallup poll from last year, it's at an 18-year high, with 34 percent of American workers claiming they're enthusiastic about and committed to their jobs.
But that conflicts with a recent Workplace Democracy Association/Zogby Interactive survey, in which 25 percent of US workers compare their workplace to a dictatorship.
The message seems to be this: Workers have never been more committed to their jobs while at the same time recognizing that work today is more punishing than ever.
'It's become so normalized to be treated like garbage at work and clamp down on your self-respect and dignity'
The workers that Guendelsberger met exemplified these conflicting traits. They described Amazon as an "existential s–thole" but also "accepted that this was just the way things were. They knew they weren't being treated right, but they tried to look on the bright side."
She met women like Akasha, Blair and Hailey — Amazon employees determined to see the positive in their working conditions. (Some but not all of the names were changed to protect their identities.)
"I felt like someone was always watching in case I screwed up," Guendelsberger writes. "They felt like someone's taking note of the good work they do."
Blair, a young working mom, was especially determined to see how far she could push herself during the randomly announced "Power Hours." This special incentive challenged workers to fulfill 100 orders in just an hour, with the reward of "a dollar coupon for some — but not all — of the vending machines in the building," writes Guendelsberger.
"I'm mainly doing it for the thrill of the hunt," Blair told her. "I want to know if I can win; I want to know I can conquer. And I want to be noticed, hopefully, by management."
Blair's belief that people who work the hardest and prove their potential will rise to the top "is an idea that's deep in the American psyche," Guendelsberger says. "Many of them believe they deserve it because if they'd just been better and worked harder, they'd be rewarded."
It's a grim reality that most workers have just learned to live with. "They don't have an expectation of being treated like human beings," Guendelsberger says. "It's become so normalized to be treated like garbage at work and clamp down on your self-respect and dignity."
In each job, she learned how to get "harder and more pragmatic, like my co-workers. Like a robot."
Guendelsberger believes that change is not only coming to the workplace but is also inevitable.
The constant hustle and stress of the modern economy are making people crazy, she says.
"It's making us sick and terrified and cruel and hopeless."
Human beings aren't robots, she says.
"They need to go to the bathroom, take sick days, take Mom to a doctor's appointment, attend funerals. Stay up until 4 with the baby."
But any meaningful shift in what's considered normal work conditions has to start at the bottom, with the undervalued workers who've let themselves believe that "the things that make humans less efficient than robots are weaknesses — moral failings."
Guendelsberger has faith that many of the people she met during her brief two years could someday break through and demand more from their employers. But she won't be among them.
"Oh, God no," Guendelsberger says when asked if she'll ever engage in minimum-wage employment again. "I'm not that strong. I'm going to stick with writing."
How America works
80%: of US workers feel stressed on the job
46%: claim their stress is caused by "workload"
75%: believe there's more job stress than a generation ago
1 million: workers stay home every day because of stress
$125 to $190 billion: spent annually treating job burnout-related ailments
42%: claim verbal abuse is common at their workplace
34%: of workers can't sleep because of work stress
1 in 4: have been driven to tears by workplace stressSources: American Institute of Stress, Gallup, Korn Ferry, Harvard Business Review
"A Forced, Public Confession of Sins … Is a Humiliation … Incompatible with the … Democratic Principles of the Dignity of Man"
U.S. labor law provides that, if the National Labor Relations Board finds that an employer has violated labor law rules, the employer can be required to announce that finding to employees. And in some situations (apparently quite rarely), the NLRB has the power to order that the employer's president "personally read the NLRB's remedial notice to an assemblage of the company's employees."
In Conair Corp. v. NLRB (1983), then-Judge Ginsburg dissented, in a passage that (to my surprise) I hadn't seen until a few days ago; I thought it would pass it along:
The Board's order specifies that the Company's "owner and president, Rizzuto, … shall … read the [NLRB's notice ordering the employer to cease and desist from unfair labor practices] to current employees assembled for that purpose…." …. Here, the president's personal involvement was … conspicuous. His voice behind the Board's order might most authoritatively indicate to employees that Conair will comply with the directive.

Nonetheless, a reading order "directed at a specified individual" is a "startling innovation." Such an order would occasion no surprise in a system in which those who offend against state regulation must confess and repent as a means of self-correction, or to educate others. But it is foreign to our system to force named individuals to speak prescribed words to attain rehabilitation or to enlighten an assembled audience. The Board, I believe, has not thoughtfully considered this point.

A forced, public "confession of sins," even by an owner-president who has acted outrageously, is a humiliation this court once termed "incompatible with the democratic principles of the dignity of man." It has a punitive, vindictive quality, and is the kind of personal performance command equity decrees have avoided. See Restatement (Second) of Contracts § 367 (1979); Lumley v. Gye, 2 El. & Bl. 216, 118 Eng.Rep. 749 (Q.B.1853); cf. Lumley v. Wagner, 1 DeG., M. & G. 604, 42 Eng.Rep. 687 (Ch.1852) (acknowledging lack of authority to grant specific performance of defendant's concert singing obligations, court issued injunction preventing defendant from breaching covenant not to sing elsewhere).

Moreover, … a reading of the notice by the president may be less effective than a reading by another responsible officer. The former, humiliated and degraded by the personal specific performance order, may demonstrate "by inflections and facial expressions, his disagreement with the terms of the notice." The latter, assigned the task but lacking the same personal involvement, may perform it with less distaste, more detachment, and thus with greater credibility. I would not single out the president here, or any other named individual, hand him lines, and make him sing.
Judge Ginsburg was in dissent there, and her views did not persuade Judge Wald—or the third panel member, then-Judge Scalia. But my quick research that more recent decisions have largely agreed with her, and provided that any such order must allow either for the notice to be read by some other corporate officer, or, if the company so chooses, by an agent of the NLRB. Consider, for instance, this 2016 D.C. Circuit opinion by Judge Stephen Williams:
For those familiar with 20th century history, such an order conjures up the system of "criticism-self-criticism" devised by Stalin and adopted by Mao. "Criticism" generally took the form of an attack on the target by his or her peers at a meeting with fellow workers, spouting claims fed them by powerful members of the Communist party (on pain of themselves being tagged enemies of the people), and then regurgitated by the target ("self-criticism") in the hopes that full confession might avert dispatch to the gulag, torture or execution.

What is the subtext communicated by the sort of scene the Board would mandate? What is communicated to the assembled workers and the perpetrator himself? "You see before you one of your managers, who normally has a responsibility to make important choices as to your work. But who is he? Not merely is he a lawbreaker, but he is a pathetic creature who can be forced to spout lines some government officials have put in his mouth. He is not even a parrot, who can choose when to speak; he is a puppet who speaks on command words that he may well abominate. We have successfully turned him into a pathetic semblance of a human being." Of course, one may say, here it is just that the mighty have fallen; he was a lawbreaker. But fallen so low? Fallen to a condition that denies his autonomy? Cf. United States v. Gementera (9th Cir. 2004) (Hawkins, J., dissenting) (saying that the sole purpose of a sentence requiring a convicted mail thief to stand outside a post office for eight hours wearing a sandwich board stating, "I stole mail. This is my punishment" was "to turn him into a modern day Hester Prynne")….
Indeed, some judges express reservations about even the NLRB-reading option:
The General Counsel and Union argue that the option for a Board agent to conduct the reading alleviates any First Amendment problems. But like the Fifth Circuit, this option "does not assuage our concerns." The notice is phrased as if Sysco's employees are speaking the words (e.g., "We will not threaten you that a strike is inevitable …"). It requires named individuals—Shaeffer and Barnes, if still employed by Sysco—to stand at attention as human demonstratives in the employer's confession of sins. And it runs headlong into the Supreme Court's recognition that compelled speech violations extend to situations "where the complaining speaker's own message was affected by the speech it was forced to accommodate." Rumsfeld v. Forum for Acad. & Institutional Rights, Inc. (2006).
Now I don't want to overstate the influence of Ginsburg's argument here: Of course, the criminal justice, rightly or wrongly, routinely lowers defendants' sentences if they "accept responsibility" by publicly acknowledging that they were wrong. That's not strictly speaking a court-ordered "confession of sins," but it's very nearly that (since a defendant who declines to confess his sins that way will likely be given a materially longer sentence than one who does).
Also, as the citation to the Gementera dissent shows, some courts (such as the Gementera majority) allow even court-ordered public self-shaming; and of course the rules may be different when the government is acting as employer or as K-12 educator than when it's acting as sovereign. As with many forceful articulations of important principles, there are limits to how far the legal system (or even Justice Ginsburg herself) would follow that articulation. Still, the Ginsburg passage struck me as interesting and surprisingly little-known, so I thought I'd pass it along.
WHAT LIBERALS GET WRONG ABOUT WORK
Unfettered markets and a rampant culture of meritocracy have eroded the rewards and dignity of work for most Americans. It's time for a new ethic of "contributive justice."
At the heart of the populist resentments that roil American politics are grievances about work. Those grievances are about more than job losses and stagnant wages, though. "Work" is both economic and cultural. The people left behind by globalization haven't just struggled while others prospered; they sense that the work they do is no longer a source of social recognition.
From the end of World War II until the 1970s, it was possible for those without a college degree to find a good job that enabled them to support a family and lead a comfortable, middle-class life. That is far more difficult today. Over the past four decades, the earnings difference between high-school and college graduates—what economists call the "college premium"—has doubled.
Globalization brought rich rewards to the well credentialed—the winners of the meritocratic race. It did nothing for most workers. Productivity increased, but working people reaped a smaller and smaller share of what they produced. Although per capita income in the U.S. has increased 85 percent since 1979, white men without a four-year college degree make less now, in real terms, than they did then.
The meritocratic age has also inflicted a more insidious injury: eroding the dignity of work. The valorization of those who score well on standardized tests and go on to college or university implicitly disparages those without such credentials. It tells them that the work they do, less valued by the market than the work of professionals, is a lesser contribution to the common good.
This way of thinking about who deserves what is the result of two related tendencies. One is the meritocratic sorting that, in recent decades, has made a four-year college degree an almost indispensable condition of opportunity and success. The other is the neoliberal, market-oriented version of globalization embraced by mainstream parties of the center-right and center-left since the 1980s. Even as globalization produced massive inequality, these two outlooks—the meritocratic and the neoliberal—undermined the dignity of work, fueling resentment of elites among working people, along with a political backlash.
Michael Young, who coined the term meritocracy in the late 1950s—and who used it as a pejorative—observed four decades later: "It is hard indeed in a society that makes so much of merit to be judged as having none. No underclass has ever been left as morally naked as that."
Working-class men without a college degree voted overwhelmingly for Donald Trump in 2016. Their attraction to his politics of grievance suggests that they were angered by more than economic hardship. One of the reasons mainstream analysts and politicians were shocked by Trump's election is that they were oblivious to the culture of elite condescension. This culture is a consequence, in large part, of the meritocratic sorting project and the inequality brought about by market-driven globalization, but it finds expression throughout American life. The working-class fathers on television sitcoms, such as Archie Bunker in All in the Family and Homer Simpson in The Simpsons, are mostly buffoons—ineffectual and dumb. Joan Williams, a professor at Hastings College of Law, in San Francisco, has pointed a finger at what she calls "class cluelessness" among progressives. In a 2016 book, Strangers in Their Own Land, the sociologist Arlie Russell Hochschild gave voice to working-class discontent: "You do not recognize yourself in how others see you. It is a struggle to feel seen and honored."
Any serious response to working-class frustrations must combat condescension and credentialist prejudice. It must also put the dignity of work at the center of the political agenda. Thinking through the meaning of work would force Americans to confront moral and political questions that we otherwise evade: What counts as a contribution to the common good? What do we owe to one another as citizens?
Debating the dignity of work requires us to ask whether market wages offer a true measure of the social value of various jobs. According to a consumerist conception of the common good, the answer is yes, they do. This conception, familiar among economic-policy makers, defines the common good as the sum of everyone's preferences and interests. In this view, we achieve the common good by maximizing consumer welfare, typically by maximizing economic growth. If the common good is simply a matter of satisfying consumer preferences, then market wages are a good measure of who has contributed what. Those who make the most money have presumably made the most valuable contribution, by producing goods and services that consumers want.
But this is not the only approach to the common good. What might be called a civic conception rejects this consumerist notion. According to this view, the common good is not simply about adding up preferences or maximizing consumer welfare. Nor can it be achieved through economic activity alone. It requires reflecting critically on our preferences, and deliberating with our fellow citizens about how to bring about a just and good society.
The civic conception also suggests a particular way of thinking about work: specifically, that the most important role we play in the economy is not as consumers but as producers. It is as producers that we develop and deploy our abilities to provide goods and services that fulfill the needs of our fellow citizens and win social esteem. The true value of our contribution cannot be measured by the wage we receive; it depends instead on the moral and civic importance of the ends our efforts serve.
Consider the two careers of Walter White, the high-school-chemistry teacher turned meth mogul in the television series Breaking Bad. When White abandoned the classroom to apply his skills to making a highly prized version of methamphetamine, he earned far more than the modest pay he'd received as a teacher. But this does not mean that cooking meth is a more valuable contribution to society than teaching high school. Who contributes most to the common good cannot be determined by the market; it requires a moral judgment that democratic citizens must debate and decide. The coronavirus pandemic has likely changed the way many Americans feel about whose contributions matter most. But those "essential workers" on whom we depend are among the least-well-paid members of society.
Madeline Leung Coleman: Essential Workers Are Being Treated as Expendable
The idea that economic policy is ultimately for the sake of consumption is so ingrained that we struggle to think our way beyond it. "Consumption is the sole end and purpose of all production," Adam Smith declared in The Wealth of Nations. John Maynard Keynes echoed Smith. Most contemporary economists agree. But an older tradition of moral and political thought held otherwise. Aristotle argued that human flourishing depends on realizing our nature through the cultivation and exercise of our abilities. The American republican tradition taught that certain occupations—first agriculture, then artisan labor, then free labor broadly understood—nurture the virtues that equip citizens for self-rule.
In the 20th century, the producer ethic of the republican tradition gradually gave way to consumerist notions of freedom, and to a political economy of economic growth. But the idea that work draws citizens together in a web of contribution and mutual recognition did not disappear. Martin Luther King Jr. invoked it when he spoke to striking sanitation workers in 1968, hours before he was assassinated. "The person who picks up our garbage is, in the final analysis, as significant as the physician," King said, "for if he doesn't do his job, diseases are rampant. All labor has dignity."
The idea that we are most fully human when we contribute to the common good, and win the esteem of our fellow citizens for doing so, runs from Aristotle to MLK to Catholic social teaching. In this conception, we aspire above all to be needed by those with whom we share a common life. The dignity of work consists in exercising our abilities to answer such needs.
A political economy concerned only with the size and allocation of GDP undermines the dignity of work and makes for an impoverished civic life. Robert F. Kennedy, campaigning for the presidency in 1968, understood this: "Fellowship, community, shared patriotism—these essential values of our civilization do not come from just buying and consuming goods together." They come instead, he went on, from the kind of work that allows a person to say, "'I helped to build this country. I am a participant in its great public ventures.'"
Few politicians speak that way today. Progressives have largely abandoned the politics of community, patriotism, and the dignity of work, offering instead the rhetoric of rising. To those who worried about stagnant wages, outsourcing, inequality, and losing their jobs to immigrants and robots, governing elites offered bracing advice: Go to college. Equip yourself to compete and win in the global economy. What you earn will depend on what you learn. You can make it if you try.
This was an idealism suited to a meritocratic, market-driven age. It flattered the winners and insulted the losers. By 2016, its time was up.
On the surface, the dignity of work is hardly a controversial idea. No one speaks against it. It is invoked rhetorically to support standard political positions. On the right, some have cited the dignity of work as an argument for cutting welfare, positing that this would make life harder for the idle and wean them from dependence. Sonny Perdue, Donald Trump's secretary of agriculture, made the connection explicit, claiming that the reduction of access to food stamps "restores the dignity of work to a sizable segment of our population." For their part, liberals have responded to a single-minded focus on maximizing GDP by promoting a greater measure of distributive justice—fairer, fuller access to the fruits of economic growth.
But what many workers want even more is a greater measure of contributive justice—an opportunity to win the social recognition and esteem that goes with producing what others need and value.
In our deeply polarized time, when large numbers of working people feel ignored and unappreciated, when we desperately need sources of social cohesion and solidarity, a more robust affirmation of the dignity of work might seem likely to find its way into mainstream political argument. But this has not been the case.
A political agenda that took contributive justice seriously would raise uncomfortable questions for liberals and conservatives alike. It would challenge a premise that proponents of market-based globalization widely share—that market outcomes reflect the true social value of people's contributions. An agenda that took contributive justice seriously would require public debate about what counts as truly valuable contributions to the common good and where market verdicts miss the mark. This wouldn't be an easy conversation—the common good is contestable. But a renewed debate about the dignity of work would disrupt our partisan complacencies and morally invigorate our public discourse. Right now, as pandemic shutdowns shine a light on the once-"unseen" essential workers everywhere, is the moment to have such a debate.
Consider, as illustrations, two versions of a political agenda focused on the dignity of work—one conservative, the other progressive—and the need to challenge market outcomes to affirm it. The first comes from a policy adviser to Republican Mitt Romney during his 2012 presidential run. In his book The Once and Future Worker, Oren Cass offers a series of proposals aimed at the grievances Trump tapped into but failed to address. Cass argues that supporting the dignity of work in the United States requires Republicans to give up their orthodox embrace of free markets. Rather than push corporate tax cuts and unfettered free trade in hopes of boosting GDP, Republicans should focus on policies that enable workers to find jobs that pay well enough to support strong families and communities. This matters more for a good society, Cass maintains, than economic growth.
One of the policies he proposes is a wage subsidy for low-income workers—hardly standard Republican fare. The idea is that the government would provide a supplementary payment for each hour worked by a low-wage employee, based on a target hourly wage. The wage subsidy is, in a way, the opposite of a payroll tax. Rather than deduct a certain amount of each worker's earnings, the government would add a certain amount. The mechanism here may be distributive, but the rationale for it is anchored firmly in the idea of contributive justice.
Such anchoring was made explicit in the wage-subsidy proposal enacted by a number of European countries when the coronavirus pandemic required them to shut down their economies. Rather than offer unemployment insurance to workers who lost their jobs, as the U.S. government did, Britain, Denmark, and the Netherlands covered 75 to 90 percent of wages for companies that did not lay off workers. This enabled employers to keep workers on their payroll and sent a very clear signal affirming the value of workers and the dignity of work. The U.S. approach may have made up for some amount of lost wages, but that was it.
A second approach to renewing the dignity of work, more likely to resonate with political progressives, would highlight the rising role of finance. In the United States, the financial industry's share of GDP has nearly tripled since the 1950s. In 2008, it claimed more than 30 percent of corporate profits. Its employees make 70 percent more than comparably qualified workers in other industries. This would not be a problem if all this financial activity were productive—if it increased the economy's ability to produce valuable goods and services. But that's not the case. Adair Turner, the chair of Britain's Financial Services Authority, has estimated that, in advanced economies such as the U.S. and the U.K., only 15 percent of financial flows go into new productive enterprises rather than into speculation on existing assets or fancy derivatives. The rise of finance offers perhaps the clearest example in a modern economy of the gap between what the market rewards and what actually contributes to the common good.
The financial crisis of 2008 brought the industry dramatically to the public's attention. The resulting debate was mainly about the terms of the taxpayer bailout and how to reform Wall Street. It largely ignored the moral and civic implications of modern finance. A political agenda that recognizes the dignity of work would use the tax system to reconfigure the economy of esteem by discouraging speculation and honoring productive labor. A radical way of doing so would be to lower or even eliminate the payroll tax and to raise revenue by instead taxing consumption, wealth, and financial transactions. A modest step in this direction would be to reduce the payroll tax and make up the lost revenue with a financial-transactions tax on high-speed trading, which contributes little of value to the real economy.
Again, the mechanism is distributive, but the rationale and message is contributive. Taxation is not only a way of raising revenue; it is also a way of expressing a society's values. The moral aspect of tax policy is familiar. We commonly argue about the fairness of taxation—whether this or that tax will fall more heavily on the rich or the poor. But the expressive dimension of taxation goes beyond debates about fairness, to the moral judgments societies make about which activities are worthy of honor and recognition, and which ones should be discouraged.
These proposals I've cited are not solutions in themselves, but illustrations of what it would mean to shift our debate about work to a contributive ethic, one that views work as an arena of social recognition. Renewing the dignity of work requires that we contend with the moral questions underlying our economic arrangements: not only what kinds of work are worthy of recognition and esteem but also what we owe one another as citizens. The two are connected. We cannot determine what counts as a contribution worth affirming without deliberating about the purposes and ends of our common life. And we cannot deliberate about common purposes and ends without seeing ourselves as members of a community to which we are indebted. This sense of indebtedness would enable us to say "We are all in this together"—not as a ritual incantation in times of crisis but as a principle that informs our everyday lives.
---
Lt. Gov. Mark Robinson certainly grabs plenty of headlines and attention these days. Most conservatives across the state gravitate toward Robinson's story, his rapid political ascent, and decisiveness on the issues. Many on the left fear him or struggle to take him seriously. Likely for most on the left, it's a combination of both. Yet, Robinson continually highlights a vital and oft-neglected topic in culture today by focusing on the dignity of work.
Robinson is wise to highlight the dignity of work beyond mere policy prescriptions or partisan talking points we often hear. Instead of clamoring for government-mandated wages or unfair corporate tax incentives, he's focusing on the moral and spiritual benefits of work. Some might even call it the virtues of the daily grind.
Again this month, Robinson reinforced how a commitment to work by his mother changed the trajectory of his own life in a Fox News interview with Dan Bongino.
Robinson said it isn't just our system of government that created a great nation, but the American work ethic that differentiates this country from much of the world.
"The American work ethic is one of the most important things that this nation has," declared Robinson. "People come here and want to come here from all over the world. And why? Because Americans have worked so hard to build this constitutional republic to be the garden spot of the world."
The message comes at a crucial time, given that extended unemployment benefits and other government policies are eroding this vital view of work. Some are now incentivized to stay at home and collect checks. Those decisions have impacted supply chains, the service industry, and may end up permanently increasing the size of the state and federal government.
Some politicos have no qualms about creating a more dependent middle class that looks to the government first over values like thrift, savings, or financial independence. Those virtues stem from a culture with a high work ethic.
While not always fun, work and vocation allow us to pursue missions and callings greater than ourselves. The Christian authors Gerard Berghoef and Lester DeKoster note, "God so arranges work that it develops the soul."
Work helps us provide for ourselves and loved ones and allows us to express our talent and creative nature. Work helps to bring meaning to our lives that are reflective of the created order all around us.
Despite what many ideologues believe, work reinforces that America is so much more than the government. It's a reminder that life is not always fair, and we aren't entitled to the fruits of other's labor and productivity.
Robinson likes to tell the story of his father dying and his mother going to work as a custodian at a college – where she raised five school-aged kids still dependent on her and by herself with a fifth-grade education. It's a powerful story. While her job didn't come with an impressive title or pay from a worldly standard, given how it has shaped Robinson – especially since he's still talking about it – the lasting impact of her work is indeed significant.
Many on the left simply want to deduce work as a way to incite class warfare or increase government programs. With more government assistance and the printing of "free" money by the Treasury, perhaps it's becoming less shameful to be able-bodied and unwilling to work and provide for a family?
The real shame is losing our strong work ethic and hustle that helped make America the greatest beacon of light in world history. Work is so much more than a paycheck or a holding pattern before retirement.
Robinson is calling us to again value and pride ourselves in the dignity of work. The fact that this truth might be less prevalent than in the past means we not only face a more meager future, but it spells real trouble for our state and republic as a whole.
The truth behind America's labor shortage is we're not ready to rethink work
Workers were tired before the pandemic. Now they're reaching a breaking point.
"These guys are just dumbasses if they actually think that the UI is the problem and not the wage," Matt Mies, an unemployed 28-year-old, told Insider.
He was referring to the dozens of Republican governors who have cited a so-called labor shortage, which they've blamed on the "disincentive" created by an expanded federal unemployment benefit from President Joe Biden's stimulus package. The leaders, who govern nearly half of the 50 states, have moved to cancel the benefit early, stripping it from millions within weeks.
Economists had largely expected jobless Americans would rush back to work as vaccines rolled out and the country reopened, but that all changed on May 7, when the government's monthly payrolls report showed much-weaker-than-expected job gains of 266,000 in April. That seemed to confirm the labor shortage was real.
Mies, who was a ground-crew worker in Hollywood before the pandemic, said most jobs like his had moved out of the area, but that's not the problem. "I just think that UI has just at least fixed everyone's brain enough to see how f—ed up the wages are," he said.
He was one of several unemployed Americans Insider spoke with who said the "labor shortage" was an opportunity for America to rethink what work looks like. They said they weren't looking to go back to the way things were, and millions more may agree with them — about 10 million Americans are unemployed, compared with right before the pandemic.
Some jobless Americans say it's as simple as wanting higher pay after years of declining buying power. For others, expensive childcare and health issues are placing work lower on their list of priorities. Americans are also looking for better labor conditions after working from home sparked a societywide reassessment.
The president wants this rethink to happen. "Instead of workers competing with each other for jobs that are scarce, we want employers to compete with each other to attract workers," President Joe Biden said in a speech Thursday. "That kind of competition in the market doesn't just give workers more ability to earn a higher wage, it gives them the power and demand to be treated with dignity and respect in the workplace."ADVERTISING
But the opposite view is that work should and will go back to what it was in 2019, and the wages on offer aren't up for negotiation.
"What has happened in our society, where a paycheck isn't enough incentive to go to work?" Republican Sen. Ron Johnson of Wisconsin told Insider. "We supplanted that incentive with the incentive to stay home, and we need to end that incentive."
Johnson also dismissed the idea that businesses needed to raise wages, saying, "Why would anybody need an additional incentive to go to work?
"The incentives have always been there: to take a paycheck, to have the dignity of earning your own success and providing for your family."
Those incentives may no longer be attractive enough. Economic data suggested that while demand for workers was robust, Americans didn't seek out work as experts had anticipated they would. Job openings soared to a record-high 8.1 million in March as more businesses looked to hire through reopening. The food-services and accommodation sectors — two of those hit hardest by the pandemic and related lockdowns — added the most openings. Yet the April jobs numbers showed little of that demand being serviced.
Work needs a rethink, but the country isn't ready for it.
Pay was too low well before COVID-19 struck
For decades, the typical American's wage growth was weak by historical standards. The situation was dire even before the global financial crisis and the slow subsequent recovery, which lagged expectations and left millions unemployed for years. Economic growth stagnated, and below-target inflation hinted the country was saddled with consistently weak demand.
Then the virus hit.
Low-wage workers were sent home by the pandemic, and if they were able to successfully navigate the unemployment system, they had a steady income, no inconsistent schedules, and life away from occasionally demanding customers. Thank the US government's massive stimulus spending — roughly $5 trillion — for that big reset.
There is strong upward pressure for wage for the first time in decades. Federal Reserve Chair Jerome Powell said ahead of the April jobs report that wage growth would be a telling sign of a "really tight labor market." And grow, wages did. Average hourly earnings rose $0.21 in April alone, roughly doubling the typical one-month increases from before the health crisis.
"Everybody should get a living wage," Scott Heide, an unemployed 35-year-old in Florida, told Insider. He said people getting more money staying home than working was "outrageous," but not for the reasons that labor-shortage critics cite. "I think if employers paid their employees a living wage, that would make a huge difference," he said.
Heide was referring to what economists call the reservation wage, which tracks the wage levels at which Americans would take jobs. The reservation wage for workers without a college degree jumped 26% year over year in March, according to the Federal Reserve Bank of New York. That compares with average annual growth of about 2% over the past six years. The wage now comes out to $29.56 an hour, compared with an hourly rate of $23.45 just one year prior.
It's not just low wages dragging on the labor market's recovery. UBS says childcare and COVID-19 fears from older people are more to blame for labor shortages than enhanced unemployment. Experts previously told Insider that it was a new phase of recovery, where the need for parents to have a safe place to drop off their children is becoming even more clear.
Karen Lucas, a 53-year-old single mother in Pennsylvania who is unemployed, said unemployment benefits were addressing childcare costs and that's an important reason people have stayed out of the workforce.
"If my children were, let's say, 5 years old — thankfully they're 16, so they're independent — I would not be able to work," she said. Twelve years ago, she said, she paid over $1,600 a month for her children's care.
When it comes to those parents opting to stay home, "I can't fault them. I don't think it's a bad decision. If I were a parent with 5-year-olds, you better believe I would be doing that," she said.
She said the situation showed the need for businesses to provide childcare or childcare incentives for their employees.
The unemployment benefit changed how some Americans view work
The only thing Mies misses about his old Hollywood job is the paycheck.
He's still working as a technical director for a nonprofit theater organization that serves people with disabilities, which he said he's always enjoyed more than his other work. During the pandemic, he was able to get a small paycheck from them – he hadn't been paid before then — but was able to remain on unemployment. At its peak, he said he made about as much on unemployment-insurance benefits as he had before.
That made him realize he was working himself "to the bone," he said, adding that he wanted to return to work, but not hard labor for long hours.
Even after the weekly federal supplement shrank to $300 from $600, the aid program was still competitive with low-paying jobs across the country. The combination of state UI and the federal boost surpassed the average wages of Montana, North Dakota, and Wyoming, Insider calculated, and in the rest of the US, unemployment benefits replaced an average of 76% of states' average wages.
While UI might not deter Americans from work, it encouraged many to seek more rewarding jobs — or, at least, work in different fields. In February, 66% of unemployed Americans in a Pew Research Center survey said they had "seriously considered changing their occupation or field of work."
Separately, Insider's Mary Meisenzahl reported on retail workers leveraging the labor situation to leave their old jobs — and the drain that came with them — for better-paying positions. The drain was likely extreme. Research from the advocacy group One Fair Wage found that female tipped workers experienced more harassment and lower tips during the pandemic.
Wage hikes at large-scale employers, from Amazon to Chipotle, suggest businesses faced at least some pressure from the government benefit, and from a large first mover on raising wages, the tech giant Amazon.
Larger structural shifts and a September 'fiscal cliff'
Other sectors, like academia, may see more of a structural shift on the other side of the pandemic. In the past year, higher education lost an unprecedented 650,000 jobs, Dan Bauman at The Chronicle of Higher Education reported, citing estimates from the Labor Department. That could represent a major sector emerging from the pandemic permanently disjointed — with a lot of collateral damage.
Jennifer, whose last name is known to Insider but withheld for privacy reasons, fears she is one example. She's 42 and lives in southern Virginia. After finishing her Ph.D., and starting a new job in January 2020, she felt she was on her way up in the world. Then the pandemic hit, and her job was gone in March.
It took months to finally get the call she needed to receive her unemployment benefits. She said she had been surviving for six months off credit cards.
Throughout her time on unemployment, she said, "there's been no highs, with quite a few lows." About every three weeks, she panics about her situation, she said, "because I accidentally take a bird's-eye view of my life and it's terrifying."
She said she was "frozen in time." Every day, she wakes up, logs on to her computer, and searches for at least two jobs that she can apply to.
"I manage to wake up every single day saying it could be today, could be today. I could get that email. I could get that phone call. It could be today."
Such validation needs to arrive in the next three months at the latest. Even in the 27 states that haven't prematurely ended the federal UI benefit, the boost is set to lapse in September. That includes programs like Pandemic Unemployment Assistance and Pandemic Emergency Unemployment Compensation, which extended eligibility for benefits and the number of weeks people could receive them. When both of those vanish, their recipients will no longer have any UI.
Payment freezes, such as the federal eviction moratorium and a pause to student-loan payments, will also expire in the fall. This spate of deadlines has been referred to as a "fiscal cliff," with millions of Americans on the brink of losing several forms of economic relief.
Jennifer's experience shows that work may not be rethought for everyone who needs it. "The last thing I want is sympathy," she said. "I'm just so angry. I need someone to validate that I'm a human being."
The Left Has Replaced Social Liberalism with Social Control
When social activist Cori Bush defeated 20-year incumbent Missouri Rep. William Lacy Clay in his Congressional Democratic primary last year, it created an opportunity for progressive change. Bush hails from Missouri's 1st Congressional District, which includes St. Louis, a city plagued by underdevelopment and violence (in 2020, its homicide rate hit a 50-year high).
Bush's elevation to Congress gave her the opportunity to advocate for things like economic development and public safety for the people she represents, and she has certainly used her newfound media profile to raise those issues. But the very first bill she introduced in Congress called for an investigation into and possible expulsion of over 100 House Republicans who objected to the certification of electoral college votes on Jan. 6th, the same day as the Capitol riot. Doing so would effectively disenfranchise tens of millions of Americans who voted for these lawmakers; it would also demonstrate a glaring double standard: In 2001, 2005, and 2017, at least some Congressional Democrats voted to do the same thing. In many cases, these lawmakers across both parties were fulfilling their obligation to represent constituents who had concerns, founded or not, about election integrity.
Moreover, Bush's resolution invokes the Fourteenth Amendment, which bars officeholders who have "engaged in insurrection or rebellion" against the government, conflating lawful protected speech by the Republican lawmakers with unlawful violence by the rioters. Here she gets into more difficulty. After all, if we were to hold everyone who holds a certain belief responsible for a small number of their ideological allies who resort to violence, then Bush herself would have to be expelled; she is after all an outspoken supporter of the Black Lives Matter movement, whose protests have at times devolved into violent riots.
This new politics of social control means using public and private institutions, almost all of which are now controlled by left-leaning people, to coerce individuals into their preferred modes of being and even thinking.
Hundreds of colleges and universities have "bias response teams" aimed at regulating offensive utterances by students. Silicon Valley companies founded to connect the world in a new public square have been cajoled into becoming a 21st century speech police (although not an impartial one). The infrastructure those companies have built is being used by liberal activists as a sort of Panopticon, transforming what once would have been thought of as mild and unfortunate dust-ups between individuals into polarizing national scandals that ruin lives.
This is not to say that left is not walking this path—of surveilling, censoring, punishing, and expelling—out of cynicism. Rather, social media and partisan news channels have made the left much more fearful than they used to be. And the mainstream liberal media has been playing a big role, too.
A decade ago, the New York Times was not running Op-Eds validating the idea that it's an open question whether Black or white people can even be friends. That it's doing so today is part of a larger shift at elite media institutions. Political scientist Zach Goldberg studied news coverage at the Times and the Washington Post between 2011 and 2019, finding a 700% increase in the use of the terms racist/racists/racism at the former and a nearly 1000% increase in the latter. This, mind you, was coming at a time when America was growing more tolerant, not less. Along a wide range of measures, bias towards minority groups has been falling, not growing, during the 21st century. Yet if you fire up your social media channels or browse cable news, you'd think that the United States is just moments away from transforming into a white supremacist state.
In such a scenario, why shouldn't we consider instituting a regime of strict social control? Maybe we should force every man, woman, and child in America to undergo mandatory anti-bias training. Sure, there's no evidence these trainings even work, but when we're in a climate of fear, the impulse to just do something is overwhelming.
We can see that in the way the aftermath of the Capitol riot is being covered. There is no doubt the event was a tragedy. Several people lost their lives, and over a hundred police officers were injured in the melee. But it's worth noting that in a country where there are more guns than people, not a single rioter fired a gun at anyone.
Yet today, the Capitol is reinforced by massive fencing and thousands of National Guard soldiers, as if it is prepared to repel an actual military force. Meanwhile, the left has learned to love the national security expert industry as it compares a raucous melee to a sophisticated terror movement. The same New York Times that hosted an op-ed calling for us to just eliminate police altogether last year opened up room for a former CIA station chief to argue that "we may be witnessing the dawn of a sustained wave of violent insurgency within our own country, perpetrated by our own countrymen." Elsewhere, former head of JSOC in Iraq Stanley McChrystal ominously warned following the riot that an Iraq-style insurgency is "happening in America."
These are weak arguments. Most years, terrorism takes fewer lives in the United States than dog bites. That hasn't changed. We can't be compared to terror-plagued countries overseas.
Conclusion
That hasn't stopped the left from drawing on this hyperbole—though importantly not in response to last year's left-leaning riots, or the massive homicide wave that rocked the country over the same period of time. The left's system of social control is focused squarely in one direction: at individuals, organizations, and ideologies perceived to be representing the excesses of the right. The left believes the only way to deal with this conflagration is with repression, ranging from classmates snitching on each other to a new domestic anti-terrorism law.
I'm sure there left-leaning readers who are poring over my words thinking: What's the alternative, wise guy? I'm not saying social control is never necessary. We need police to arrest people who commit violence, political or otherwise. If someone is engaging in repeated and targeted harassment towards their colleagues, it's probably appropriate to sanction them.
But the left should move away from a posture that sees social control as its primary function and remember its roots in social liberation. Bullying and repressing people backfires. The best way to fight hate is by building trust, even with those who dislike us.
"When my brothers try to draw a circle to exclude me, I shall draw a larger circle to include them," Pauli Murray, the legendary civil rights lawyer once counseled.
The left has traditionally existed to liberate human beings, not take pleasure in controlling and punishing people it views as aberrant or evil. Social control should be a last resort, not a pastime. Only by realizing this can the left resume its mission of expanding human freedom by promoting the dignity of every person.
There is talk of passing a bill to increase the Federal Minimum wage to $15.00 an hour. What should be known is that businesses can now no longer be able to hire untrained employees. You will have to be able to start work immediately. Our work place in American is in a mess, we have gotten away from the American work ethic. People are also bein paid more to not work then they can get working.
Things we need to eliminate 1) create a wage floor with a $15.00 an hour minimum wage, 2) eliminate the unemployment checks from the federal government,3) give parents a right to chose schools for their kids. Our public schools in the big cities provide subpar education.
Defunding the Police?
I am going to discuss both sides of the Defunding the police issue in this portion of my Musings. Many people may not like this process and consider it a waste of time, But there is is always at least two sides to an issue. Some issues may have more than two sides, but that is neither here nor there.
George Floyd's death has galvanized much of America to move the needle toward police reform ideas—such as defunding police—that were previously viewed as radical.
"Defund the police" means reallocating or redirecting funding away from the police department to other government agencies funded by the local municipality. That's it. It's that simple. Defund does not mean abolish policing. And, even some who say abolish, do not necessarily mean to do away with law enforcement altogether. Rather, they want to see the rotten trees of policing chopped down and fresh roots replanted anew. Camden, New Jersey, is a good example. Nearly a decade ago, Camden disbanded (abolished) its police force and dissolved the local police union. This approach seems to be what Minneapolis will do in some form, though the nuances are important.
Different from abolishing and starting anew, defunding police highlights fiscal responsibility, advocates for a market-driven approach to taxpayer money, and has some potential benefits that will reduce police violence and crime. Below, I outline some of the main arguments for defunding the police.
CALLS FOR SERVICE
Data show that 9 out of 10 calls for service are for nonviolent encounters. Now, this does not mean that an incident will not turn violent, but police at times contribute to the escalation of violent force. Police officers' skillset and training are often out of sync with the social interactions that they have. Police officers are mostly trained in use-of-force tactics and worst-case scenarios to reduce potential threats. However, most of their interactions with civilians start with a conversation.
Advocates for the defund movement like Phillip McHarris and Thenjiwe McHarris argue that shifting funding to social services that can improve things such as mental health, addiction, and homelessness is a better use of taxpayer money. This approach further enhances the push to decriminalize and destigmatize people with mental health conditions and addiction problems. Ever since the overcriminalization of people addicted to crack cocaine in the 1990s, some scholars, practitioners, and policymakers have said that this shift is long overdue.
Additionally, the research I have conducted with hundreds of police officers show that they respond to everything from potholes in the street to cats stuck up a tree. Police officers are also increasingly asked to complete paperwork and online forms. Obviously, documentation is important and desperately needed. The overwhelmingly blank report in the killing of Breonna Taylor in Louisville that listed her injuries as "none" highlights the importance of documentation. It could be argued, however, that reducing officer workload would increase the likelihood of solving violent crimes. Police officers are overworked and overstressed. Focusing on menial tasks throughout the day is inefficient and a waste of taxpayer money. Other government actors should be responsible for these and receive adequate funding for doing them.
HOMICIDE CLEARANCE RATE
Police officers are not as successful as people think at solving violent crime. My Brookings colleagues Andre Perry, David Harshbarger, Carl Romer, and Kristian Thymianos argue that "the failure to prosecute murderous police typifies a bad overall track record with solving violent crimes: Approximately 38% of murders, 66% of rapes, 70% of robberies, and 47% of aggravated assaults go uncleared every year." Maybe in baseball or basketball these rates make a player an all-star, but the public expects police officers to be more successful at solving violent crime.
More importantly, police stops relative to charges and convictions are relatively low. To show how egregious this is, a study of the NYPD stop-and-frisk program found that well over 90% of people stopped by the police were not committing any crime and did not have any contraband or weapons on them. Overwhelmingly, the people stopped were Black and Latino, and physical force was used half the time. Interestingly, police were more successful at identifying criminality for whites versus Blacks. This is because officers use suspicious behavior when interacting with whites and use skin tone as the metric of suspicion when interacting with Black people. More police on the streets may be used to control the movement of Black bodies rather than solving crime. This is why the New York State Supreme Court ruled stop-and-frisk as unconstitutional. No-knock warrants and chokeholds should follow this pattern.
EDUCATION AND WORK INFRASTRUCTURE
One consistent finding in the social science literature is that if we really want to reduce crime, education equity and the establishment of a work infrastructure is the best approach. A study using 60 years of data found that an increase in funding for police did not significantly relate to a decrease in crime. Throwing more police on the street to solve a structural problem is one of the reasons why people are protesting in the streets. Defunding police—reallocating funding away from police departments to other sectors of government—may be more beneficial for reducing crime and police violence.
WHAT DEFUNDING LOOKS LIKE
In recent weeks, some large municipalities with a history of police brutality have reallocated funds in line with the defund police movement. Los Angeles will have at least $100 million reallocated away from LAPD to programs for minority communities. San Francisco Mayor London Breed said that she will work with community groups to reprioritize funding. Baltimore City Council voted to reallocate $22 million away from the police department's fiscal budget for 2021, which is typically over $500 million. The city council plans to redirect the funding to recreational centers, trauma centers, and forgivable loans for Black-owned businesses. Prince George's County, Maryland, aims to reallocate $20 million away from a new training facility for its police department (though the money will not come out of the police department's budget) and to remove student resource officers from schools. Other areas, such as Minneapolis, have advocated for removing police officers from schools as well.
Altogether, it is clear that municipalities across the U.S. are making changes in line with the defund police movement. So, while the word "reallocate" may be a more palatable, digestible word on the House floor or at a city council meeting, "defund" surely gets more attention on a protest sign. And more importantly, it seems to be having an impact.
Defunding the Police Will Actually Make Us Safer
Policing in this country evolved from slave patrols. It has never been a neutral institution.
Almost exactly six years after NYPD officers murdered Eric Garner in New York City, Minneapolis police officers murdered George Floyd. Activists, advocates, and protestors are still screaming "I can't breathe" and begging government officials for police reform that will end police violence in Black communities. But today's demands are bigger and bolder: Now, protesters are advocating for systemic changes that require a complete reimagining of law enforcement in the United States.
American policing has never been a neutral institution. The first U.S. city police department was a slave patrol, and modern police forces have directed oppression and violence at Black people to enforce Jim Crow, wage the War on Drugs, and crack down on protests. When people ask for police reform, many are actually asking for this oppressive system to be dismantled and to invest in institutions, resources, and services that help communities grow and thrive. That's why many protestors and activists, following in the footsteps of Black-led grassroots groups, are demanding immediate defunding of police departments.
The idea of defunding, or divestment, is new to some folks, but the basic premise is simple: We must cut the astronomical amount of money that our governments spend on law enforcement and give that money to more helpful services like job training, counseling, and violence-prevention programs. Each year, state and local governments spend upward of $100 billion dollars on law enforcement—and that's excluding billions more in federal grants and resources.

Budgets are not created in a vacuum. They can be changed through targeted advocacy and organizing. We can demand that our local officials (including city council members and mayors) stop allocating funds for the police to acquire more militarized equipment and instead ask for that money to go toward community-run violence-prevention programs.
We can demand that our federal government redirect the money that funds police presence in schools to putting counselors in schools instead.
Funneling so many resources into law enforcement instead of education, affordable housing, and accessible health care has caused significant harm to communities. Police violence is actually a leading cause of death for Black men: A recent study found that 1 in 1,000 Black men can expect to be killed by police, and public health experts have described police violence as a serious public health issue. For a country like ours, which considers itself a modern democracy that pushes ideals of freedom and justice for all, that number should be truly shocking.
Much of the work police do is merely engage in the daily harassment of Black communities for minor crimes or crimes of poverty that shouldn't be criminalized in the first place. Consider this: Out of the 10.3 million arrests made per year, only 5 percent are for the most serious offenses, including murder, rape, and aggravated assault. These are the ones that truly threaten public safety. The other 95 percent of arrests are for things like traffic violations, marijuana possession, unlawful assembly, and even removing a shopping cart from store premises. That means that police spend the most resources going after minor incidents that actually don't threaten everyday life but do lead to mass criminalization and incarceration.
And as you know, some arrests are made for doing nothing at all beyond being Black.
We have little evidence, if any, to show that more police surveillance results in fewer crimes and greater public safety. Indeed, funneling police into communities of color and pushing officers to make arrests just perpetuates harm and trauma. Yet since the 1980s, spending on law enforcement and our criminal legal system has dramatically outpaced that in community services such as housing, education, and violence prevention programs. Those are the institutions that help build stable, safe, and healthy communities.

For example, Los Angeles's budget gives police $3.14 billion out of the city's $10.5 billion. Spending on community services such as economic development ($30 million) and housing ($81 million) pale in comparison to the massive LAPD budget. (On Wednesday night, after years of Black Lives Matter grassroots activists demanding a cut in LAPD's budget, Los Angeles Mayor Eric Garcetti announced he would cut $100 million to $150 million from the LAPD budget and reinvest those funds in communities of color.) Similarly, in New York City, the government spends almost $6 billion on policing, which is more than it does on the Department of Health, Homeless Services, Housing Preservation and Development, and Youth and Community development combined.

By shrinking their massive budgets, we can help end decades of racially driven social control and oppression as well as address social problems at their root instead of investing in an institution that further oppresses and terrorizes communities.
In addition to divesting from police and reinvesting the savings in nonpunitive programs that benefit public safety and health, there are other critical steps we need to take to foster the systemic change people across the country are calling for:
End enforcement of minor offenses that drive street-level harassment. We can do this by repealing laws across the country that criminalize minor behaviors and passing laws that legalize activities such as marijuana possession and distribution.
End the presence of police in schools, which exacerbates racial inequalities, puts immigrant students at risk of deportation, and limits opportunities accessible to low-income students. (Minneapolis Public Schools just voted to end its contract with the city's police department.)
Develop mobile crisis services, peer crisis services, and crisis hotlines and warmlines (where people can call when they just need to talk to someone who understands what it's like to live with mental health problems) to support people who have a behavioral or mental health crisis.
Ban pretextual stops and consent searches that act as common mechanisms for police to engage in racial profiling and circumvent legal standards.
Implement common-sense, civilly and criminally enforceable legal constraints so there will be only rare instances in which officers are able to use force against community members.
For too long, the focus on police reform has been dominated by reforms that try to reduce the harms of policing rather than rethink the overall role of police in society. But six years after the Black Lives Matter movement rose to national attention, activists across the country are coming together to demand what many have known has been the solution all along: defund the police.
"Defund the police" made headlines. What does it look like now?
"Defund the police" became a rallying cry during Black Lives Matter protests across the U.S. and around the world in the summer of 2020, following the deaths of George Floyd, Breonna Taylor and others at the hands of police. But in the months since, how has the debate developed, and what does it mean for American communities?
A new documentary from CBSN Originals features voices on different sides of the issue to help shed light on the movement and the future of policing.
Different definitions of "defund"
"Defund the police means many things to many people," said Arjun Singh Sethi, adjunct professor of law at Georgetown Law School.
At its most basic, "defund the police" means reallocating money from policing to other agencies funded by local municipalities. Advocates are split on the question of how far it should go: whether to reduce funding and reform some aspects of policing, or completely abolish police forces as we know them.
The movement has grown out of anger at police violence disproportionately targeting Black Americans, and a long history of unequal treatment in the criminal justice system. Statistics show that Black people in the U.S. are imprisoned at five times the rate of Whites, and are three times more likely to be killed by police.
"The Black community is over-policed for minor infractions that would draw virtually no attention anywhere else," Gary Potter, a criminology professor at Eastern Kentucky University who has written about the history of policing in America, told CBS News last summer.
Police departments, and their budgets, are overseen by local governments; there are about 800,000 police in the U.S. in varied roles from city street patrol officers to specialized units like school police. Dozens of police departments have spoken out against defunding, with some police chiefs saying that reducing their budgets would be reckless.
Many reform advocates argue police departments are overburdened, and that other agencies would be better equipped to deal with civil matters like mental health and homelessness.
"I think at the core of the defunding movement is the idea that we want to take money out of city and local budgets that has traditionally been devoted to paying for police services, and to redirect it [to] better housing for low-income people, better schools, better mental health treatments," Harvard Law professor John Goldberg told CBSN Originals.
Others say it will take more to solve deeply rooted problems in the system.
"What we were calling for wasn't simply just to reduce the budget of police, but to reduce the scope of policing," said Jawanza Willians, director of organizing at VOCAL-NY, a grassroots organization that works with people impacted by homelessness, incarceration and HIV/AIDS.
"[Defund] is about how do we radically transform, how we deal with issues in our society — because police and prisons for 200+ years haven't solved the problems of our society."
President Joe Biden has opposed defunding but supports police reform measures including more oversight and training, barring use of chokeholds, and increased funds for community policing and other initiatives. Those provisions and more were included in the George Floyd Justice in Policing Act, which passed the House in early March.
Alternatives to calling the police
"I'm always questioning how money is spent," said New York City Councilmember Alicka Ampry-Samiel. "Just to use an example, in Brooklyn North, we spent about a million dollars in overtime on the [police] gang unit. But yet we still had a rise in gang activity.
"So what would it look like if we took that million dollars and gave it to the community-based organizations that address violence?" Ampry-Samuel said more funds for alternatives to policing are needed, especially when it comes to responding to homelessness and mental health crises.
The Treatment Advocacy Center estimated in 2015 that people with untreated mental illness are 16 times more likely to be killed during a police encounter than other civilians approached or stopped by law enforcement. A study in the American Journal of Preventive Medicine found that from 2009-2012, one in five deaths involving lethal force by law enforcement were linked to the victim's mental health or substance-induced disruptive behaviors. Surveys by the National Alliance on Mental Illness have found that people in a mental health crisis are more likely to encounter police than to get medical attention, resulting in 2 million people jailed every year.
Between 2012 and 2020, police responded to at least 1.2 million mental health crisis calls in New York City alone. The NYPD is the largest police department in the nation, with a total budget of $10.9 billion in 2020.
"Police officers are called things that most people would never believe," NYPD Lieutenant Edwin Raymond told CBSN Originals. "Pretty much the day is usually emotionally disturbed persons, car accidents and medical emergencies."
Many of those types of incidents, he believes, could be handled without law enforcement.
"The thing is, when there's not an agency that already exists to deal with something, or if an existing agency is lacking personnel, or other types of resources, it's thrown at police," said Raymond.
There are a handful of pilot programs in communities across the U.S. that have attempted to reassign some of the responsibilities police are tasked with to other agencies. Most notably, in the case of mental health distress calls, there have been efforts to have social services respond. In Colorado, more than 55 law enforcement agencies participate in co-responder programs, pairing law enforcement and behavioral health specialists. Denver's program has grown from four co-responders to 32, although its services are still limited the central downtown area.
New York City Mayor Bill de Blasio has announced plans for a similar pilot program in two neighborhoods. In July 2020, de Blasio and the city council approved cutting $1 billion from the NYPD, shifting $350 million to the Department of Education for school safety and $4.5 million to the Department of Homeless Services.
Minneapolis city council members endorsed the idea of disbanding the police department as protests erupted over the death of George Floyd, who was pinned down under an officer's knee. But six months later, the city opted not to cut police staffing, passing a budget that shifted about $8 million to violence prevention programs, mental health and other services in what Mayor Jacob Frey called a "both-and" approach to policing and public safety.
"A police officer will never walk away"
Some police proponents warn diminishing their role could be a risky move.
"We're talking about switching responsibilities from the police officer on the corner to other agencies," said Patrick Lynch, the president of the largest police officers' union, the New York City Police Benevolent Association. "Why were those responsibilities placed on the shoulder of the police officers in the first place?" He answered his own question: "Because those other agencies failed at their job, and a police officer will never walk away from a crime victim."
In situations arising from homelessness and mental illness, Lynch said he agrees in principle that the responsibility shouldn't be in the hands of police officers — but that no viable alternative currently exists.
"So to say you don't need police officers, OK, I don't agree. I think we do. We do in my neighborhood," he added. And he warned that major budget cuts could lead to a repeat of the 1970s, when "crime was out of control."
The backlash against defunding includes initiatives like one proposed by Texas state Senator Dawn Buckingham, who filed a bill that would withhold state grants from communities that cut their police budgets more than 5%.
In public opinion surveys, a majority of Americans seem convinced of the need for reform but don't support total defunding. A July 2020 Gallup poll found 58% of Americans — and 88% of Black Americans — agreed policing needs "major changes," and nearly half of those surveyed supported reducing police funding. But only 15% favored abolishing police departments in favor of different public safety models.
Policing in the U.S. is a highly politicized issue with a history intertwined with racial and class-based struggle. During the summer of 2020, no issue was debated more than the subject of defunding the police. The phrase "defund the police" (DTP) became a rallying cry for the progressive left. Yet, while the movement gained considerable news coverage, the two major political parties, media, and major presidential candidates labeled defunding the police as an unrealistic demand.
Director, Center for Justice Research – Texas Southern University
Professor of Justice Administration – Texas Southern University
Policy Fellow – Center for Justice Research, Texas Southern University
This mischaracterization of the movement is not based on fact but rather fear. In this article, we address seven common myths associated with the campaign with the goal to demonstrate that while some have labeled it a radical movement, the DTP philosophy is based on well-researched, evidence-based positions.
Myth #1: Defund Means Abolish
One of the most misleading critiques of the movement is instigating defund means abolish. Opposers claim the movement undermines public safety through its efforts to end policing. The truth: the movement seeks to demilitarize police departments and reallocate funding to trained mental health workers and social workers to reduce unnecessary violent encounters between police and citizens. At least 13 cities in the United States have currently engaged in policy programs to defund the police.
Myth #2: Defunding Will Lead to Disorder
Another misconception is that police forces are what maintains order. However, studies have found that the best tools to establish peaceful societies are equity in education and infrastructure. Indeed, research shows that lack of education and illiteracy are some of the most significant predictors of future prison populations.
Myth #3: Police Protect the Public From Violence
Critics of the police movement assert that we need heavily funded and armed police forces to protect the public from violent criminal elements. However, there isn't sufficient data to support that position. In fact, research has found that the police don't have a notoriously efficient track record of solving violent crime. Further, what the research does show is that 70% of robberies, 66% of rapes, 47% of aggravated assaults, and 38% of murders go unsolved each year.
Myth #4: Community Programs Won't Work
While much of the available research contradicts the narrative that policing is essential to eliminating crime, substantial evidence shows that investing, developing, and supporting education and economic programs do, in fact, lead to less offenses and create more social harmony. Education has long been viewed as the great equalizer. Data supports the position that individuals that receive a quality education are less likely to become involved in the criminal justice system.
Myth #5: Most Police Work is Focused on Crime Prevention
There is minimal evidence that police surveillance results in reduced crime or prevents crime. For instance, research showed 90% of the people that were stopped in the NYPD's controversial stop and frisk program were not committing any crime. While it is true that police do apprehend individuals that violate the law, this is one of several components of their responsibilities.
Myth #6: Police Officers Do Not Need College Degrees
Research shows police officers that have at least two years of a college education are less likely to have misconduct complaints and less likely to use force to gain compliance. And, officers with only high school diplomas account for 75% of disciplinary problems. The evidence shows reform efforts should not ignore the application pool crisis and law enforcement departments should instill more robust higher education standards.
Myth #7: Defunding the Police is a Knee-Jerk Reaction With No Research
Some opponents of cutting police budgets view the movement as an emotional response to police misconduct rather than a well-thought-out campaign. However, a study with 60 years of data indicates that increases in spending do not reduce crime. Which begs the question, how is 60 years of a failed objective any better? Yes, the movement gained attention because of tragic events in 2020, but the evidence supporting the movement is based on hard data and proven methods.
Police reform is long overdue, and we have had thousands of opportunities to make the appropriate changes. In 2020, the murder of George Floyd garnered national attention that has caused many to take a long, hard look at our democratic systems, cultural identities, and the necessary steps towards equal protection. We do know that more traditional policing is not the answer.
No matter what we choose to call it, defund the police, a reallocation of funding, or a total reimagination, research supports a public health approach to policing. If we are effective, funding public health approaches will reduce the reliance on law-and-order policing, save lives and reverse the longstanding slide in the wrong direction. Police must be the last resort, used only when necessary to protect the public from harm. Until then, municipalities will need to prepare for the impact of increased police accountability and transparency. Ultimately the rising costs associated with police misconduct will force police reform, a cost that would have been much cheaper had we listened to those groups most impacted by aggressive policing. To see real change in our society, policymakers must remove the barriers and fund necessary programming. We need not raise taxes. We simply need to be smart and follow the science.
Now that I have spent enough time on the for defunding police side, lets take a look at the against side.
Defunding the police is a bad idea
A couple of years ago, a major regional medical clinic leader announced his support for a local tax hike to beef up the city's police force and provide cops with better training and capabilities. His rational was two-fold: the Clinic needed police to augment its security and good public safety attracted the best staff.
Any realtor will tell you people want good schools and safe neighborhoods. They want police who can respond quickly to emergency calls and investigate crimes.
Today, the persistent rioting in cities, such as Seattle and Portland, has police departments focused on stopping destruction, burning and ransacking while more traditional police calls go unanswered.
London's Daily Mail reported last August: "More than 60 Portland 911 calls go unanswered overnight as police respond to 'violent, tumultuous' rioting where protesters threw 'softball-sized' rocks and glass bottles at officers. Call types ranged from theft, vandalism, suspicious activity, hazards, hit and run, burglary, violation of restraining order, alarms, stolen cars, harassment and many others."
To adequately respond to rioting and conduct normal policing, Seattle interim Police Chief Adrian Diaz told KTTH radio's Jason Rantz, his police department needs 1,400 deployable officers. However, Seattle's police force is shrinking and could get smaller if the city council chops the department's budget by $50 million.
"At least 118 officers have separated from the force in 2020, with the bulk leaving after the Seattle City Council embraced radical activists pushing to defund the police. Separations are all-inclusive, including resignations (including lateral-moves to other agencies) and retirements," Rantz added.
Seattle, which is left with just over 1,200 officers, now has one of the lowest ratios of cops to citizens of major U.S. cities, with 65 officers per 100,000 residents, the Washington Free Beacon reports.
Seattle police department is staffed at lower levels than it was in 1990 even though its population has increased by 44 percent. "And crime is surging, with a reportedly 60 percent year-over-year increase in homicides," Rantz reported on October 16.
The situation will worsen under police defunding proposals, Rantz predicts. "The mayor's office believes the number of deployable staff could drop to 1,072 officers if the trends and hiring freeze continues, along with the council's vote to fire 70 officers."
Because police are short-handed, officers are working lots of overtime. According to data obtained by Portland's KATU news, the Portland Police Bureau spent over $6.9 million in overtime for June and July which is a 200 percent increase in overtime spending compared to the same period last year.
Exhaustion is a problem. "I also need officers that we can routinely rotate out when you have officers that had to deal with demonstrations on a nightly basis with very little time off," Diaz added. "And the more stress we put on those officers, it can create some adverse effects."
These numbers don't tell the whole picture, Rantz concluded. "Sources reveal that many officers are using sick time at higher than normal rates. Many of them are looking for other jobs in different agencies." For example, last August neighboring Pierce County lifted its hiring freeze to add two dozen deputies to the sheriff's department.
Injuries also are mounting. For example, nearly 60 Seattle police officers were injured during July weekend clashes with explosive-hurling anti-cop demonstrators, according to the department — which released photos and body-camera footage of the carnage.
Something has to give and that something has been answering 911 calls and routine policing. If that trend persists, it will ruin cities making them unsafe and unappealing. People and businesses will leave.
Pressing police defunding is a bad idea especially as law enforcement leaders are bracing for the potential of heightened civil unrest following the presidential elections.
3 Reasons Why Defunding the Police is a Bad Idea
As we enter a new year and a new political season, calls to "defund the police" from elected officials across the country will no doubt continue. There are many reasons why defunding the police is a bad idea, but we wanted to highlight a few of the most important reasons to keep in mind as these discussions continue.
REDUCES SUPPORT FOR TRAINING
Many issues of police-involved violence occur because officers are not properly trained on when and how to use their equipment. Defunding the police takes away the resources that are needed to make sure officers are properly trained on things like the use of force continuum and de-escalation techniques.
D.J. Jordan and Scott Martin, two public officials in Virginia summed it up this way in an op-ed for Potomac Local News: Police brutality usually occurs when overly aggressive policing tactics are implemented in dramatic fashion, or with evil intent.
Although police abuse of power is rare overall, just one time is too many and enough to cause years of unnecessary scrutiny from the media and politicians with anti-police agendas.
"Good policing requires a commitment to robust training that must be ongoing. This requires funding," Jordan and Martin wrote.
The less training is available, the more likely we are to see officers relying on their instincts instead of on best practices developed over decades of experience by teachers and trainers.
HINDERS OFFICER RECRUITMENT AND RETENTION
This one might seem obvious but it's worth stating explicitly: lower police budgets mean fewer police officers keeping our streets and communities safe. But it's not only that — defunding the police places a greater strain on existing officers and reduces the likelihood that they'll quit or perform their jobs ineffectively because they're burned out.
An article in the Washington Courier-Herald laid out what this looks like on the ground in Seattle, where the police department's staff is smaller than it was in 1990, even though the city's population has increased by more than 40% over the past few decades. And, a proposal from the Mayor's Office could reduce the police force even further.
"Something has to give, and that something has been answering 911 calls and routine policing," business and community leader Don C Brunell wrote in the Courier-Herald article. "If that trend persists, it will ruin cities making them unsafe and unappealing. People and businesses will leave."
As you might imagine, the prospect of more cuts is cause for concern among the city's law enforcement leaders when it comes to ensuring community safety and providing a high level of service to everyone in the city.
"I also need officers that we can routinely rotate out when you have officers that had to deal with demonstrations on a nightly basis with very little time off," Seattle Police Chief Adrian Diaz told KTTH radio. "And the more stress we put on those officers, it can create some adverse effects."
ALLOWS DANGEROUS, VIOLENT CRIMINALS TO WIN
Finally, perhaps the most compelling reason why defunding the police is a bad idea is that it lets the bad actors in our society put everyone else in harm's way.
Police officers around the country keep us safe from drugs, violence, gangs, domestic abuse, and myriad other threats to the American way of life. No other branch of government or social service agency can do the job in quite the same way.
It's hard to see the consequences of defunding the police until it happens, at which time it's already too late. As the new year begins, join us in the call to push for common-sense police reforms that will make our officers stronger, keep our communities safer, and restore the respect that police deserve.
Rather than "defunding" the police, the focus for reform in 2021 and beyond should be improving things like professionalism, readiness, attention to detail, and discipline. Let's dive into some ways that funding could be re-allocated in a more constructive way to reduce the number of police-involved deaths while still giving police the latitude they need to do their jobs day in and day out.
Minneapolis backtracks on defunding the Police
With spiking crime rates, slow 911 response times and police officers leaving the force in droves, Minneapolis' defund-the-police movement has crashed into reality.
Minneapolis said it will spend $6.4 million to hire dozens of police officers after having 200 fewer police officers available to work than in recent years, the Minneapolis Star Tribune reported. The police force began last year with 817 officers on the payroll, however, now have only 638 in their ranks in the wake of George Floyd's death and resulting protests.
Some officers resigned or retired while others remain on extended leave.
Last summer, the Minneapolis City Council took several steps toward defunding the city's police department, including approving an amendment to remove $1 million from the police department and divert it toward the health department to hire "violence interrupters" – essentially social-workers with the mission of deescalating violent situations.
In December, the council then voted to reallocate about $8 million from the police budget to other city services. At the time, Jeremiah Ellison, a Minneapolis city councilman who had favored more aggressive efforts to defund the police, told the New York Times it was an "incredible investment."
"I think what we're able to do with that $8 million is going to do a lot for public safety in our city," Ellison told the Times.
But that hasn't been the case.
Minneapolis has seen an uptick in crimes that include daylight carjackings, robberies, assaults, shootings and street racing. Early 2021 crime statistics show a 250% increase in gunshot victims compared to the same period one-year-ago. Rape is up 22% and robbery is up 59% compared to last year.
The defund the police movement took hold of the country last year, with Black Lives Matter activists demanding police reforms. According to Bloomberg News, 50 of the U.S.'s largest cities reduced their 2021 police budgets by 5.2% in aggregate.
The results of defunding the police were predictable. Yet, progressives told Bloomberg News there is "more momentum than ever before behind reform and alternative models for policing."
Defunding the police didn't go well in Minneapolis – and it won't go well for any other city in the U.S. doing the same. The rhetoric will eventually crash into reality. It's just a matter of time.
The movement to defund the police is wrong, and here's why
In the days following the brutal killing of George Floyd by Minneapolis police and the subsequent protests across the country, activists are calling for defunding the police as a solution to systematic institutionalized racism in America. Here is why we should not defund the police.
Major reforms are underway. In Seattle and Washington state, we already are doing what defunding proponents and police abolitionists are calling for within the existing system: restorative justice, alternatives to incarceration, demilitarizing the police, crisis intervention and de-escalation training, community engagement and holistic collaborative services. Reforms in Seattle and Washington state offer a model that law enforcement agencies in every city and state should implement.
Sue Rahr, executive director of the Washington State Criminal Justice Training Commission, who was a member of President Barack Obama's Task Force on 21st Century Policing, has replaced warrior-oriented training with guardian-oriented training in the Basic Law Enforcement Academy training for all police and corrections officers to create an empathetic police academy. The Seattle Police Department has made changes over almost a decade in response to the 2012 Department of Justice consent decree, including creation of the Community Police Commission, Crisis Intervention Training, and the police department's mental health Crisis Response Teams. Seattle's Law Enforcement Assisted Diversion (LEAD) program has become a model for the nation.
Police culture is changing. Yes, this change is painfully slow and incremental, and many argue we have no time to wait. However, starting over is not realistic or reasonable. Police reform in Seattle and Washington state has not been successful in changing police culture entirely or in other jurisdictions across the country and does not change the hard, heartbreaking fact that police killed Floyd. The Major Cities Chiefs Association and the International Association of Chiefs of Police condemned Floyd's death, noting that Floyd's arrest was horrific and blatantly inconsistent with good police procedure on use of force. Police culture has been slowly changing for many years through the implementation of guardian-oriented policing, policy and oversight, crisis intervention training, community policing, and police-community engagement efforts, collaborative partnerships with mental-health and social-service agencies, and the increase in women and minorities in law enforcement.
The clashes between protesters and police in Seattle over the use of tear gas and crowd-control tactics, and Mayor Jenny Durkan and Seattle Police Chief Carmen Best's willingness to listen to the protesters and modify SPD's approach by "meeting peace with peace" reflects this change in police culture and willingness to work with the community for change.
We need the police. The police are the first responders to a broad range of public-safety issues and serious crime. Crime will not end if we abolish or defund the police. If the police are defunded, there will be delayed response when people who are in need call 911, fewer police on the street in neighborhoods and communities, and lack of police capacity to respond to serious crimes that present significant threats to public safety. If we defund the police, those most affected will be the poor and the marginalized. Wealthy neighborhoods will hire private security as they are already doing, and poorer neighborhoods will have to fend for themselves even more than they already have to. Delays in police response and lack of police capacity will increase fear of crime, render victims of crime helpless and wreak havoc on communities, especially communities of color, even more so than is already the case.
Are we there yet? No. We all owe Floyd's family and every Black American and person of color who has to fear the police an apology and a promise that law enforcement in the United States will never again be the same as it was the day Floyd was killed. Justice for Floyd means prosecuting officers and those who stand by and do nothing, policing that is inclusive of the community, crisis intervention and de-escalation training in all police agencies, empathetic police training in police academies, and commitment from law enforcement personnel and every community member to speak out against racism and police power that violates civil liberty.
Now is the time to test the accountability mechanisms implemented through years of police reform in Seattle. These reforms have made a difference and offer a framework for moving forward. Now is not the time to defund the police but to do the opposite — to invest in our police agencies to build on local and national police reforms. Every law enforcement officer who wears a badge, who takes their oath of service to uphold the law, who is trusted with extraordinary authoritative power to protect public safety, has the personal and professional responsibility to do their jobs in a way that values every single human life to ensure that there will not be another wrongful death at the hands of police.
Defunding police risks well-being and safety of everyone
My late mother used to tell me, "Don't ever throw out the baby with the bath water." For many years while growing up I never understood what she meant until I looked it up one day. The term is derived from a German proverb that means, "Making the error of eliminating something good to try to get rid of something bad."
A good example would be a community that defunds a police department in an attempt to try to eliminate one or two bad employees. To understand, you must first recognize that having a police department is good, and that retaining certain individual employees may be bad.ADVERTISING
As the retired commander of the internal affairs unit for an agency of nearly 1,000 FDLE-certified correctional officers, I clearly recognize the enormity of the recent events in Minneapolis as well as the outrage and review of the reprehensible behavior of the officers involved. One of the end results in this sad and ugly event has some communities discussing the possibility of defunding their police agencies. Seriously?
Not only is the idea itself insane, it's hard to imagine it would get any traction in any community, even one where a bad cop killed a man who was cuffed behind his back begging for his life. The behavior was despicable and the officer should be and will be held accountable.
This shocking event, which was of course caught on videotape, has caused our entire nation to take a look at ourselves.
At the same time this tragedy has unexpectedly generated myriad responses that include, among other things, the cancellation of a 33-year old and universally popular reality police television show ("Cops"), the removal of an award-winning historical movie from viewer access ("Gone With the Wind"), the serious discussion of defunding police agencies, and numerous other exaggerated, hammer-driven reactions by persons saying they are trying to be part of the solution.
Some of these remedies being offered are not actually remedies to anything. They are merely comfort food for those with an appetite for the spotlight. Some days it almost seems as if people, and companies, are competing with each other to see who can make the next exaggerated move that will grab a headline. We would be better served if everyone would slow down a little bit and take a meaningful, realistic approach to addressing inequities wherever they may exist.
There is no doubt we live in a world of societal differences, with biases from all sides. And it is laudable that so many people and companies are now seeking to address these issues. At the same time, it's also unfortunate that it takes such an event to create a desire for everyone to take action and review our societal landscape.
As the leader of my investigative unit, I oversaw dozens of cases each year and reviewed each and every one prior to disposition. Most of these cases involved complaints related to officer off-duty behavior. However, there were occasional complaints as to force used and racial misconduct and there were occasions where officers were fired, both white and black.
Whether improvements can be made in law enforcement agencies is a question that will always be answered with one word: Yes. However, the defunding of an agency is counterproductive to the well-being and safety of everyone.
We need to take pause and try to address these issues in a manner that is more conducive to actually fixing inequities, and stop the insanity of simply trying to grab the next headline. Throwing out the baby with the bath water never solved anything before and never will now.
Everyone should take a deep breath and move forward one meaningful step at a time and make changes that actually make a difference. We need to stop the insanity.
How Criminals Get Their Guns?
Ask a cop on the beat how criminals get guns and you're likely to hear this hard boiled response: "They steal them." But this street wisdom is wrong, according to one frustrated Bureau of Alcohol, Tobacco and Firearms (ATF) agent who is tired of battling this popular misconception. An expert on crime gun patterns, ATF agent Jay Wachtel says that most guns used in crimes are not stolen out of private gun owners' homes and cars. "Stolen guns account for only about 10% to 15% of guns used in crimes," Wachtel said. Because when they want guns they want them immediately the wait is usually too long for a weapon to be stolen and find its way to a criminal.
In fact, there are a number of sources that allow guns to fall into the wrong hands, with gun thefts at the bottom of the list. Wachtel says one of the most common ways criminals get guns is through straw purchase sales. A straw purchase occurs when someone who may not legally acquire a firearm, or who wants to do so anonymously, has a companion buy it on their behalf. According to a 1994 ATF study on "Sources of Crime Guns in Southern California," many straw purchases are conducted in an openly "suggestive" manner where two people walk into a gun store, one selects a firearm, and then the other uses identification for the purchase and pays for the gun. Or, several underage people walk into a store and an adult with them makes the purchases. Both of these are illegal activities.
The next biggest source of illegal gun transactions where criminals get guns are sales made by legally licensed but corrupt at-home and commercial gun dealers. Several recent reports back up Wachtel's own studies about this, and make the case that illegal activity by those licensed to sell guns, known as Federal Firearms Licensees (FFLs), is a huge source of crime guns and greatly surpasses the sale of guns stolen from John Q. Citizen. Like bank robbers, who are interested in banks, gun traffickers are interested in FFLs because that's where the guns are. This is why FFLs are a large source of illegal guns for traffickers, who ultimately wind up selling the guns on the street.
According to a recent ATF report, there is a significant diversion to the illegal gun market from FFLs. The report states that "of the 120,370 crime guns that were traced to purchases from the FFLs then in business, 27.7 % of these firearms were seized by law enforcement in connection with a crime within two years of the original sale. This rapid `time to crime' of a gun purchased from an FFL is a strong indicator that the initial seller or purchaser may have been engaged in unlawful activity."
The report goes on to state that "over-the-counter purchases are not the only means by which guns reach the illegal market from FFLs" and reveals that 23,775 guns have been reported lost, missing or stolen from FFLs since September 13, 1994, when a new law took effect requiring dealers to report gun thefts within 48 hours. This makes the theft of 6,000 guns reported in the CIR/Frontline show "Hot Guns" only 25% of all cases reported to ATF in the past two and one-half years.
Another large source of guns used in crimes are unlicensed street dealers who either get their guns through illegal transactions with licensed dealers, straw purchases, or from gun thefts. These illegal dealers turn around and sell these illegally on the street. An additional way criminals gain access to guns is family and friends, either through sales, theft or as gifts.
While many guns are taken off the street when people are arrested and any firearms in their possession are confiscated, a new study shows how easily arrestees believe they could illegally acquire another firearm. Supported by the National Institute of Justice and based on interviews with those recently arrested, the study acknowledges gun theft is common, with 13 percent of all arrestees interviewed admitting that they had stolen a gun. However a key finding is that "the illegal market is the most likely source" for these people to obtain a gun. "In fact, more than half the arrestees say it is easy to obtain guns illegally," the report states. Responding to a question of how they obtained their most recent handgun, the arrestees answered as follows: 56% said they paid cash; 15% said it was a gift; 10% said they borrowed it; 8% said they traded for it; while 5% only said that they stole it.
ATF officials say that only about 8% of the nation's 124,000 retail gun dealers sell the majority of handguns that are used in crimes. They conclude that these licensed retailers are part of a block of rogue entrepreneurs tempted by the big profits of gun trafficking. Cracking down on these dealers continues to be a priority for the ATF. What's needed, according to Wachtel, is better monitoring of the activities of legally licensed gun dealers. This means examining FFL paperwork to see where their guns are coming from, and making sure that those guns are being sold legally. But he says, "Let's be honest. If someone wants a gun, it's obvious the person will not have difficulty buying a gun, either legally or through the extensive United States black market."
Mass shootings all too routinely hit the headlines across the United States. But what rarely makes a blip on the news cycle are the individual acts of gun violence that permeate the social fabric – with almost 500,000 violent crimes committed with a gun annually, according to the National Institute of Justice.
On average, just under 40,000 people each year die across the country in a gun-related death. So, where do criminals typically buy their guns? And do most criminals seek out their weapons of choice through illicit means?
"The majority of firearms used in criminal activity are obtained illegally," said David Chianese, a correspondent at Law Enforcement Today, published author and former NYPD detective. "Stricter or additional gun laws do not reduce gun violence."
A 2019 survey conducted by the Department of Justice (DOJ) found that some 43 percent of criminals had bought their firearms on the black market, 6 percent acquired them via theft, and 10 percent made a retail purchase – 0.8 percent purchased a weapon from a gun show.
In 11 percent of cases, the criminal had someone else buy a gun for them – known as a straw purchase – while an additional 15 percent got guns from a friend or relative. Some 12 percent of weapons found on a crime scene had been brought there by someone else.
This August 2019 photo provided by the Dayton Police Department shows the firearm used by Connor Betts in a mass shooting in a popular entertainment district on Aug. 4, 2019, in Dayton, Ohio. (Dayton Police Department via AP)
A recent national survey of prison inmates aged 18 to 40, published by Preventative Medicine, found that only one in 10 bought the firearm involved in the act that resulted in them being jailed.
Law enforcement and security experts also emphasized the importance of distinguishing between "criminals" and "mass killers."
"Statistics show that those individuals committing 'mass killings' during 'active shooter' events do so utilizing weapons that have been obtained legally by themselves or a friend or family member," observed Charles Marino, CEO of Sentinel Security Solutions. "Statistics show that those individuals committing what is known as 'street crimes' are typically doing so by utilizing weapons that have been initially stolen and may have further traded hands in the black market."
An official with the Alcohol, Tobacco, and Firearms Explosives (ATF) – the federal agency under the Department of Justice (DOJ) tasked with tracking and recovering trafficked weapons – told Fox News that "guns enter illegal commerce through one of three ways."
The first is by private transactions in which guns bought at gun shows, flea markets or through private sales are later sold to prohibited persons.
The second, the official underscored, was by straw purchasers – individuals who buy guns from dealers and transfer them to prohibited persons.
The third category is theft from gun dealers and private citizens. Gun traffickers transfer guns from legal commerce to illegal commerce and are "considered to be violent criminals," the official said.
"The goal of ATF's illegal firearms trafficking enforcement efforts is to reduce violent crime by stemming the flow of firearms to criminals by identifying, investigating and arresting those who illegally supply firearms to prohibited individuals, and by deterring the diversion of firearms from lawful commerce into the illegal market," the official continued.
The ATF also highlights stolen firearms as a "threat to community safety as well as law enforcement," emphasizing that "stolen firearms are crime guns; they fuel illicit trafficking and are used by violent criminals to terrorize our communities."
Chianese said that, with regards to where guns are stolen from, the answer is easy.
"Lazy and incompetent gun owners," he charged. "It's literally that simple. Unsecured or improper secured firearms are one of the largest contributors to illegal guns on the street."
Richard Schoeberl, program chair at the School of Social Sciences, Criminal Justice and Homeland Security at The Justice Center in Tennessee, said the "majority of the guns used in criminal acts were either stolen or obtained from an underground market on the street."
"The remainder obtained it from a family member or friend," he continued. "There is also rise across the country with the theft of guns from vehicles, and those guns are thus in turn used in crimes. Because the handgun will never be registered by the person who stole it, it will make it difficult for law enforcement to track until it is ultimately used in a crime."
A New York City Police Crime Scene Unit vehicle stands on West 75th street (Reuters)
However, there are other causes for concern. According to one federal official, who spoke on condition of anonymity, "ghost guns" or "self-made firearms" have become an especially prominent cause for concern in recent years, despite being perfectly legal for law-abiding citizens.
"It is less about the black market, and more about how these firearms kits can be mailed right to your doorstep," said the official. "It allows people to get what is essentially a frame of a firearm sent to them; technically, it is just a part. But criminals want this for easy access; to have all the parts mailed to them, so they build a gun in their basement."
Multiple state and federal law enforcement professionals interviewed by Fox News noted that generally speaking, the cost of the black market firearm on the street is significantly higher than a legal purchase in-store. While it varies depending on location, a handgun that might cost a couple of hundred dollars retail in Florida might then cost a couple of thousand dollars on the much more stringently gun-controlled streets of New York City.
Moreover, officials have pointed out that there is often an "opposite flow" between areas of heavy drug abuse and high gun crime.
"Drugs might be moving from Brooklyn to Vermont, and the guns are coming back down the opposite way," a New York-based federal authority explained.
And then there is the dark web, which enables users to anonymously shop for illicit goods. According to a 2018 RAND report, the "arms trade is small in volume compared to other products trafficked online, (but) its potential impact on international security is significant."
Gun advocates attend a rally at the state Capitol to mark the start of a new law that allows most adults in Oklahoma to carry a firearm in public without a background check or training, Friday, Nov. 1, 2019, in Oklahoma City. (AP)
The report found that the dark web is "increasing the availability of better performing, more recent firearms for the same, or lower, price than what would be available on the street or the black market." The investigation also concluded that, while almost 60 percent of firearms listings are associated with products that originate from the United States, "Europe represents the largest market for arms trade on the dark web, gathering revenues five times higher than the U.S."
However, Randy Pargman, senior director of threat hunting and counterintelligence at Binary Defense and a former senior computer scientist at the FBI, noted that they "expect illegal online gun sales on the dark web to continue in the coming years," underscoring that "if changes to laws make it more difficult to purchase guns legally, gun sales on the dark web may expand in the U.S."
"Illegal gun dealers, like other criminals, are drawn to the dark web because it allows them to operate anonymously. Because of how the dark web works — sites are hosted on the Tor network — it is easy for criminals to hide their real identities and locations, creating a considerable challenge for law enforcement," he explained. "Prices are typically listed in Bitcoin instead of traditional currency. Customers can browse available products or search for the products they wish to produce."
However, Pargman also acknowledged that – while illegal gun sales are a problem – "they are not nearly as prominent as recreational drugs in dark web markets."
Nonetheless, gun control activists also point out that states with tight gun restrictions are often negatively impacted by neighboring states with much looser controls, enabling criminals to purchase a weapon in a state such as Louisiana, and then cross into Illinois.
Several active NYPD officers, who spoke on the condition of anonymity, pointed out that while a portion of guns used in crimes are purchased legally outside the state, many of the weapons being used in gang circles are stolen and/or sub-standard, having been passed around among one another for years.
The officers all concurred that the rising violent crime in New York City is generally perpetuated by a small number of individuals rather than a widespread pool of criminals. And many fear that the new bail reform legislation will increase recidivism, as judges are no longer given discretion to hold violent and repeat offenders in custody and sharply lower cash bail for nonviolent defendants.
"Various efforts can be undertaken to curb illegal firearms sales," added Brad Engmann of the California-based Threat Scenarios. "These can include the creation of new laws, such as mandatory background checks for all firearms sales, as well as additional enforcement of existing laws."
From the Department of Justice. It's nothing earthshattering, but it's a good update to old surveys of prison inmates.
Among prisoners serving time for a crime during which they possessed a gun, about half got their weapons either on the underground market (43 percent) or through theft (6 percent). Meanwhile, 10 percent bought guns from a retail source, including 0.8 percent who bought them at gun shows.
Another 11 percent of the time, someone else bought the gun for them, either as a gift or as a straw purchase (situations I wish the survey separated). Roughly 15 percent got guns from family and friends (buying, renting, trading, borrowing). And 12 percent of the time, the guns were either brought to the crime by someone else or found at the scene.
An obvious policy implication is that it would be very difficult to regulate most of these transactions — the underground market is by definition unregulated; people in criminal social networks are not going to follow gun laws; theft is already illegal; licensed dealers already conduct background checks. A fair counterargument, though, is that most guns begin life with a legal sale from a dealer, so there may be ways to stop guns from entering the illegal market to begin with.
27 STATISTICS THAT DESCRIBE HOW CRIMINALS USE AND OBTAIN ILLEGAL FIREARMS
You might be surprised to hear this but, most criminals don't respect gun laws. In fact, most criminals specifically purchased their weapons to help them commit their crimes. This article is going to cover some great research that details exactly how criminals use and obtain their firearms, in a wide variety of crimes.
These statistics are based off of a survey of federal and state prisoners, conducted by the Bureau of Justice Statistics (BJS). It is quite lengthy, and we won't be able to cover all the information here, but I highly recommend giving it a read. In this survey, they asked inmates about their gun use including: how they obtained the firearm, how they used it during the crime, and much more.
HOW MANY CRIMINALS USE AND CARRY GUNS DURING THEIR CRIME?
The figure below shows us that roughly one in five criminals, who are incarcerated, possessed a firearm during the commission of their crime. The vast majority of them selected a handgun. Less than 5% of them obtained a firearm through a retail source.
We can also see about 12% of criminals used a gun during their crime, either brandishing it, or discharging it. Again, we can see that criminals are using handgun's vs long guns, and most aren't buying these firearms from retail locations.
As a side note, this study often breaks down stats between federal and state inmates. I would remind you all that most violent offenses are actually charged at the state level, rather than federally, so these stats are probably going to be more useful to us.
CRIMINALS AND GUNS OVERVIEW
HOW DO CRIMINALS USE GUNS DURING CRIMES?
Some criminals simply have a gun for protection, often from other criminals. However, many offenders in this study specifically obtained the firearm to use in their crime. Among state prisoners, who possessed a gun during their offense, 27% killed someone, 12% injured someone, and around 54% did not fire it.
In most states brandishing a weapon is a misdemeanor, and the offender would not be subject to a prison term, as prison is generally for offenders that receive sentences of longer than one year, and for serious felonies. I think the takeaway here is that if a weapon is presented in a violent situation there is a significant likelihood that it will be used.
Amongst state prisoners, there was a 68% chance they would use a firearm in the commission of their crime, and a 46% chance they would discharge a round. In 7.1% of cases, the weapon was discharged into the air, and in 21.5% of cases it was not discharged at all. Those are pretty sobering statistics.
Like shooting articles, fitness, and pretending to be an operator when mom isn't looking? Then click here to join the Tier Three Team. You'll get all the latest articles sent directly to you, and thousands have already.
CRIMINAL DEMOGRAPHICS AND GUN USE
This study also collected age, race, and sociological factors for inmates who used guns during their crime. See the table below.
Many of these stats aren't particularly surprising. Young, unmarried men, without high school degrees, are the most likely demographic to carry and use firearms.
I don't think you can make much use of the racial statistics, as they generally are going to show that those living in impoverished areas committed more violent crime. Unfortunately, in the US, many of those impoverished areas are predominantly African American, or Hispanic.
I do think it's interesting that 18.5% of non US citizens possessed a firearm during the offense that they were serving time for. It should be hardest for this demographic to obtain weapons, as there are very few circumstances where a non resident can obtain a weapon. This leads us to our next topic.
HOW DO CRIMINALS OBTAIN GUNS?
The vast majority of guns, used in crime, were obtained via black market, and person to person transactions. About a quarter of criminals obtained them from other individuals, or were gifted them by someone else.
Surprisingly, relatively few criminals obtained their weapons from a burglary, and a relatively large amount found them at the location of the crime.https://imasdk.googleapis.com/js/core/bridge3.473.0_en.html#goog_496980497
The elephant in the room is the amount of guns purchased from the black market. The inmates reported that 43.2% of their weapons were illegally purchased.
This means that almost half of all guns, used in the commission of a crime, were transferred to the offender illegally, meaning no background check, waiting period, nor magazine limits would apply as the transfer itself was inherently illegal.
DISCUSSION
These statistics are interesting, but we need to put them in context to better understand them. The vast majority of violent crime in the US occurs amongst those that live a criminal lifestyle. In fact, this study showed that the average homicide victim, in Boston, over a four year period, had been criminally charged themselves an average of 12 times prior to their death.
That particular study also broke down the circumstances that lead to their death. In total, 66.5% of the situations were gang related, and 15.9% were drug related. Only 13.1% were a personal dispute, with less than 5% between robbery and domestic violence combined.
Now this is only relevant to Boston during the years of 2010-2014, but I would be surprised if Chicago, Baltimore, or other violent areas are much different.
This leads us, inevitably, to the conclusion that reducing violent crime and keeping guns off the streets is best tackled as a multifaceted problem. Making guns extra illegal, or changing their appearance will do nothing to prevent someone from buying a gun illegally and using it to settle a score.
Is America Fighting Back?
The problem with the American Populist movement is that it was centralized.
Centralized movements give the enemy a central attack vector to target and overcome. One man, who took on the weight of the world, became the sole focus of both the enemy and of the American Populist movement itself for over five years.
The oligarchs removed that one man from the entire internet, then they removed him from office. Everyone knows this, we all watched it happen. What no one has clearly defined is where American Populism goes from here.
The oligarchs believe that they have destroyed American Populism by rigging an election, removing the movement's leader from public view, and by forcing everyone to stay locked inside for a year while the country burns down around us all.
They think they have won and want to define "New Normal" under their rule as they consolidate power. What they don't realize is that they have recruited tens of millions of Americans to the side of reason, light, and Truth. Many millions of these people didn't even vote for Donald Trump, but they recognize what is happening to our country and want to stop it.
Over the course of the past year I've seen comments across the internet become increasingly "red pilled" and aware of the Big Lies being pushed by the corporate media and frauds in government. It turns out that keeping people locked inside on the internet for an entire year ends up illuminating a lot of minds.
The People are learning what the real problem is: the globalist oligarchs. Not any one politician. Not this political party or that one. The entire system is corrupt. Banks, tech companies, media companies, schools, government, and on and on.
We must exit this broken and failing system and start building a new one immediately. We are not revolutionaries. We are not violent. We are reformers. We are builders. When we up and leave the existing system in favor of our own the existing system will crumble without us lifting a finger.
"You never change things by fighting the existing reality. To change something, build a new model that makes the existing model obsolete."― Buckminster Fuller
The way around centralized problems in the movement is to decentralize American Populism at the local level. In order to take our country back and move forward with the American Populist movement we must first take our local communities back. Here are several examples of this happening across the country:
We must build our own economy.
Pull your positions out of their useless stock market and buy bitcoin, gold, silver, food stores, and ammo. Bitcoin is free speech money. Learn what it is and how to use it. Now.
National elections are a big distraction. Members of Congress are bought and sold like cattle by the oligarchs, foreign nations, and whoever has the money. Instead center your focus on getting American Populists and Christian men and women elected mayor, to state legislatures, as judges, on school boards, etc.
Cut the cable cord. That includes both Fox and CNN. Do not watch it. Do something else with your time and money. Support alternative media outlets and individuals. Get that garbage marxist indoctrination content machine our of your home and away from your family.
Exit the Big Tech mind prison. Join Gab.
If your church has gone "woke," leave. We have room for only one Gospel in Christian churches and that's the Gospel of Jesus Christ. Not the imitation false gospel of "social justice."
Leave Big Banks for local community banks.
Start supporting small local shops.
Create pro-family, pro-business, and pro-law and order policies for your local area. We can't control DC, but we can control what happens in our backyards.
Pull your kids out of public schools where their minds are being molded at the altar of marxism. Do everything and anything you can to homeschool or attend Christian private schools or online schooling programs.
Pay attention to the brands you buy and support. Check out their websites and marketing. If they are "woke," stop giving them your money. Period.
We must also work to unite American Populists on the left and the right. What unites the left and right wing populists, and Americans in general, is Jesus Christ.
The trasnhumanist nihilists and their technocracy are offering nothing of spiritual value. The Gospel Message of Jesus Christ, and that of American Populism, is one of redemption, hope, love, dominion, sovereignty, freedom and forgiveness. None of these things are possible with critical theory or woke consumer crony capitalism paired with a corporate techno tyranny.
What are you waiting for?
Let's get to work, we have a new economy to build.
In Montana there has been a surge of people trying to escape the chaos and oppression of leftist states. Some are here because of the pandemic and the harsh restrictions they had to endure during the first lockdowns. Others are here because they can't stand the hostility of identity politics, cancel culture and race riots. Either way, they are fleeing places with decidedly leftist influences.
Uprooting and moving to an entirely new place is not an easy thing to do, especially in the middle of a pandemic. For many people, such an idea would have been unthinkable only a few years ago. Believe me, moving to a place like the Rocky Mountain Redoubt is not an easy transition for most. Hopefully these people understand that they will have to make extensive preparations for the rough winter and be ready to work hard in the spring and summer months to survive. Maybe they don't realize yet how tough it is here; maybe they know and don't care.
That's how bad the situation has become – Rational and reasonable people are willing to leave behind their old life and risk it all to keep a margin of freedom.
In my view it is clear that the political left has gone so far off the rails into its own cultism that there is no coming back. There can be no reconciliation between the two sides, so we must separate, or we must fight. I advocate for separation first for a number of reasons:
First and foremost, conservatives are the primary producers within American culture. If we leave the leftists to their own devices there is a chance they will simply implode in on themselves and eat each other because they have no idea how to fill the production void. The recent developments in the defunct CHAZ/CHOP autonomous zone are a perfect example. Those people don't have the slightest clue what they are doing and it shows.
I fully realize that the third outcome is the most likely. War is probably inevitable. Why? Because collectivists and narcissists are never satisfied. They desire unlimited control over the lives of others and they will use any means to get that control no matter how destructive. Separating from them is only a stop-gap that allows us to take the superior position. Through peaceful migration, we set the pace of the conflict. Eventually they will come after us, and there will be no doubt about our response then. There will be no way to spin the result in their favor, no way for them to play the victims.
Some people might question if we are actually to the point of open conflict; they might accuse me of "doom mongering". Others may argue that conservatives are acting "passive" and that we will never take any action. These assumptions are common right now because such people do not understand how history progresses and how group psychology evolves.
Domestic war is not something pursued lightly, or haphazardly. The average person knows at least subconsciously that it's better to seek resolution or to remain patient as events unfold. Conservatives aren't stupid; we know that before any civil war there is first a culture war. And, we know that the cards are stacked against us and that if we act rashly in any way we will lose position in that culture war.
The reason for the agenda should be obvious: Chaos creates fear. Fear creates division and crisis. And, crisis creates opportunity (as globalist Rahm Emanuel once bragged). Meaning, the extreme left is going to start a war because that's exactly what the global elites created them for.
The suggestion by certain special interests will be that there is only one way out; use government power to turn the tide to our advantage. In other words, institute martial law. I don't really see it that way.
Once we understand that a fight is coming regardless, our task is to position ourselves with the most advantage possible while keeping our culture and our principles intact. This includes our belief in constitutionalism, civil liberties and opposition to tyranny in ANY form. Winning the fight is important, but maintaining our principles in the process is more important. Becoming a monster to fight the monster is the same as losing.
When the left comes for us (and they will), the fight has to be won by us, not government. We cannot hand even more power to government in the name of security. We cannot become the fascists the leftists accuse us of being.
I am often asked these days about my view of the 2020 election and how it will turn out. I did predict Trump's election win in the summer of 2016 based on the idea that Trump's presence in the White House would drive the left insane, as well as give the globalists a perfect "conservative" scapegoat for the economic collapse they had been engineering since at least 2008.
It's also the classic false choice narrative: You can choose Marxism and communism, or you can choose fascism. Communism being the elevation of the weak and the oppression of the strong in the name of arbitrary "equality", and fascism being the elimination of the weak or less fortunate in the name of making more room for the strong. Both sides rely on totalitarian government to assert dominance, and both sides benefit the elitist establishment. The great con is that there is no third option, when there is; the non-aggression principle, citizen defense, voluntarism and freedom.
Frankly, I almost prefer a scenario in which Biden and the left are perceived as stealing the election. At least then conservatives will be fully united once again and ready to fight, instead of passively relying on a Pied Piper like Trump to save them.
The truth is, in 2020-2021 we stand at a massive nexus point in human history. We are spiraling into a decade and a fight that will decide the fate liberty for the next century or more. On one side stands the global elites and the useful idiots on the hard left. They will push for a collectivist system that erases all memory of the Constitutional Republic we once new, and they will get help from fake conservatives that value power over principle. On the other side stands the people that just want to be left alone; the free minds, the people that don't need or desire to have power over anybody.
If humanity is to have a future at all, the second group must continue to exist and prosper. They are the wellspring that feeds us, that gives us something to hope for. If the elites and the social justice mob take control, there can be no future for our species. They desire what they cannot and should not have. They value only what they can take from others. They have a hunger that can never be satiated. They will devour the world until there is nothing left while claiming they stand for the "greater good". War cannot be avoided with such people; the only question is, will liberty minded people stay the course and stick by their principles or will they fall to their darker impulses to ensure victory?
The "New Normal"
American's are being forced into a "New Normal" designed to strip them of their constitutional rights. This new normal is being advanced on the back of an artificial, "Great Reset" using the highly questionable and dubious COVID-19 narrative. This is not some conspiracy theory, this is a fact, and one that has become exceedingly obvious to anyone paying attention. The globalists behind this agenda don't even try to hide it anymore. "You will own nothing and be happy"? "You will rent everything you need"? (from mega-corporations) "Eat bugs, not meat"? Vaccine passports are being rolled out restricting the very essence of freedom until we acquiesce to the experimental shot.
We have been under constant attack from a powerful fear-based propaganda campaign promoted by every major media outlet. The goal is to scare us so badly that we lose our critical thinking skills. Guess what… it worked like a charm on many Americans. Over the last year, our freedoms have been held hostage in exchange for compliance with new restrictions over our liberty that make no sense at all. Unless we submit to the globalist's solutions we cannot enter into society again.
We have been sold a false reality where the solutions to our perceived problems are offered through marketing slogans like New Normal, Build Back Better, or Reimagined. These are the terms that are being used to rebrand the transition. Don't be fooled by these words. They are nothing more than deceptive and innocent-sounding euphemisms designed to obscure the real objective – a new form of technocratic serfdom. These terms were carefully chosen and being repeated by politicians all over the world, almost like they are all reading from the same script. (wink, wink)
An Unholy Alliance
The truth is, there are many forces aligned to help advance this new normal, which include major banking cartels, powerful multi-national corporations, The United Nations, World Health Organization, The World Economic Forum, the deep state or permanent bureaucracy, the political minion class, (in both major parties) billionaire technocrats, far-left ideologues, (Communists, Marxists, Socialists) eugenicists, and the corporate-owned & controlled media.
We can collectively call them the establishment, or the powers that be. The globalists have essentially infiltrated every important aspect of society through the years. They are not interested in our constitutional rights, in fact, they despise them. They are collectivist control freaks and they are desperate to save the present control structure and to further enslave humanity. Unfortunately, through their media and positions of influence throughout our culture, the globalists have turned millions of Americans into useful idiots willing to accept and even demand their own slavery.
It's All About Control
The goal of the globalists is to remove our individual rights under the guise of reimagining the world based on what's best for the collective good. The globalists want you to believe the great reset is being proposed for pragmatic or altruistic reasons, but their true motivation is power & control.
Vaccine Passports??
Ask yourself a simple question: Why would we ever require everyone in the world to be vaccinated with an experimental vaccine (that is technically not even a vaccine but really gene therapy & cannot prevent the spread of the virus, as told to us in the manufacturers own words) for a virus with a 99.7+% recovery rate??
Why are we being lied to about the true COVID death count and why are other effective treatments for COVID that were available early on being suppressed? Why was there no flu season last year? If the answers to these questions are not painfully obvious to you by now, you are simply not using your critical thinking skills and blindly following a false narrative.
We can no longer afford to sit on the sidelines because we are facing an existential threat to our freedom (and our lives). These people are coming for our scalps and they cannot be reasoned with. The time has come for Americans to choose a side and the choice has never been clearer. Do we want to fight for our freedoms or accept full-spectrum technocratic domination over our lives?
Non-Cooperation & Targeted Boycotts
Two methods that we can deploy are noncooperation (organized refusal to comply) and targeted boycotts. Classical liberals, conservatives, libertarians, & voluntarists in America alone, must be well over 100 million strong. 100 million people refusing to comply with unconstitutional orders that are also economically aligned against specific targets is a powerful force! Even half of those numbers would be extremely effective.
We need to opt-out of their ideas/systems/unconstitutional legislation and divest from their goods and services both with our attention and our dollars. If enough of us do so, their unsustainable illusion of control will collapse under its own weight. The powers that be know this, which is why they want us fighting with each other rather than uniting behind ideas that can actually benefit humanity.
Leaderless, Decentralized Movement
We need to organize but in a decentralized manner. A leaderless, decentralized, antifragile movement is the key to success. In order to achieve this, any action we take must be done autonomously. Groups and leaders are usually co-opted once they reach critical mass. We need to channel our energy into productive and positive actions that cannot be undermined. Here are just a few of the actions we can take that can be extremely effective.
10 Ways We Can Fight The Globalists Trying To Enslave Us
1- Disconnect from the corporate media & their propaganda. It is not an exaggeration to state that the corporate media is a weapon of mass deception and a true enemy of the people. They have most certainly poisoned the minds of our nation. This includes Hollywood and the music industry. Stop watching and supporting their news, entertainment, woke sports, music with disgusting lyrics, et al. Don't buy any of their products and unsubscribe to any and all of their paid services. Our attention gives them their power and our dollars are the life-blood of these companies. Why should we give our attention and hard-earned dollars to multinational corporations who despise us?!
The most important real estate in the world is the space between our ears. The globalists need control over this space to continue manufacturing our consent or their game will stop. Don't let them have it!
2 – Help Wake Up Your Friends, Family & Co-workers. Many people are questioning corporate media programming and realizing that the media and the people in power are lying to them. They are looking for new sources of information but can't find any due to censorship. Help them find credible information and help educate people on why the American experiment is so special. Here is a list of alternative media and news sites that are being censored. Creating mass awareness is one of the most powerful things we can do. Help people who are looking for new information to understand the nature of this technocratic communist takeover. Share this article if you like it. Don't waste your time trying to convert hopeless CNN and Fox News zombies. Some people are brainwashed for life and will never believe anything unless the corporate media tells them to.
3 – Get Off Corporate Social Media and Never Spend a Penny on Those Platforms. Instead, we must turn to alternative media options and help grow the companies that stand for freedom of speech. Freedom is not possible without freedom of speech. Those platforms are tracking you and profiting from your information. The only reason to use the corporate platforms would be to organize against them. Here is a list of free speech platforms.
4 – Resist this Global Reset at all costs! This new normal the globalists are proposing is not about the betterment of humanity! It's about replacing the crumbling old paradigm with a new and more draconian one. It's about tracking our every movement and controlling our behavior. It's about a small amount of people having control over what we think and do. Here is a good article on how we can resist the great reset at a local level. Do not be coerced into taking these experimental vaccines – they are not what we are being told they are!
5- Rally around our fellow citizens who are being persecuted. This is extremely important! If they pick on one of us they pick a fight with us all! We cannot let them pick us off individually like they are doing. When our fellow citizens are being persecuted for their political or ideological beliefs we need to circle the wagons and let them know they cannot do this without repercussions from all of us. We need to show our support and rally around politicians or businesses who are standing up to the globalists too. During the lockdowns, businesses who chose to ignore the unconstitutional orders given by their state governors or mayors were left to fend for themselves. If we stick together, we become less vulnerable. Never forget, there is enormous power in our numbers!
6 – We need more of us to enter politics. By nature, we are a group of doers with critical jobs that make society function. Politics and power over other people's lives generally do not interest us. Nevertheless, we must be represented within our government. Both major parties have been thoroughly corrupted. We need to primary anyone in the Republican Party who has shown to stray from the constitution or start a new party. Don't give a penny to the GOP just because they are the GOP. Politicians need to earn our support in their deeds, not their words! If the GOP falls in the process, so be it, they are part of the problem and useless to us now anyway.
7 – Get involved with your local community. Connect with local patriots, constitutionalist, groups/officials/police/sheriffs. Being involved in the community is very important in shaping the direction of your state's legislation and enforcement of legislation. Winning hearts and minds to the cause of freedom at a grassroots level is a very effective strategy. Again, there is power in our numbers but we need to loosely organize.
8 – Shop Local and avoid Big Box Stores! Buy anything you can from a small business owner instead of the corporations. Small businesses are being wiped out and need our help! Stay away from big box stores and national chains. Try to avoid all corporate products, especially the ones bending the knee to wokism. A decentralized economy.
9 – Homeschool. This may be difficult for many people because the education system has essentially become the largest government-sponsored daycare/indoctrination program in the nation. It's disguised as an institution dedicated to preparing our children for the real world but it's anything but. Parents are busy with jobs and are unable to dedicate the time it takes in educating their children. Nevertheless, we have seen a boom in new homeschoolers since the beginning of this pandemic. If it's possible, and until we can achieve real education reform, opt-out of this state-run indoctrination system and homeschool your children. Here is a link to the Homeschool Legal Defense Association. They are an excellent resource for homeschooling and for a small yearly donation (around $100) they will provide legal representation if it's ever needed.
10 – They Need Our Consent, Don't Give It! These control freak globalists are becoming desperate but never forget, they need our consent to carry out their plans. Unlike most other countries, the spirit of freedom is part of our heritage and in our DNA. American citizens are also the most heavily armed in the world. That's why they need our consent, otherwise, they wouldn't even ask. This is also exactly why our founding fathers were so adamant about the second amendment. It sure as shit wasn't about hunting animals.
Don't be fooled by false flag shootings designed to remove our second amendment rights. We must aggressively resist any attempt to take away our second amendment rights!
The World Is Awakening
We are seeing populist uprisings all over the world, even if the corporate media refuses to cover it. This is not something that can be suppressed. By doing so, it will only build more energy and express itself in unpredictable ways.
Too many people have become aware of the corruption and rapacious nature of the globalist's control structure. The globalist's illusion is evaporating before our very eyes. Once a person is awake, (opposite of woke) they cannot go back to sleep.
Resist this false paradigm being forced on us! Don't give your time, energy, attention, and hard-earned money towards any product, service, or idea that is not aligned with our individual freedom, or at least not against it. It can be enough to bring the control structure to its knees.
America's Best Defense Against Socialism
The United States of America has flummoxed socialists since the nineteenth century. Marx himself couldn't quite understand why the most advanced economy in the world stubbornly refused to transition to socialism. Marxist theory predicts the immiseration of the proletariat and subsequent revolution from below. This never happened in America. Labor confronted capital throughout the late nineteenth century, often violently, but American democracy and constitutionalism withstood the clash. Socialist movements remained minority persuasions. When Eugene V. Debs ran for president in 1912, he topped out at 6 percent of the vote. Populist third-party candidates, from George Wallace in 1968 (14 percent) to Ross Perot in 1992 (19 percent) have done much better.

Keep this in mind when you read about the rebirth of socialism. Yes, Bernie Sanders and Alexandria Ocasio-Cortez are household names. Membership in the Democratic Socialists of America (DSA) has spiked since 2016. Forty percent of Americans told Gallup last month that "some form of socialism" would be "a good thing for the country." Media are filled with trend pieces describing the socialist revival. A recent issue of The Economist devoted the cover package to "Millennial socialism." The current New Republic includes four articles about "the socialist moment." In March, New York magazine asked, "When did everyone become a socialist?"
That question tells you more about the editors of New York than the country itself. As Karlyn Bowman of the American Enterprise Institute has observed, views toward socialism are stable. In 2010, 36 percent of respondents to the Gallup poll had a positive view of socialism. In 2018 the number was 37 percent. In 2009, 23 percent told the Fox News poll, "Moving away from capitalism and more toward socialism would be a good thing." In 2019 the number was 24 percent. Fifty-four percent said it would be a bad thing. Gallup found that less than half of America would vote for a socialist candidate.
Socialism is in vogue because no one is sure what it is. The classic definition of abolishing private property, a planned economy, and collective ownership of the means of production no longer applies. More people today believe that socialism means "equality" than "government control." Six percent told Gallup that socialism is "talking to people" or "being social." The same Gallup poll that found 40 percent of the public has a positive view of socialism, however you define it, also discovered large majorities in favor of the free market leading the way on innovation, the distribution of wealth, the economy overall, and wages, and smaller majorities for free-market approaches to higher education and health care. Americans are very bad socialists.
And socialists know it. That's why their most prominent spokesmen frame their domestic agendas in the language of the welfare state and social democracy, even as they celebrate, excuse, or defend socialist authoritarians abroad. Sanders told NPR in March, "What I mean by democratic socialism is that I want a vibrant democracy." Okay, then — who doesn't? The following month he told Trevor Noah that socialism "means economic rights and human rights. I believe from the bottom of my heart that health care is a human right. . . . To be a democratic socialist means that we believe — I believe — that human rights include a decent job, affordable housing, health care, education, and, by the way, a clean environment." But this is not so different from FDR's conception of the "four freedoms." So what differentiates Sanders from a New Deal Democrat?
The less prominent socialists are somewhat more specific. Article II of the constitution of the DSA, to which Ocasio-Cortez and Rashida Tlaib belong, states: "We are socialists because we share a vision of a humane social order based on popular control of resources and production, economic planning, equitable distribution, feminism, racial equality, and non-oppressive relationships." That is closer to the traditional definition of socialism — a definition that implies a set of institutional arrangements that inevitably would limit freedom of choice.
"Our task is formidable. Democratic socialists must secure decisive majorities in legislatures while winning hegemony in the unions," writes Bhaskar Sunkara, editor of Jacobin magazine, in his Socialist Manifesto. "Then our organizations must be willing to flex their social power in the form of mass mobilizations and political strikes to counter the structural power of capital and ensure that our leaders choose confrontation over accommodation with elites."
Good luck with that. Before they seize control of the unions — which represent a paltry 11 percent of U.S. workers — today's socialists will have to overcome the same barriers that thwarted their predecessors. Nowhere has "American exceptionalism" been more evident than in the fact that the United States has been the only country without a major socialist, social democratic, or Communist party. The articles celebrating the rise in DSA membership to more than 40,000 fail to mention that there are tens of millions of Republicans and Democrats. Socialist politicians, activists, and theorists neglect the shaggy-dog history of their persuasion in the United States. The historical examples in Sunkara's book are almost entirely drawn from Europe. It's as if history began with Sanders's candidacy in 2016.
In fact, socialists have recognized the difficulty they face in the United States for over a century. In 1906 the German sociologist Werner Sombart devoted a monograph to answering the question, Why Is There No Socialism in the United States? Sombart noted the comparatively high and rising standard of living of American workers. "On the reefs of roast beef and apple pie," he said, "socialistic Utopias of every sort are sent to their doom."
American workers had won political rights earlier than their European counterparts, making them less likely to conflate civil rights with economic benefits. America's liberal culture emphasized social mobility. The staggering racial, ethnic, and religious diversity of America made class-consciousness almost impossible. As Max Beer, an Australian socialist of the early twentieth century, wrote,
Even when the time is ripe for a Socialist movement, it can only produce one when the working people form a certain cultural unity, that is, when they have a common language, a common history, a common mode of life. This is the case in Europe, but not in the United States. Its factories, mines, farms, and the organizations based on them are composite bodies, containing the most heterogeneous elements, and lacking stability and the sentiment of solidarity.
When it comes to preventing socialism, diversity really is our strength.
The two-party system marginalizes small, independent parties and accommodates rising tendencies and programs within preexisting electoral coalitions. Most important of all, the Constitution decentralizes and diffuses power, making it extremely difficult to expand drastically the power of the state in the name of social justice.
In 1967, Daniel Bell offered an additional explanation for the weakness of American socialism: "At one crucial turning point after another," he wrote in Marxian Socialism in the United States, "when the socialist movement could have entered more directly into American life — as did so many individual socialists who played a formative role in liberal political development — it was prevented from doing so by its ideological dogmatism."
All of these various obstacles remain in place. In January, Gallup found that 77 percent of Americans are happy "with the overall quality of life in the U.S." Sixty-five percent are satisfied with the "opportunity for a person to get ahead by working hard." Fifty-three percent like the "influence of organized religion." We have the best employment situation in half a century. Real disposable income continues to rise. Last year the Congressional Budget Office reported that all Americans have enjoyed an increase of post-tax income since 1979. "It's doubtful that most Americans would prefer to revert to the world as it was in 1979," wrote Robert Samuelson, "a world without smartphones, the Internet, most cable television, or laparoscopic surgery," and with the Soviet Union.
The United States is far more heterogeneous than it was 40 years ago. The success of identity politics and "woke capitalism" underscores the difficulty of making the sort of class-based appeals Sanders learned at meetings of the Young People's Socialist League. Americans put their familial, racial, ethnic, and religious attachments ahead of membership in an income or occupational group. Besides, some 70 percent of America considers itself middle class.
One of the reasons the socialist and socialist-curious candidates in the Democratic primary have been arguing against the Electoral College and for expanding the Supreme Court is they understand the challenge the Constitution poses to their dreams. The type of centralization and bureaucratic administration socialism requires is incompatible with a system of federalism, checks and balances, and enumerated powers. Fortunately, structural change is extremely difficult in our vast and squabbling country. It was meant to be.
The self-defeating tendencies toward radicalism and sectarianism are also visible. Expanding government to provide more resources to the poor is popular; eliminating private and employer-based insurance is not. Protecting the environment and reducing carbon emissions is popular; abolishing air travel and declaring war on cows is not. More money for teachers is popular; freezing support for charter schools, as Sanders called for this week, is not. DSA member Doug Henwood writes in the New Republic of a split emerging within the organization between "Bread and Roses" and the "Socialist Majority Caucus." The narcissism of small differences has doomed such movements in the past.
Note also that Sanders has faded in recent weeks after Democratic voters encountered a viable non-socialist alternative in Joe Biden. Ocasio-Cortez's favorability is underwater. Medicare for All polls well with voters in the abstract — when they assume it means simply more of the current Medicare program — but support falls as soon as they hear about the conformity and control it will entail.
The good news is America contains antibodies against socialism. As Seymour Martin Lipset and Gary Marks wrote in 2000, "Features of the United States that Tocqueville, and many others since, have focused on include its relatively high levels of social egalitarianism, economic productivity, and social mobility (particularly into elite strata), alongside the strength of religion, the weakness of the central state, the earlier timing of electoral democracy, ethnic and racial diversity, and the absence of feudal remnants, especially fixed social classes." The title of Lipset and Marks's book is It Didn't Happen Here. And as long as we uphold and defend the political and cultural elements that make America exceptional, it won't.
Andrea Widburg of the American Thinker challenges the notion that Americans are willing to sit back and take whatever government dishes out to them.
… [T]he Antifa and Black Lives Matter insanity we're seeing is a purely leftist phenomenon. This leftism is not just because of the obvious fact that the activists are leftists; it's also because the cities that host their often theatrical violence are leftist too. …

… [A]fter having their spirits battered by the one-two punch of (arguably unnecessary) lockdowns and the leftist attacks on America's Democrat-run cities, Americans are coming back. The latest resurgence of the American spirit took place in Fort Collins, Colorado. …

… On Saturday, hundreds of people attended a "Back the Blue" rally to support their local police. Black-clad people, whose clothes identified them as Antifa, showed up as a counter-protest. Their presence did not sit well with some of the attendees at the pro-police rally.

A video emerged showing a Back the Blue contingent slow-marching the Antifa crowd out of the neighborhood. …

… As the walk continues, the Back the Blues are not violent, but they are angry, accusing the Antifa horde both of being disrespectful to veterans and being communists. Significantly no Back the Blues are making racist comments. Their anger is entirely about their disdain for the counter-protesters' political ideology. …

… Fort Collins isn't the only fighting back going on. The Daily Mail has a big photo spread showing hundreds of people walking through Beverly Hills for a MAGA/#WalkAway rally. As you look at the pictures, you'll see that the crowd is more racially diverse than the average leftist rally. It's also a crowd that's having fun and is peaceful.

People are fed up with the left, they're getting their spirits back, and they're remembering that America standard for one nation, under God, indivisible, with liberty and justice for all.
I think this is a good way to end this article. I couldn't sum it up any better.
Resources
Gretchen Whitmer kidnapping plot
en.wikipedia.org, "Gretchen Whitmer kidnapping plot," By Wikipedia Editors; nypost.com, "Men accused in plot to kidnap Michigan Gov. Whitmer claim FBI set them up," By Mark Moore; thefesderalist.com, "The FBI's Whitmer Kidnapping Case Looks Like A Potemkin Terror Plot," By Max Morton; rt.com, "Undercover FBI informants played key role in plot to kidnap Michigan governor, suspects claim, as they accuse govt of entrapment;" washingtonexaminer.com, "FBI informants had bigger role in Whitmer kidnap plot than thought: report," by Barnini Chakraborty;
Why did the Coroner change the primary cause of death for George Floyd?
spectator.org, "Bombshell Claim: Medical Examiners Bullied Over Floyd's Cause of DeathMinneapolis police officer's defense alleges that medical witnesses were subjected to coercion and retaliation." by GEORGE PARRY; cnn.com, "Heart disease, fentanyl contributed to George Floyd's death but were not main cause, medical examiner says," By Dakin Andone and Aaron Cooper; reuters.com, "Doctor who performed George Floyd autopsy stands by homicide conclusion," By Jonathan Allen; blogs.scientificamerican.com, "George Floyd's Autopsy and the Structural Gaslighting of America: The weaponization of medical language emboldened white supremacy with the authority of the white coat. How will we stop it from happening again?" By Ann Crawford-Roberts, Sonya Shadravan, Jennifer Tsai, Nicolás E. Barceló, Allie Gips, Michael Mensah, Nichole Roxas, Alina Kung, Anna Darby, Naya Misa, Isabella Morton, Alice Shen;
-What is going on with Governor Cuomo?
Thedailywire.com, "The Fall Of Andrew Cuomo: How An Empire Built On Fear Came Crashing Down," By Ben Johnson;
Did Iraq have weapons of mass destruction?
Journalgazette.net, "Fact check: The Iraq war and weapons of mass destruction," By GLENN KESSLERl; en.wikipedia.org, "Iraq and weapons of mass destruction," By Wikipedia Editors; pbs.org, "Saddam Hussein's Weapons of Mass Destruction;" npr.org, "Iraq WMD Timeline: How the Mystery Unraveled;" state.com, "Did Iraq have weapons of mass destruction? It doesn't matter," BY MICHAEL KINSLEY; foxnews.com, "Report: Hundreds of WMDs Found in Iraq;" rense.com, "How Did Iraq Get Its WMD? – We Sold Them To Saddam," By Neil Mackay and Felicity Arbuthnot;
Is the Dignity of Work Being Targeted In the US?
actionnetwork.org, "Pass the Dignity At Work Act;" worth.com, "Aftershocks: The Dignity Of Work," By Jim McCann; weforum.org, "Diversity, Equity and Inclusion have failed. How about Belonging, Dignity and Justice instead?," By Aida Mariam Davis; nypost.com, "Inside the hellish workday of an Amazon warehouse employee," By Eric Spitznagel; reason.com, ""A Forced, Public Confession of Sins … Is a Humiliation … Incompatible with the … Democratic Principles of the Dignity of Man," By Eugene Volokh; theatlantic.com, "WHAT LIBERALS GET WRONG ABOUT WORK: unfettered markets and a rampant culture of meritocracy have eroded the rewards and dignity of work for most Americans. It's time for a new ethic of "contributive justice." By Michael J. Sandel; caroinajournal.com, "Mark Robinson is right to focus on the dignity of work," By Ray Nothstine; businessinsider.com, "The truth behind America's labor shortage is we're not ready to rethink work," By Juliana Kaplan and Ben Winck; newsweek.com, "The Left Has Replaced Social Liberalism with Social Control | Opinion," By ZAID JILANI;
Defunding the Police?
brookings.edu, "What does 'defund the police' mean and does it have merit?" By Rashawn Ray; alcu.org, "Defunding the Police Will Actually Make Us Safer: Policing in this country evolved from slave patrols. It has never been a neutral institution." BY Paige Fernandez; cbsnews.com, ""Defund the police" made headlines. What does it look like now?" By INES NOVACIC; brookings.edu, "7 myths about "defunding the police" debunked," By Howard Henderson and Ben Yisrael; washingtontimes.com, "Minneapolis backtracks on defunding the Police," By Kelly Sadler; courierherald.com, "Defunding the police is a bad idea," By Don C. Brunell; nationalpolicesupportfund.com, "3 Reasons Why Defunding the Police is a Bad Idea;" seattletimes.com, "The movement to defund the police is wrong, and here's why," By Jacqueline B. Helfgott; orlandosentinel.com, "Defunding police risks well-being and safety of everyone | Commentary," By Dennis Warren;
Where do The Criminals Get Their Guns?
pbs.org, "Hot Guns: how criminals get guns, " By Dan Noyes; foxnews.com, "Where do criminals really get their guns?" By Hollie McKay; nationalreview.com, "New Report on Where Criminals Get Their Guns," By ROBERT VERBRUGGEN; tierthreetactical.com, "27 STATISTICS THAT DESCRIBE HOW CRIMINALS USE AND OBTAIN ILLEGAL FIREARMS," By Jake;
Is America Fighting Back?
huntforliberty.com, "America Fighting Back," By Andrew Torba; lewrockwell.com, "Is America Heading For Civil War? Of Course It Is…" By Brandon Smith; visionlaunch.com, "10 Ways To Fight Back Against The Globalists Trying To Enslave Us! There is immense power in our numbers and the globalists seeking to control us know it – which is why they are constantly trying to divide us. We list 10 actions we can all do to fight the coming tyranny planned for America." By Speed The Shift; nationalreview.com, "America's Best Defense Against Socialism," By MATTHEW CONTINETTi; lockerroom.johnlocke.com, "Evidence that Americans are fighting back, figuratively," by Mitch Kokai;
Miscellaneous (Military, Voting, Economy , Religion and etc) Postings
https://common-sense-in-america.com/2020/11/27/dominion-voting-system-exposed/
https://common-sense-in-america.com/2020/11/24/why-doc-holiday-epitomizes-americas-indomitable-spirit/
https://common-sense-in-america.com/2020/11/13/voter-fraud-in-2020-how-will-effect-future-elections/
https://common-sense-in-america.com/2020/11/11/veteran-suicides-where-we-failed/
https://common-sense-in-america.com/2020/10/21/what-happened-to-seal-team-six/
https://common-sense-in-america.com/2020/12/04/what-will-become-of-our-capitalistic-society/
https://common-sense-in-america.com/2020/06/06/voting-in-america-in-the-era-of-the-pandemic/
https://common-sense-in-america.com/2020/10/22/campaign-funding-disparity-between-democrats-and-republicans/
https://common-sense-in-america.com/2020/06/09/why-the-left-socialist-and-communist-hate-religion/
https://common-sense-in-america.com/2020/06/13/campaigning-for-public-office-in-the-age-of-the-coronavirus/
https://common-sense-in-america.com/2020/06/23/restaurants-and-buffets-in-the-age-of-covid/
https://common-sense-in-america.com/2020/10/02/what-does-it-mean-to-be-a-jehovah-witness/
https://common-sense-in-america.com/2020/09/05/are-we-a-nation-of-wimps-why-all-the-counseling/
https://common-sense-in-america.com/2020/07/11/are-their-inequalities-in-salaries-for-movie-stars-based-on-sex/
https://common-sense-in-america.com/2020/07/11/is-the-disparity-in-salaries-based-on-sex-a-thing-of-the-past/
https://common-sense-in-america.com/2020/07/15/has-our-re-opening-been-intentionally-sabotaged/
https://common-sense-in-america.com/2020/08/01/zombie-apocalypse-our-future/
https://common-sense-in-america.com/2020/10/07/president-trump-is-being-accused-of-not-accepting-a-loss-in-the-2020-election/
https://common-sense-in-america.com/2020/09/27/who-controls-the-voting-process/
https://common-sense-in-america.com/2020/09/27/voter-fraud-with-mail-in-ballots-fact-or-fiction/
https://common-sense-in-america.com/2020/09/26/polls-how-accurate-are-they/
https://common-sense-in-america.com/2020/09/09/voting-along-party-lines-is-old-school/
https://common-sense-in-america.com/2020/08/23/what-happens-to-president-trump-if-he-wins-the-election-but-he-loses-the-senate/
https://common-sense-in-america.com/2020/08/06/voting-in-november/
https://common-sense-in-america.com/2020/07/18/can-president-trump-win-again-in-2020/
https://common-sense-in-america.com/2020/07/10/if-you-are-voting-for-biden-consider-psychiatric-help/
https://common-sense-in-america.com/2020/08/05/can-american-win-the-war-for-the-world-market/
https://common-sense-in-america.com/2020/08/13/why-are-an-ever-increasing-number-of-american-citizens-relinquishing-their-citizenship/
https://common-sense-in-america.com/2020/09/09/voting-along-party-lines-is-old-school/
https://common-sense-in-america.com/2020/09/15/ufos-what-is-our-government-not-telling-us/
https://common-sense-in-america.com/2020/09/21/end-of-days/
https://common-sense-in-america.com/2020/09/22/do-we-need-military-bases-in-every-country/
https://common-sense-in-america.com/2020/12/25/navarro-2020-election-report-examined/
https://common-sense-in-america.com/2021/01/01/did-brad-parscale-almost-bankrupt-the-trump-2020-election/
https://common-sense-in-america.com/2021/02/02/what-gives-people-the-right/
https://common-sense-in-america.com/2021/02/04/the-origins-of-the-term-gaslighting/
https://common-sense-in-america.com/2021/03/16/election-reform/
https://common-sense-in-america.com/2021/03/16/voter-fraud-in-2020-revisited/
https://common-sense-in-america.com/2021/03/19/is-the-stock-market-only-for-the-big-boys/
https://common-sense-in-america.com/2021/03/23/the-history-of-unions-in-america/
https://common-sense-in-america.com/2021/03/30/the-chinese-and-mexican-drug-war-with-america/
https://common-sense-in-america.com/2021/04/02/randys-musings/
https://common-sense-in-america.com/2021/04/13/randys-musings-2-0/
https://common-sense-in-america.com/2021/04/23/are-reverse-mortgages-legit/
https://common-sense-in-america.com/2021/04/27/does-tiger-woods-have-a-self-destructive-personality/
https://common-sense-in-america.com/2021/05/03/voter-reform-my-final-words/
https://common-sense-in-america.com/2021/06/18/the-truth-behind-the-humvee-hummer/
https://common-sense-in-america.com/2021/06/22/the-drug-cartels-and-satanic-cults/
https://common-sense-in-america.com/2021/07/13/why-is-hard-currency-disappearing/
https://common-sense-in-america.com/2021/07/20/can-we-win-it-all-back/
https://common-sense-in-america.com/2021/08/06/why-is-america-the-land-of-the-middleman/
https://common-sense-in-america.com/2021/08/17/randys-musing-3-0/