I have written several articles on the coronavirus and on masks and healthcare issues. A series of links have been provided at the bottom of this article for your convenience. This article will, however address a different aspect of the virus or on healthcare issues in general. Links are provided for Dr. Fauci as well.
Table of Contents
-Is the Vaccine Safe?
–Why do reactions to vaccines differ and what do they tell us?
-Scientists say COVID-19 booster shots aren't needed yet—here's why
-Vaccines are highly unlikely to cause side effects long after getting the shot
–COVID Vaccine Mandates Are Coming
-SHAPIRO: When Does The COVID-19 Panic End?
–What is a breakthrough infection? 6 questions answered about catching COVID-19 after vaccination
-People who already had COVID-19 should still get vaccinated, scientists urge
-Why kids are still waiting for their COVID-19 vaccines
-Who qualifies for a coronavirus booster shot? Why it's still unclear.
-Decades-old SARS virus infection triggers potent response to COVID vaccines
-COVID vaccines protect against Delta, but their effectiveness wanes
-Evidence mounts that people with breakthrough infections can spread Delta easily
-What full FDA approval of Pfizer's vaccine means for the course of the pandemic
Is the Vaccine Safe?
I have discussed the subject of vaccines for the coronavirus in brief. I will discuss this subject matter more in depth. I feel this is a good time to do so, since we are getting closer to the roll out of these vaccines. Typically it takes 2 to 3 years for a vaccine to be introduced for a new outbreak, if one comes out at all. We still do not have a vaccine for HIV, though we do have excellent therapeutics out. The diagnosis is no longer a death sentence. The flu vaccine has to be updated yearly due to mutations and new strains of the virus appearing. The coronavirus is an insidious virus, not only is it easily spread, it is quite lethal for certain high risk individuals. I have discussed the cornavirus thoroughly in a previous article on entitled "The Coronavirus Exposed", so I won't rehash that information. President Trump to speed up the creation of the vaccine has set up a task force called Warp Speed. He has authorized large amounts of funds and also has set up the production of the vaccine even before it has been thoroughly tested. As a result several pharmaceutical companies are doing final stages of testing.
While the president does have a lot of power, he is not a super hero like Dr. Strange. He can't make events happen by the power of his mind. The companies that are working on these vaccines are reputable companies. They are being closely monitored by not only the US but the rest of the world as well. They are not going to do anything to jeopardize people's health. Their are countless lawyers waiting for possible lawsuits from this vaccine. These companies know that. I also take exception with the news media, politicians and celebrities casting doubt on the safety of these vaccines, simply for political reasons. They are jeopardizing people's health by doing so. I will get my vaccination shot as soon as it is available. I also get my yearly flu shot. I am an ICU nurse, so my situation is somewhat different. I can't hide from the virus.
To allay these fears, I have included some more information on the development of the vaccine.
A vaccine to prevent coronavirus disease 2019 (COVID-19) is perhaps the best hope for ending the pandemic. Currently, there is no vaccine to prevent infection with the COVID-19 virus, but researchers are racing to create one.
Coronavirus vaccine research
Coronaviruses are a family of viruses that cause illnesses such as the common cold, severe acute respiratory syndrome (SARS) and Middle East respiratory syndrome (MERS). COVID-19 is caused by a virus that's closely related to the one that causes SARS. For this reason, scientists named the new virus SARS-CoV-2.
While vaccine development can take years, researchers aren't starting from scratch to develop a COVID-19 vaccine. Past research on SARS and MERS vaccines has identified potential approaches.
Coronaviruses have a spike-like structure on their surface called an S protein. (The spikes create the corona-like, or crown-like, appearance that gives the viruses their name.) The S protein attaches to the surface of human cells. A vaccine that targets this protein would prevent it from binding to human cells and stop the virus from reproducing.
Coronavirus vaccine challenges
Past research on vaccines for coronaviruses has also identified some challenges to developing a COVID-19 vaccine, including:
Ensuring vaccine safety. Several vaccines for SARS have been tested in animals. Most of the vaccines improved the animals' survival but didn't prevent infection. Some vaccines also caused complications, such as lung damage. A COVID-19 vaccine will need to be thoroughly tested to make sure it's safe for humans.
Providing long-term protection. After infection with coronaviruses, re-infection with the same virus — though usually mild and only happening in a fraction of people — is possible after a period of months or years. An effective COVID-19 vaccine will need to provide people with long-term infection protection.
Protecting older people. People older than age 50 are at higher risk of severe COVID-19. But older people usually don't respond to vaccines as well as younger people. An ideal COVID-19 vaccine would work well for this age group.
Pathways to develop and produce a COVID-19 vaccine
Global health authorities and vaccine developers are currently partnering to support the technology needed to produce vaccines. Some approaches have been used before to create vaccines, but some are still quite new.
Live vaccines
Live vaccines use a weakened (attenuated) form of the germ that causes a disease. This kind of vaccine prompts an immune response without causing disease. The term attenuated means that the vaccine's ability to cause disease has been reduced.
Live vaccines are used to protect against measles, mumps, rubella, smallpox and chickenpox. As a result, the infrastructure is in place to develop these kinds of vaccines.
However, live virus vaccines often need extensive safety testing. Some live viruses can be transmitted to a person who isn't immunized. This is a concern for people who have weakened immune systems.
Inactivated vaccines
Inactivated vaccines use a killed (inactive) version of the germ that causes a disease. This kind of vaccine causes an immune response but not infection. Inactivated vaccines are used to prevent the flu, hepatitis A and rabies.
However, inactivated vaccines may not provide protection that's as strong as that produced by live vaccines. This type of vaccine often requires multiple doses, followed by booster doses, to provide long-term immunity. Producing these types of vaccines might require the handling of large amounts of the infectious virus.
Genetically engineered vaccines
This type of vaccine uses genetically engineered RNA or DNA that has instructions for making copies of the S protein. These copies prompt an immune response to the virus. With this approach, no infectious virus needs to be handled. While genetically engineered vaccines are in the works, none has been licensed for human use.
The vaccine development timeline
The development of vaccines can take years. This is especially true when the vaccines involve new technologies that haven't been tested for safety or adapted to allow for mass production.
Why does it take so long? First, a vaccine is tested in animals to see if it works and if it's safe. This testing must follow strict lab guidelines and generally takes three to six months. The manufacturing of vaccines also must follow quality and safety practices.
Next comes testing in humans. Small phase I clinical trials evaluate the safety of the vaccine in a small group. During phase II, the formulation and doses of the vaccine are established to prove the vaccine's effectiveness in a larger gropu. Finally, during phase III, the safety and efficacy of a vaccine need to be demonstrated in an even larger group of people.
Because of the seriousness of the COVID-19 pandemic, vaccine regulators might fast-track some of these steps. But it's unlikely that a COVID-19 vaccine will become available sooner than six months after clinical trials start. Realistically, a vaccine will take 12 to 18 months or longer to develop and test in human clinical trials. And we don't know yet whether an effective vaccine is possible for this virus.
If a vaccine is approved, it will take time to produce, distribute and administer to the global population. Because people have no immunity to the COVID-19 virus, it's likely that two vaccinations will be needed, three to four weeks apart. People would likely start to achieve immunity to the COVID-19 virus one to two weeks after the second vaccination.
A lot of work remains. Still, the number of pharmaceutical companies, governments and other agencies working on a COVID-19 vaccine is cause for hope.
Biologically, a vaccine against the COVID-19 virus is unlikely to offer complete protection. Logistically, manufacturers will have to make hundreds of millions of doses while relying, perhaps, on technology never before used in vaccines and competing for basic supplies such as glass vials. Then the federal government will have to allocate doses, perhaps through a patchwork of state and local health departments with no existing infrastructure for vaccinating adults at scale. The Centers for Disease Control and Prevention, which has led vaccine distribution efforts in the past, has been strikingly absent in discussions so far—a worrying sign that the leadership failures that have characterized the American pandemic could also hamper this process. To complicate it all, 20 percent of Americans already say they will refuse to get a COVID-19 vaccine, and with another 31 percent unsure, reaching herd immunity could be that much more difficult.
Vaccines are, in essence, a way to activate the immune system without disease. They can be made with weakened viruses, inactivated viruses, the proteins from a virus, a viral protein grafted onto an innocuous virus, or even just the mRNA that encodes a viral protein. Getting exposed to a vaccine is a bit like having survived the disease once, without the drawbacks. A lot remains unknown about the long-term immune response to COVID-19, but, as my colleague Derek Thompson has explained, there are good reasons to believe getting COVID-19 will protect against future infections in some way. Vaccine-induced immunity, though, tends to be weaker than immunity that arises after an infection. Vaccines are typically given as a shot straight into a muscle. Once your body recognizes the foreign invader, it mounts an immune response by, for example, producing long-lasting antibodies that circulate in the blood.
Below I have included as of August 10, the progress of the three leading pharmaceutical companies.
Moderna
Where is it now? The start of Moderna's Phase 3 trial of its mRNA-1273 vaccine was announced just last week. It will involve 30,000 adults at 89 clinical research sites around the country. It is the first Phase 3 trial begun under Operation Warp Speed, according to the National Institutes of Health.Phase 2 was started in May.Trial results: So far, only Phase 1 results have been released. Those early results showed the vaccine brought about an immune response, which is what researchers wanted to see. The higher the dose, the higher the immune response was in the people who got it.How safe is it? More than half of participants had side effects, including fatigue, chills, headache, muscle pain and pain at the injection site. These are considered normal side effects for a vaccine. The higher the dose, the worse the side effects. The Phase 3 trial will use the middle dose.Who is developing it? Moderna, a biotech based in Cambridge, Massachusetts, developed the vaccine with help from the National Institute of Allergy and Infectious Diseases, part of the US National Institutes of Health.
Pfizer
Where is it now? Pfizer has more than one vaccine candidate, being developed together with the German company BioNTech. It has moved into a combined Phase 2/3 trial, also started last week, with one of them, BNT162b2. That's being carried out at about 120 sites worldwide, including 39 US states and Argentina, Brazil and Germany.When will we have it? If the trial is successful, Pfizer and BioNTech have said they are on track to seek regulatory review as early as October. If it gets emergency authorization from the FDA, as many as 100 million doses may be available by the end of the year, and about 1.3 billion by the end of 2021.The US Department of Health and Human Services and Department of Defense last month announced a $1.95 billion agreement with Pfizer to produce 100 million doses of the vaccine. The deal also allows the US government to acquire an additional 500 million doses.Trial results: In the combined Phase 1/2 trial, both vaccines brought about an immune response and produced antibodies, a "double-arm" approach that the companies hope will be more effective and provide longer protection. So far, only one has moved on to more advanced trials. Almost 120 people participated.How safe is it? Preliminary data from the Phase 1/2 trial showed "a favorable overall tolerability profile" for the vaccine, Pfizer said in a news release, "with generally mild to moderate" side effects that lasted one to two days, "such as fever, fatigue and chills and no serious adverse events."
Novavax
Where is it now? Maryland-based biotechNovavax hopes to have its vaccine in Phase 3 trials next month.Trial results: Novavax released data from its Phase 1 trial Tuesday involving 131 participants. After two doses of the vaccine, participants had levels of antibodies that can fight off the virus that were four times higher, on average, than those developed by people who have recovered from Covid-19.The vaccine also brought about a response by immune cells, according to an analysis of 16 randomly selected volunteers.How safe is it? Of the 106 people who got the vaccine, and not a placebo, five had severe side effects, including muscle pain, nausea and joint pain, and one had a mild fever. The side effects lasted two days or less, on average.
A fourth Company has recently come on board,
Janssen Pharmaceutical Company of Johnson and Johnson
A fourth Phase 3 clinical trial evaluating an investigational vaccine for coronavirus disease 2019 (COVID-19) has begun enrolling adult volunteers. The trial is designed to evaluate if the investigational Janssen COVID-19 vaccine (JNJ-78436725) can prevent symptomatic COVID-19 after a single dose regimen. Up to 60,000 volunteers will be enrolled in the trial at up to nearly 215 clinical research sites in the United States and internationally.
The Janssen Pharmaceutical Companies of Johnson & Johnson developed the investigational vaccine (also known as Ad.26.COV2.S) and is leading the clinical trial as regulatory sponsor. Janssen, the National Institute of Allergy and Infectious Diseases (NIAID), part of the National Institutes of Health, and the Biomedical Advanced Research and Development Authority (BARDA), part of the U.S. Department of Health and Human Services' Office of the Assistant Secretary for Preparedness and Response, are funding the trial.
U.S. and international trial sites part of the NIAID-supported COVID-19 Prevention Network (CoVPN) will participate in the trial. The CoVPN is composed of existing NIAID-supported clinical research networks with infectious disease expertise and designed for rapid and thorough evaluation of vaccine candidates and monoclonal antibodies for the prevention of COVID-19.
"Four COVID-19 vaccine candidates are in Phase 3 clinical testing in the United States just over eight months after SARS-CoV-2 was identified. This is an unprecedented feat for the scientific community made possible by decades of progress in vaccine technology and a coordinated, strategic approach across government, industry and academia," said NIAID Director Anthony S. Fauci, M.D. "It is likely that multiple COVID-19 vaccine regimens will be required to meet the global need. The Janssen candidate has showed promise in early-stage testing and may be especially useful in controlling the pandemic if shown to be protective after a single dose."
The Janssen vaccine candidate is a recombinant vector vaccine that uses a human adenovirus to express the SARS-CoV-2 spike protein in cells. Adenoviruses are a group of viruses that cause the common cold. However, the adenovirus vector used in the vaccine candidate has been modified so that it can no longer replicate in humans and cause disease. Janssen uses the same vector in the first dose of its prime-boost vaccine regimen against Ebola virus disease (Ad26.ZEBOV and MVA-BN-Filo) that was recently granted marketing authorization by the European Commission.
Why do reactions to vaccines differ and what do they tell us?
(Updated 7/15/2021)
But not everyone experiences side effects after a COVID-19 vaccine. Some feel fine after both doses. Scientists don't really know why, says Sujan Shresta, an immunologist at the Center for Infectious Disease and Vaccine Research at the La Jolla Institute for Immunology, in California. "But it's not a surprise that each person mounts the immune response differently."
Several factors can contribute to this wide variation. Women, for example, typically have stronger immune reactions than men, which may be part of what makes them more prone to suffering from side effects from the shots.
"We all have our own individualized immune system," says John Wherry, director of the institute for immunology at the University of Pennsylvania, in Philadelphia. "It's almost like our own immune fingerprint that's driven by genetics, gender, diet, our environment, and even our life history, which are the things our immune system has been exposed to in the past and has been trained to respond to over the years."
Even if you don't have an unpleasant reaction, the vaccines are still doing their job, because the real work of the immune system—and of the vaccines—takes place during the second, or adaptive, phase of the immune response. During this phase, the spike protein generated via the vaccine trains the B-cells to produce antibodies that match the virus, and the T-cells to seek-and-destroy infected cells. But it takes days to weeks to provide this long-lasting protection against the virus.
This is also the reason why people often have more rigorous reactions to the second shot. Three weeks after the first shot, the immune system has already been primed, and the B-cells and T-cells are ready to fight. When the second shot is delivered, both the innate and adaptive systems respond.
Still, we don't really know if having a serious response to the vaccines is a measure of the strength of the immune system. We also don't know if it means that someone who doesn't have a strong innate response will be more vulnerable to COVID or more resistant. "We really don't have any data in the field on this—whether a person with strong side effects would have a more severe COVID infection and vice versa," says Wherry.
Women experience more side effects
In a February study that looked at the data from the first 13.7 million COVID-19 vaccine recipients, the Centers for Disease Control and Prevention found that nearly 80 percent of the people reporting reactions were female, even though only 61.2 percent of the injections had been given to women. In a similar vein, the CDC reported that all anaphylactic reactions to the Moderna shot have been in women; 44 of the 47 people who've had these reactions to the Pfizer injection were female.
The majority of people who have experienced the severe blood clotting issues with the J & J vaccine, and also the AstraZeneca vaccine in Europe and the United Kingdom, have been women. "There has been speculation about hormones playing a role—which is always the first culprit that's looked at when you see a major sex difference," says Penn's Wherry.
Several other factors may also contribute to this gender imbalance. Women also seem to have a more robust immune system, both in their innate responses and in their adaptive immune reactions. "Females mount a stronger antibody response than males but it's a double-edged sword because this is why women have more auto immune disease than men," says Shresta of the La Jolla Institute for Immunology.
Other studies have shown that a woman's response to half a dose of the influenza vaccine was the same as men's full dose, so females might not need full doses of the COVID-19 vaccines. "We have this idea that one size fits all, but this may be part of what's contributing to the higher rate of reactions among women," says Rosemary Morgan, a scientist specializing in gender research at the Johns Hopkins Bloomberg School of Public Health. "There is also a behavioral component—women are more likely to visit the doctor and to be more proactive about reporting unpleasant symptoms."
Side effects versus adverse events
"But side effects and adverse events—which often get conflated—are not the same," says Wherry. "Side effects are pretty common—occurring maybe 50 to 70 percent of the time. But adverse events are rare and unexpected, like the clotting disorders."
Immediately after injection, about two to five people per million experience anaphylaxis, a severe allergic reaction that causes a dramatic drop in blood pressure and difficulty breathing. But even this is easily treatable with an EpiPen and antihistamines, which is why everyone is asked to stick around for 15 minutes after their COVID-19 shots.
The blood clots associated with the Johnson & Johnson vaccines, that have occurred within six to 13 days of receiving the shot, can be dangerous and even life threatening. But the incidence is quite low; there are only 23 confirmed cases out of 8.4 million doses of the vaccine.
"This is very rare," says Ofer Levy, director of the precision vaccines program at Boston Children's Hospital and a professor of pediatrics at Harvard Medical School. "The risk of getting COVID and possibly dying is much higher than getting blood clots from the vaccines."
Are we noting all the adverse effects?
There is some worry that there may be other adverse effects that have gone largely unreported.
The three COVID-19 vaccines that have been authorized in the United States have been tested on tens of thousands of people in clinical trials, and manufacturers were required to follow up with at least half the vaccine recipients for two months or more after they received both shots. But now that more than 116 million Americans have been fully vaccinated, rare side effects that don't show up in smaller human clinical trials can emerge—which is why surveillance systems are important.
Here in the U.S., we have a patchwork of systems: the Vaccine Adverse Event Reporting System (VAERS), the Vaccine Safety Datalink, and the CDC's new phone-based tracking program, v-safe.
All of these have limitations, including that "someone has to suspect these health outcomes are related to vaccination and go to the trouble of filling out the form," says Katherine Yih, a biologist and epidemiologist at Harvard Medical School, specializing in infectious diseases, immunization, and vaccine safety monitoring. "We have a vigorous surveillance system in place. But we can't be sure it's picking up everything."
What's more, these incidents only show correlation. In other words, if someone died or had a stroke after getting vaccinated, physicians don't know if it was triggered by the shot. Only further study can reveal that.
The swift identification of the rare blood clotting disorder related to the J & J vaccine was reassuring. Initially, six cases were reported, prompting the FDA and the CDC to temporarily halt its use. When the CDC's Advisory Committee on Immunization Practices met in late April to determine the vaccine's fate, 15 cases had been detected out of seven million people who had the shot. "The discovery of that association with the J & J vaccine—which is very rare—is a real demonstration of how good our safety program is," says the Mayo Clinic's Jacobson." At this point in the pandemic, a risk of less than three per million should not enter into our calculus of how to proceed."
Heart problems after vaccinations are very rare—and often resolve quickly
New CDC data on myocarditis after a second dose of an mRNA vaccine suggests that the benefits still vastly outweigh the risks.
The teenager arrived at the Oregon Health & Science University Hospital in late April with chest pains that had started suddenly. An MRI showed myocarditis: a swelling of the heart muscle. It's something doctors at the Portland hospital see in young people a handful of times a year, says Judith Guzman-Cottrill, a pediatric infectious disease physician.
But the timing caught her attention: Just a few days before his symptoms started, the boy had received his second dose of Pfizer's COVID-19 vaccine. A couple weeks later, Guzman-Cottrill received a call from a colleague in Atlanta who told her about a similar patient with myocarditis that started two days after his second Pfizer shot. The same day, she got news via email of two more such cases in Connecticut.
"Myocarditis in itself is not something so extremely rare that we thought this must be a new illness or new disease," she says. "But when I heard about what was at that point four new cases—all healthy boys who developed chest pain, I thought, this seems almost too much to be coincidence."
As of June 11, the U.S. Centers for Disease Control and Prevention has recorded 323 confirmed cases of myocarditis and pericarditis, a related condition, among people ages 12 to 29, mostly documented within a week after each patient had received one of the mRNA COVID-19 vaccines made by Pfizer-BioNTech and Moderna. That figure, announced this week by the CDC's Advisory Committee on Immunization Practices, revises the previous count to include data from children ages 12 to 15, a group that gained authorization to get the Pfizer vaccine in May.
So far, post-vaccination myocarditis has been most commonly reported among people in their late teens and early 20s, according to the committee's report. The condition is more likely to occur after the second dose, and it happens more often in boys and young men than in girls and women.
Overall, rates of post-vaccination myocarditis and pericarditis are higher than rates normally seen from other causes, Tom Shimabukuro, of the CDC's COVID-19 Vaccine Task Force, said during the June 23 committee meeting announcing the results. But cases are still infrequent, and the vast majority of patients have responded quickly to treatment.
"This is still a rare event," Shimabukuro said. "Reassuringly, the available outcome data indicate that patients recover from symptoms and do well."
What is myocarditis?
When young people develop myocarditis or pericarditis (inflammation of the lining around the heart), the cause is often a viral infection. Enteroviruses such as hand-foot-and-mouth disease are among the most common triggers, and those infections are most common in the summertime, says Jeremy Asnes, chief of pediatric cardiology at the Yale School of Medicine in New Haven, Connecticut. There is also evidence of myocarditis after smallpox vaccination.
To get a handle on the apparent uptick of myocarditis in teenagers back in April, Guzman-Cottrill and colleagues took a detailed look at the experiences of seven healthy boys, ages 14 to 19, who sought care for chest pain in April or May. For all of them, symptoms began within four days after receiving the second dose of the Pfizer-BioNTech COVID-19 vaccine. Testing confirmed myocarditis or pericarditis. All seven recovered quickly, and three received common pain relievers such as ibuprofen as their only treatment, the team reported in a paper this month.
Those findings echoed several other case reports from the U.S. and Israel, which have suggested that post-vaccination myocarditis happens most often in younger people, especially men, says Matthew Oster, a pediatric cardiologist and epidemiologist at Children's Healthcare of Atlanta and a member of the CDC's COVID-19 Vaccine Task Force, who spoke at the ACIP meeting. Across those reports, cases have generally been mild, and recovery tends to be relatively rapid, with hospital discharge in two to four days instead of six, as is common with more traditional cases.
"It seems to disappear more quickly than typical myocarditis," Oster said at the meeting. "I'm optimistic about that."
The new data are consistent with that previous evidence. Of the 323 confirmed cases so far, 309 were hospitalized, Shimabukuro said. Among those, 295 have been discharged and 218 have recovered from all symptoms. Nine remain hospitalized and two are in the ICU. Most reports of myocarditis came within the first few days after vaccination, especially after the second dose. Cases peak in people in their late teens and early 20s and taper off after age 50.
The CDC's numbers are also in line with what doctors report seeing in their own institutions. At his hospital in New Haven, Asnes says, his team has cared for 10 patients with post-vaccination myocarditis under age 21 and about the same number over 21. Stuart Berger, a pediatric cardiologist at the Northwestern University Feinberg School of Medicine in Chicago, says his group has seen six cases of confirmed myocarditis, mostly in boys ages 16 and up. All have been mild and included chest pain that went away quickly.
"This has been the experience that that the CDC has described," says Berger, who is also a spokesperson for the American Academic of Pediatrics. "And it has been the experience that our colleagues and other institutions have described."
Detecting rare side effects
Using data from the Vaccine Adverse Event Reporting System (VAERS), which allows anyone to report any potential issue related to vaccines, and the Vaccine Safety Datalink, which uses electronic health data from nine health care organizations around the country, the ACIP team calculated a rate of 12.6 cases of myocarditis or pericarditis per million within 21 days after the second dose of any mRNA vaccine in people ages 12 to 39.
The CDC continues to investigate reports submitted to VAERS, and Shimabukuro cautioned against focusing too much on the estimated case rate to guide decision-making in clinical settings. But in interviews, experts say the risk appears to be low compared to the number of vaccines administered.
As of June 22, more than three million 16- and 17-year-olds had received at least one dose of a vaccine in the U.S., and more than four million 12- to 15-year-olds had begun vaccination. "That denominator is very reassuring to me," says Guzman-Cottrill, whose 16- and 13-year-olds have been vaccinated, including one with an autoimmune condition.
Rates of myocarditis have not been exploding, she adds, even as vaccine numbers grow. "Our emergency rooms are not filled with teenagers with chest pain."
Link between vaccines and myocarditis
Scientists still don't know how the vaccine might be causing myocarditis. One leading theory, Oster said, involves a cytokine response—the reaction of inflammatory molecules that rally immune cells to fight. That could explain why the condition appears so quickly after vaccination when it happens. Clinical trials have shown elevated rates of side effects such as fever, muscle aches, chills, and fatigue in young people compared with older adults, and those symptoms are caused by inflammation, Guzman-Cottrill says. So, it would make sense for myocarditis to be another inflammatory response at the most severe end.
The mechanism after vaccination is different from what happens in reaction to enteroviruses, Asnes adds. Instead of the direct invasion of a virus into the heart tissue, it's the immune system itself that affects the heart after vaccination.
"There must be some cross-reactivity in some patients between their immune response to the vaccine and their heart muscles," he says.
Facilities have taken different approaches to treating post-vaccination myocarditis, ranging from over-the-counter pain medication to intravenous medications and steroids. More clarity on mechanisms, as well as long-term follow-up studies, should help clarify the best treatment strategies. Further study may also explain why the condition is more common among males and how long recovery should be expected to take. Guzman-Cottrill plans to rescan her seven patients in August, three months after their initial diagnosis.
Given the latest numbers and the still-real risk of severe complications from COVID-19 among young people, including multisystem inflammatory syndrome, experts continue to recommend vaccination for teenagers.
"In the patients in this age group that we saw who were adversely affected by COVID, there were some very severe cases, so I still think that vaccination is appropriate," Asnes says. "Like with any new therapy, we have to keep our eyes open. And that's what we're doing.


The Associated Press recently reported that about 1.3 million people in France made vaccine appointments in one day following new government mandates. President Emmanuel Macron announced that people in France would soon need special passes showing either their vaccination status or negative COVID-19 test results to go to restaurants and malls, or to ride in planes and trains. He also said vaccines would become mandatory for all healthcare workers in the fall.

To many people, these measures will sound draconian. But after an initial surge in vaccinations, the rate slowed down in the summer, so that right now only 41 percent of France's population has been fully vaccinated. That's well below the rate needed for herd immunity at a time when dangerous variants are threatening to extend the pandemic.

We're in a similar pickle in the U.S., where just 48 percent of the population is fully vaccinated and rates for new appointments have also been dropping.

So far, U.S. officials have chosen to use the carrot rather than the stick, with federal and state leaders offering prizes big and small to encourage vaccination. The question on everyone's lips is whether vaccines will become mandatory here, too, though odds are that would happen at the level of states and businesses rather than the feds. Intriguingly, a June survey by the nonprofit Kaiser Family Foundation found that half the respondents think U.S. employers should require their workers to get vaccinated—even though most people don't want their own employer to make shots mandatory.

Underpinning the kerfuffle is the complex tangle of reasons why people remain unvaccinated. According to that Kaiser survey, 53 percent of respondents in the U.S. think the COVID-19 vaccine is too new and are worried about side effects. But the survey also found that workers whose employers offered paid time off to get vaccinated and recover from side effects were much more likely to report getting at least one dose of the vaccine. These results further underscore how much social equity, and not just hesitancy, will play a role in ending the pandemic.
A smaller but still alarming number of people—26 percent—say they are skipping the COVID-19 shot because they don't trust vaccines in general. That's especially troubling when one of the brightest spots of the pandemic has been the rise in mRNA technology. The two mRNA vaccines currently in use continue to prove safe and effective, and that's driving development of mRNA shots for a host of other diseases. Moderna has already started human clinical trials for an mRNA flu vaccine. And as Stacey Colino reports for us, promising clinical trials are underway for mRNA vaccines that can help beat back especially dire forms of cancer, including pancreatic cancer and melanoma.

It's tragic to think that heightened distrust of vaccines stoked during this pandemic might prevent people from taking advantage of future life-saving options. It's equally tragic that people who may want vaccines can't get them because they don't have the necessary support systems. Vaccine mandates may well be in our future in the U.S., and I sincerely hope the people making them take all these factors into account and craft policies that ensure vaccines are seen as safe, reliable, and accessible to all.


More information on vaccines can be found in my two part article entitled "The Coronavirus Exposed. " I discussed more in depth vaccines and other aspects of the virus.
Scientists say COVID-19 booster shots aren't needed yet—here's why
(Update 7/19/2021)
For the fully vaccinated, the Pfizer shot generates an immune response that could last years and is protective against severe disease and death.
The past week has been a wild ride for fully vaccinated Americans seeking clarity on whether they will need COVID-19 booster shots—either now or in the future, particularly as more contagious variants emerge.
On July 8, Pfizer and BioNTech announced they planned to seek emergency authorization for a booster dose of their vaccine, saying that their data shows their vaccine's efficacy is waning and that a booster "may be needed within six to 12 months after full vaccination." Pfizer representatives later met with U.S. officials to press their case for emergency authorization of a third dose.
U.S. regulators, however, have pushed back on Pfizer's claims. In a joint statement, the U.S. Food and Drug Administration and the Centers for Disease Control and Prevention said that Americans who have been fully vaccinated "do not need a booster shot at this time," emphasizing that the vaccines remain highly effective against severe disease and death.
A spokesperson from the Department of Health and Human Services tells National Geographic that regulators are taking all data into consideration—including those from research labs, clinical trials, and pharmaceutical companies like Pfizer. "We appreciate the information they shared, and officials continue to engage in a science-based rigorous process to consider whether, when, or for whom a booster might be necessary."
In fact, contrary to Pfizer's study, new laboratory data has emerged suggesting that the Pfizer vaccine offers protection that could last for years. So what exactly is going on? Here's a look at what the data shows about how long immunity lasts among the fully vaccinated—and what scientists want to know before they recommend giving anyone another dose.
Antibodies aren't everything
First, a quick primer on the body's immune response. It typically has two phases: Innate immunity is the first line of defense, immediately generating a general immune response that can destroy foreign substances or germs. Then the adaptive immune system—which targets specific bacteria and viruses—kicks in to make antibodies to shield against that pathogen in the short and long term.
It does so with the help of T cells and B cells, two types of white blood cells. As E. John Wherry, director of the Institute for Immunology at the University of Pennsylvania, puts it, T cells "are kind of the orchestrators of these complex immune responses." They nurture the B cells, which mature and transform into plasma cells with one mission: "They are antibody factories," Wherry says.
But studies have shown that the levels of neutralizing antibodies generated by the COVID vaccines do decline over time. In its statement last week, Pfizer said that a third dose of its vaccine elicits an antibody response five to 10 times higher than after two doses. Pfizer has not released its data, however; a spokesperson told National Geographic that the company is preparing it for publication.
Wherry says that there's no doubt that the presence of neutralizing antibodies is critically important—but that they're not everything.
Jane O'Halloran, assistant professor of medicine at Washington University School of Medicine in St. Louis, Missouri, agrees, pointing out that scientists expect to see a decline in antibody levels. "If you had high levels of antibodies to every pathogen that you come across, your blood would be sludge," she says.
So it's not about the quantity of the antibodies. It's about their quality—making sure that the antibodies present are actually doing the job and that your body has the tools to quickly create them when they're needed.
Training camps of the immune system
O'Halloran was part of a research team that set out to investigate whether the vaccines are indeed preparing the body to fight COVID-19 over the long haul. In their study, they took samples from lymph nodes—which contain B and T cells—of 14 healthy adults who received the Pfizer vaccine.
When the B and T white blood cells respond to a disease and interact with one another, they create something known as germinal centers—essentially training camps for the immune system. Found in the lymph nodes, the germinal centers are where plasma cells learn how to make antibodies that will be most effective in fighting a pathogen.
The germinal centers also produce memory cells that can stick around for a longer time and help the body mount an immune response if it encounters the virus or bacterium again later in life. Unlike antibodies, memory cells can't "see" a virus until it infects cells in part of the body. When that happens, however, they jump into action and eliminate the infection.
In late June, O'Halloran and her team at the Washington University School of Medicine researchers published their study in the journal Nature showing that germinal centers were still forming in participants for up to 15 weeks after vaccination. Although that might not seem like a long time, O'Halloran says the idea is that those germinal centers "are potentially producing these long-lived memory cells that we need to give long-term immunity." The study's lead author Ali Ellebedy told National Institutes of Health director Francis Collins that the germinal center response is so robust that he believes it could last for years.
"This gives us insight that the body is doing what it's supposed to be doing," O'Halloran says. Wherry, who wasn't involved with the study, agrees. "Now we know for sure that's happening really robustly with these vaccines," he says.
But the study provides a fairly small dataset, particularly when compared to the abundant studies measuring antibody levels. That's because studies like this one are much harder and take longer—meaning fewer researchers have been able to take them on.
"Sometimes the easy bit to measure is not the thing that gives us the best window into what's going on in the body," O'Halloran says.
O'Halloran also points out the study only speaks to the durability of the Pfizer shot. Some observers have extrapolated that Moderna's vaccine may have similar durability since it relies on the same mRNA technology. But for that and the Johnson & Johnson vaccine, O'Halloran says, you'll have to look to how they're performing in the real world.
Reassuring real-world data
Another argument Pfizer has made for booster shots has pointed to real-world data out of Israel showing that the efficacy of its vaccine declines six months after full vaccination. On July 5, Israel's Ministry of Health said that it has observed a "marked decline" in the vaccine's efficacy to 64 percent in preventing both infection and symptomatic illness.
There's also some indication that protections are waning among the immunocompromised, leading Israel to begin administering a third jab to transplant patients. (Here's why COVID-19 vaccines are so complex for immunocompromised people.)
Wherry says that the dramatic decline in efficacy in Israel can be attributed in part to the country's robust COVID-19 testing program. "They test everybody all the time," he says. "They're picking up asymptomatic infections."
He points out that Israel's data shows the vaccine remains 93 percent effective in preventing serious illness and hospitalization. This suggests that, while the vaccines may no longer be producing the robust levels of antibodies that shield people entirely from infection, the long-term memory response is still kicking in and preventing the infection from spreading.
Public health data elsewhere would seem to back that up: Earlier this month, CDC director Rochelle Walensky said that more than 99 percent of the U.S. deaths from COVID-19 in June were among unvaccinated people. O'Halloran says that's really the point of getting vaccinated.
"At no point have the vaccines been said to 100 percent prevent infection," O'Halloran says. "The most important thing is their impact on severe disease and death."
Critically, the Pfizer, Moderna, and Johnson & Johnson vaccines have all been shown to be effective against Delta and other variants of concern. Of course, that could change or new variants could arise that evade the vaccines' protections. But O'Halloran points out that booster shots aren't really the best way to deal with the threat of variants.
"The best way to do that is to get everybody vaccinated once rather than finessing the potential incremental benefit you might from a booster vaccine in one group when you have a whole other group of people who aren't vaccinated at all," O'Halloran says.
What the data doesn't show
While the existing data does offer reassurance that the vaccines remain protective—and booster shots aren't needed—scientists and regulators alike point to the need for more academic studies to untangle exactly how the immune system is responding to the COVID-19 vaccines.
"I think what we're going to see, over the next six months or so, a lot of studies outlining what those other components of the immune response look like in both healthy people and in some of our vulnerable populations," Wherry says. "We really just need a lot more information on multiple layers of the immune response to vaccination."
It's also important to keep an eye on public-health data, particularly the rate of hospitalizations and deaths among vaccinated people. Wherry says that, ideally, states will be able to pinpoint when those who are infected were first vaccinated to help identify when immunity seems to be waning.
The HHS spokesperson says regulators are monitoring all this new data as well. "The administration is prepared for booster doses if and when the science demonstrates that they are needed, and any recommendation by CDC and FDA would come after their thorough review process."
All the same, Wherry says it can't hurt to be prepared for the time when boosters are needed. "Right now you can have confidence that, if you're fully vaccinated, your chances of getting severely ill from COVID are extremely low in the U.S."
Vaccines are highly unlikely to cause side effects long after getting the shot
(Update 7/25/2021)
Science shows that even the most serious side effects for any vaccine, including COVID-19, occur within just a few weeks.
Seven months after the U.S. began administering COVID-19 vaccines, the latest figures from the nonprofit Kaiser Family Foundation's ongoing tracking poll show that 10 percent of adults are still nervous about the vaccine and want to "wait and see" how others fare before rolling up their sleeves. Young adults ages 18 to 29 and Black and Hispanic people are some of the most likely to voice this sentiment.
The main two reasons cited for this hesitancy are that the vaccines are "too new" and that they may trigger unexpected or life-threatening side effects, perhaps even months or years later. It's true that reports of new side effects can sometimes take months to emerge as a vaccine goes from populations of thousands in clinical trials to millions in the real world, encountering natural variations in human responses along the way. But more than a hundred million Americans have already passed that point in their vaccinations and the first participants in the clinical trials are now beyond a year.
So far, incidents of severe side effects for the coronavirus vaccines such as Guillain-Barré Syndrome and heart inflammation are very rare, and they were discovered quickly because they were on official lists of potential problems to watch for. What's more, all these and other side effects appear soon after someone has taken the vaccine, suggesting that people don't need to worry about delayed long-term reactions.
This picture fits with the modern history of vaccinations, which shows that most new immunizations have been incredibly safe, and even the most severe effects have reared their ugly heads right away.
"Side-effects nearly always occur within a couple of weeks of a person being vaccinated," says John Grabenstein, director of scientific communication for the Immunization Action Coalition. He adds that the longest time before a side effect appeared for any type of shot has been six weeks.
"The concerns that something will spring up later with the COVID-19 vaccines are not impossible, but based on what we know, they aren't likely," adds Miles Braun, adjunct professor of medicine at the Georgetown University School of Medicine and the former director of the division of epidemiology at the U.S. Food and Drug Administration.
A key reason for this limited window of side effects is the short time all vaccines stay in the body, says Onyema Ogbuagu, an infectious diseases specialist at Yale Medicine and a principal investigator of the Pfizer-BioNTech COVID-19 vaccine trial. Unlike medicines that people take every day or week, vaccines are generally administered once or a handful of times over a lifetime. The mRNA molecules used in the Pfizer and Moderna vaccines are especially fragile, he notes, so "they are out of your body in a day or so."
The vaccines subsequently get to work stimulating the immune system so it can memorize the virus's blueprint and mount a quick response if it encounters the real thing later. "This process is completed within about six weeks," says Inci Yildirim, a vaccinologist and pediatric infectious diseases specialist at Yale Medicine. That's why serious adverse effects that might be triggered by the process emerge within this time frame, after which everything is put on a shelf in the body's library of known pathogens, Yildirim says.
Historically, vaccine side-effects appear right away
A stroll through vaccine history confirms that even the most damaging side effects have indeed taken place within a six-week window.
After the initial Salk polio vaccine was introduced in 1955, it became clear that some of the first batches inadvertently contained live polio viruses and not the weakened form intended to be in the shot. Within weeks, this mistake resulted in some polio infections and, in a few cases, eventual death. The "Cutter incident," named after the manufacturing labs with the biggest mishaps, prompted more stringent government regulations. Today, polio vaccines are monitored to make sure the virus is completely inactivated in shots given to children.
In 1976, rare cases of the nerve disorder Guillain- Barré Syndrome emerged some two to three weeks after people began receiving an egg-based inactivated flu vaccine against a dangerous strain of H1N1 swine flu. Scientists eventually determined the effect occurred in one to two people per million shots. Guillain- Barré is a treatable disease, but with flu season winding down that year, the vaccination effort was soon abandoned.
This same condition was recently tied to the Johnson & Johnson COVID-19 vaccine, with a hundred preliminary reports after approximately 12.5 million doses were administered, according to the FDA. In these cases, the syndrome emerged some two weeks after vaccination, primarily in men over 50.
In 2008, seven to 10 days after receiving a shot combining the measles, mumps, and rubella vaccine (MMR) with one for chicken pox (varicella), some babies developed febrile seizures. These seizure cases occurred in one child per 2,300 vaccine doses, which is why the Centers for Disease Control and Prevention's Advisory Committee on Immunization Practices currently recommends most children get the two shots separately.
Within weeks of receiving the yellow fever vaccine, a very small number of people develop inflammation of the brain (encephalitis), swelling of the spinal cord covering (meningitis), Guillain-Barré Syndrome, or a multiple-organ system dysfunction called viscerotropic disease. Travelers to places where this fatal disease is endemic are still urged to get the vaccine, although the CDC recommends people over 60 weigh the risks and benefits with their healthcare provider.
The rare exception to adverse events occurring within the six-week timetable is the dengue fever vaccine, Dengavaxia, which the Philippine government approved for use in their children in 2016. When people are infected with the dengue virus, their first bout of this disease is fairly mild. But when they get infected a second time, with a different strain, the reaction can be much more severe and, in some cases, fatal.
As some experts predicted, the vaccine—made from inactivated viruses—acted like a first infection, meaning many kids subsequently bitten by a dengue virus-carrying mosquito fared worse than if they hadn't been inoculated. In 2019, the FDA approved the vaccine, but only for children in dengue-infested U.S. territories who had a laboratory-confirmed prior case of the disease.
So, no vaccine has caused chronic conditions to emerge years or decades later, says Robert Jacobson, medical director of the population health science programat the Mayo Clinic. "Study after study have looked for this with all sorts of vaccines, and have not found it to be the case," he says.
For example, a 2016 meta-analysis examined 23 studies for evidence that common childhood vaccines like MMR or haemophilus influenza B might somehow cause childhood diabetes; it found no connection. To test the concern that vaccinations might bring on autoimmune conditions such as multiple sclerosis in adults, a 2017 review evaluated nine common vaccines, including tetanus, human papillomavirus, and seasonal flu. It found that cases of MS did not rise as a result of widespread vaccine use.
Monitoring for COVID-19 is even more extensive
With COVID-19, regulators have added several extra pairs of eyes to watch for adverse events and report them as quickly as possible.
"For all vaccines there is a phase four," Yildirim says, that involves extensive monitoring after a vaccine completes its phase-three clinical trial and is granted FDA approval. This monitoring primarily happens via the Vaccine Adverse Reporting System (VAERS), where any individual or physician can fill out a form flagging potential side effects. Scientists then evaluate whether any reported effects occur beyond what is generally expected in the population.
Massive computer power is put to use for the second leg of the stool, the Vaccine Safety Datalink. This program is a collaboration between the CDC and nine large healthcare providers, the majority of which are part of the Kaiser Permanente system. One aspect of this program is a rapid cycle analysis, which tracks the records of millions of participants' patients immediately after a new vaccine is administered.
"This analysis is done weekly. If there are signals [of an adverse event] we see it quickly," says Nicola Klein, director of Kaiser Permanente's vaccine study center in Oakland, California, who is leading the analysis for COVID-19. The Datalink program flagged the febrile seizures with the MMRV vaccine, information that was brought to the public within months, Klein says.
New for COVID-19, the CDC developed the V-safe app; once downloaded, vaccine recipients are asked by text messages and web surveys about any adverse events. Other programs involve long-term care facilities and large insurers tasked with flagging issues emerging in their patient populations.
"The breadth of vaccine safety surveillance systems means the limitations of one approach are offset by the strengths of others, making the combination quite robust," says Grabenstein, of the Immunization Action Coalition.
What side effects have been flagged for COVID-19 shots?
Experts begin this robust monitoring process with a ready list of potential side effects. "These conditions are selected based on what was seen in clinical trials (even if they weren't statistically significant there), those caused by the disease itself, and what has appeared in prior vaccines," says Frank DeStefano, director of the CDC's Immunization Safety Office.
For the COVID-19 vaccines, these "events of special interest," which number nearly two dozen, include arthritis, narcolepsy, encephalitis, and stroke.
Also on this list: the blood clotting condition thrombosis. Klein says this was added after the issue emerged with the AstraZeneca vaccine in Europe, since the Johnson & Johnson shot authorized in the U.S. employs a similar adenovirus vector technology. Soon after, regulators saw the effect in a minute number of young women who got the Johnson & Johnson shot, with clots appearing by the second week after their vaccinations.
Guillain-Barré was always on the watch list, since it previously appeared with other vaccines. Similarly, the heart inflammations myocarditis and pericarditis, which have occurred several days after vaccination in a tiny fraction of young men getting the mRNA vaccines, was already on the list.
Of course, experts say they also watch for the unexpected. Grabenstein recalls the time in 2004 when he led a smallpox vaccination effort for the U.S. Army. Several servicemembers quickly developed myocarditis, even though this condition had not appeared during the smallpox inoculation efforts in the 1940s and '50s. "The best explanation is that earlier vaccines were given to infants, while we were inoculating 20-year-olds," he says.
With so many coronavirus vaccines administered in so short a time, it has actually been easier to spot incredibly rare adverse events, Yildirim says. The Johnson & Johnson events were flagged within months of the vaccine's authorization—which shows that the system is working. "We don't like to hear about side effects, but the fact that we hear about them is a good sign because this means they are being identified," she says.
And DeStefano feels confident that severe adverse events shouldn't start appearing for the vaccines authorized late last year. "We have systems looking for delayed effects," he says. "But our experience from other vaccines shows that late-arriving effects from the COVID-19 vaccines are unlikely."
COVID Vaccine Mandates Are Coming
(Updated 7/31/2021)
1. COVID Vaccine Mandates Are Coming On Monday, for the first time, a federal agency, as well as multiple state and private organizations announced they would require proof of vaccination for employees and customers.
Daily Wire's Ian Haworth told Morning Wire, "Historically in the US, vaccine mandates have been very rare on a national level."
Federal Level
On Monday, the U.S. Department of Veterans Affairs (VA) became the first federal agency to require its employees to be vaccinated. The VA secretary said it was taking this "necessary" step to "keep the Veterans it serves safe," and that each employee will have eight weeks to be fully vaccinated.

On Monday, Governor Gavin Newsom's (D-CA) office announced that all state employees and health care workers must show proof of vaccination or get tested often, starting in August. The office cited the "pandemic of the unvaccinated" as a justification.
New York City expanded its vaccine requirement to cover its 340,000 city workers — such as teachers and police officers — in addition to health workers.
There are multiple groups and organizations who are pushing for mandatory vaccinations. More than 50 medical groups, including the American Medical Association have called for all health care workers to be vaccinated, while the San Francisco Bar Owner Alliance announced that the 500 bars it represents will demand that customers show proof of vaccination or a negative test.
What's Driving The Push?
Those pushing vaccine mandates are looking at the spread of the Delta variant and what they see as "stagnating" vaccine rates, and say they are trying to react.
Critics are arguing that mandating COVID-19 vaccines is an unprecedented infringement of Americans' rights, with many pointing out that the vaccine has still yet to be fully approved by the U.S. Food and Drug Administration.
Many Republican leaders acted to preempt this move in recent months. Montana made it illegal to discriminate based on vaccine status, while Alabama prevented schools and universities from requiring vaccines.
Governor Ron DeSantis (R-FL) was one of the first to block vaccine requirements, signing legislation back in May which outlawed vaccine passports. DeSantis was outspoken on this topic in March, also pointing out that mandates have "huge privacy implications."

In March, Desantis said, "We are not going to have you provide proof of this just to be able to live your life normally."

CDC Confusion
The U.S. Centers for Disease Control and Prevention (CDC) reversed their indoor mask policy, saying that fully vaccinated people should now wear masks while indoors in COVID "hot spots."
Federal health officials say that fully vaccinated people could still pose a risk to others.
SHAPIRO: When Does The COVID-19 Panic End?
(Update 8/1/2021)
Two weeks to slow the spread.
That was the original rationale for the lockdowns, masking and social distancing: Prevent transmission of the coronavirus so that Americans could be assured that we would not overwhelm hospital capacity, causing needless death.
Wait until a vaccine is available.
That was the next goal post: an admonition to continue to take precautions to avoid spreading the coronavirus until a vaccine could be developed. Despite the warnings of COVID-19 pessimists that a vaccine would take years to develop, despite the unjustified alarmism of figures like Vice President Kamala Harris that the Trump administration would skew the vaccine protocols to achieve political ends, vaccines were miraculously developed.
Wait until every adult has a chance to get the vaccine.
That was the final rationale for caution. And as states began to tranche out vaccines by the millions, every person above the age of 12 in the United States was given the opportunity to get vaccinated. As of today, over 90% of adults over the age of 65 — the most at-risk population in the United States — have been vaccinated, and more than 70% of all Americans over age 18 have been vaccinated as well.
And yet.
We are told that we are experiencing a massive COVID-19 crisis. We have been told that the vaccinated must mask up again; that the unvaccinated should be barred from public establishments; that children must be masked in school. We have been told that America faces doom and death on a daily basis and that we're seeing a crisis akin to the last wave of the coronavirus in January. We're masking up and checking vaccine cards in Washington, D.C., in San Francisco, in Los Angeles, in New York.
The statistics simply do not bear this out. According to the seven-day rolling average as calculated by The New York Times, fewer than 400 Americans per day are dying of COVID-19; at the height of the pandemic, well over 3,000 were. In Washington, D.C. (total population: 692,000), that number is 0; in San Francisco County (total population: 875,000), that number is 0; in Los Angeles County (total population: 10 million), that number is 9; in New York City (total population: 8.4 million), that number is 3.
The current delta variant spike has resulted in a massive case count, particularly in Florida, but deaths are not following cases — and if the United States follows the pattern of the United Kingdom and the Netherlands, we're likely to see the case count begin to crater in the next few weeks. Those who are vaccinated are not dying of COVID-19; their death rate is minuscule. Those who are unvaccinated have chosen not to vaccinate; they are independent adults capable of determining their own approach to risk and reward.
All of which requires us to ask the question: When are we done?
When are we done telling children to mask up to protect adults who don't want to vaccinate? When are we done telling businesses to close up or bar customers based on vaccination status? When are we done with mask mandates (data suggests that mask mandates are ineffective, even if masking is sometimes useful), with evidence-free social distancing rules (six feet is pure conjecture), with the ever-vacillating, Delphic pronouncements of Dr. Anthony Fauci? We have hit the goal posts; every adult now has the capacity to protect himself. There are no other realistic goal posts: Zero COVID-19 cases was never a realistic goal.
When is the job of government done?
And yet.
Our public health "experts" continue to promote more and more outrageous restrictions. This week, National Institutes of Health Director Francis Collins went so far as to recommend that vaccinated parents mask up in their own homes around their own children. There is no limiting principle to this, no end goal. There is only a bureaucratic and political elite unwilling to treat citizens as adults, recognize their own limitations and leave us all the hell alone.
And if we accept that, we deserve nothing less than subjection to their paternalistic control.
What is a breakthrough infection? 6 questions answered about catching COVID-19 after vaccination
(Update 8/2/2021)
If you've been fully vaccinated against COVID-19, maybe you figured you no longer need to worry about contracting the coronavirus. But along with the rising number of new COVID-19 cases globally and growing concern about highly transmissible strains like the delta variant come reports of fully vaccinated people testing positive for COVID-19.
Members of the New York Yankees, U.S. Olympic gymnast Kara Eaker and U.K. health secretary Sajid Javid are some of those diagnosed with what is called a "breakthrough infection."
As scary as the term may sound, the bottom line is that the existing COVID-19 vaccines are still very good at preventing symptomatic infections, and breakthrough infections happen very rarely. But just how common and how dangerous are they? Here's a guide to what you need to know.
What is 'breakthrough infection?'
No vaccine is 100% effective. Dr. Jonas Salk's polio vaccine was 80%-90% effective in preventing paralytic disease. Even for the gold standard measles vaccine, the efficacy was 94% among a highly vaccinated population during large outbreaks.
Understand new developments in science, health and technology, each week
Get newsletter
Comparably, clinical trials found the mRNA vaccines from Pfizer and Moderna were 94%–95% effective at preventing symptomatic COVID-19 – much more protective than initially hoped.
A quick reminder: A vaccine efficacy of 95% does not mean that the shot protects 95% of people while the other 5% will contract the virus. Vaccine efficacy is a measure of relative risk – you need to compare a group of vaccinated people to a group of unvaccinated people under the same exposure conditions. So consider a three-month study period during which 100 out of 10,000 unvaccinated people got COVID-19. You'd expect five vaccinated people to get sick during that same time. That's 5% of the 100 unvaccinated people who fell ill, not 5% of the whole group of 10,000.
When people get infected after vaccination, scientists call these cases "breakthrough" infections because the virus broke through the protective barrier the vaccine provides.
How common is COVID-19 infection in the fully vaccinated?
Breakthrough infections are a little more frequent than previously expected and are probably increasing because of growing dominance of the delta variant. But infections in vaccinated people are still very rare and usually cause mild or no symptoms.
For instance, 46 U.S. states and territories voluntarily reported 10,262 breakthrough infections to the U.S. Centers for Disease Control and Prevention between Jan. 1 and April 30, 2021. By comparison, there were 11.8 million COVID-19 diagnoses in total during the same period.
Beginning May 1, 2021, the CDC stopped monitoring vaccine breakthrough cases unless they resulted in hospitalization or death. Through July 19, 2021, there were 5,914 patients with COVID-19 vaccine breakthrough infections who were hospitalized or died in the U.S., out of more than 159 million people fully vaccinated nationwide.
One study between Dec. 15, 2020, and March 31, 2021, that included 258,716 veterans who received two doses of the Pfizer or Moderna vaccine, counted 410 who got breakthrough infections – that's 0.16% of the total. Similarly, a study in New York noted 86 cases of COVID-19 breakthrough infections between Feb. 1 and April 30, 2021, among 126,367 people who were fully vaccinated, mostly with mRNA vaccines. This accounts for 1.2% of total COVID-19 cases and 0.07% of the fully vaccinated population.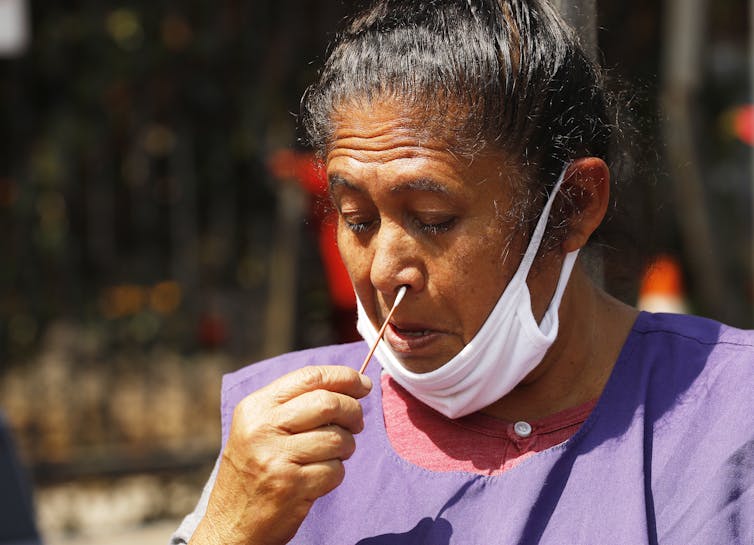 How serious is a COVID-19 breakthrough infection?
The CDC defines a vaccine breakthrough infection as one in which a nasal swab can detect the SARS-CoV-2 RNA or protein more than 14 days after a person has completed the full recommended doses of an FDA-authorized COVID-19 vaccine.
Note that a breakthrough infection doesn't necessarily mean the person feels sick – and in fact, 27% of breakthrough cases reported to the CDC were asymptomatic. Only 10% of the breakthrough-infected people were known to be hospitalized (some for reasons other than COVID-19), and 2% died. For comparison, during the spring of 2020 when vaccines were not yet available, over 6% of confirmed infections were fatal.
In a study at U.S. military treatment facilities, none of the breakthrough infections led to hospitalization. In another study, after just one dose of Pfizer vaccine the vaccinated people who tested positive for COVID-19 had a quarter less virus in their bodies than those who were unvaccinated and tested positive.
What makes a breakthrough infection more likely?
Nationwide, on average more than 5% of COVID-19 tests are coming back positive; in Alabama, Mississippi and Oklahoma, the positivity rate is above 30%. Lots of coronavirus circulating in a community pushes the chance of breakthrough infections higher.
The likelihood is greater in situations of close contact, such as in a cramped working space, party, restaurant or stadium. Breakthrough infections are also more likely among health care workers who are in frequent contact with infected patients.
For reasons that are unclear, nationwide CDC data found that women account for 63% of breakthrough infections. Some smaller studies identified women as the majority of breakthrough cases as well.
Vaccines trigger a less robust immune response among older people, and the chances of a breakthrough infection get higher with increasing age. Among the breakthrough cases tracked by the CDC, 75% occurred in patients age 65 and older.
Being immunocompromised or having underlying conditions such as high blood pressure, diabetes, heart disease, chronic kidney and lung diseases and cancer increase the chances of breakthrough infections and can lead to severe COVID-19. For example, fully vaccinated organ transplant recipients were 82 times more likely to get a breakthrough infection and had a 485-fold higher risk of hospitalization and death after a breakthrough infection compared with the vaccinated general population in one study.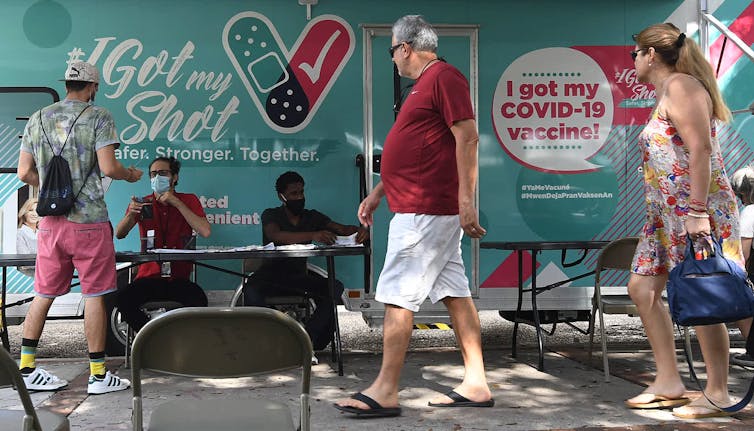 How do variants like delta change things?
Researchers developed today's vaccines to ward off earlier strains of the SARS-CoV-2 virus. Since then new variants have emerged, many of which are better at dodging the antibodies produced by the currently authorized vaccines. While existing vaccines are still very effective against these variants for preventing hospitalization, they are less effective than against previous variants.
Two doses of the mRNA vaccines were only 79% effective at preventing symptomatic disease with delta, compared with 89% effective in the case of the earlier alpha variant, according to Public Health England. A single dose was only 35% protective against delta.
About 12.5% of the 229,218 delta variant cases across England through July 19 were among fully vaccinated people.
Israel, with high vaccination rates, has reported that full vaccination with the Pfizer vaccine might be only 39%-40.5% effective at preventing delta variant infections of any severity, down from early estimates of 90%. Israel's findings suggest that within six months, COVID-19 vaccines' efficacy at preventing infection and symptomatic disease declines. The good news, though, is that the vaccine is still highly effective at protecting against hospitalization (88%) and severe illness (91.4%) caused by the now-dominant delta variant.
So how well are vaccines holding up?
As of the end of July 2021, 49.1% of the U.S. population, or just over 163 million people, are fully vaccinated. Nearly 90% of Americans over the age of 65 have received at least one dose of a vaccine.
Scientists' models suggest that vaccination may have saved approximately 279,000 lives in the U.S. and prevented up to 1.25 million hospitalizations by the end of June 2021. Similarly, in England about 30,300 deaths, 46,300 hospitalizations and 8.15 million infections may have been prevented by COVID-19 vaccines. In Israel, the high vaccination rate is thought to have caused a 77% drop in cases and a 68% drop in hospitalizations from that nation's pandemic peak.
Across the U.S., only 150 out of more than 18,000 deaths due to COVID-19 in May were of people who had been fully vaccinated. That means nearly all COVID-19 deaths in U.S. are among those who remain unvaccinated.
The U.S. is becoming "almost like two Americas," as Anthony Fauci put it, divided between the vaccinated and the unvaccinated. Those who have not been fully vaccinated against COVID-19 remain at risk from the coronavirus that has so far killed more than 600,000 people in the U.S.
People who already had COVID-19 should still get vaccinated, scientists urge
(Update 8/5/2021)
Vaccines boost natural immune responses and have an amazing track record of preventing serious illness and death.
As the U.S. grapples with its troubled vaccine rollout, an alarming increase in coronavirus cases across the nation has resurfaced a long-simmering question: Do people who've already had COVID-19 need to be vaccinated?
Natural immunity is a powerful force against certain diseases, such as chickenpox and measles. Surviving a natural measles infection can yield immunity that is comparable—or in some cases, superior—to vaccination, says Ruth Karron, a pediatrician and professor at the Johns Hopkins Bloomberg School of Public Health in Baltimore.
But first, of course, the patient has to survive.
It's also not yet crystal clear whether immunity from contracting COVID-19 is as powerful as the protection of a vaccine. What is evident is that the available vaccines mount crucial defenses against severe disease and death—even against more contagious variants such as Delta. And research shows that even a single dose of an mRNA vaccine from Moderna or Pfizer-BioNTech boosts immunity for people who've had the disease.
"I would recommend to anyone who hasn't been vaccinated to go ahead and get vaccinated as soon as they can," says Allison Greaney, a researcher at Fred Hutchinson Cancer Research Center in Seattle, adding that the vaccines "protect us so well against a very dangerous virus."
More robust antibodies
At Fred Hutchinson, graduate student Greaney led a research team that published a recent study suggesting vaccines give people an important edge over natural immunity. The team looked at the antibodies of people who had recovered from COVID-19, as well as people who'd received two doses of the Moderna mRNA vaccine as part of the company's phase one trial.
The researchers found that both groups generated antibodies that targeted the receptor binding domain, or RBD. As its name suggests, this part of the SARS-COV-2 virus helps it stick to and ultimately gain entry to human cells, causing an infection. If antibodies attach to the RBD instead, they can neutralize the virus.
The research revealed that the antibodies of recovered COVID-19 patients stuck mostly to an area of the RBD that includes the site E484—a portion of the virus that has mutated in some variants. By contrast, the antibodies in vaccinated people bound more broadly across the domain, allowing them to target areas that are still present in some variants, including Beta, Gamma, and Delta.
SARS-COV-2 takes "great pains" to mask its RBD, using molecular trickery to make the region hard for antibodies to find, because it's the most vulnerable part of the virus, says Amy Hartman, an associate professor of infectious disease and microbiology at the University of Pittsburgh. But mRNA vaccines are built to target the RBD and send potent antibodies to it. And the new findings suggest that immunity from mRNA vaccines "seems to be more robust than natural immunity in many cases," Greaney says.
Researchers already knew that COVID-19 vaccines "reliably induce antibody levels" that are as high or even higher than those of people who have recovered from severe cases of coronavirus, says Karron, who was not part of the new study. This Fred Hutchinson team's work shows that vaccination "gives us both more antibodies and better antibodies," she adds. "It's a quantity and quality issue."
So, why the debate?
Other research, however, makes the case that natural immunity to COVID-19 might be robust. A team of researchers evaluated 254 people up to eight months after they had recovered from COVID-19 and found they had "durable, broad-based immune responses." That was true even for those who had suffered only mild disease, according to their study, which was published last month.
Scientists know that other diseases can confer lasting natural immunity. After a single chickenpox infection, a person will likely have life-long immunity against the itchy and sometimes-deadly disease. To get the same long-lasting immunity from a vaccine, that person would need two shots, given years apart.
But before chickenpox vaccines were developed, about 10,000 U.S. children and adults were hospitalized each year with the disease, with symptoms including lung and blood infections.
For SARS-CoV-2, "I can't make the case that [vaccination or natural immunity] is necessarily better than the other based on any knowledge that I actually possess about this particular virus," says Charlotte Cunningham-Rundles, the David S. Gottesman Professor of Immunology at the Mount Sinai School of Medicine.
But she hastens to add: "I don't think anyone's collected enough data to say that somebody who's had this virus on their own does not need to get vaccinated."
Karron also notes that one of the "great unsolved mysteries" of SARS-CoV-2 is why some people have asymptomatic or mild disease, while others are afflicted with severe infections. In the same vein, scientists are still struggling to understand when and why certain people will develop stronger immune responses than others.
For instance, says Hartman, studies have shown that some recovered patients can mount effective defenses against COVID-19, but antibody levels dropped rapidly in others who were infected. Scientists are still gathering data and racing to answer this key question and others, such as how long immunity lasts from vaccines or from natural infection.
With vaccination, most people are all but guaranteed to have a strong immune response—and that includes people who've already contracted COVID-19. Multiple studies have shown that even a single dose of an mRNA vaccine boosts antibody levels in recovered patients, giving them the same peak response that two shots afford people who haven't had the disease.
Today, more than 97 percent of people hospitalized for COVID-19 in the U.S. are unvaccinated. And while a small percentage of vaccinated people have been infected with the virus, their cases are overwhelmingly mild. On Monday, U.S. Senator Lindsey Graham, who was vaccinated in December, announced that he had tested positive for COVID-19 after experiencing only mild symptoms. "I am very glad I was vaccinated," the South Carolina Republican said in a statement, "because without vaccination, I am certain I would not feel as well as I do now. My symptoms would be far worse."
The CDC reports 0.0018 percent of COVID-19 deaths from December 14, 2020, to July 19 were among the vaccinated. And that, experts say, is proof the vaccines work.
"For many pathogens, we're a bit humble," Karron says. For some diseases, such as HIV or malaria, "you don't want to get infected at all," she says. "But for a lot of pathogens—and especially for things like respiratory pathogens, like COVID-19—our goals are a little more modest. Our goal is really to prevent severe disease and death."
Why kids are still waiting for their COVID-19 vaccines
(Updates 8/8/2021)
The FDA has asked companies to expand clinical trials in children ages 5 to 11 after reports of rare side effects in young adults. But as the more transmissible Delta variant drives a fourth surge, parents are getting anxious.
Millions of parents across the nation are facing a stressful dilemma in the coming weeks: whether to send their children back to school for in-person instruction as the highly transmissible Delta variant surges across the country.
There were 93,824 new cases among U.S. children recorded the week of August 5, according to the American Academy of Pediatrics, a 30 percent increase from the previous week and the highest since February. Hospitalizations are also rising among those under the age of 17.
But even though cases are rising, it's not clear whether this means that kids are more susceptible to Delta than previous strains. Infections are surging among all those who remain unvaccinated—which includes all children under 12, who are not yet eligible for the vaccine.
Although kids 12 and older became eligible for Pfizer's vaccine in May, it's not clear when younger kids will be able to get their shot. Despite initial hopes that the vaccines would be available in early fall, experts now believe that the U.S. Food and Drug Administration is not likely to grant that authorization until late November. (Here's the latest on COVID-19 vaccines.)
That has led many parents to ask what's taking so long—and whether it's possible to speed things up. But Joseph Domachowske, professor of pediatrics at State University of New York (SUNY) Upstate Medical University in Syracuse, points out that for every parent asking why the FDA isn't moving faster, there are others asking, "Why are you going so fast?"
COVID-19 vaccines have been developed and authorized among adults in record-shattering time. But even as the Delta variant injects new urgency to get jabs in arms, experts say it's equally critical to ensure the vaccines are safe and have the appropriate dose for kids. Balancing those two objectives is incredibly tricky—and necessary.
The challenges of testing vaccines in kids
Children are not just tiny grown-ups—and their immune systems work differently, too. While kids are still maturing, their immune systems are unpredictable. They might mount a different immune response to the COVID-19 vaccines, and they could have side effects that aren't seen in adults.
"They might respond better or worse," James Campbell, professor of pediatrics at the University of Maryland School of Medicine's Center for Vaccine Development and Global Health, told National Geographic earlier this year. "Until you do the study with the vaccine, you don't know what will happen."
Typically, however, new drugs and vaccines are tested in healthy adults before launching clinical trials among riskier populations like kids and pregnant women. (Here's why kids need their own COVID-19 vaccine trials.)
Adolescents are a different story. By September 2020, Pfizer had accumulated enough safety data in its clinical trials to expand them to include teenagers as young as 16. In October, the company expanded its trials to include kids as young as 12.
"[With teenagers] you pretty much were confident that you had the dosing," says Paul Offit, director of the Vaccine Education Center at the Children's Hospital of Philadelphia. "So that was easy. It's not so easy when you go down to five or six years of age."
Figuring out the right dose to give kids requires additional study. First, researchers test a low dose of the vaccine in an older group—say, kids ages five to 11—to determine its safety. Then they give a higher dose to see if the vaccine remained safe and elicited an immune response comparable to a healthy adult. Then they test it among increasingly younger age groups.
A slow start—and quick acceleration
Still, some scientists were disappointed last fall when those trials were slow to materialize. Even though the FDA had granted emergency use authorization to Pfizer and Moderna's vaccines in December, the companies didn't launch their clinical trials among kids ages 11 and younger until March.
"It didn't seem from early on that these trials in kids were happening with the same urgency that they were with adults," says Sean O'Leary, a professor at the University of Colorado and vice chair of the American Academy of Pediatricians Committee on Infectious Diseases.
Once the trials got underway, however, they moved quickly. Completed within two months, the first phase of Pfizer's clinical trials demonstrated that the vaccine was safe and effective in a small group of 144 children. In June, Pfizer launched its combined phase two and three clinical trials to assess the efficacy of the vaccines among up to 4,500 children ages six months to 11 years.
"I've never seen anything like it," says Domachowske, who is supervising the Pfizer-BioNTech pediatric trials at SUNY Upstate Medical University. "If we could run clinical trials like this all the time, we would improve public health in an astonishing way."
At the time, Pfizer said it expected to submit data to the FDA in September for emergency authorization of its vaccine for the oldest group in its trials, kids ages five to 11. Data for the younger age groups were to be expected in the subsequent weeks and months. Moderna, meanwhile, filed for emergency use authorization to use its vaccine among adolescents in June.
Side effects cause delays
But around that same time, reports arose of rare cases of heart inflammation among young adults and teens who had received the mRNA vaccines. Most of these cases were reported among males between the ages of 18 and 24. (Heart problems after vaccinations are very rare—and often resolve quickly.)
At an FDA advisory committee meeting in June, scientists debated how to balance the risk of this new side effect with the decision to authorize the vaccines among younger children. Given that kids are at a lower risk of severe disease, some argued that it would be better to conduct further study. Others argued that the vaccines were needed sooner rather than later.
Ultimately, in late June the FDA added a warning label to the vaccines and updated the consent form that's used to enroll new clinical trial participants. Domachowske says that although it was just a small adjustment, it stalled his trial for three or four weeks.
Then, in late July, federal regulators asked Pfizer and Moderna to expand their clinical trials to include up to several thousand more children in the 5-to-11-year-old age group and provide four to six months of safety data rather than just two. Sources told the New York Times that this was a precautionary measure to allow researchers to detect rare side effects like heart inflammation. Moderna has said it will expand its trial; a spokesperson for Pfizer says it has not updated its trial at this point.
Not all scientists agree with that approach. On August 5, the American Academy of Pediatrics (AAP) sent a letter to the FDA urging it "to continue working aggressively towards authorizing safe and effective COVID-19 vaccines for children under age 12 as soon as possible" —and to consider authorizing the vaccines for children ages 5 to 11 based on the data from the initial cohort.
Offit says it's unclear why the FDA requested additional months of safety data given that all safety issues so far have been seen within six weeks of a dose. A few thousand additional participants would also still be far too few to detect an extremely rare side effect. Still, he notes that he's not privy to the FDA's data. "Maybe they're seeing something that worries them," he says. "Maybe they're not seeing enough disease in the studies so that they can actually make statements about efficacy. I don't know."
Ultimately, Domachowske says, researchers need more time. "We don't know yet that we're using the right dose at the right time at the right age," he says. "We're getting closer. But rushing this is not a wise decision."
What happens next?
O'Leary says the request to enroll new participants in the vaccine trials may be frustrating and will certainly cause delays—but it might not necessarily take all that long. Parents who weren't able to get their kids into the vaccine trials in the spring now have another chance.
Meanwhile, Pfizer says it expects to have the data to support its application for emergency use authorization among kids ages five to 11 by the end of September. Moderna told ABC News that it expects to seek emergency use authorization by the end of 2021 or early 2022.
But it's anyone's guess when authorization may finally come through. Domachowske, whose Pfizer trial is just now collecting data from participants who are one month past their second dose, says he doesn't expect authorization before Thanksgiving.
"We're talking about sometime after Labor Day to have all of the data crunched," he says. Then, he says, Pfizer will need at least a month to put together the request for emergency use authorization and the FDA will need a month or two to review it.
In the meantime, experts say we already have a powerful pathway to protecting kids from the Delta variant: vaccinating more adults.
"If everyone who was eligible to be vaccinated got vaccinated, we wouldn't be seeing this surge," O'Leary says. "That's tragic but it's not too late. The more people that can be vaccinated right now, the better off our children will be."
Who qualifies for a coronavirus booster shot? Why it's still unclear.
(Update 8/12/2021)
While people with immune-compromising conditions rejoice over the FDA decision, may questions remain unanswered.
"Finally!" exclaimed Margaret Collins, a 43-year-old geologist from Fort Worth, Texas, in response to the news that the U.S. Food and Drug Administration has authorized the use of booster vaccine doses for some people with weakened immune systems.
The Pfizer-BioNTech and Moderna COVID-19 vaccines normally require two doses to elicit full immunity. But this week the FDA updated its authorization for both shots based on mounting evidence that a third dose could significantly increase protection for certain immunocompromised people, who have been showing a decreased response to these vaccines.
Collins had received both doses of the Moderna vaccine but recently learned that she has virtually no antibodies against the SARS-CoV-2 virus. She tried to get a third dose at a local pharmacy, but the pharmacist told her they couldn't administer it under the original FDA authorization. After hearing about the revised authorization late Thursday night, she immediately made an appointment for Friday.
"FDA authorization of a booster for immunocompromised people is wonderful news for the millions of immunocompromised people in the United States who have spent the last several months knowing that they had a suboptimal response to the vaccine and desperately waiting for some opportunity to improve their immune response," says Dorry Segev, a transplant surgeon and researcher at Johns Hopkins Medicine. Segev published the earliest studies on vaccine-induced immune response in transplant recipients.
After initially calling for a moratorium on all COVID-19 booster shots until more people across the world had gotten vaccinated, the World Health Organization clarified its guidance a week later regarding when boosters might be justified, including inadequate protection in certain risk groups. For those who lack fully functioning immune systems, such as transplant recipients, a booster shot might mean the difference between remaining bunkered down at home and being able to venture a bit more into the world again.
"You're dealing with a transplant community that has faced death and survived," says Valen Keefer, a 38-year-old patient advocate in Auburn, California, who received a donated kidney 19 years ago and a liver three years ago. "For me personally, I don't want to do anything to compromise or risk my health. But then you have the other side, that you want to live life to the fullest."
That tension has been exacerbated by people who refuse to wear masks or haven't had the vaccine yet, says Keefer, spurring some people to seek a booster even before the FDA changed its authorization.
"Our community has been so desperate that they've been lying about it and going to get a third booster shot because some people that have no antibody response may have jobs out in the public and can't be as careful. So now, you have people that haven't even gotten one dose, and you have us begging for a third dose just to protect ourselves."
A third dose is safe
Several recent studies have shown that a third mRNA vaccine dose is safe to administer to solid organ transplant donors and can increase antibodies in some patients who responded poorly to the first two doses of the mRNA vaccines.
Segev published a case series in June that found a third of fully vaccinated transplant recipients with no antibodies had responded to a third dose, and all those with low levels developed strong antibody responses afterward. A subsequent pair of larger French studies confirmed the safety of a third dose and its ability to substantially boost antibody levels in those with weak or no response to two doses.
The most recent study, published in the New England Journal of Medicine one day before the FDA's decision, is the only randomized controlled trial of a third dose in organ transplant recipients. It found a significantly greater immune response in the study group that received a third dose and concluded that the dose is "safe when risk versus benefit was considered."
"These studies showed that the third booster is effective in inducing a good antibody response in this population—but still not to the same level expected in otherwise normal individuals—and hopefully this will be the case for other immune-compromised patients," says Mounzer Agha, director of the Mario Lemieux Center for Blood Cancers at University of Pittsburgh Medical Center.
The next step will be conducting studies to determine the best timing for a third dose and "how to help those who fail to respond to the third vaccine dose," he says.
All immunocompromised people are not the same
The FDA's authorization now allows for an extra dose in "certain immunocompromised individuals, specifically, solid organ transplant recipients or those who are diagnosed with conditions that are considered to have an equivalent level of immunocompromise." That might include people with certain blood cancers or those taking medications such as rituximab, which deplete B cells—the body's antibody factories.
But the "devil is in the details," says Peter Martin, a hematologist and oncologist at Weill Cornell Medicine in New York City. "The definition of immunocompromised is vague," and people in this population vary based on their condition and how much their immune system is suppressed.
"There are probably some people who will not benefit from any number of additional doses, there are some people who might need extra doses to augment their immune response, and there are some people, such as cancer patients, who were transiently immune suppressed when they received their vaccine and are likely now nearly normal and would clearly benefit from an additional dose," he said. "There is probably another group of people who are mildly immune compromised but responded to the vaccine and probably don't really need a vaccine. This group with the transient immune compromise clearly has the most to gain."
Now that the FDA has made its announcement, Emily Blumberg, director of Transplant Infectious Diseases at Penn Medicine in Philadelphia, hopes for more specific guidance from the U.S. Centers for Disease Control and Prevention. The CDC's Advisory Committee on Immunization Practices meets on August 13 to make its recommendation for whom among the wider group of immunocompromised people should receive a third dose.
"I think that interpretation is going to be very difficult, especially because the levels of evidence vary so widely depending on the population," Blumberg says.
Alfred Kim, a rheumatologist at the Washington University School of Medicine, also hopes the CDC will clarify the guidance regarding which vaccine brands to use for extra doses. The new authorization only applies to Pfizer-BioNTech and Moderna, leaving no guidance for immune-compromised people who may have received the Johnson & Johnson vaccine.
Paul Offit, director of the Vaccine Education Center and an infectious disease pediatrician at Children's Hospital of Philadelphia, echoed concerns about grouping all immunocompromised people under one umbrella and pointed out another key question about administering third doses in practice.
"You would like to have some advice on how to manipulate their therapy," Offit says. For instance, "if you're getting methotrexate for your rheumatoid arthritis, would it be reasonable when you give a booster dose of vaccine to withhold the methotrexate? If so, for how long?" That kind of guidance could be essential to improving patients' immune response to the vaccine. "What I fear is going to happen is we're just going to get a blanket recommendation."
Offit has previously served on ACIP and currently serves on the Vaccines and Related Biological Products Advisory Committee (VRBPAC), a group of independent experts outside the FDA that reviews evidence and makes recommendations to the agency regarding authorizations and approvals. But the FDA did not consult VRBPAC on this decision, Offit says.
Segev has just begun an study that will eventually address the question of whether it's safe and effective to temporarily reduce patients' immunosuppressive therapy before they get a third dose. He also hopes to gather more safety data regarding which patients might benefit most from a third dose.
"There are some situations where this will be a very easy decision, and there are some situations where this will be a little bit trickier of a decision," Segev says. For his transplant patients, Segev says there could be a risk that the transplanted organ is rejected because of the immune activation after a booster dose.
"That's why we're studying transplant patients very carefully." But with many other immune-compromised populations, the third dose will be as safe as the second dose, he adds. "Then, really the question is, does the person need it? And I hope that people work with their doctors to figure that out."
Decades-old SARS virus infection triggers potent response to COVID vaccines
Dramatic antibody production in people infected during the 2002–04 outbreak furthers hopes of a vaccine against many coronaviruses.
(Update 8/19/2021)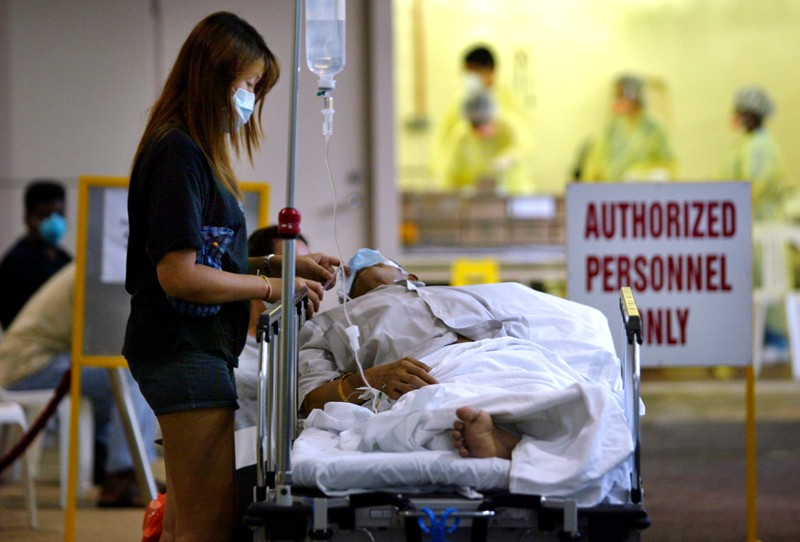 People who were infected almost two decades ago with the virus that causes severe acute respiratory syndrome (SARS) generate a powerful antibody response after being vaccinated against COVID-19. Their immune systems can fight off multiple SARS-CoV-2 variants, as well as related coronaviruses found in bats and pangolins.
The Singapore-based authors of a small study published today in The New England Journal of Medicine1 say the results offer hope that vaccines can be developed to protect against all new SARS-CoV-2 variants, as well as other coronaviruses that have the potential to cause future pandemics.This 'super antibody' for COVID fights off multiple coronaviruses
The study is a "proof of concept that a pan-coronavirus vaccine in humans is possible", says David Martinez, a viral immunologist at the University of North Carolina at Chapel Hill. "It's a really unique and cool study, with the caveat that it didn't include many patients."
SARS-CoV-2 belongs to the sarbecovirus group of coronaviruses, which includes the virus that caused SARS (called SARS-CoV), as well as closely related bat and pangolin coronaviruses.
Sarbecoviruses use what are known as spike proteins to bind to ACE2 receptors in the membranes of host cells and enter them. They can jump from animals to humans, as they did before in both the current pandemic and the 2002–04 outbreak of SARS, which spread to 29 countries. "The fact that this has happened twice in the last two decades is strong rationale that this is a group of viruses that we really need to pay attention to," says Martinez.
Neutralizing antibodies
Last year, Linfa Wang, a virologist at Duke–NUS Medical School in Singapore who led the latest study, went looking for people who had survived SARS to see whether they offered any clues about how to develop vaccines and drugs for COVID-19. He detected 'neutralizing' antibodies in their blood that blocked the original SARS virus from entering cells, but did not affect SARS-CoV-2 — which he found surprising, because the viruses are closely related.
But when Singapore rolled out the Pfizer–BioNTech COVID-19 vaccine this year, Wang decided to interrogate how the SARS infection affected responses to the vaccine. What he discovered was striking. Eight vaccinated study participants, who had recovered from SARS almost two decades ago, produced very high levels of neutralizing antibodies against both viruses, even after just one dose of the vaccine.Variant-proof vaccines — invest now for the next pandemic
They also produced a broad spectrum of neutralizing antibodies against three SARS-CoV-2 variants of concern in the current pandemic — Alpha, Beta and Delta — and five bat and pangolin sarbecoviruses. No such potent and wide-ranging antibody response was observed in blood samples taken from fully vaccinated individuals, even those who had also had COVID-19.
The researchers suggest that such broad protection could arise because the vaccine jogs the immune system's 'memory' of regions of the SARS virus that are also present in SARS-CoV-2, and possibly many other sarbecoviruses.
Coronaviruses found in bats have the potential to cause future pandemics, so the fact that a broad spectrum of neutralizing antibodies is generated that protects against some of them "is encouraging", says Daniel Lingwood, an immunologist at the Ragon Institute of MGH, MIT and Harvard in Boston, Massachusetts. But researchers say it is not clear how long this protection lasts.
A vaccine that is widely effective against sarbecoviruses could be administered to the general population in high-risk areas close to animals that harbour them, limiting the potential spread of these viruses in people, adds Christopher Barnes, a structural biologist at Stanford University in California.
Which part of the virus
Barton Haynes, an immunologist at Duke University School of Medicine in Durham, North Carolina, says the study raises the question of whether a similar response could be generated if people vaccinated against COVID-19 were given a booster shot that targeted the original SARS virus. This might protect them against new variants of SARS-CoV-2 and other sarbecoviruses. Wang says preliminary studies in mice suggest that is possible.
But the latest study doesn't identify exactly which sections of the viruses induce the broad immune response, something that would be needed to develop vaccines. That's the "biggest question", says Martinez. If it is a region of the virus that is present not just in sarbecoviruses, but in the entire group of coronaviruses, there is potential for creating a vaccine against all of them, he says.Rare COVID reactions might hold key to variant-proof vaccines
Several research groups have identified specific antibodies that prevent SARS-CoV-2 and other sarbecoviruses from spreading in cells. Others are already working on pan-coronavirus vaccines, and have synthesized components that induce strong protection in monkeys and mice.
Haynes and his colleagues, for example, have developed2 a protein nanoparticle studded with 24 pieces of a section of the SARS-CoV-2 spike protein called the receptor binding domain, a key target of antibodies. They found that in monkeys, the nanoparticle induced much higher levels of antibodies against SARS-CoV-2 than did the Pfizer vaccine. It also induced cross-reactive antibodies against the original SARS virus and bat and pangolin sarbecoviruses.
Martinez and his colleagues have induced these widely reactive antibodies in mice, using a vaccine made from a combination of spike proteins from different coronaviruses3. But Martinez says the latest study suggests that this complex spike chimaera might not be necessary; a similar protective response could be induced simply by the original SARS virus's spike protein.
Wang says he is already working on potential vaccines that target multiple sarbecoviruses, and he now hopes to find additional survivors of the 2002–04 SARS outbreak to conduct a much larger study, including testing their responses to other COVID-19 vaccines.
COVID vaccines protect against Delta, but their effectiveness wanes
Massive UK study of COVID-19 cases shows that people who are jabbed have good immunity at first, but quickly become more vulnerable to the fast-spreading Delta variant.
(Update 8/19/2021)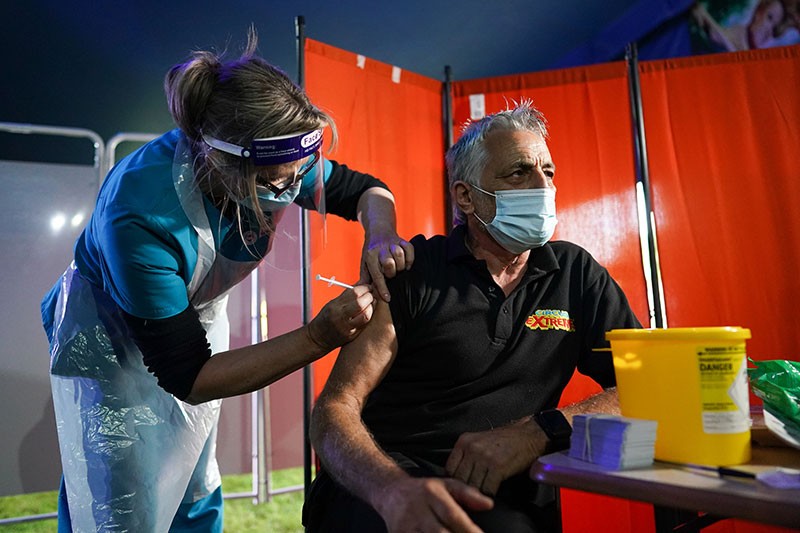 The Pfizer–BioNTech and Oxford–AstraZeneca COVID-19 vaccines are effective against the highly infectious Delta variant of SARS-CoV-2 — but their protection drops away over time, a study of infections in the United Kingdom has concluded.
Researchers at the University of Oxford, UK, and the country's Office for National Statistics analysed a vast data set comprising the results of 2,580,021 PCR tests to check for SARS-CoV-2 from 384,543 UK adults between 1 December 2020 and 16 May 2021 — when the Alpha variant was dominant — and 811,624 test results from 358,983 people between 17 May and 1 August 2021, when the Delta variant was more prevalent.How do vaccinated people spread Delta? What the science says
The results, published in a preprint on 19 August1, suggest that both vaccines are effective against Delta after two doses, but that the protection they offer wanes with time. The vaccine made by Pfizer in New York City and BioNTech in Mainz, Germany, was 92% effective at keeping people from developing a high viral load — a high concentration of the virus in their test samples — 14 days after the second dose. But the vaccine's effectiveness fell to 90%, 85% and 78% after 30, 60 and 90 days, respectively.
The vaccine developed by Oxford and the pharmaceutical company AstraZeneca in Cambridge, UK, was 69% effective against a high viral load 14 days after the second dose, falling to 61% by 90 days.
The drop in effectiveness shouldn't be cause for alarm, says Sarah Walker, a medical statistician at the University of Oxford who led the study. For "both of these vaccines, two doses are still doing really well against Delta", she says.
Peak levels
The study shows that vaccinated people who become infected with the Delta variant carry high peak levels of virus. When the Alpha variant was dominant in the United Kingdom, vaccinated people who became infected had much lower peak viral loads.
The implications of this aren't clear, Walker says. "Most of our tests are monthly; we can't really say very much at all about how long people are infectious for and particularly whether that's different with Delta," she says. "Anyone who thinks that if they get infected having been vaccinated, they can't transmit — that isn't likely to be true."Delta threatens rural regions that dodged earlier COVID waves
The data also suggest that the time between doses of vaccine doesn't affect vaccine effectiveness, and that people who have previously tested positive for COVID-19 as well as receiving two vaccine doses have the best protection against future infection.
The analysis focused on the 18–64 age group and didn't look at hospitalizations or fatalities, points out Dvir Aran, a biomedical data scientist at Technion — Israel Institute of Technology in Haifa. "This study is about infection, not severe disease," he says. The results back up observations from Israel, which vaccinated its population very early in the pandemic, he says. "We are seeing high levels of breakthrough [infections] in the population that was vaccinated early, and on the other hand, we are seeing robust protection in those vaccinated recently — especially in 12–15-year-olds."
The results raise questions about whether it could be more effective to have doses of different vaccines, rather than multiple doses of the same one, especially if a third, booster dose is to be considered. Georg Behrens, an immunologist at Hanover Medical School in Germany, says that mixing vaccines could increase their effectiveness. The immune system reacts differently to different types of vaccine — and this could be exploited to trigger a better overall response. "Using a vector-based one first and then something that has no vector, but the same antigen, absolutely makes sense," says Behrens.
Evidence mounts that people with breakthrough infections can spread Delta easily
A new study finds that this dominant variant can grow in the noses of vaccinated people as strongly as in unvaccinated people.
(Update 8/21/2021)
A preliminary study has shown that in the case of a breakthrough infection, the Delta variant is able to grow in the noses of vaccinated people to the same degree as if they were not vaccinated at all. The virus that grows is just as infectious as that in unvaccinated people, meaning vaccinated people can transmit the virus and infect others.
Previous studies in hospitals in India; Provincetown, Massachusetts; and Finland have also shown that after vaccine breakthrough infections with Delta, there can be high levels of virus in people's nose whether they are vaccinated or not. The next logical step was to determine whether vaccinated people could shed infectious virus. Many experts suspected they did, but until this study it hadn't been proven in the lab.
"We're the first to demonstrate, as far as I'm aware, that infectious virus can be cultured from the fully vaccinated infections," says Kasen Riemersma, a virologist at University of Wisconsin who is one of the authors of the study.
"Delta is breaking through more preferentially after vaccines as compared to the non-Delta variants" because it's extremely infectious and evades the immune response, says Ravindra Gupta, a microbiologist at University of Cambridge. Gupta's lab was one of the first to document that fully vaccinated healthcare workers could get infected with Delta and had high levels of virus in their noses.
If the Wisconsin study finding holds up, then people with breakthrough infections—many of whom do not develop COVID symptoms—can unknowingly spread the virus. "It [is] an alarming finding," explains Katarina Grande, a public health supervisor and the COVID-19 Data Team Lead of Madison & Dane County, who led the study.
What concerns Eric Topol, the founder and director of the Scripps Research Translational Institute, is that fully vaccinated individuals who are infected with the Delta variant can transmit the virus and this can happen at a higher rate than previous strains in the days before symptoms, or in the absence of symptoms. "Which is why masks and mitigation measures are important, even for people [who are] vaccinated," he says.
Studies like these highlight that transmission of the Delta variant can be much higher that currently estimated, according to Ethan Berke, chief public health officer of the UnitedHealth Group. Berke's research has shown that frequent testing with rapid results, even if preliminary, can be very effective in curtailing the COVID-19 pandemic. Berke was not involved in the Wisconsin study.
"Even though the study was based on one region, it offers important insight into how people can spread the virus to others whether they're fully vaccinated or not. This sort of insight, especially as it's tested and refined, is incredibly helpful as organizations develop policies around testing, social distancing, and vaccinations," Berke says.
How do we know the virus in the sample is infectious?
To test for SARS-CoV-2, the scientists employed a measurement called threshold cycle (Ct) that uses glowing dyes to reveal the quantity of viral RNA in the nose.
"SARS-CoV-2 virus infects nose and upper airway. It is very difficult to get a very high level of antibodies for long periods of time in that area. The immune system is not really designed to put high levels of antibodies at those sites," Gupta says.
Ct values correlate with the viral load, which is the number of viral particles present in the body. When the quantity of virus passes a certain threshold, researchers expect an infected person to shed SARS-CoV-2 and potentially infect others. The Wisconsin study analyzed the nasal swabs from 719 cases of unvaccinated and fully vaccinated people who had all tested positive and found that 68 percent of the studied breakthrough patients had very high viral loads. High viral load is a sign that the virus is replicating, Gupta says.
To discover whether the nasal swabs had infectious virus, the Wisconsin researchers grew virus from 55 patient samples (from both vaccinated and unvaccinated people who tested positive) in special cells prone to SARS-CoV-2 infection. Grande's team detected infectious virus in nearly everyone: from 88 percent of unvaccinated individuals and 95 percent of vaccinated people.
"We put the samples onto cells, and the cells died when they got infected. And so that clearly demonstrates that there is virus there, and that it's infectious," Riemersma explains.
If vaccinated people can still produce a lot of infectious viruses, it means they can spread the virus as easily as those who are not vaccinated.
Masks and vaccination needed to prevent viral transmission
"We have kind of a perfect storm of multiple things going on: super-infectious variants, really susceptible population, debates around masking," Grande says.
More than 93.8 percent of the U.S. is at substantial or high level of risk for community transmission of SARS-CoV-2, according to the Centers for Disease Control and Prevention (CDC). CDC defines an area to be at high risk when either the number of new cases in a county exceeds 100 per 100,000 persons, or more than 10 percent of COVID-19 tests come back positive in the past seven days. In those areas, CDC recommends wearing a mask indoors in public to maximize protection from the Delta variant and prevent spreading it to others.
Although authorized vaccines prevent severe COVID-19 and death, they offer substantially lower protection among older people, those with weakened immune system, or with an underlying medical condition.
"We need more information about the Delta variant to better understand how it works, can be transmitted, and ultimately informs how we protect ourselves at home, work and within our communities," Berke says. "In the meantime, basic hygiene, including masking, social distancing, regular testing and vaccines will continue playing a vital role in slowing transmission and preventing serious illness and death."
What full FDA approval of Pfizer's vaccine means for the course of the pandemic
Scientists say this decision is "a huge milestone" that clears the way for vaccine mandates and booster doses—and may persuade more unvaccinated people to get a shot.
By granting full regulatory approval for the Pfizer-BioNTech COVID-19 vaccine, scientists say the U.S. Food and Drug Administration has provided a critical tool to help the nation stem a worrisome rise in new infections driven by the Delta variant.
The FDA's decision, announced on August 23, could lead to a substantial increase in vaccination rates, says Leana Wen, an emergency physician and public health professor at George Washington University. Not only is full approval expected to ease the concerns of the hesitant, but it also paves the way for more vaccine mandates, and it provides doctors more latitude in prescribing booster doses.
"It's a huge milestone," Wen says. Acting FDA commissioner Janet Woodcock also described the decision in a statement as one that "puts us one step closer to altering the course of this pandemic in the U.S."
In December, the FDA made an exception to its typical approval process when it granted emergency use authorization (EUA) to Pfizer's vaccine based on two months of safety data. At the time, the regulatory agency emphasized that the benefits of having a vaccine during a global pandemic outweighed the potential costs.
The approval process that Pfizer just cleared is the industry standard, requiring six months of data showing that a vaccine or drug is safe and effective. It is the same process that all other drugs go through before they are put on the market.
However, the approval doesn't apply to all age groups. Pfizer's vaccine remains under emergency use authorization for adolescents ages 12 through 15 and for immunocompromised individuals who are seeking a third dose.
Persuading the unvaccinated
Public health experts hope the FDA's decision will convince people who have been wary of COVID-19 vaccines due to safety concerns to finally get a first dose. In May a Kaiser Family Foundation survey showed that 32 percent of unvaccinated people said they would be more likely to get a shot once it had been fully approved.
"For whatever reason there is a great deal of anxiety about the EUA because it happened so quickly," says C. Buddy Creech, director of the Vanderbilt Vaccine Research Program in Tennessee. "I think this will take a few people off the fence."
Experts emphasize that there's no scientific basis for concerns about the emergency use authorization process. The vaccine clinical trials and subsequent review of the safety data were as rigorous as they are for any other drug or vaccine. Wen also points out that these vaccines have since been given to hundreds of millions of people—providing clear evidence that they are safe and effective.
"I think that full approval will also potentially change the framework for how we discuss these vaccines—that they are no different than any of the other vaccines that people routinely take," she says.
Pfizer can also throw the full weight—and budget—of its marketing machine behind the rollout of its vaccine, which will now be sold under the brand name Comirnaty. In the weeks ahead, people can expect to see a flurry of ads and commercials aimed at persuading people to get a shot, and Wen says she thinks this will help move the needle on vaccination rates.
A rise in vaccine mandates
The FDA's approval is also likely to trigger a new wave of vaccine mandates in the days and weeks ahead. Although some companies and universities already require their employees and students to get vaccinated, they have faced legal challenges arguing that the vaccines under emergency use authorization are experimental and risky.
"This takes the argument out of play," Creech says.
Wen agrees. She expects that having the FDA's full approval will help many companies and schools that have been hesitant to open themselves up to lawsuits to enact vaccine mandates.
Existing mandates, too, are on increasingly solid legal ground. Wen points out that legal challenges have not been very successful under the EUA. In June a federal judge threw out a lawsuit over the Houston Methodist Hospital's vaccine mandate, saying it didn't break any federal laws. Earlier this month, the U.S. Supreme Court refused to hear a challenge to Indiana University's vaccine mandate.
Federal and state government agencies have also begun to enact vaccine mandates. The U.S. Department of Veterans Affairs already requires vaccines among its frontline healthcare workers, and California was the first state to require all teachers and school staff to either get a vaccine or undergo weekly COVID-19 testing.
On August 9, the U.S. Department of Defense announced that it planned to make COVID-19 vaccines mandatory for active-duty service members by mid-September. Now that the FDA has granted full approval to Pfizer's vaccine, the Pentagon says it will speed up that mandate.
Paving the way for booster doses
FDA approval is also likely to drive an influx of booster doses among the fully vaccinated even sooner than anticipated.
"If you look at the numbers, we have more people who will be clamoring for that third dose than we do people who will be looking to get their first dose," Creech says.
Under emergency use authorization, doctors are required to strictly follow U.S. regulators' dosing guidance. Following an August 12 revision to the EUA, some people with compromised immune systems began receiving third doses—and more than a million have reportedly already received unauthorized boosters.
But with a fully approved drug or vaccine, Creech says that doctors have the latitude to use their own clinical judgment in treating their patients. For those who they deem to be at high risk, doctors may begin prescribing third vaccine doses—or a booster dose of the Pfizer vaccine to those who originally got the Johnson & Johnson shot.
On September 20, the Biden administration plans to begin offering boosters to fully vaccinated people eight months after their second dose. The rollout will begin with the elderly and frontline workers. But the FDA's approval of Pfizer's vaccine means that not everyone will need to wait eight months after they were fully vaccinated. Wen argues that timeline is arbitrary anyway.
"Nothing magical happens at eight months," she says, adding that full approval allows physicians to make decisions based on the facts in front of them. For example, she says, a physician could make the call to give a third dose now to an elderly patient with chronic renal disease, emphysema, and heart failure who lives with an unvaccinated family member.
"Physicians have to be able to use their clinical judgment in discussion with their patient," she says.
Many scientists have argued that there's no evidence that booster shots are necessary for most Americans. The vaccines continue to be extremely effective in protecting against severe disease and hospitalization, which is what they were made to do. But Creech counters that some of the doses are nearing the end of their shelf life and it's better to offer third doses than to let them expire, so long as we prioritize people who are more vulnerable to severe disease.
Stemming the worrying rise of COVID-19 cases
Ultimately, public health experts are hoping rising vaccination levels will put a dent in case rates, which are spiking across the country—primarily among the unvaccinated. Although 14 percent of Americans have said in recent surveys that they will never get a vaccine, Creech says any upward tick in vaccination helps.
However, the rise of the more transmissible Delta variant is rapidly changing that calculus. As the newly dominant strain in the U.S., Delta is driving that onslaught of new infections. Studies suggest, however, that Pfizer's vaccine remains effective against the Delta variant, protecting against severe disease, hospitalization, and death. Public health experts say improving access to the vaccine could go a long way toward saving lives.
"We have been able to prevent an incredible amount of hospitalizations and deaths because of those who are vaccinated," Creech says.
Why you may not need a COVID-19 booster yet after all
Given what we know about breakthrough infections, most experts remain unconvinced there's enough data to justify an extra dose for most Americans.
Top scientists have dealt a blow to President Joe Biden's plan to begin rolling out COVID-19 booster shots to most Americans. On September 17, a U.S. Food and Drug Administration advisory committee rejected a bid to approve a third Pfizer dose for anyone age 16 and older. Instead, the committee threw its support behind a proposal to grant emergency use authorization of boosters for people age 65 and older or who are at high risk for severe disease, such as health-care workers or people with underlying conditions.
For weeks, scientists have vigorously debated whether there is enough data to justify an extra dose for most Americans. Two top scientists reportedly resigned from the U.S. Food and Drug Administration over the plan to administer boosters, which they have since criticized in a paper published in The Lancet.
The data trickling in so far does seem to suggest that the two-dose Pfizer-BioNTech vaccines are less able to prevent infection after six to eight months, but experts point out there are wide discrepancies.
In July, Israel said data from its highly vaccinated population shows that Pfizer's vaccine is now only 64 percent effective against preventing infection. Then there were the alarming reports that month of a large COVID-19 outbreak in Cape Cod, Massachusetts. Out of hundreds who had been infected, about three-quarters were fully vaccinated. By contrast, a United Kingdom study in August found that the Pfizer vaccine is 88 percent effective against the Delta variant. Weeks later, a study of New York State residents showed a combined vaccine effectiveness of 79.8 percent among those who had received the Pfizer, Moderna, and Johnson & Johnson jabs.
One thing that's perfectly clear to scientists is that the COVID-19 vaccines are still performing admirably where it matters most: protecting against severe disease and death. In the aftermath of the Cape Cod outbreak, scientists pointed out that only four of the people who got breakthrough cases had to be hospitalized. And according to a September 10 report from the CDC, the vaccines are more than 90 percent effective against hospitalization and death. Unvaccinated people are 10 times more likely to be hospitalized than vaccinated people and 11 times more likely to die.
That's why many experts have been scratching their heads since August, when President Biden announced that his administration planned to offer third doses of the Pfizer and Moderna vaccines. His team advised Americans to get the boosters eight months after their second doses, and they set a September target for clinics to start giving people third jabs. "It will make you safer, and for longer. And it will help us end the pandemic faster," Biden said at the time.
Most scientists instead emphasize that the data will be much clearer if regulators can take more time before weighing the science behind booster shots, since breakthrough infections remain overwhelmingly mild.
"Your protection does not fall off a cliff at six months or eight months," says Anna Durbin, a vaccine researcher at Johns Hopkins University.
Protection against severe disease
To understand why breakthrough infections happen, it helps to recall how the immune response works. Antibodies are the first line of defense against infection, and people can develop antibodies that target the SARS-CoV-2 virus both through natural infection and vaccination. When the virus enters the body through the nose or throat, the antibodies that reside there fight off the virus before it can take hold.
But your body can't maintain high levels of antibodies against every pathogen it has ever encountered all the time. People also tend to have relatively low levels of antibodies in their noses and throats because they have to travel there from your bloodstream. So sometimes a virus—particularly one as potent as the Delta variant—can slip past them to cause a breakthrough infection.
As the virus penetrates the cells in the nose and throat, it begins to replicate. At that point, a person may exhibit symptoms characteristic of an upper respiratory infection, including stuffiness, cough, fever, and fatigue.
"It's a nuisance but it's not life-threatening," says Deepta Bhattacharya, an immunobiologist at the University of Arizona College of Medicine.
That's when the rest of the immune system kicks in to keep the infection from escalating to the lungs, where it can cause severe harm resulting in hospitalization or death. Having been trained by the COVID-19 vaccines to recognize the virus, the immune system ramps up production of new antibodies, as well as memory B and T cells that join the fight.
It takes time for an infection to travel to the lungs, giving your immune system plenty of opportunity to mount a robust defense. Bhattacharya says severe disease is low among the vaccinated because they can clear the virus from their systems more quickly. This both reduces the severity of their symptoms and reduces the window in which they can infect others. "I think we're fairly confident in that," he says.
Assessing the evidence
Booster shots are additional doses of the original vaccine that increase antibodies in the nose and throat, so they would decrease the chance of getting an infection in the first place. And researchers say that the data on breakthroughs is an early signal that the vaccines' ability to prevent infection is waning, particularly among people with compromised immune systems and older populations.
These are groups that you would expect might not have a robust response to the standard dose of the vaccine, says Jack O'Horo, an infectious disease specialist at the Mayo Clinic who is based in Rochester, Minnesota. People who have had solid organ transplants, for example, take medication that suppresses the response of their memory cells. They rely on antibodies alone to fight off infection—and studies have shown that they have a poor antibody response to the vaccine.
In August, this evidence prompted the FDA to approve use of a booster dose for certain immunocompromised populations. "To the extent that a third shot gets them a little bit closer to what we see in healthy people after their second shot, I think that's worth doing," Bhattacharya says. "That's the easy one."
The next group that scientists suggested might benefit from booster shots were older Americans. According to a September CDC study, people over 65 account for about 70 percent of hospitalizations from breakthrough infections. But scientists note that there may be specific age groups or other factors in play, such as whether someone lives in a nursing home. Still, the FDA advisory committee agreed that there's enough evidence to suggest that people over 65 should be eligible for boosters.
It's a little trickier to parse the data for other populations. Recently, a September 7 preprint echoed the findings of previous studies when it showed that the odds of vaccinated people testing positive for COVID-19 are higher 120 days after the date they reached full vaccination. Yet O'Horo, co-author of the study, stresses that "this was from a very small risk to a small risk." He says follow-up research is needed to break down the populations whose risk of a breakthrough infection—while still small—is most concerning.
Ultimately, O'Horo says the findings of his study provide "a very early signal" to federal regulators that it's time to carefully assess how the vaccines are working. He also points out that the FDA and CDC have access to more and better data than what has been released publicly about the vaccines' real-world effectiveness.
"If I had to boil it down to a single phrase, it would be, Walk, don't run," he says. "We have information suggesting that this is a good time to have a scientific discussion about boosters, but it is emphatically not a time to hit a panic button."
Complicating factors
There are other factors to consider when it comes to administering booster shots to the general population. For one, the three vaccines approved or authorized for use in the U.S. aren't all the same.
Recent studies suggest that people who received Moderna's vaccine are better protected from severe breakthrough infections because it elicits higher and more durable antibody levels than Pfizer's vaccine. And a recent CDC report showed that the Moderna two-dose shot remains 95 percent effective in preventing hospitalizations compared to 80 percent for Pfizer and 60 percent for Johnson & Johnson.
But it will take more in-depth investigation to tease out what that means for who needs booster shots: Scientists point out that the Moderna vaccine is administered at a higher dose than Pfizer's vaccine and with a longer interval between doses. It also rolled out after Pfizer's vaccine, so the data are slightly lagging.
"People shouldn't be running out and saying, I want a Moderna vaccine now," Durbin says, adding that Moderna's effectiveness is likely to drop off over time as well.
It's also possible that another dose might not be a booster at all, but rather the proper dosage. Vaccines typically take years to develop because researchers take time to study many different dosing options. For the COVID-19 vaccines, they didn't have that luxury of time to test whether three full doses might be better than two, says Francesca Torriani, an infectious disease specialist at University of California, San Diego Health.
And that could end up being the case. Anthony Fauci, head of the National Institute of Allergy and Infectious Diseases, said in an earlier White House press briefing that he "would not at all be surprised that the adequate full regimen for vaccination will likely be three doses."
The bottom line for boosters
Ultimately, the decision on boosters comes down to what regulators are trying to achieve: to reduce all symptomatic infections among Americans, or to slow transmission of the virus. Bhattacharya says there just isn't evidence yet to show that a booster would provide much extra protection to most people.
He points to the discrepancies among global studies of vaccine effectiveness. Most show only a slight drop, but a handful of countries see a more significant change. The Biden administration has cited Israel's reports that the Pfizer vaccine is now only 64 percent effective in its plan to roll out boosters. If that's true, Bhattacharya says, it suggests boosters would offer a large benefit to the general population. But he cautions against putting too much weight in any one study.
"Most scientists believe that both in the short term and in the long term we have so much more to gain by getting the rest of the world vaccinated," Bhattacharya says. He argues that the pockets of unvaccinated people around the world are far more dangerous than breakthroughs, because they create potential for even more dangerous variants that might evade the vaccines entirely.
Durbin agrees that global vaccine distribution should be the focus, and she adds that experts need to manage expectations about the purpose of vaccines.
"We are so privileged to be able to have these vaccines that are so highly effective," she says. "Unfortunately, because of that people now think that they shouldn't have any symptoms, there shouldn't be breakthrough infections. And that's just not a reasonable expectation," she says.
Torriani points out that there might be an even easier and more effective way to prevent breakthrough infections in the U.S.: wearing a mask. Earlier this month, she was part of a team of researchers that examined breakthrough infections among health-care workers in San Diego. They noted that the drop in vaccine effectiveness from June to July was likely caused by waning immunity and the emergence of the Delta variant. Yet the study also coincided with the end of masking requirements in San Diego, which Torriani says likely increased the risk of breakthrough infections. It's yet another factor that public health officials need to keep in mind when making policy.
"We still need to mask," Durbin says. "It's going to help prevent COVID, it's going to help prevent you from getting influenza, it's going to prevent you from getting other colds and respiratory illnesses. It just makes good sense. Wear a mask."
Resources:
mayoclinic.org, "COVID-19 (coronavirus) vaccine: Get the facts,"cnn.com, "These 3 Covid-19 vaccines have been in the news. Here's what you need to know about them," By Theresa Waldrop; nih.gov, "Fourth large-scale COVID-19 vaccine trial begins in the United States: Trial evaluating investigational Janssen COVID-19 vaccine;" nationalgeographic.com, "Why vaccine side effects really happen, and when you should worry,: By Linda Marsha; nationalgeographic.com, "Heart problems after vaccinations are very rare—and often resolve quickly," By Emily Sohn;
nationalgeographic.com, "Why Is Hesitancy Rising As Vaccines Get Better?", By Victoria Jaggard; nationalgeographic.com, "Vaccines are highly unlikely to cause side effects long after getting the shot: Science shows that even the most serious side effects for any vaccine, including COVID-19, occur within just a few weeks," BY MERYL DAVIDS LANDAU;
nationalgeographic.com, "Scientists say COVID-19 booster shots aren't needed yet—here's why: For the fully vaccinated, the Pfizer shot generates an immune response that could last years and is protective against severe disease and death." BY AMY MCKEEVER; morningwire.com, "COVID Vaccine Mandates Are Coming;" dailywire.com, "SHAPIRO: When Does The COVID-19 Panic End?, By Ben Shapiro; theconversation.com, " What is a breakthrough infection? 6 questions answered about catching COVID-19 after vaccination, " By Sanjay Mishra, PhD; nationalgeographic.com, "People who already had COVID-19 should still get vaccinated, scientists urge: Vaccines boost natural immune responses and have an amazing track record of preventing serious illness and death." BY JILLIAN KRAMER; nationalgeographic.com, "Why kids are still waiting for their COVID-19 vaccines: The FDA has asked companies to expand clinical trials in children ages 5 to 11 after reports of rare side effects in young adults. But as the more transmissible Delta variant drives a fourth surge, parents are getting anxious." BY AMY MCKEEVER; nationalgeographic.com, "Who qualifies for a coronavirus booster shot? Why it's still unclear. While people with immune-compromising conditions rejoice over the FDA decision, may questions remain unanswered." BY TARA HAELLE;
nature.com, "Decades-old SARS virus infection triggers potent response to COVID vaccines: Dramatic antibody production in people infected during the 2002–04 outbreak furthers hopes of a vaccine against many coronaviruses." By Smriti Mallapaty; nature.com, "COVID vaccines protect against Delta, but their effectiveness wanes: Massive UK study of COVID-19 cases shows that people who are jabbed have good immunity at first, but quickly become more vulnerable to the fast-spreading Delta variant." By Katharine Sanderson; nationalgeographic.com, "Evidence mounts that people with breakthrough infections can spread Delta easily: A new study finds that this dominant variant can grow in the noses of vaccinated people as strongly as in unvaccinated people." BY SANJAY MISHRA; Nationalgeographic.com, "What full FDA approval of Pfizer's vaccine means for the course of the pandemic: Scientists say this decision is "a huge milestone" that clears the way for vaccine mandates and booster doses—and may persuade more unvaccinated people to get a shot." BY AMY MCKEEVER;
nationalgeographic.com, "Why you may not need a COVID-19 booster yet after all: Given what we know about breakthrough infections, most experts remain unconvinced there's enough data to justify an extra dose for most Americans." BY AMY MCKEEVER;
Addendum
(Update 8/25/2021)
covid links
https://common-sense-in-america.com/2020/06/08/mask-or-no-mask-for-covid-19/
https://common-sense-in-america.com/2020/10/14/why-is-the-coronavirus-so-confusing/
https://common-sense-in-america.com/2020/10/14/the-corona-virus-exposed/
https://common-sense-in-america.com/2020/10/09/masks-how-they-work/
https://common-sense-in-america.com/2020/10/01/is-dr-fauci-a-devil-or-an-angel/
https://common-sense-in-america.com/2020/09/30/fauci-and-hiv-and-now-coronavirus-sounds-like-dejavu/
https://common-sense-in-america.com/2020/09/16/covid-19-manufactured-or-altered-that-is-the-question/
https://common-sense-in-america.com/2020/09/10/president-trump-acted-appropriately-and-in-a-timely-manner-with-regards-to-covid-19-part-1-of-2/
https://common-sense-in-america.com/2020/09/10/president-trump-acted-appropriately-and-in-a-timely-manner-with-regards-to-covid-19-part-2-of-2/
https://common-sense-in-america.com/2020/08/11/no-hazard-pay-for-covid-19-front-line-medical-professionals-while-hospitals-get-rescue-money/
https://common-sense-in-america.com/2020/07/18/covid-19-just-the-facts-please/
https://common-sense-in-america.com/2020/07/13/releasing-prisoners-early-for-covid-considerations-sets-a-bad-precedent/
https://common-sense-in-america.com/2020/06/16/hydroxychloroquine-is-it-the-medication-of-the-devil/
https://common-sense-in-america.com/2020/06/10/how-covid-19-is-spread-who-needs-who/