With the advent of digital photography, filters are now playing a smaller role. Mainly because you have so many more opportunities for altering your image after it is taken. Since I am an old film guy, I believe that you should not rely so heavily on post-production editing. Your image will always turn out nicer if you do a better job taking the picture in the first place..
First of all, you need to buy the best multi-coated glass filters that you can afford. Poor quality filters will degrade the images you get. It would be insane to spend a couple of thousand dollars on a high quality lens to only use a cheap single coated plastic filter. Since I only buy quality lenses, I choose to protect them by putting a UV haze filter on every one of them. Many people think I am crazy for doing this. Well, they either are block heads or they have more money than common sense.
No matter how careful you are in cleaning the front optic on your lens you will eventually scratch it. I will share a little anecdotal account. I was on a boat off the coast of Kona. I was shooting pictures using my Sony 70-400 lens. This lens cost me close to $2,000. The filter alone set me back another $100. I did not realize at the time that even with my lens shade in place that water spray from the surf was hitting the surface of my lens filter. After the day's shooting was done, it was several hours more before I got back to our hotel. Since I am very anal when it comes to my camera gear, I cleaned all my gear even before I took my shower. That is how I noticed that the salt spray had pitted the surface of my UV haze filter on my lens. The filter was therefore totally shot. I was sure happy that I had bit the bullet and bought that very expensive filter. I had thought long and hard before I finally made that purchase. Thank God I did it. I'd rather be out a $100 than $2,000. Don't you agree?
I have also had the filter ring get bent on my UV haze filters before. Because the filter took the brunt of the shock, the filter ring thread on the lens was intact. This saved me a costly repair. Again better to lose a filter than a lens.
With digital editing being now available and white balance and color correction easily accessible on most digital cameras, all of our color correction filters are now superfluous. I still use my polarizing filters to reduce glare and to make the clouds pop in my photos. I also have ND and graduated ND filters.
The graduated filters are great when you have a bright sky and a darker foreground. When I am doing long exposure shots in the daytime to blur out water and the clouds in the sky, the ND filters help here. Even with an ISO of 50 and a F-stop of 32, the shutter speed is just too fast to get the desired effect on a sunny day. Of course, some form of stabilizing device is needed for these long exposures. When I am traveling light, I use a gorilla pod to stabilize my camera.
Another filter that is great when you want a close-up of the foreground and a distant background is to use a split diopter filter. Sometimes even at F-32 you don't have enough depth of field to get the whole picture in focus.
This filter does the trick in those cases. The only problem is that you have to be careful that the line present in the middle of the filter doesn't show in your photos. There are also close-up filters which are a good temporary choice if you are just testing the waters for close-up photography. If you find out that you like it and plan on taking a goodly amount of these photos, then by all means buy a dedicated macro lens, you will be much happier. I will be discussing macro photography in Chapter 23.
So far, most of the filters I have talked about have been screw mount filters. However, the graduated ND and the ND filter mentioned are part of my drop-in filter system. There are three popular filter systems out there…Coken, Tiffen and Ambico (only used). They are all good systems. I have used them all at one time or the other. With different size filter ring adapters these systems can fit most of your lenses.
Because polarizing filters are expensive, I try to limit how many I buy. Depending on the size of your lens collection, you will find that you have several different size filters on them. So this is where step-down filter rings come in handy. I have lenses that have 62mm and 67mm filters sizes, so I buy 67mm filters and I use a step-down ring for the lenses with the 62mm front ring. I do the same for the 72 and 77mm lenses. There are a few more groupings like this. But the ones I listed are the two most common that I have to deal with.
There are special effect filters, such as soft focus filters, star filters and many others. These have all pretty much fallen out of favor, thanks to photo editing programs like Adobe Photoshop.
There is one more series of filters that are still being used, and that is infrared filters. They are technically a specialty filter. I will discuss this topic in Chapter 30.
In the next section of this chapter, I will discuss each of the three filter systems. I will wrap up this chapter with tables covering the filters I mentioned earlier and a few more filters that can be used in black and white photography. I will also cover this subject in Chapter 30. B&W photography used to be more popular, now it has become more of a niche technique. While all digital cameras have this mode, I don't recommend that you use it. I will explain this along with my full discussion on the subject.
Tifen Pro100 Series
The Pro100 Series Camera Filter Holder with 77mm Adapter Ring from Tiffen is designed to allow for the convenient use of 100mm-wide, 4mm-thick filters on lenses with 77mm front filter threads.
Use of the filter holder can be easily accomplished by first screwing the included 77mm Adapter Ring for Pro100 Series Camera Filter Holder onto a lens with 77mm front filter threads. Adapter rings are separately available for lenses with 49mm, 52mm, 55mm, 58mm, 62mm, 67mm, 72mm, or 82mm front filter threads. After being fitted onto an adapter ring, the filter holder's pull-and-release locking pin helps to provide a reliable, yet adjustable connection that allows the holder to be rotated 360°, permitting the use of graduated neutral density and other filters that are enhanced by varied positioning.
The Pro100 Series Camera Filter Holder is preinstalled with two pairs of plastic filter slots, a configuration that accommodates two rectangular filters. These slots are attached to the filter holder by a total of four screws, which also serve to apply pressure on any filters placed between the slots. Those screws can be loosened or tightened to vary the level of grip upon the inserted filters, which can complement the use of graduated filters whose effect can be adjusted to better suit changing lighting conditions or creative demands by sliding them up or down within a filter slot.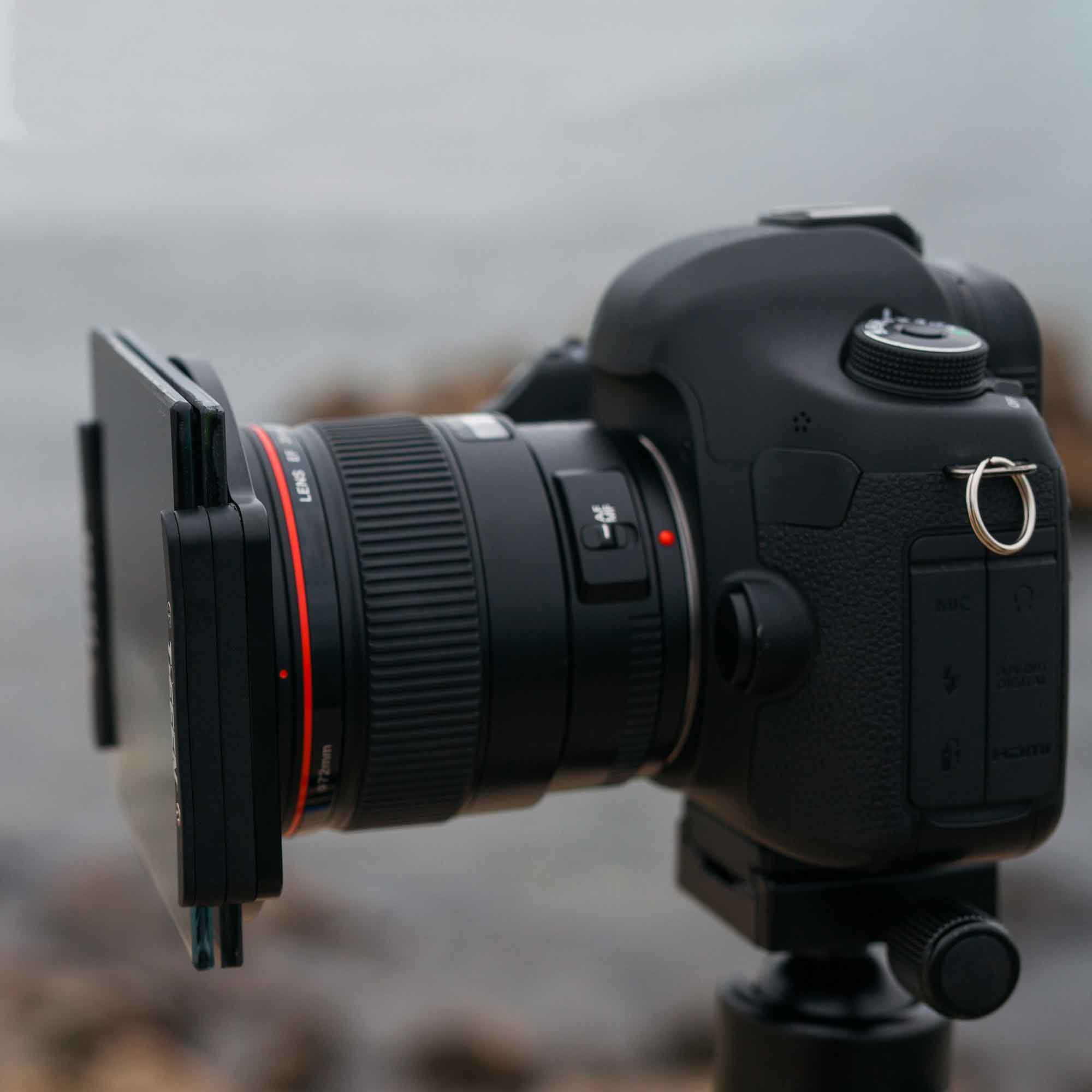 To prevent stray light, which could have unwanted effects on exposure, from coming in between an installed filter and a connected lens, two of four included adhesive gaskets can be placed along the front of the Pro100 Series Camera Filter Holder. These gaskets are designed to be positioned so that two of them each form a seal between the plastic filter slots. The remaining two adhesive gaskets are provided in case either of the initially-installed gaskets needs to be replaced.
-Durable aluminum-alloy filter holder and adapter ring
-Allows up to two 100mm-wide, 4mm-thick filters to be conveniently used on lenses with 77mm front filter threads
-Pull-and-release locking pin allows for adjustment of filter holder's grip for 360° rotation on adapter ring
-Ability to vary grip on installed rectangular filters to complement the use of graduated filters whose effect can be adjusted to better suit changing lighting conditions or creative demands by sliding them up or down within a filter slot
-Adhesive gaskets help to prevent stray light, which could have unwanted effects on exposure, from coming in between an installed filter and a connected lens
-Separately-available aluminum-alloy adapter rings for lenses with 49mm, 52mm, 55mm, 58mm, 62mm, 67mm, 72mm, or 82mm front filter threads.
Filter Holder for P-Series Filters
-Light-weight Original P-series filter holder
-Holds Up To 3 Square or Rectangular Filters
-Works with 84mm wide filters
-Requires Lens Adapter ring
-AKA the M Series which stands for Medium
-Compatible with the Method 7 Grow Light Filters
The Cokin BP400A P-series holder allows photographers to attach up to 3 square or rectangular filters depending on the creative effect they are trying to achieve. For example, it is common for photographers to use a straight neutral density filter like a 3-stop to control the motion blur of a waterfall then combine it with a 2-stop Graduated Neutral Density to control the detail in the sky. The end result is a beautifully captured single exposure.
Cokin also manufactures a round Circular Polarizer (P164) that is specifically designed for the P-series holder. Cokin created a special slot on the holder closest to the lens that accepts the outside edge of the round filter. The slot allows you to insert the filter and then rotate it to achieve the desired polarizing effect. With this filter attached you are able to add one more additional filter to the front slot of the holder.

The P-series holder will work with Full-Frame lens focal lengths 24mm and greater. If you use the holder on a lens that is wider than 24mm there is a very good chance that you will see the holder in the corners of your pictures, This is also called a vignette or vignetting. It is also possible that you will experience vignetting even at 24mm if the holder is rotated off center axis. We recommend you look at Cokin's larger filter systems, the Cokin Z-pro or X-pro, if you plan to use lenses wider than 24mm.

The P-series holder also requires an adapter ring, purchased separately, that will allow you to attach the holder to your lens. It will screw onto the front of your lens just like a regular camera filter does. The adapter rings are available in different sizes from 49mm to 82mm, To determine which adapter ring(s) you need simply remove your lens cap from your lens and turn it over. 98% of the time there will be a number on the backside of the cap. That is your filter size. If that does not work you can go to the original lens manufacture's website or instruction manual specifications section and you will find your lenses filter size there.

It is highly recommended that you remove any other filters from the lens before mounting the adapter ring and holder. Additional filters will increase the chance of vignetting especially on wide angle lenses.
Firecrest 100mm Filter Holder
Since Ambico went out of business I will discss a new company that seems to have replaced the venerable company.
-Revolutionary new top and bottom covers to almost completely eliminate light leakage when shooting long exposure, with interchangeable end caps for use with 100×100 filters or 100×125/150mm graduated filters.
-Built in low-profile gasket.
-Adaptors / step rings come with the system as standard for all sizes from 67-82mm, and step rings for smaller lenses can be purchased separately (for lens threads 46mm, 52, 58 & 62mm)
-Integrated top of the range Firecrest 82mm multicoated polariser comes as standard within the system. A unique geared mechanism allows for easy rotation whilst installed. The polariser can also be removed within its ring/adaptor for use as a screw in
-2 fixed filter slots which take 100mm filters
-Extremely high quality lightweight aluminium design with extra oxidisation to reduce likelihood of scratching
-The holder is designed for use with standard lenses and all standard wide angle/zoom lenses. For super-wide lenses the LucrOit 165mm system should be used.
Formatt-Hitech 100mm Aluminium Holder
100mm is the choice for photographers using DSLR cameras with professional quality lenses. This system also works well for anyone using a full frame camera with a 16-35mm lens, including the Sony Alpha series and full frame DSLR cameras. The 100mm system is modular and features three filter slots. The rear filter slot includes a spacer that enables the use of 4mm glass cinema filters. This means that you can use specialized diffusion and other filters which are only made in glass. An optional 105mm polarizer ring can be fitted to the front of the holder.
Formatt-Hitech 100mm Adapters
Unique to the 100mm system is the option of a standard or wide angle adapter ring. The wide angle adapter ring is recessed to bring the holder system closer to the lens, reducing the chance of vignetting. Please note that the recess on the 82mm wide angle adapter ring is too small to fit some 70-200 or 80-200 lenses … but the last time we checked, those aren't wide angle lenses. So choose a standard 82mm adapter for your long zoom lens.
Formatt-Hitech 85mm Aluminium Holder
The 85mm system has traditionally been seen as an entry level system for consumer DSLRs. However, this system is perfect for professional mirrorless cameras such as the Fuji X series and MFT cameras with wide lenses. The smaller size makes the filters easier to carry, less prone to camera shake from wind gusts, and lower in cost to purchase.
The 85mm system is modular and features three filter slots. The rear filter slot includes a spacer that enables the use of 4mm glass cinema filters. This means that you can use specialized diffusion and other filters which are only made in glass. An optional 95mm polarizer ring can be fitted to the front of the holder.
Firecrest 85mm Holder Kit
Our Firecrest 85mm holder is constructed from high-quality lightweight materials; the body is aircraft grade matt anodised aluminium. The slots are made from a high-grade Nylon that cannot scratch your filters – both glass and resin.
The holder comes with a high grade full sized 77mm circular polariser. Operated from an independent side wheel for speedy composition and use without sacrificing control
This results in an extremely solid holder which weighs only 110g with circular polariser installed
165mm Lucroit Filter Holder Systems
The Lucroit holder is specially designed for large-barrel wide-angle lenses such as the Canon TS-E 17mm or the Nikon 14-24 that otherwise lack a filter solution. The Lucroit holder uses donut adapters that fit over the lens to eliminate vignetting with these extreme wide angle lenses. Adapters are available for over 20 wide angle lenses, plus 77mm & 82mm threaded lenses. This Lucroit holder uses 165mm filters.
Filter Holders -VS- Screw in Circular Filters
The choice between using a holder system versus circular screw filters is a very personal decision, as you must weigh the benefits of each system. If you were to distill the differences down to their very essence, the core benefits are:
FILTER HOLDER SYSTEMS
-Holder systems allow a single set of filters to be used on multiple lenses.
-Holder systems allow for the vertical adjustment of graduated filters.
-Formatt-Hitech holder systems can be removed and refitted to the lens without disturbing focus – -critical for long exposure
CIRCULAR SCREW-IN FILTERS
-Smaller, more unobtrusive filters.
-Lightweight
-Because they're threaded directly to the lens, light cannot leak between filter and lens.